It's Monday. Baking is usually a Sunday sport for me, but hell, I was feeling sassy and like living on the wild side! Plus, I needed to clean the kitchen anyways, so why not just mess it up a bit first?
Lately I've been trying to make an effort not to bring home so many snacks and treats from the grocery store.  I really do think that a treats ARE important and should be appreciated, and thoroughly enjoyed. So, if it's not THAT tasty (store bought cookies, I'm talking about you), then I'd rather just pass and indulge a little more the next time we go out. This week in particular, we have a lot of exciting eating escapades, so I thought I would whip up something healthful and delicious to tuck into as an evening treat in place of Halloween candy (yep- still working my way through, though admittedly, I've eaten all the Reese's and am left with the less exciting Kit Kats and Smarties).   I figured if I made a tasty low-fat whole wheat fruit loaf that it could also double as a breakfast item and make waking up THAT much sweeter.  So without much more chit chat, this is what I did:
Healthy Tropical Loaf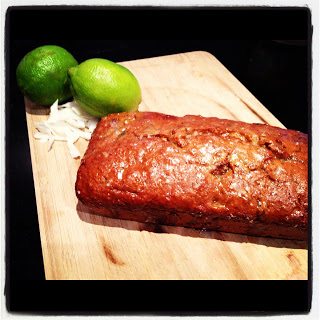 Healthy Tropical Loaf
Inspired by Cooking Light's Fig, Applesauce, and Almond Breakfast Loaf
Ingredients
Bread:
1

cup

dried tropical fruit

(I used pineapple, banana, and mango)

1/2

cup

boiling water

Canola oil for greasing

A bit of all-purpose flour for dusting tins

2

large egg whites

1

large egg

3/4

cup

unsweetened applesauce

1/3

cup

plain fat-free vanilla yogurt

1/4

cup

vegetable or canola oil

1/2

teaspoon

real vanilla extract

1/2

teaspoon

dark rum

3/4

cup

light brown sugar

1

cup

all purpose flour

1

cup

whole wheat flour

1/2

teaspoon

salt

1/2

teaspoon

baking soda

1

teaspoon

baking powder

Zest of 1 lime

1/3

cup

flaked sweetened coconut
Glaze:
1

cup

powdered sugar

3

tablespoons

fresh lime juice
Instructions
Preheat oven to 350°.

Put the dried fruit in a bowl and cover with 1/2 cup boiling water. Let it stand while you work on the rest of the batter.

Lightly grease 2 8-inch loaf pans and then dust with a bit of flour.

Beat the egg whites and egg in a medium bowl, and then add the applesauce, yogurt, oil, vanilla and rum. Once combined, whisk in the sugar, making sure its fully dissolved.

In a large bowl, whisk together the flours, baking powder, baking soda, salt, lime zest and coconut.

Add in the egg/yogurt/applesauce mixture to the dry ingredients. Then drain the dried fruit (discard the liquid), and fold the dried fruit into the batter.

Divide batter between the two pans. Bake at 350° for about 55-60 minutes or until a wooden pick inserted in center comes out clean. Cool in pans for 15 minutes on a wire rack.

8.Meanwhile, prepare the glaze. Whisk the powdered sugar with the lime juice and heat in the microwave for 30 seconds or so to help dissolve any lumps.

Remove the loafs from pans and transfer to a wire rack. Drizzle the glaze (you can use as much or as little as you like, but just know that it does add sweetness and tart flavour). Allow to cool completely before cutting in and eating.
Nutrition Facts
Healthy Tropical Loaf
Amount Per Serving
Calories 320
* Percent Daily Values are based on a 2000 calorie diet.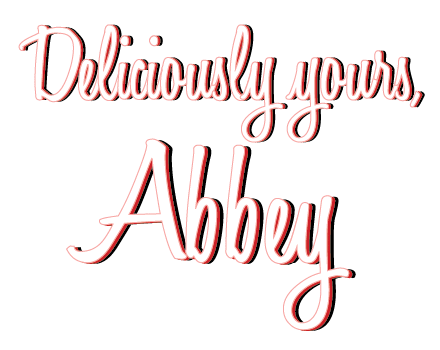 Follow Abbey!
Subscribe to new posts!
Subscribe to my weekly newsletter so you never miss any contests, restaurant news, recipes and more foodie fun!
Email:

You might also like…
Updated on June 11th, 2017