I've never been a muffin person. I think because I often find them dry, and I'm always craving something creamy and sweet. Cupcakes on the other hand? Love. Now, the cottage weekend was upon us, and I wanted to bring up something fun to accompany breakfasts.  Muffins seem appropriate, while cupcakes (my preference).. maybe not so much. And I'm not sure why that is.. I mean, we can eat pancakes and waffles with sweet syrups, sauces, and whipped cream.. but not a cupcake? I suppose it just proves that we are slaves to our social environment. If we believe it's not okay to have icing before 11AM, then we need to get creative on how we present it. Introducing the "stuffed" muffin, my way of justifying a sweet treat in the morn. I used Anna Olsons recipe as a guide, but lowered the fat a touch and changed the icing from a vanilla- to cream cheese. Anna's recipe also was supposed to make 24, but there was no way I was getting that far. My batch made about 17, filling up the cupcake liners about 2/3 the way full (and these were small-ish muffins).
So how were they? Better than anything I have ever bought in a bakery (if I do say so myself). Like I said, I don't normally like muffins, but because of all that pumpkin and carrot in there, they turned out super moist. They also had a nice spice flavour that was enhanced by the bright sweet and tart cream cheese filling. Delicious! What kind of tricks do you pull on yourself so that you can break social eating rules?
Here is what I did:
Pumpkin Carrot Muffins with Orange Cream Cheese Filling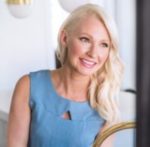 Abbey Sharp is a Registered Dietitian, an avid food writer and blogger, a cookbook author and the founder of Abbey's Kitchen Inc.