Figs are one of the most sensual, sumptuous, irresistible foods.  They are supple and tender, with millions of teeny seeds that burst on the tongue, and lots of sweet floral flavour.  There are a few varieties of figs, each with their own purpose. The one's I probably see most often are the Black Mission (dark purple with super sweet and great for dessert), the Brown Turkey (less sweet, and with a lighter purple/brown skin), and the Calimyrna (which is usually dried). The fig season is really from late summer to early winter, so now is really your last chance to hit them up before the prices go sky high.  I really do wish, though, that Mother Nature would think  more about the holidays when deciding on food seasons, because figs just scream Christmas to me. Arguably, I suppose that could be traced to memories of singing in the choir "now, bring us a figgy pudding", but in reality this adage would be related to DRIED figs, not so much the fresh variety. Whatever the season, they were on sale, I bought them and I made a delicious side salad to accompany dinner. As usual, this was a free style salad, using whatever I had in the fridge already that I thought would not interfere with the beautiful fig flavour.  This was THEIR salad, I didn't want to mess it up.  So I just kept it super simple with a mixture of butter and romaine lettuce (that is butter lettuce.. not just butter mixed in… this is not a Paula Deen recipe), and I threw in a couple PURPLE bell peppers to continue with the colour theme.  I think this might have been the first time I had ever even used purple bell peppers, but I'm definitely going to look out for them again.  They have a flavour that's less bitter than a green, but less sweet than a red pepper, and a much more tender texture than the traditional bells. With it's unique jewel tones, it would definitely be a beautiful addition to a stir fry. Let's talk dressing. So, for this one, I wanted to emphasize the sweetness of the figs so I used sweet balsamic as the base, and added a bit of body and additional sweetness with some grapes.  This technique (adding fruit, herbs, etc. to salad dressing) is a great way to temper acidity in place of excess oil.  I happened to have a lot of grapes in the house, but with balsamic, this could also be done with blackberries, blueberries, raspberries or strawberries.
Alright, enough blabber, this is what I did.  Mind you, this is very approximate.  When you put this girl in front of a blender, it is really a taste, add, taste, add kind of project- I suggest you do the same. Use the ingredients, and technique, and vary the amounts as you taste, taste, taste!!
Fig Salad with Grape Balsamic Vinaigrette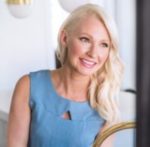 Abbey Sharp is a Registered Dietitian, an avid food writer and blogger, a cookbook author and the founder of Abbey's Kitchen Inc.