So, I was going to make chili… and chili with meat in it because I only had one can of beans and one lonely sweet potato which I figured I would throw in for a little sweetness. Well, let's just say, I was out late the night before (when I normally begin defrosting protein for the next days dins), and then morning came (and I slept in) and because defrosting isn't part of my morning routine- I.. well… didn't. So then 6:30 rolled around, and I had no ground meat to add to my chili! No biggie- y'all know I wasn't going to rush out to the store in the windy cold to pick some up, so I did a little switch-a-roo on the dinner plan and opted for a veggie-packed black bean and sweet potato "stew".  I am calling this a stew because it's surely thicker than a soup, though, you could make this as thick or as thin as you wanted depending on how much you wanted to stretch your ingredients or how hearty you wanted it.
Now, just a quick note on meat meals vs meat-less meals.  I was raised in a house where there was ALWAYS a meat-based protein at dinner.  It was usually chicken, pot roast, bacon or breakfast sausages. Ha, yes, these were the protein food groups in my home because mom didn't like fish or seafood (or any other game etc), and dad had a lot of cooked-till-grey-pork-chop experiences, so in general, our options were limited  Today, as an adult, I am much more inclusive. There really isn't a protein that I don't eat, though, now that I'm a Jew, pork and bacon is just for holiday menus (Christian ones, obviously), and restaurant dining (strangely, for some reason I can get away with bringing home proscuitto).  In general, my pattern is mainly fish and poultry, with one red meat option once or twice every two weeks, and one or two non-meat meal in the week.  Is this a health-based decision? Not necessarily- it's honestly for about finances.  Meat is expensive, and when I have tenderloin or fresh halibut on the menu that week, I feel a need to balance things out so that I don't completely abuse the budget.
So, having said that, this is what I ended up with last night. I served this with a beautiful green salad with housemade French dressing and a loaf of bread for dunking. This is what I did:
Black Bean and Sweet Potato Veggie Stew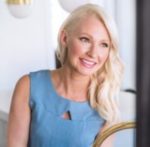 Abbey Sharp is a Registered Dietitian, an avid food writer and blogger, a cookbook author and the founder of Abbey's Kitchen Inc.