The count down is on. Just two weeks before Sips and Nibbles, and things are getting busy. Like, I mean, an I-cooked-dinner-only-twice-this-week busy. And they're only going to get worst. I'm talking about an I-won't-be-cooking-dinner-at-all-next-week-kinda-situation. Well TGIF came and went, I decided to shlep us out for a cozy, comfort-style meal at the Westerly on Roncesvalles.
Named appropriately, the Westerly was specifically situated in the west end to reflect the west-coast roots of owners, Beth Davyduke and Tom Earl. The menu, created by head chef Geoff Kitt (The Swan) and pastry chef, Victoria Zienlinksi, is mainly comprised of classic bistro fare staples, with a few Italian inspirations and British comfort food items thrown in for good measure.  With a week of blundering weather and work stress behind me,  I was particularly in the mood for something solid, cozy and satisfying. No small plates, no gimmicks, no meticulously plated mains, just a solid and simple meal.  And despite the long trek to Roncesvalles, and the expensive ($23) cab ride, the prospects of duck confit at the Westerly made the journey seem worth while.
The room at Westerly is cozy, warm (thank G-d, because I got stuck near the door), and buzzing. Both the bar and main dining room were at capacity throughout the night and the demographic in the room was vast and mixed. From well-dressed groups of couples in the above 40 category, to young pairs of girlfriends having a casual get together, it is clear that a classic yet diverse menu can ring in a large and diverse crowd.  My only criticism was that the room was just above my tolerable level of noise, and that's speaking as likely one of the youngest diners in the room! I suppose, the best solution to this problem would be to organize a large party and reserve the Westerly's 50-seat private dining room in the back, which seemed far less noisy when I peaked my head in at a group having dinner last night.
While at times the noise did make it difficult to hear our adorable server speak, it did not in any way deter her from delivering exceptional service. She was quick to replace cutlery, refill water glasses, chat with us in detail about menu items, and respond when certain menu items were subpar. The whole meal was timed and spaced appropriately, and we were in and out in a comfortable 1 1/2 hours.
Manhattan 
The drink menu at Westerly is short but agreeable. The wine offerings are mainly international (with a few Ontario whites), while the cocktails are all relatively classic and identifiable. Over the night we sampled a Manhattan, a Caesar, their signature, the Westerly Spritz (Aperol, Cassis, Cava, Soda, Orange) and a couple decaf cappuccinos.
Caesar
While the Manhattan was little watered down, the Caesar was fiery and bold, and despite the Spritz feeling refreshing and light, it could have used a spritz itself of something acidic.  We were both really impressed at the end of our meal with the perfectly smooth and frothy cappuccinos, joking that they might have been the highlight of the night.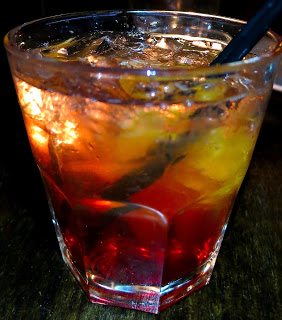 Westerly Spritz
And it was indeed a joke, as there were moments of perfection in the food, but perhaps just not enough for us to get really excited about. Over the course of the night, we opted to share:
Arancini with Bocconcini, Lobster Bisque and Mizuna ($14.00)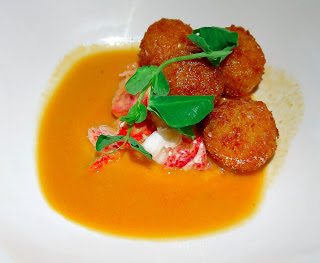 Not off to a great start. The arancini were were deliciously cheesy and crispy, but the accompanying bisque was problematic.  Not only were the lobster pieces incredibly overcooked, but the bisque itself was so oversalted, I wondered if a salt shaker had accidentally fallen into the pot.  I did mention this to our server, and she graciously comped our cappuccinos later in the evening.
Smoked Trout on Potato Latke with Dill Creme Fraiche and Frisee ($12.00)
This one fared a bit better, but the salt level was still a bit overwhelming. The latke was not traditionally shredded, but rather, was more like a fluffy, light fried mashed potato cake. It would have made a great dish all on its own without the thickly cut salty trout on top.
Duck Confit with Sour Cherry Jus, Grainy Mustard Mashed Potatoes, Fresh Vegetables ($25.00)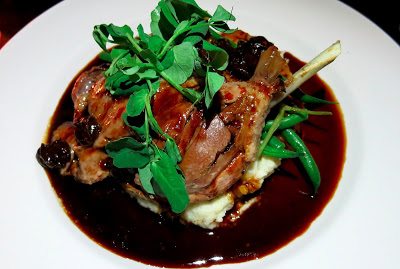 This was the better of the two mains. The duck was tender, and thankfully well seasoned, and the cherry jus had the perfect balance of sweet, tart and richness. The mashed potatoes were a little bit grainy and anemic, and I admit I could not detect any mustard notes, but the vegetables were just spot on. It always amazes me how many restaurants can't seem to cook basic vegetable garnishes and sides, but these were were beautifully tender crisp.
Braised Lamb Shank with Sweet Dried Figs, Sundried Olives, Toasted Pistachio, Tomato Jus, Israeli Cous Cous ($24.00)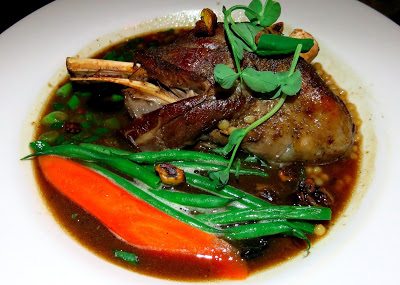 Far less successful was the lamb. I have to wonder if the kitchen took my complaint about the arancini as an indicator I'm sensitive to salt. Actually, I'm probably more sensitive to UNDER seasoned food, which is exactly what this lamb suffered.  The braising technique no doubt contributed to the lamb's delicate and juicy consistency, but if I were evaluating just on flavour, I would have guessed the shank had simply been boiled in water. It just didn't taste like anything. While I at least got a nice flavour profile in the side dish, with the sweet figs, salty olives, and earthy pistachios, the couscous was overcooked and really just dissolved in the mote of tomato jus that flooded the basin of the plate.
Caramel Pudding with Salted Caramel Rice Crispy Cookie ($7.50)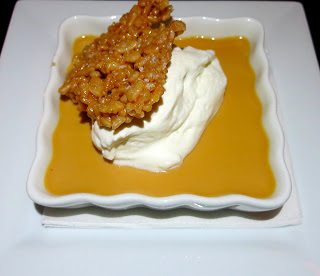 Well, I often say that dessert can make or break a meal for me. And the Westerly is lucky I've got a sweet tooth because there were numerous menu options that appealed. In the end, however, with the help of our server, I was able to make my decision. Exactly as she described, the pudding was rich and thick with a slightly bitter burnt caramel flavour. Definitely not the cloying sweet butterscotch variety you get from the package, and absolutely delicious with the super salty crunch of the cookie. If you're not a sweet dessert person, don't be fooled by the description- this is a great meal-ender for you.
Butter Tart with Bourbon Maple Raisin Compote and Honey Mascarpone ($7.95)
While I loved the pudding, the butter tart stole my heart. The pastry was tender and flaky, while the filling was incredibly sticky, and aromatic. The smokiness of the bourbon permeated the dish and with an almost pork-like flavour, helped temper some of sweetness of the compote. I also appreciated how the thick, rich mascarpone added a balancing creamy element and the raisins lent a satisfying chew. Between the two of us, and our desperately clammering forks, we polished off the plate better than most dishwashers could. It was honestly that good.
So for 3 cocktails, 1 bottle of sparkling water, 2 apps, 2 mains, 2 desserts, and 2 comped (but honestly, incredibly good) cappuccinos, the bill came to $165 including tax and tip. Seems to be standard for our weekly excursions but not without it's faults. The service was lovely and professional, and the food was flawlessly cooked, but there were obvious consistency issues with regards to seasoning in the savoury dishes.  It was also a little bit too loud in there for my taste, but I figure that's a relatively small concern in my overall meal experience. Generally speaking, I came for duck confit, I got a decent duck confit, and the rest was up and down. The Westerly delivered on some of my expectations, but still have some work to do to warrant a follow-up $23-each-way trek out West.
Updated on September 8th, 2020