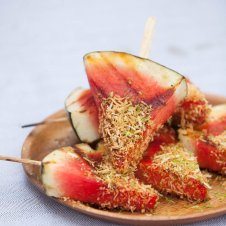 Print
Grilled Watermelon on a Stick
Glazed wedges of watermelon with agave, lime, chili and salt get dipped into crispy crackly coconut crust.
Soak 4 large popsicle sticks for at least an hour.

In a small bowl, mix together the honey, lime juice, cayenne pepper and salt.

In another small bowl, mix together the coconut and lime zest.

Preheat the grill to medium high heat.

Using a knife, carefully cut a small incision into the rind of the watermelon. Insert the popsicle stick into the hole.

Brush both sides of the watermelon slices with the agave mixture and grill for about 2 minutes per side until deep grill marks appear.

Remove from the heat, brush again with more of the mixture, then dip into the coconut lime mixture.