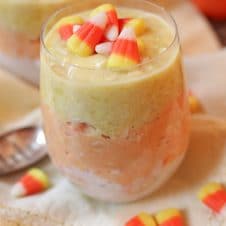 Print
Vegan Candy Corn Overnight Oats
These Vegan Candy Corn Overnight Oats is the perfect Halloween gluten free, healthy easy breakfast recipe for celebrating this candy-fueled holiday!
In a bowl, mix the oats, almond milk, almond yogurt and a pinch of salt. Stir and refrigerate overnight.

The next morning, puree the mango and put in a bowl. Puree the banana and place in a bowl. Puree the sweet potato and place in a bowl. Divide the oats into each of the fruit bowls. Sweeten with maple syrup, if desired.

Layer the banana, sweet potato and mango into glasses and top with candy corn.