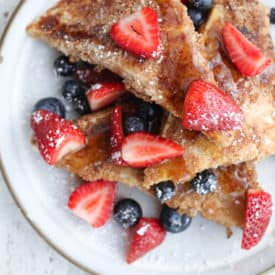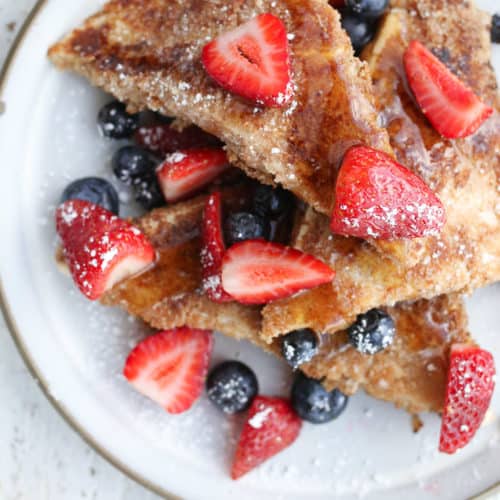 Print
Low Carb French Toast with Tofu (Vegan & Gluten Free)
This low carb french toast is a great way to sneak in some protein in the morning, and a unique new way to enjoy tofu that isn't savoury! Kids will love this breakfast too! It's vegan, gluten-free, and so easy to make.
Cut the tofu in quarters lengthwise and then in half on the diagonal to yield 8 triangles.

Lay a few paper towels or a kitchen towel down on a baking dish. Add the tofu triangles, some more towels and then top with heavy things. Allow to sit for 1 hour to press out the moisture.

In a pie plate or dish, mix together the almond flour, cinnamon, sugar and salt.

Heat the coconut oil in a large nonstick skillet over medium heat and generously dip the tofu pieces into the almond flour mixture until well coated. Place in the pan and cook until golden brown on each side, about 3 minutes per side.

Serve with berries, maple syrup or powdered sugar if desired.
The key to a crispy vegan french toast is first to really squeeze that liquid out by pressing the tofu. I use towel or paper towel on a cookie sheet, put the tofu down, then add more towel and a bunch of really heavy items. You should find the towels are pretty wet about 20 or so minutes. 
You can press the tofu before or after cutting it. It's a little faster when you've cut it first as they're more manageable pieces but if you have a tofu press and want to use it on a whole block first, go for it!
The almond flour breading also really helps keep these low carb french toasts super crispy. Do not skip it!
Calories:
428
kcal
|
Carbohydrates:
20
g
|
Protein:
25
g
|
Fat:
31
g
|
Saturated Fat:
2
g
|
Sodium:
111
mg
|
Potassium:
270
mg
|
Fiber:
7
g
|
Sugar:
7
g
|
Calcium:
185
mg
|
Iron:
4
mg