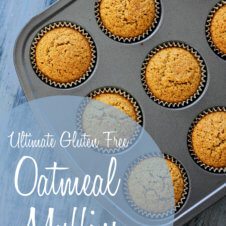 Print
Ultimate Gluten Free Oatmeal Muffins | Dairy Free & Healthy
These ultimate Gluten Free Oatmeal Muffins are the only recipe you'll need for a healthy, dairy free snack of quickie breakfast.
Start by melting the coconut oil in a small saucepan over low heat. You will want the coconut oil melted, but cooled before you go to mix it into the rest of the wet ingredients.

Preheat the oven to 400F and line your muffin pan with bleach­-free muffin liners. Set aside. 3. In a large mixing bowl, whisk together the eggs, coconut palm sugar and milk. When the coconut oil is cooled (close to room temperature or just slightly above) mix in well.

Add flour, oats, baking powder, baking soda and salt into the wet ingredients and stir until well incorporated. This will form your batter.

Pour batter into the muffin pan and bake for 20 minutes or until a toothpick comes out cleanly.

Let cool and enjoy!