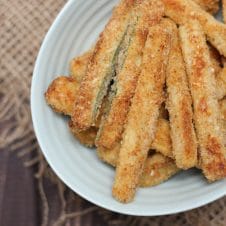 Print
Rosemary Zucchini Fries
I share my three gluten free and vegetarian holiday healthy dippers for hummus, including sweet potato chips, parmesan pizza twists and rosemary baked zucchini fries.
Preheat oven to 425 F and line a baking sheet with parchment paper. Mix together the bread crumbs, parmesan cheese, paprika and rosemary in one bowl, and the eggs in another bowl. season both bowls with a pinch each of salt and pepper.

Dip the zucchini into the eggs, then into the bread crumbs and transfer to the baking sheet. Bake until golden brown, about 20 minutes and then serve with Sabra's Roasted Pine Nut hummus.