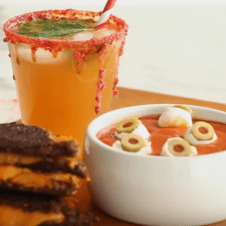 Print
Creepy Ginger Cocktail
These 2 Best Healthy Halloween Treats are perfect for your holiday party including a tasty grilled cheese, "eye ball" soup, and Boo-zy cocktails.

Pour the pomegranate molasses into a bowl or dish and rim your glass with it.

Then pour the powdered freeze dried berries into another dish or bowl and rim the sticky pomegranate molasses with the powder.

Give the mint and lemon juice a little bruising in a glass with a muddler and top with an ounce of vodka, Ginger flavoured Kombucha and ice.