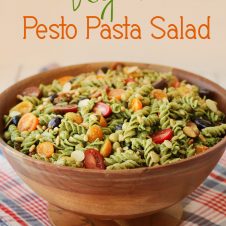 Print
Vegan Pesto Gluten Free Pasta Salad | Healthy Summer Potluck Recipe
This vegan pesto gluten free pasta salad will be a hit at any Summer BBQ, cook-out or family potluck.
Puree the basil, almonds, pine nuts and garlic together in the food processor until they reach a paste-like consistency. Add in the lemon juice and avocado and continue to puree until smooth. Season with salt and pepper, to taste.

Meanwhile, cook the pasta according to package directions and allow to cool to room temperature.

Mix the pasta with the pesto, tomatoes, chickpeas and olives. Top with pine nuts and almonds and enjoy at room temperature.