This vegan pesto gluten free pasta salad recipe was created with HP Canada and will be a hit at any Summer BBQ, cook-out or family potluck.
Some of you may know that I'm getting married this summer (EEK!) so I have been DIYing some fun gifts for my family and friends. One thing I have been working on for my immediate family is a homemade cookbook. This is a special cookbook that includes some of the dishes that remind me of my childhood but with an Abbey twist. In other words, they're likely healthier and maybe tastier (sorry mom, I love you.)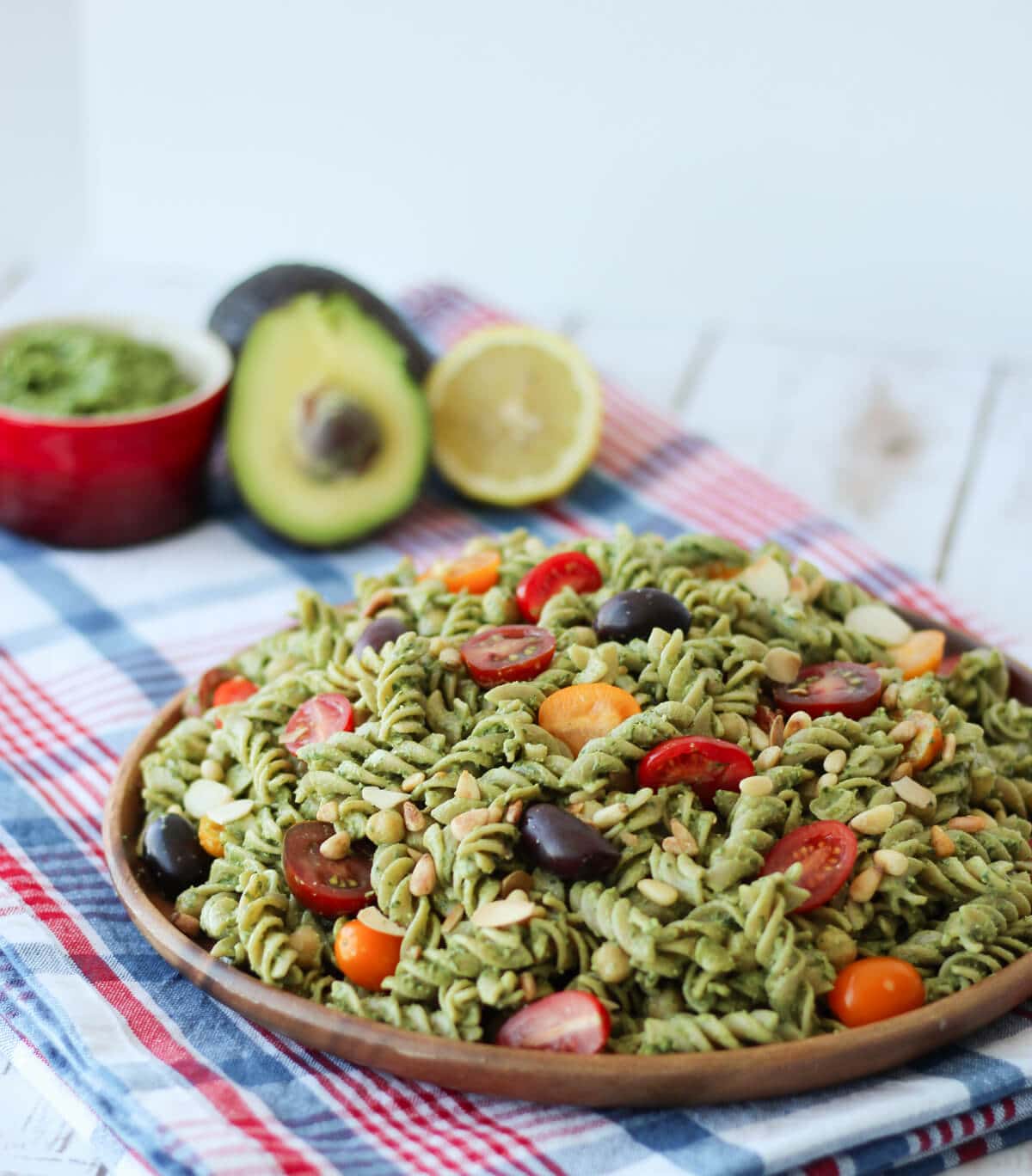 I've been super busy this summer trying to pull together this wedding, so picking up office supplies to pull this little DIY gift off is the last thing on my mind. Thankfully, my awesome HP printer has this awesome HP Instant Ink subscription service that detects when I'm low on ink and sends it to me in the mail. With plans starting at $3.99/month, it also ends up saving me about 50% on my ink purchases so it's pretty much a win-win scenario. I've been printing these recipes on pretty card stock so the quality is really high and just decorating them up with cute stickers, tape and scrapbooking materials. I think they're going to love it.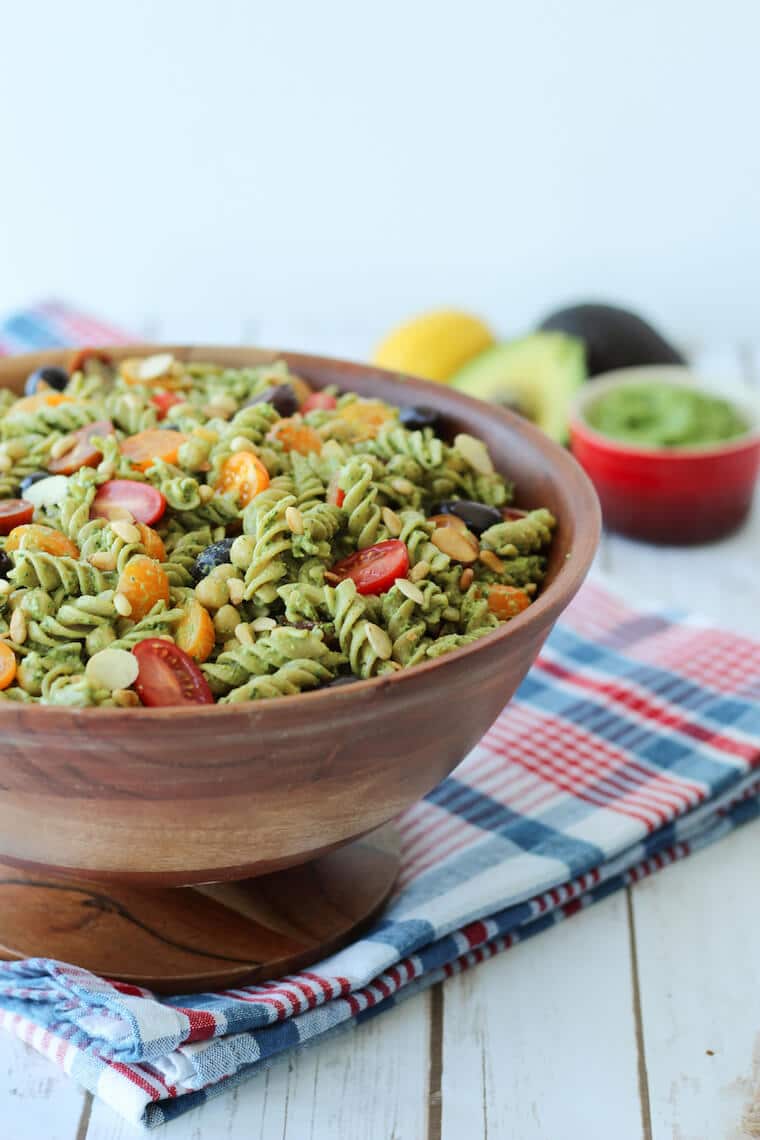 This recipe for vegan pesto gluten free pasta salad is one of the recipes I'm going to be featuring in the book because it was inspired by my dad's basil garden. My father was always super proud of his incredible crop of basil every summer, and he usually had so much of it, he always made cheese-free pesto.
It wasn't that he didn't get the memo about putting cheese in pesto, it was just that my mom had a strange phobia of the stuff. Actually, though – like it wasn't allowed in our house (especially not the super strong parmesan).
My Take on Vegan Pesto in a Gluten Free Pasta Salad
So this recipe for Vegan Pesto and Gluten Free Pasta Salad is for parents and sister, Skye. The basil pesto part is all for Dad. The no-cheese policy is for my mom. And I opted for a gluten free pasta for my sister who is cutting back on gluten to help control her IBS symptoms.
The vegan pesto starts with a few cups of fresh basil leaves, plus a combination of almonds and pine nuts. I love the traditional pine nuts, but my goodness they are pricey. I also find that almonds add a richer flavour. Then I add a little fresh garlic, lots of bright lemon juice and my secret ingredient- avocado!
The avocado really softens the flavour of the basil, adds a creamy texture and it eliminates the need for added oil! I much prefer the consistency and flavour compared with traditional pesto which I find always tastes oily and grainy.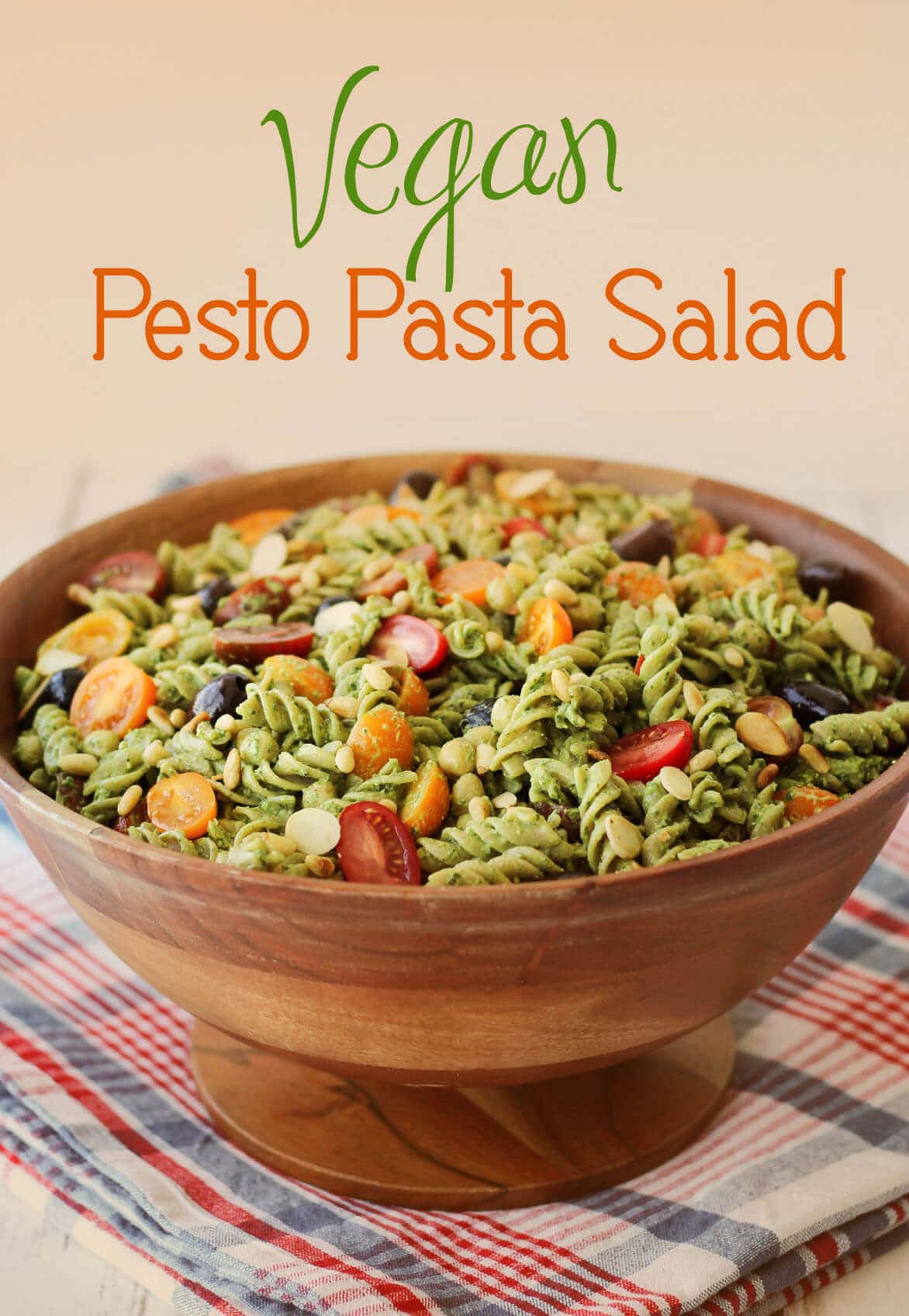 Once I dress my gluten free pasta with the vegan pesto I throw in lots of bright summer Mediterranean flavours. I used colourful tomatoes, a can of chickpeas for protein, and some briny salty olives that helps make up for the saltiness of the missing parmesan cheese.
The result is a perfect potluck pleaser that everyone at the family BBQ will love and be able to enjoy because its vegan, dairy free and gluten free.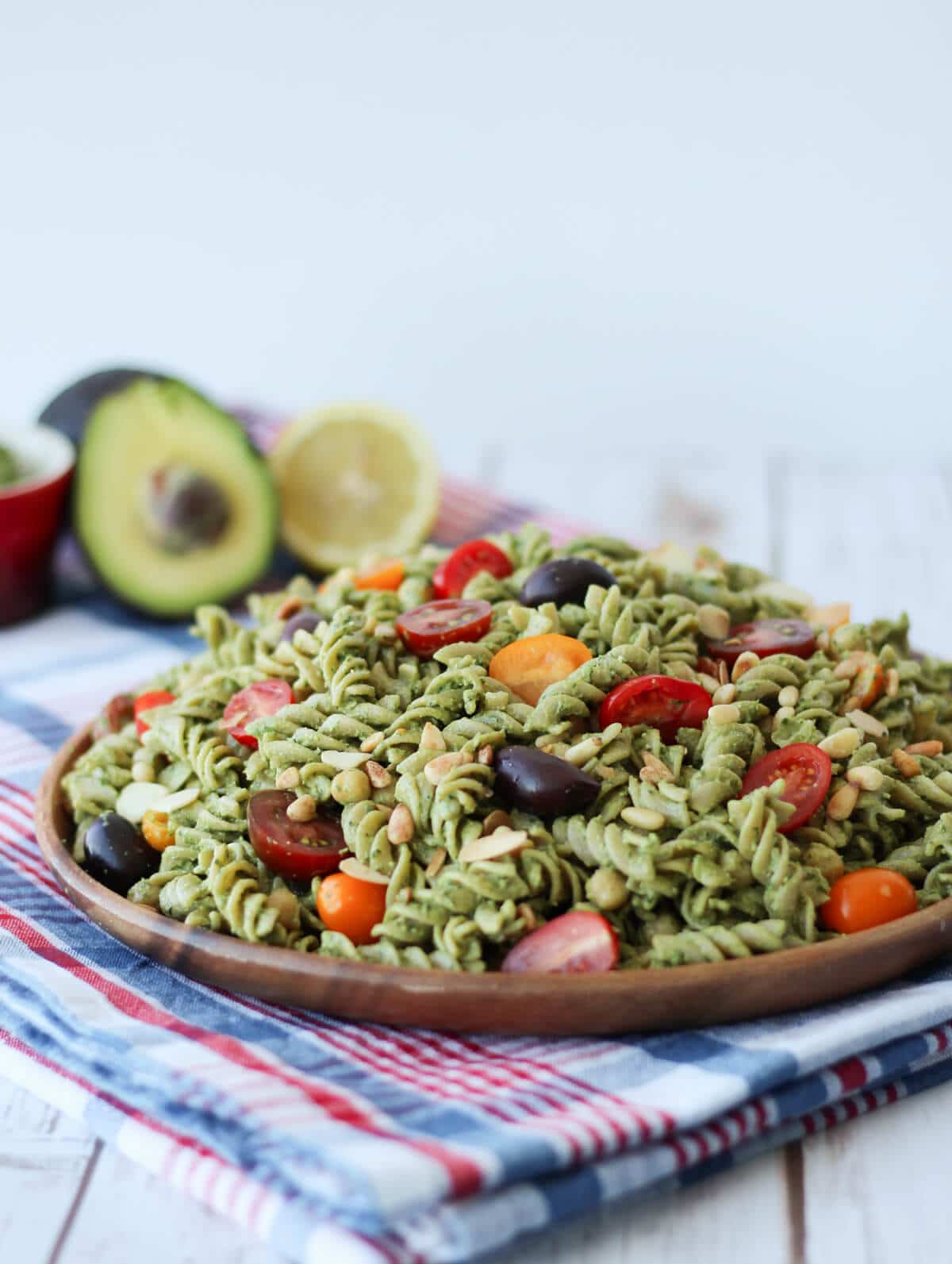 Watch me create this recipe in my latest Youtube video and start to build this lovely wedding gift for my family.
You'll also want to subscribe to the channel HERE because we will be sharing two more recipes from my family cookbook soon!
What are your favourite Summer potluck recipes? Have you tried making vegan pesto? Do you have a gluten free pasta salad recipe you love? Leave me a comment below with your favourites!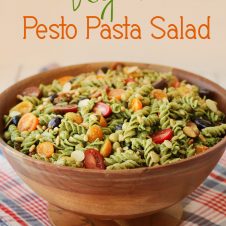 Vegan Pesto Gluten Free Pasta Salad | Healthy Summer Potluck Recipe
This vegan pesto gluten free pasta salad will be a hit at any Summer BBQ, cook-out or family potluck.
Print
Pin
Rate
Instructions
Puree the basil, almonds, pine nuts and garlic together in the food processor until they reach a paste-like consistency. Add in the lemon juice and avocado and continue to puree until smooth. Season with salt and pepper, to taste.

Meanwhile, cook the pasta according to package directions and allow to cool to room temperature.

Mix the pasta with the pesto, tomatoes, chickpeas and olives. Top with pine nuts and almonds and enjoy at room temperature.
Nutrition
Disclosure: This recipe was developed in paid partnership with HP, however, as always all opinions are genuine. This post may contain affiliate links. If you purchase from the link, I make a small commission that adds no cost to you, but helps me pay for my blog! Thanks for your support.
Updated on May 12th, 2020