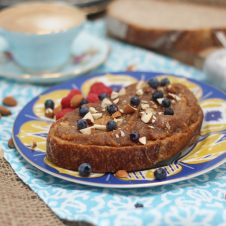 Print
Homemade Salted Caramel Almond Butter
This homemade salted caramel almond butter is a no sugar added, vegan, paleo and gluten free spread that is perfect for toast, apples, or even just your spoon (hey, we don't judge!)
Transfer to a high-power blender or food processor and puree until very smooth, this can take about 10 minutes. Remove most of the almond butter to a bowl.

Add the dates and puree until gummy, then add 1/4 cup of the almond milk, vanilla and salt. Continue to puree until super smooth and thick. If it needs a bit more help to get going, you can add the rest of the almond milk.

Add the almond butter back in and puree the two together until smooth. Store in a jar in the fridge for up to 2 weeks or enjoy on toast immediately!