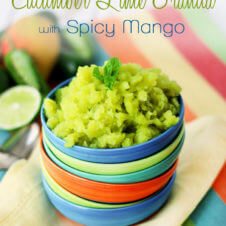 Print
Cucumber Lime Granita with Spicy Mango | Low Cal, Vegan & Gluten Free
This cucumber lime granita with spicy mango kick is totally vegan, gluten free and a total refresher on a hot Summer day.
Puree the ingredients in a food processor and transfer to a wide freezer-safe dish. Freeze until it becomes icy around the edges, about 25 minutes. Using fork, stir icy portions into middle of pan. Freeze the mixture again until totally frozen (about 2 hours), stirring the edges into center every 30 minutes.

Using a fork, scrape the granita into flaky crystals and scrape into a bowl. Enjoy!