There are new proposed changes to Canada's Food Guide on the horizon, so I break down my thoughts as a dietitian.
It's been ten years since any changes have been made to Canada's Food Guide but in early 2018, Canada will be getting a brand new spanking food guide and this time you may not recognize it.
What do some of these changes to Canada's Food Guide look like?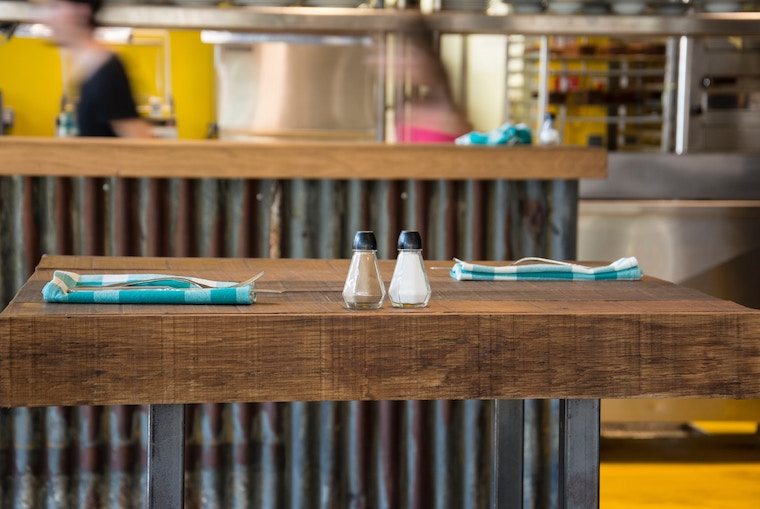 Well, in short, the overarching goal of the new food guide is to focus less on what to eat and more on what not to eat and how to eat. There are also plans to shift towards a greater emphasis on plant-based proteins. The dairy section will most likely be renamed and the meat section will be replaced with an overarching protein category that doesn't prioritize animal-based protein.
Before we dig deeper, I thought it would be fun to do a brief review of the past food guides that have come before us. You know, because I'm a geek like that.
The History of the Canadian Food Guides
In Canada, the food guide has been a long-standing controversial tool. Some people treat the food guide like the bible while others see it as a useless tool funded by the food industry. Aside from the controversial nature of the guide, it's still regarded as one of the government's most popular documents and is downloaded more than 230,000 times with more than 1.7 million print copies. In Canada, our food guide has a HUGE impact on our school lunches, and hospital menus and is typically the go-to tool used by medical professionals and institutions. This is a valuable tool, which is why any change to it, will affect a significant amount of people.
1942 – Canada's Official Food Rules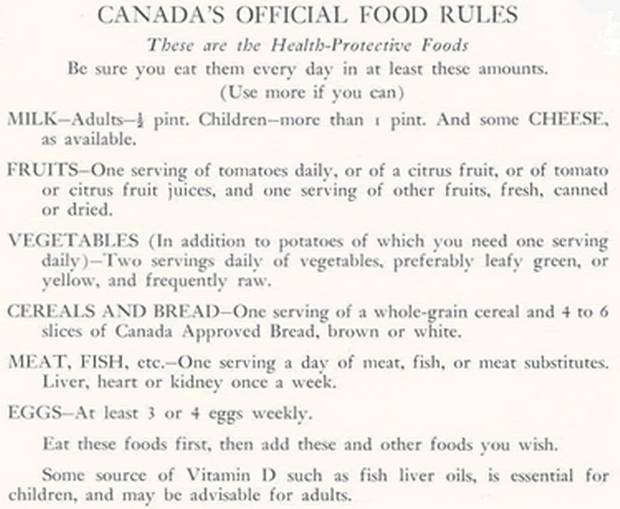 Photo Credit: Globe and Mail
The earliest food guide came at a time when the focus was on wartime rationing and reducing malnutrition. The guide was developed to properly fuel soldiers and properly fuel a population suffering from poverty and food shortages. Back then, Canada's food guide was not seen as a "guide" but really as a prescription. The diet centred around hearty carbohydrates like potatoes and bread as well as liver, heart or kidney once a week.
1944 – Canada's Food Rules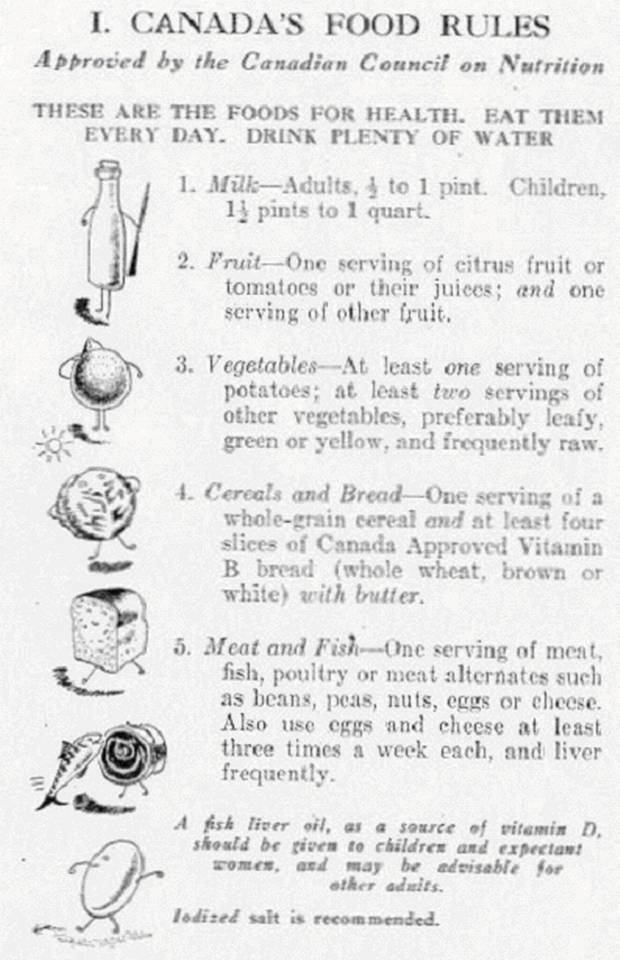 Photo Credit: Globe and Mail
A couple years later, a new set of rules were released that increased the portion sizes of milk and potatoes, and while eating liver frequently remained, kidney and heart were removed due to limited supplies. Wow, can you imagine those were your only reasonable options? Yikes.
1961 – Canada's Food Guide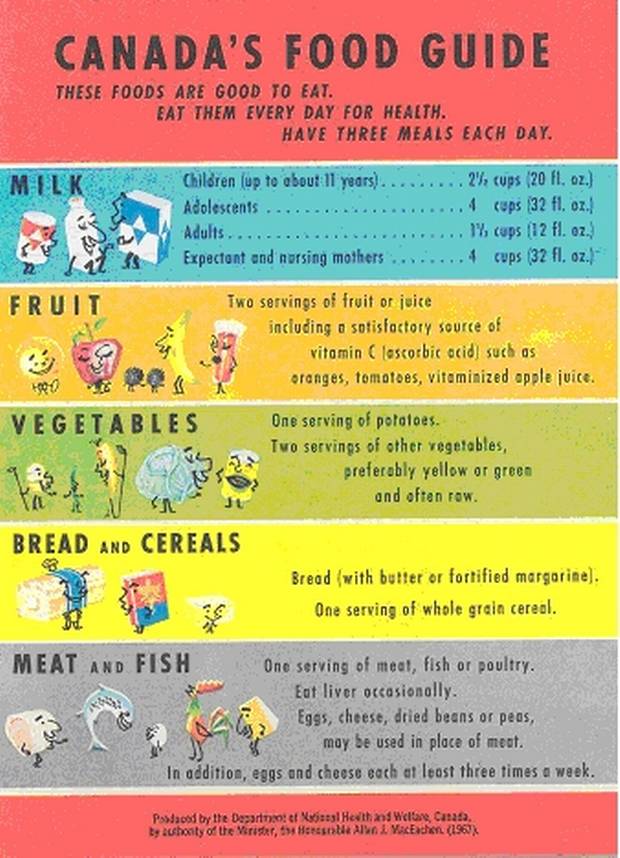 Photo Credit: Globe and Mail
In the 40s, the main concern was to reduce malnutrition so people were encouraged to eat more, but by the 60s, the mentality soon shifted to "more is not necessarily better". The 60s were marked by both food shortages and overeating so obviously, the rules needed to be revamped. One way to promote their new mandates was to rename it a "guide" instead of a set of "rules". Another major change was the use of food groups, as well as the addition of colour and images.
1977 – Canada's Food Guide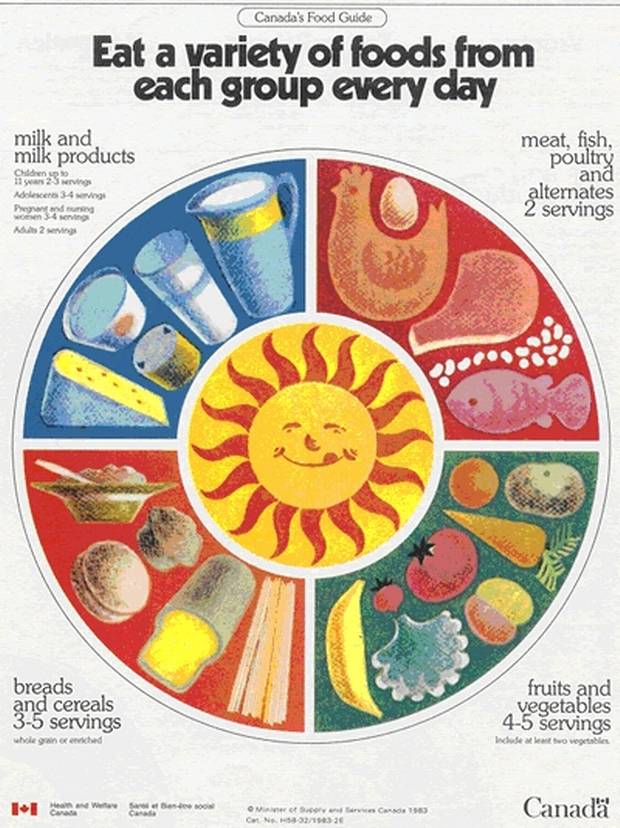 Photo Credit: Globe and Mail
In the Canada's Food guide of the 70s, fruits and vegetables were combined into a single group and the idea of variety became a central theme. Eat a variety of foods from each food group every day – this one still holds true today!
1992 – Canada's Food Guide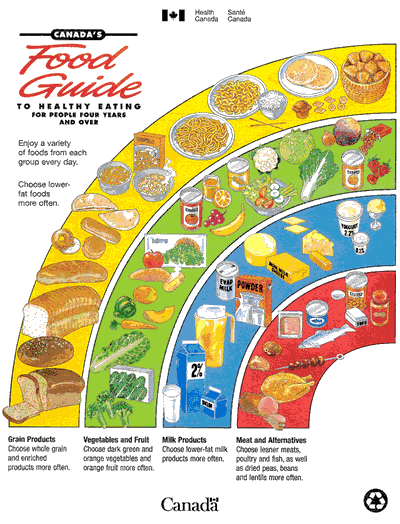 Photo Credit: Globe and Mail
The 1992 Canada's food guide introduced the rainbow template where a variety of foods were categorized under each food group. To reflect Canada's multiculturalism, back in the 90s, they attempted to include culturally specific foods like the bowl of rice with chopsticks. However, Canada still has a long way to go to create a more culturally appropriate food guide that reflects Canada's rich diversity.
Critics of the Food Guide
For decades, the food guide has received a ton of criticism. Here are some of the main concerns of health experts and the public.
Too Many Calories: A major criticism is that the food guide prescribes way too much food. I remember I once did an experiment in University where I calculated my caloric intake making the lowest calorie choices on Canada's Food Guide, and even if I only ate lettuce and boiled chicken breasts, I would still have gained weight!
It's Just Too Long: Many people also claim the food guide is too long, and because of that, the messages are less effective and convoluted.
WTF is a Serving?: Serving sizes also tend to be confusing and inconsistent as they're offered in cups, ounces and teaspoons dependent on the type of food. The majority of people are not measuring out their food and have no freaking clue what a "serving" looks like (despite educational efforts) so this becomes a major barrier to use.
It's Not Inclusive: As mentioned earlier, new Canadians are arriving every day from all over the world, and the food guide is not representative of this. Some cultural groups do not drink milk, so a food guide telling them to drink two glasses of milk may not be suitable for them. This is why nutrition information, especially these resources, must be tailored to a variety of unique audiences. When developing the upcoming food guide, Health Canada listened to more than 20,000 Canadians at open sessions which has made this process more open and democratic than ever before so I'm excited to see what they've come up with.
Food Industry Influence: A common criticism of past Canadian food guides is the omnipotent influence food industries have had in past decision processes- specifically of the dairy, cattle and sugar industries. The upcoming food guide will likely receive some serious backlash from the food industry because Health Canada will no longer be meeting privately with food industry representatives as part of the process. However, all consultations are open to the public, so it is likely that these representatives will find themselves there to promote their professional agenda in some regard. This action will not come without consequences, however. Canada's dairy and cattle sector play a significant role in our agricultural economy. We're talking thousands of Canadian jobs. Over the years, milk sales have decreased and this is having a huge impact on the livelihood of Canadian farmers, so there is always a downside to consider to these massive shifts in government recommendations. We will always need to eat, whether we're eating animal proteins or plant-based ones, so I'm hopeful that even if jobs do get lost in these industries, that they may be shifted to alternative farms.
Proposed Changes to Canada's Food Guide
Food Groups be Gone:
A major goal of the new Canada's food guide is to shift from what to eat to how to eat. For this reason, there's talk that they may do away with food groups all together which would be a HUGE change from the guides before it.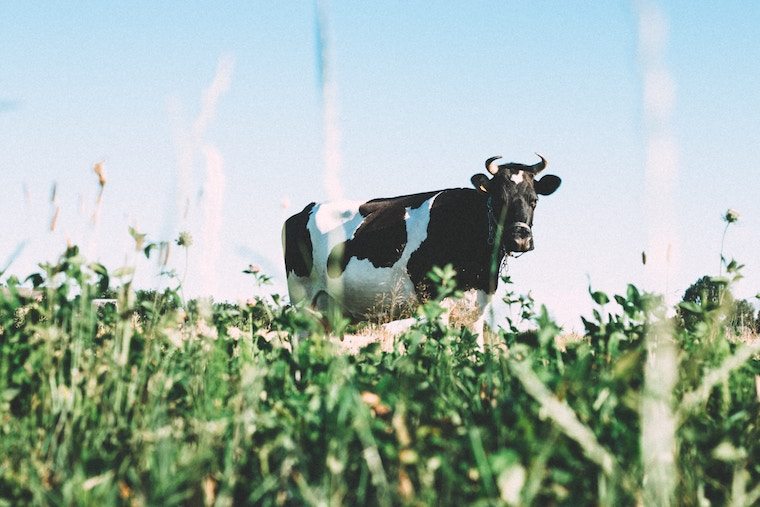 Prioritizing Plants: Food groups or otherwise, we'll also be seeing a complete overhaul on meat and dairy. It's been rumoured that Health Canada may be planning on eliminating dairy as a food group, however according to the Globe and Mail, Health Canada has responded that no decisions have been made. According to a series of guiding principles and recommendations recently released by Health Canada, the food guide will recommend: "regular intake of vegetables, fruit, whole grains and protein-rich foods, especially plant-based sources of protein". That doesn't mean that meat and dairy will be eliminated. They will be included in the appendix as examples of "protein rich foods". It is still unclear whether specific protein groups will be created. This action reflects the diversity in individual's diets by recognizing a vegetarian and vegan diet.
Foods to Limit: The guide is slated to advise on limiting the consumption of ultra-processed prepared foods and to limit foods high in saturated fat and sodium. I believe this action is a real game changer and totally necessary. Dr. Yoni Freedhoff has said that "the [current] guide ignores the fact that 25 per cent of calories Canadians are currently consuming are coming from other foods" which is why we should be spending time discussing on the foods that people are eating that are not represented currently in the food guide. The current food guide contains only a tiny blurb near the end about limiting trans fat and saturated fat, and another small blurb about high salt, and high sugar foods to limit. The rest of the food guide solely focuses on the main food groups. I think it's naive to think that if we don't emphasize these "foods to limit" in Canada's food guide, people will forget about them and avoid them. They may not be in the guide, but they're everywhere else. Let's change that.
New Themes in Canada's Food Guide
The new Canada's Food guide will also expand beyond what foods to eat, and speak more to how to eat. Let's look at some of those new themes.
Environmental Sustainability: As we continue to learn about the harmful impact food production is having on our environment, we can discuss specific dietary strategies that may help contribute to a more sustainable planet. This new food guide will explore concepts like green gas emissions, food production/distribution and food waste, and help you choose the most sustainable foods to address these issues.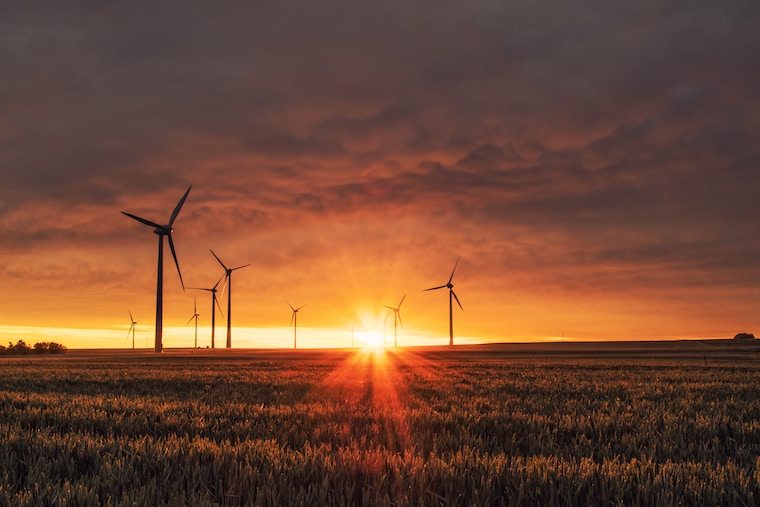 Cultural Diversity: In the past, Canada has attempted to create a more inclusive food guide that reflects our diversity, however there is still a hell of a lot more that must be done. Thankfully, Health Canada echoes that same belief which is why the new food guide will include a greater amount of culturally appropriate foods by representing, for example, indigenous cultures and traditions.
Food Skills & Knowledge: We're in a food-obsessed age where chefs are celebrities and the majority of hashtags on Instagram are food related, but at the same time, we're cooking less and eating more meals on the go. The new food guide plans to explore this gap by encouraging people to grow and cook their own meals, and eat together with friends and family whenever possible.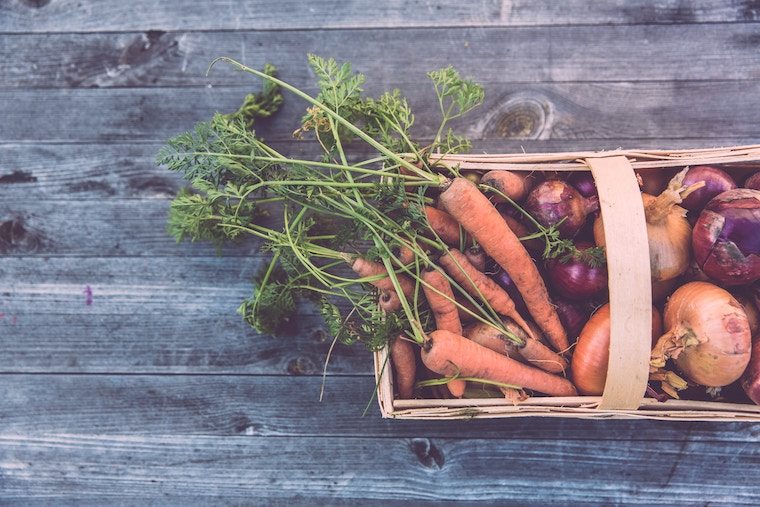 Canada's Food Guide vs Brazil's Food Guide
Much of these themes and proposed changes were inspired by the gold standard of dietary guidelines: Brazil's Food Guide, which was launched in 2014.
Why is it the gold standard? Well, Brazil's guide features simple, easy to follow key messages and looks at food from a social lens. Instead of listing foods in each food group, they categorize foods based on processing and encourage the consumption of more naturally/minimally processed foods.
Naturally or minimally processed foods
Oils, fats, salt and sugar
Processed foods (bread, cheeses, cured meats and pickles)
Ultra-processed foods
The Brazilian food guide makes an obvious connection between healthy diets and sustainable food production and distribution practices. They discuss how food should be eaten, and they even touch on food marketing. It's no wonder this food guide has become a model on the international stage and has triggered the re-development of a variety of food guides worldwide.
Here are Brazil's 10 steps to a healthy diet:
Make natural or minimally processed foods the basis of your diet
Use oils, fats, salt and sugar in small amounts
Limit consumption of processed foods
Avoid consumption of ultra-processed foods
Eat regularly and carefully in appropriate environments and in company
Shop in places that offer a variety of natural or minimally-processed foods
Develop, exercise and share cooking skills
Plan your time to make food and eating important in your life
Out of home, prefer places that serve freshly made meals
Be wary of food advertising and marketing
AH, why can't we just copy and paste this into ours???
What is the Role of Canada's Food Guide?
Before we get too wrapped up in the new food guide, let's remember one thing: it's just a guide. Back in the 40s, we had a different understanding of the food guide and they were seen as a concrete rule for a different time. But our population is changing and growing every day, and our food guide must reflect that. We're not all eating the same way, and our needs aren't all the same, so one guide cannot effectively represent each individual's needs. In dietetics were taught about the unique needs of each individual, and simply handing someone a food guide is not the answer to healthy eating. Despite what some people believe, this is NOT what dietitians do. In fact, I don't know any dietitians who actively use the guide. Dietitians want to explore how we're eating, where we're eating and who we're eating with. Yes, it's important to know what we're eating, but that's only one small piece of the puzzle. Which is why I'm excited that the upcoming food guide will encompass some of these concepts. Let's be real, it's impossible to come up with a guide that can be effectively used by everyone, but I think we're getting closer with this one.
What do you think about the proposed changes to Canada's Food Guide?
Are you happy with them?
What kind of changes do you hope to see in the upcoming food guide?
Comment below with your thoughts!
Contribution by Sofia Tsalamlal, RD
Updated on October 14th, 2020