It doesn't have to be your birthday to start your day off right with these healthy gluten free birthday cake protein waffles that are made from scratch and totally easy.
Guys, I'm excited because it's my birthday in 3 DAYS! Even more exciting, I'm turning 30! It's a big year and I plan on celebrating loud and proud. To kick off the festivities I plan on whipping up these gluten free birthday cake protein waffles. I FINALLY got myself a waffle iron, and now I want to waffle all day, err day! So get ready for a ton more waffle recipes. For now, let's focus on one of my fav flavs: birthday cake (insert googley eyes here).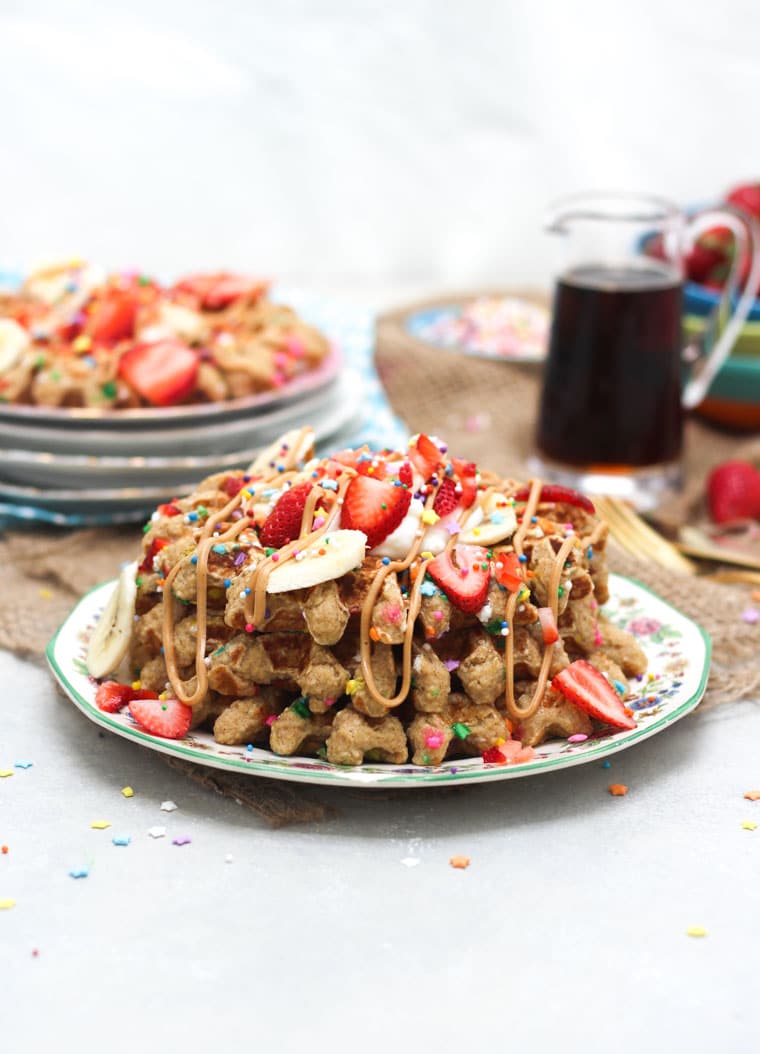 These birthday cake protein waffles are probably the prettiest stack I've ever made (or consumed). Not only are they super insta-worthy but also are made without the use of artificial ingredients. On top of that, they pack a protein punch! Each waffle clocks in with a whopping 22 grams of protein and that's without the use of protein powder! Um.. YES. I always depend on a high protein breaky to get through my day and usually refuel after a long workout.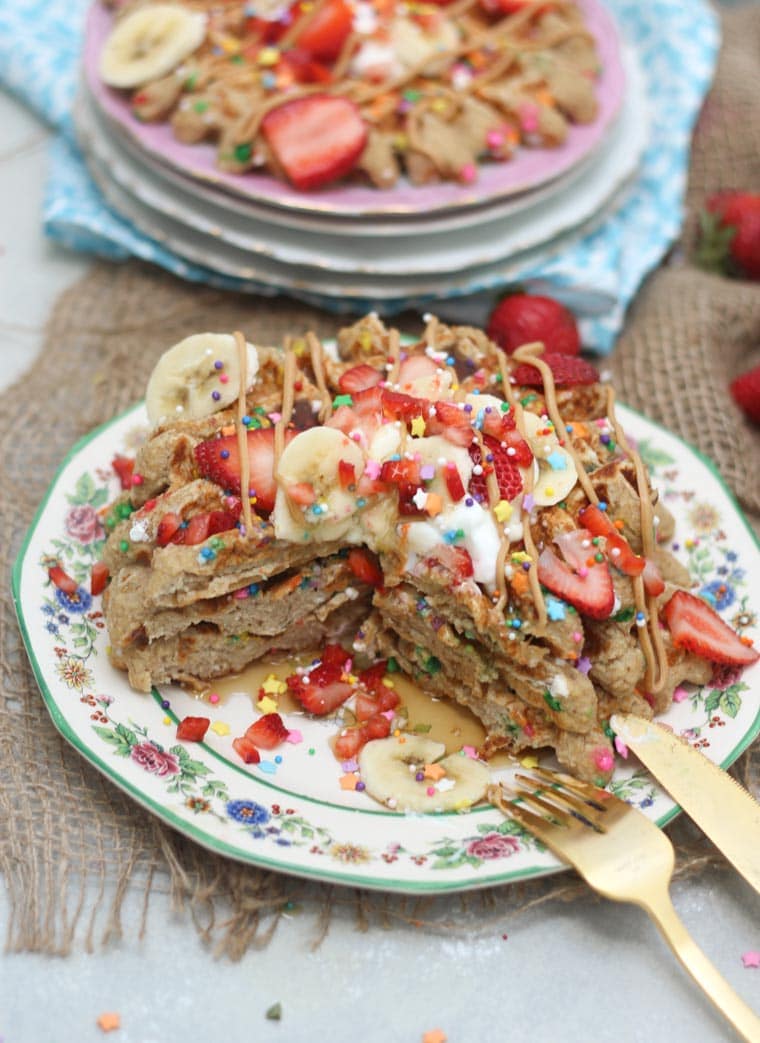 Want to make this stack of these birthday cake protein waffles ASAP? Here's how you make em.
How to Make Birthday Cake Protein Waffles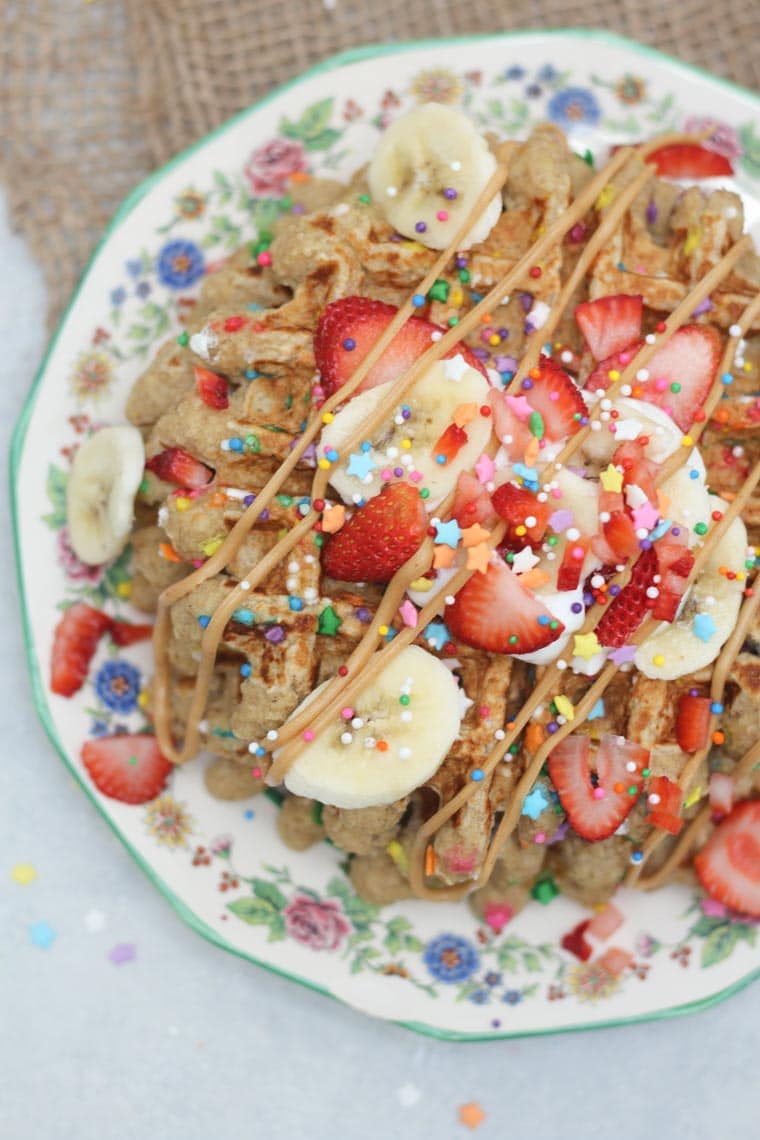 I wanted to develop a recipe that was as easy as pie (or should I say waffle?), so I chose ingredients that you would typically find in your pantry and fridge. Basically, I want you guys to be able to whip up a stack of these bad boys ASAP whenever you need a pick me up. And any day (not just your birthday), can be birthday cake protein waffle day.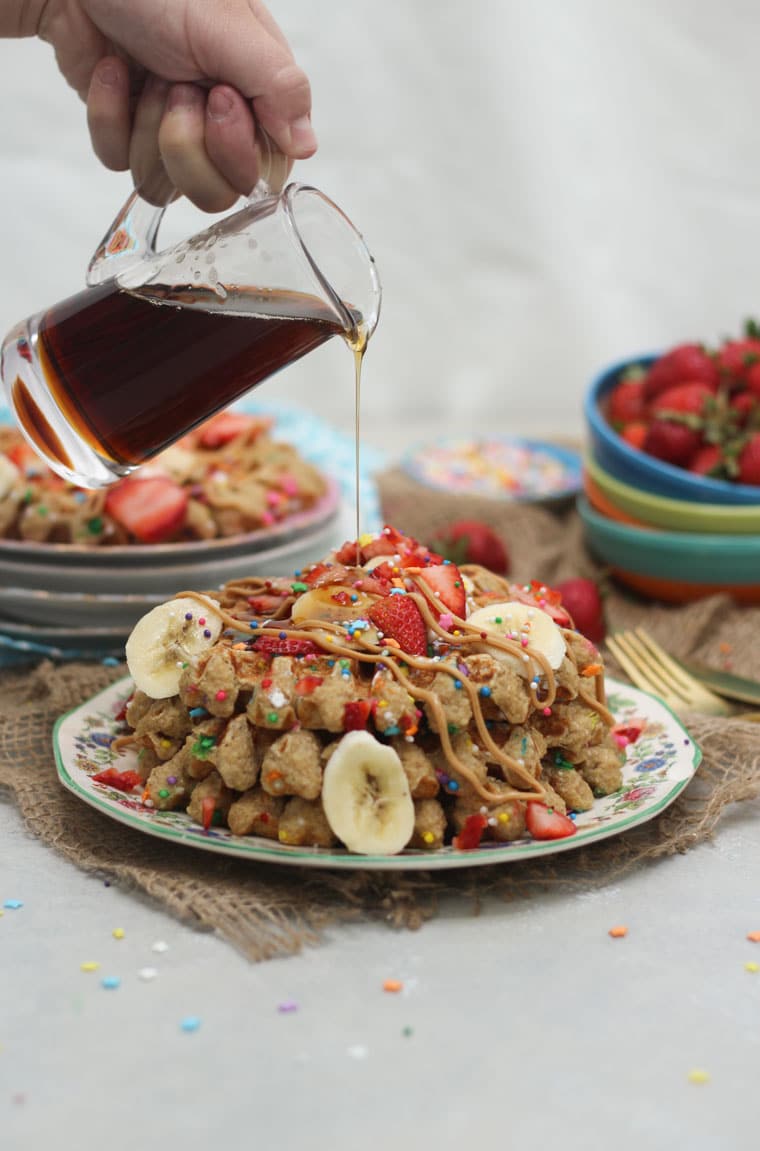 To make the batter, I use gluten free oats (pulsed in a food processor), cottage cheese, banana, eggs, cinnamon, and vanilla. Once my waffle iron is fully heated, I add 1 cup of the mixture and MAKE IT RAIN with an assortment of sprinkles.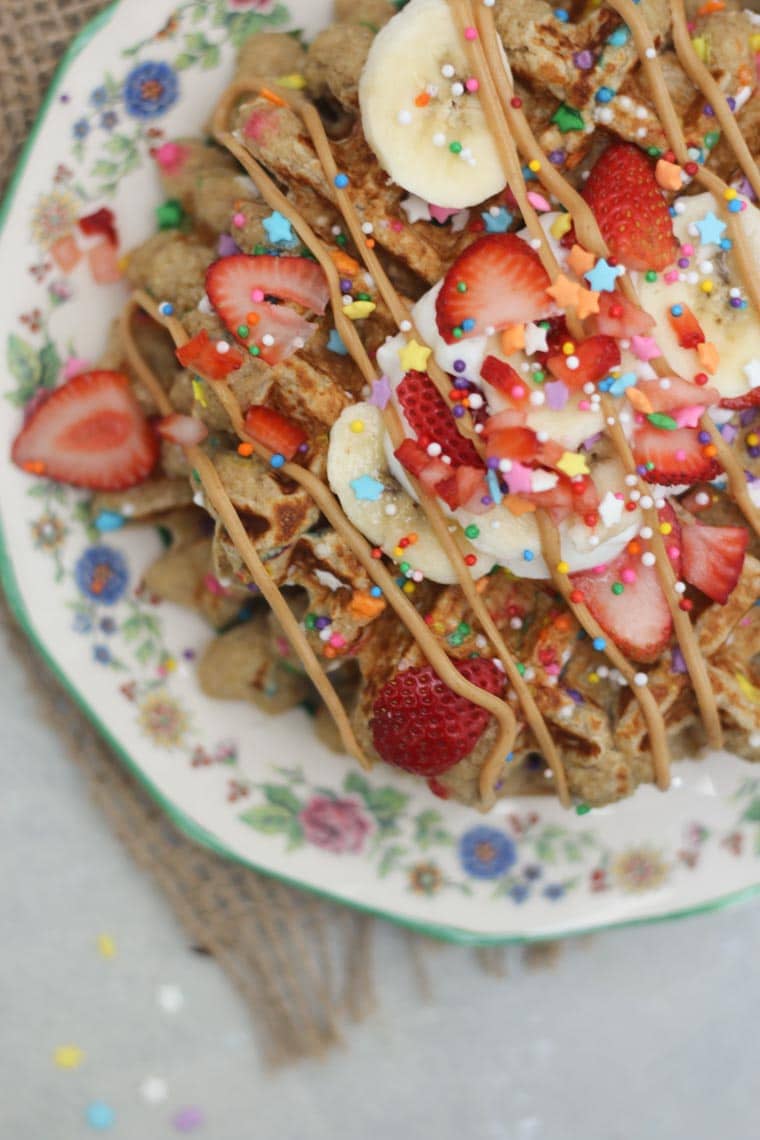 Once the waffles are cooked, I finish them off with a generous dollop of greek yoghurt, strawberries, bananas, almond butter and obv MORE sprinkles!
There you have it lovelies. All that's left is to chow down on this stack, but before you do, be sure to snap an insta and tag me in it so I can see your lovely creations!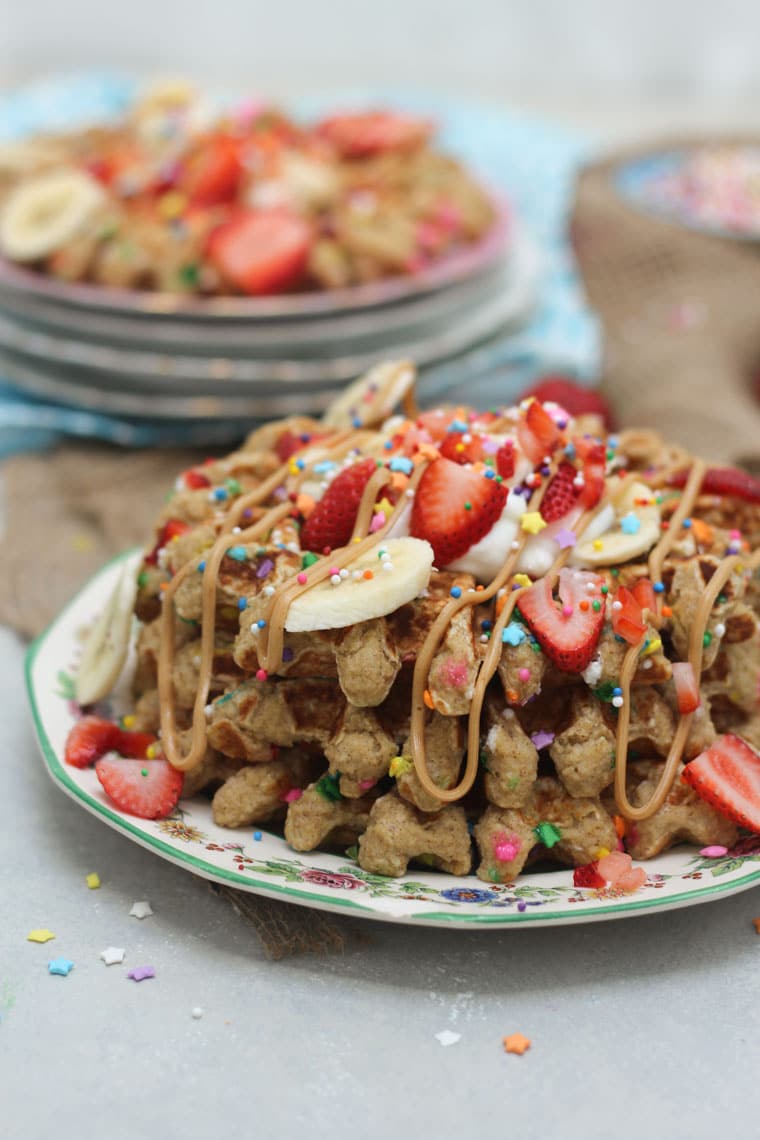 Guys I am TOTS making this again on my 30th birthday! I legit cannot WAIT to dig in (oh and to celebrate with family and friends, of course).
Now tell me, what breakfast do you want on your birthday?
Have you tried these gluten free birthday cake protein waffles?
Leave me a comment below with your thoughts!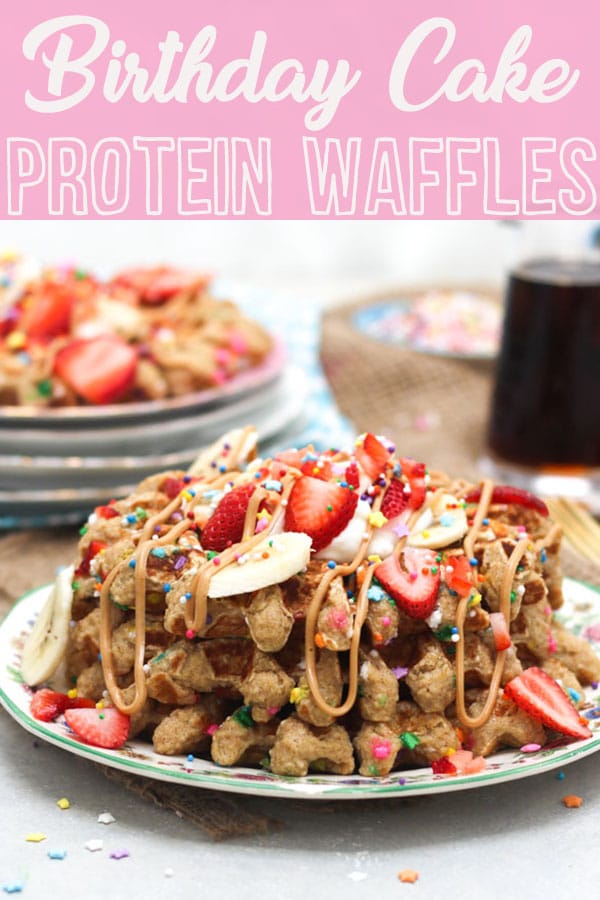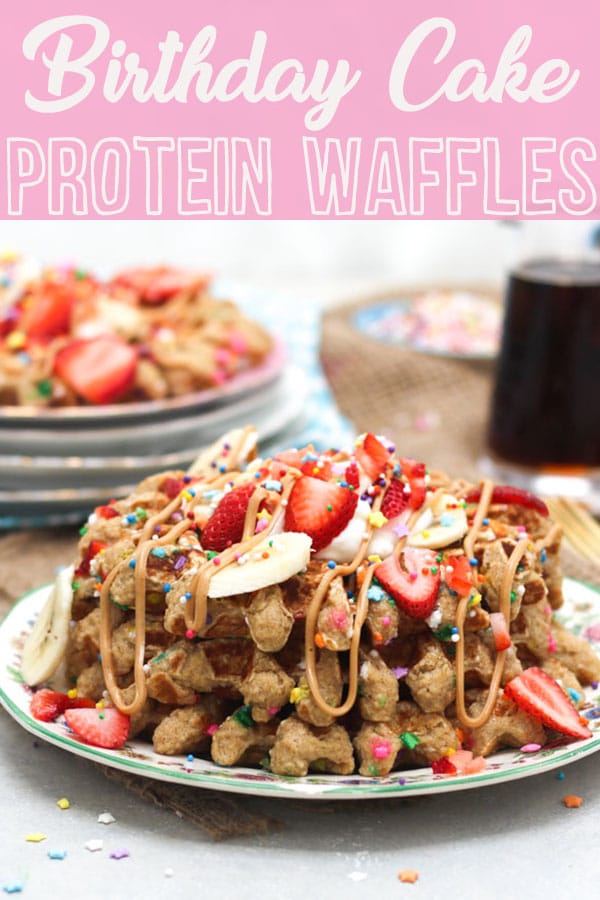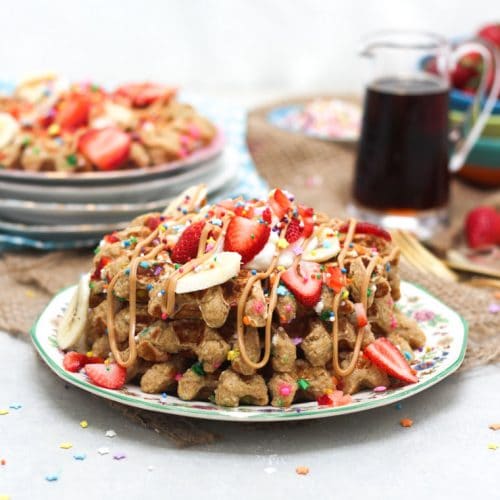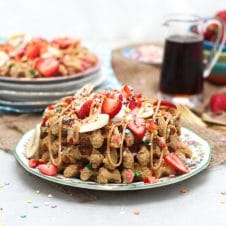 Gluten Free Birthday Cake Protein Waffles
It doesn't have to be your birthday to start your day off right with these gluten free birthday cake protein waffles.
Print
Pin
Rate
Ingredients
Toppings:
Rainbow sprinkles

Greek yogurt

Sliced strawberries

Sliced banana
Instructions
In a food processor, puree the oats until they reach a flour like texture. Transfer to a large bowl.

Add the cottage cheese and banana to the processor and puree until smooth. Add to the bowl.

Add the eggs and egg whites, vanilla, cinnamon and salt to the bowl and stir until combined.

Preheat a waffle iron and add 1 cup of mixture to the centre. Sprinkle with assorted sprinkles and cook to desired doneness.

Top with a dollop of yogurt, a drizzle of almond butter, strawberries, bananas and extra sprinkles. Enjoy!!
Nutrition
Updated on April 30th, 2020