These vegan poke bowls with crispy tofu were inspired by traditional Hawaiian poke bowls and offer three unique takes on gluten free power bowls!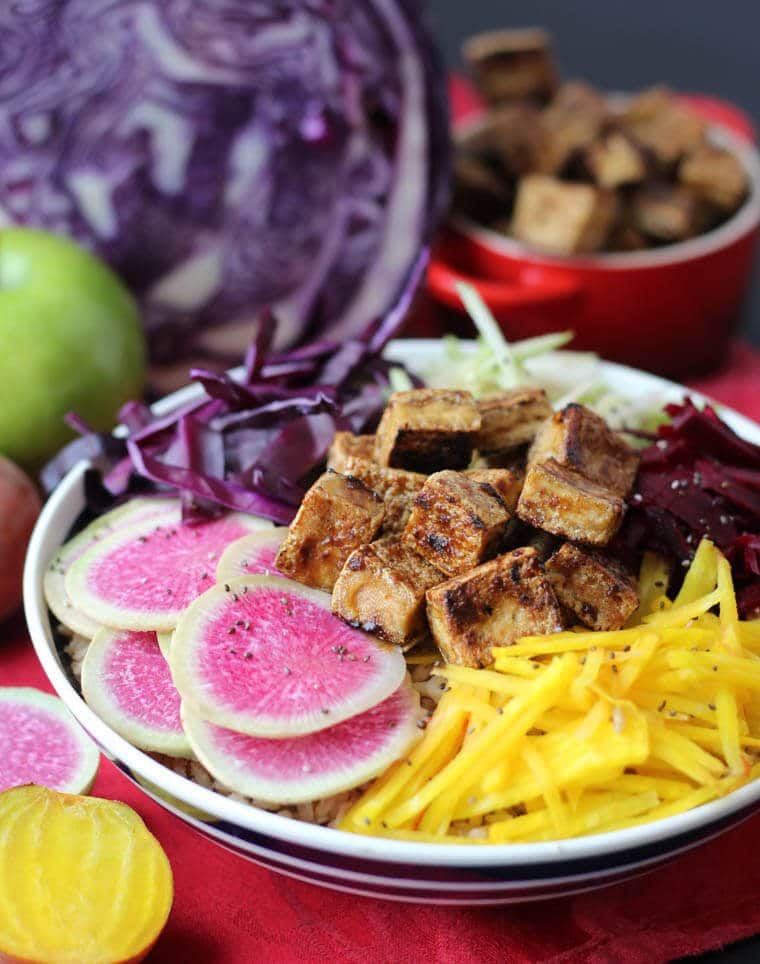 I first saw poke bowls when I was in LA looking at wedding venues. I was trying to eat really healthy at the time to get ready for my big day, so I was super excited when I found a little cafe specializing in these nutrient dense meals.While I am a huge personal fan of sashimi fish, I totally get that a lot of my friends are not so on board. Some are pregnant, some are vegan, and some are just a bit squeamish when it come to raw stuff. So I decided to take some inspiration from the poke bowl way and make vegan poke bowls with crispy tofu.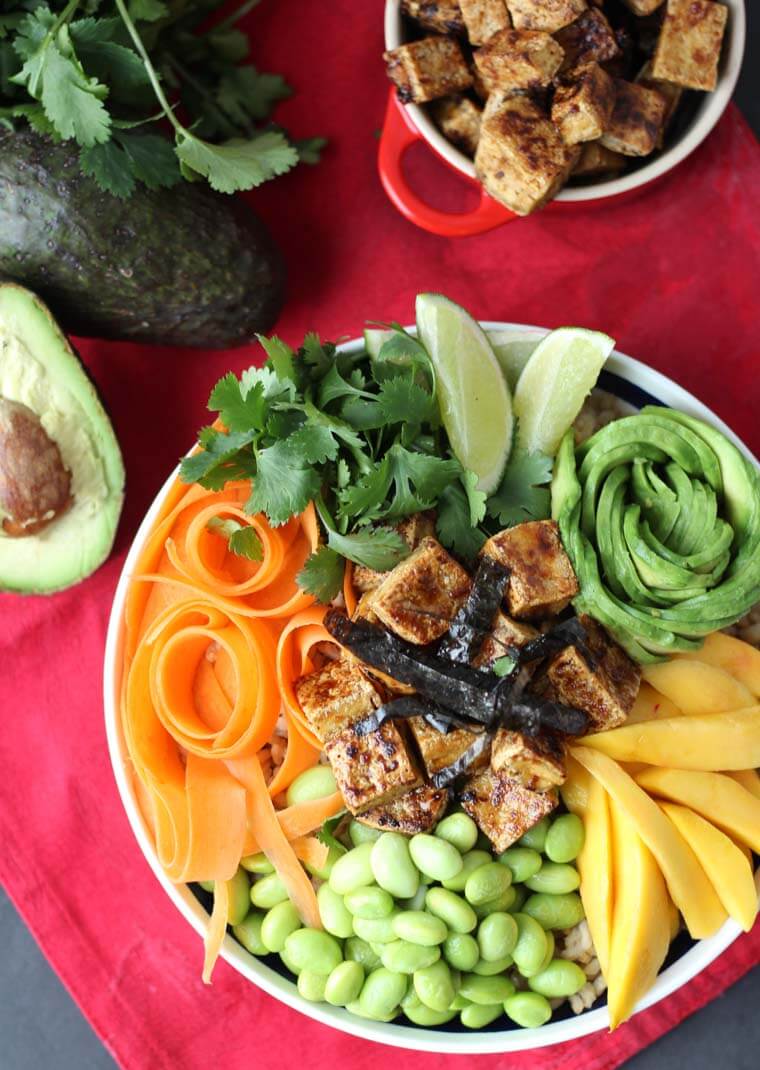 Now before you lose you're lid on me, I know that these vegan poke bowls are not authentic. I try not to get too hung up on authenticity because my number one goal is always just to make food that tastes good and feels good. So I swapped the raw fish for tofu, and yes, I cooked the tofu. I was going to just serve it "raw" but a) some would argue that's not exactly food safe because it is possible for bacteria to live in the liquid tofu is stored in and b) it just doesnt taste good. I like a little caramelization and sauce factor on my tofu, so I crisped mine up in a hot pan.
In my opinion, these vegan poke bowls are the ultimate health food. You have lean protein, whole grains and tons of veggies. They're also vegan, gluten free and dairy free for those who have dietary restrictions. You kinda need these in your life RIGHT-NOW.
How to Make Vegan Poke Bowls
Since I already broke all the poke bowl rules with my vegan poke bowls, the only other rules that matter is that you add in lots of nutrient-dense colourful veg. I couldn't decide so I decided to make three versions and let you choose your favourite.
The first has crunchy edamame, sweet mango, and creamy avocado. I'm not going to lie- it's probably my fave.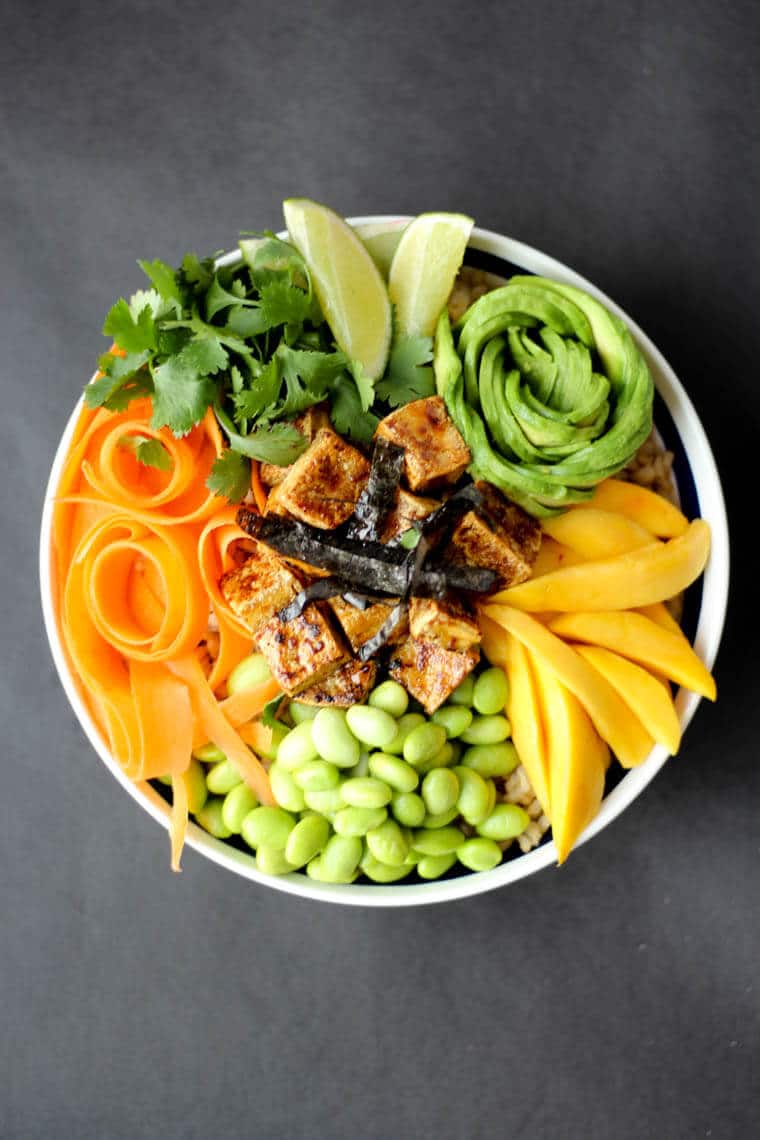 The second is totally different with grated beets, apple, cabbage and watermelon radish. TELL ME THAT RADISH ISN'T THE MOST BEAUTIFUL THING IN THE WORLD.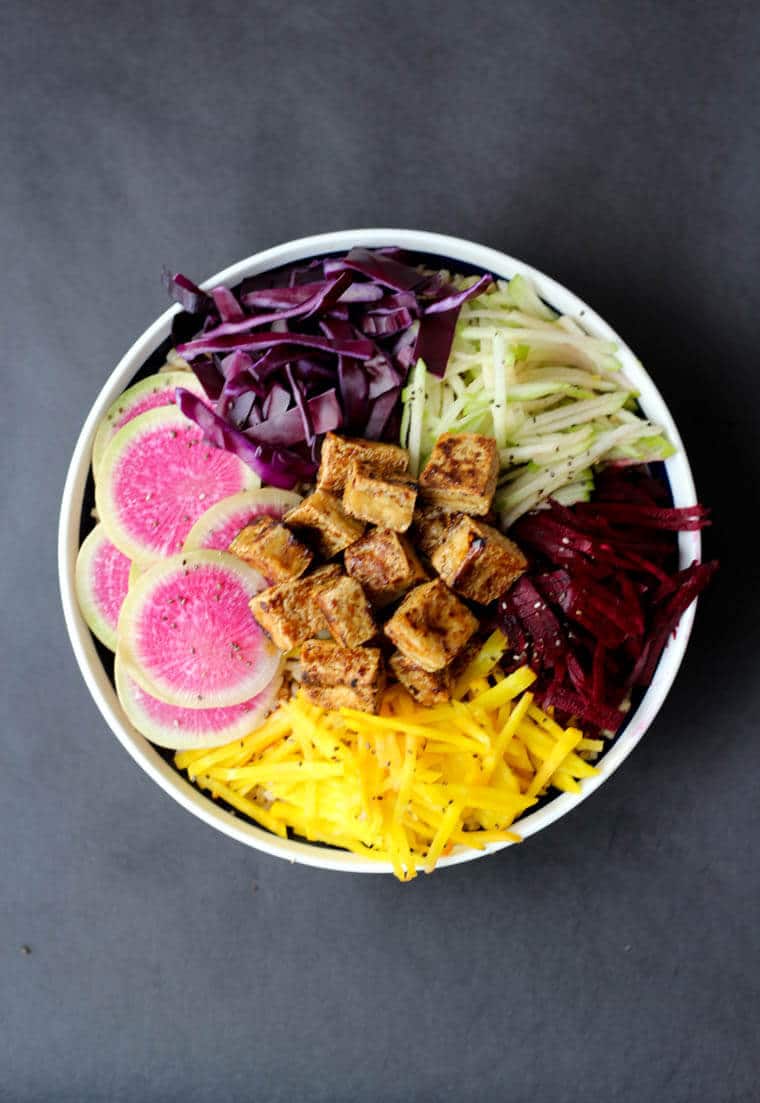 The third features crunchy cucumber, sweet mandarin, peas and tangy pineapple. I totally love the little sesame seed crunch on top.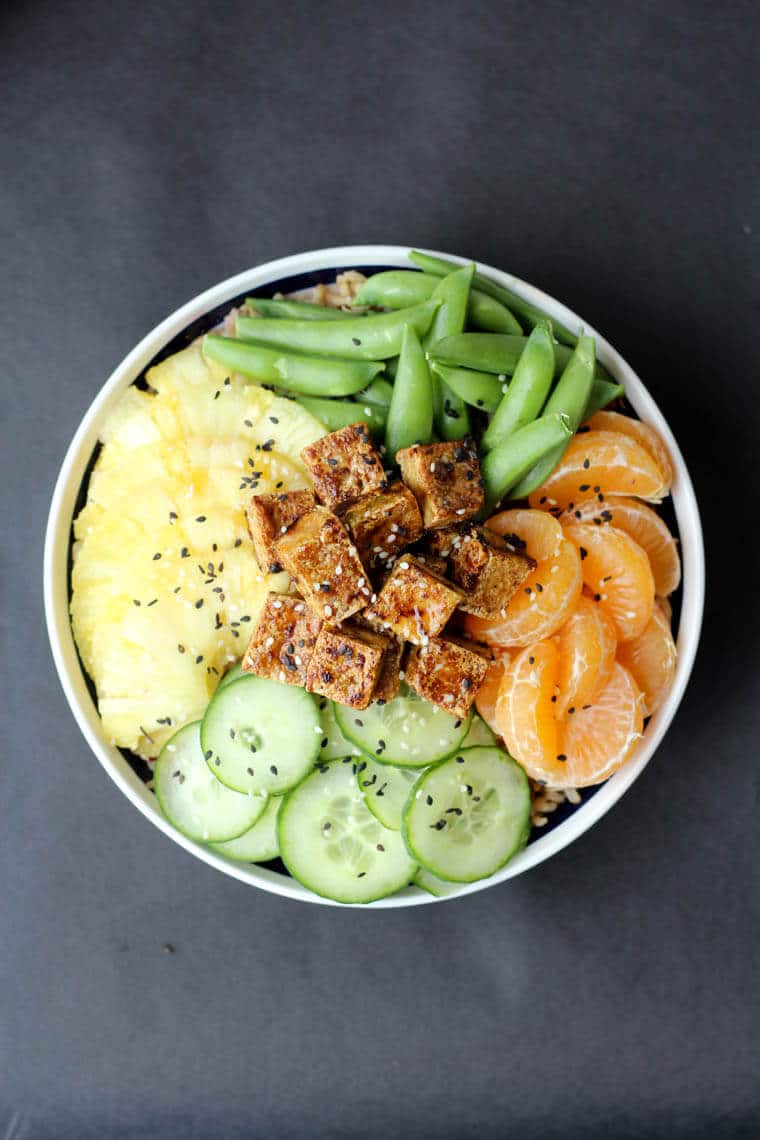 Okay, so vegan poke bowls are maybe not a "real" thing, but what they are are packed with nutrition, gluten free, vegan, and totally delish.
I want to know, what your favourite combinations in poke bowls are?
Have you tried making my vegan poke bowls?
Which of the three combinations would be your favourite vegan poke bowl?
Leave me a comment below!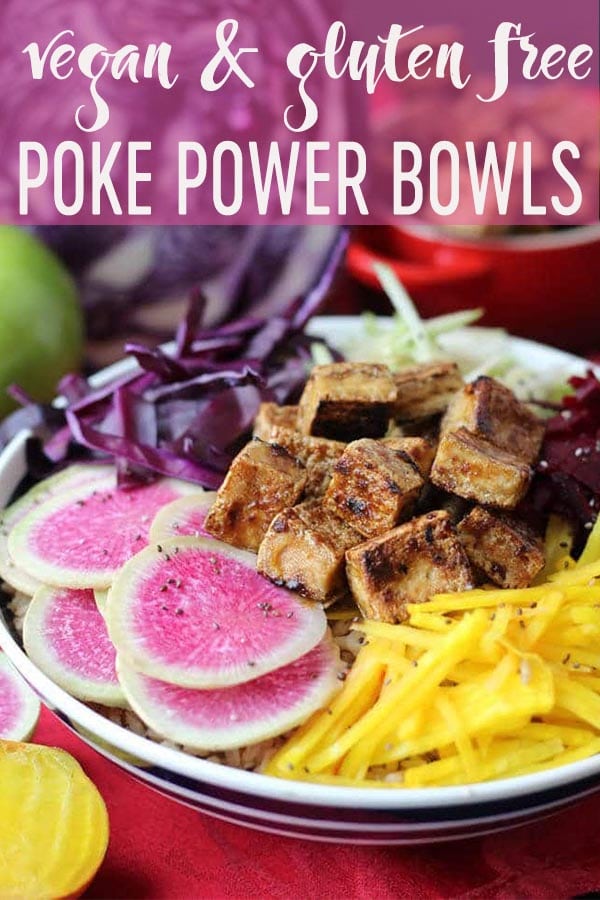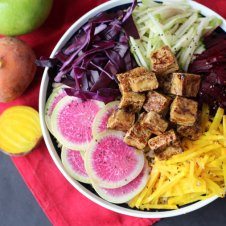 Vegan Poke Bowls Three Ways with Crispy Tofu | Gluten Free Power Bowls
These vegan poke bowls with crispy tofu were inspired by traditional Hawaiian poke bowls and offer three unique takes on gluten free power bowls!
Print
Pin
Rate
Ingredients
Poke Bowl Base:
1

package extra firm tofu

2

tbsp

virgin coconut oil

1

tsp

sesame oil

1

tbsp

ginger

finely grated

1

tbsp

low sodium tamari

3

tbsp

coconut sugar

1

tsp

sriracha

Pinch of sea salt

4

cups

cooked brown rice or quinoa
Edamame Mango:
1

cup

mango

cut into strips

1

avocado

cut into strips

2

carrots

shaved into ribbons

1

cup

cilantro leaves

¼

cup

nori strips

1

lime

cut into wedges
Apple Beet
1

red beet

peeled and shredded

1

yellow beet

peeled and shredded

1

green apple

cored and shredded

2

watermelon radish

thinly sliced

1

cup

red cabbage

finely shredded

2

tsp

chia seeds
Mandarin Snap Pea
2

mandarin oranges

segmented

1 ½

cups

snap peas

1

cup

pineapple thinly sliced

½

English cucumber

thinly sliced

1

tsp

black sesame seeds

1

tsp

white sesame seeds

toasted
Instructions
Place the tofu on a few sheets of paper towel, top with more paper towel and add a few heavy books or pots on top to press the moisture out. Let it sit for 10 minutes.

Heat the coconut oil in a skillet over medium high heat and add in the tofu pan fry on all sides until very crispy and golden, about 5-8 minutes.

Meanwhile, mix together the sesame oil, ginger, tamari, coconut sugar and sriracha. Once the tofu is caramelized and golden, turn off the heat, and brush the pieces with the coconut sugar glaze. Toss in the pan to coat and allow to lightly caramelize. Set aside and sprinkle with sea salt. Don't worry about the tofu not being super hot, it's just as tasty at room temperature.

Mix together the vinegar, sesame oil, tamari, sugar, oil and sriracha in a bowl. Season with salt and pepper, to taste.

To assemble, fill each bowl with 1 cup of brown rice and a drizzle of the dressing. Top with a quarter of the tofu and add the poke bowl toppings of your choice. Enjoy!
Nutrition
Updated on October 23rd, 2020