These Healthy Lychee Chicken Curry Noodles are a perfect one pot, high fibre, high protein dinner for easy casual entertaining.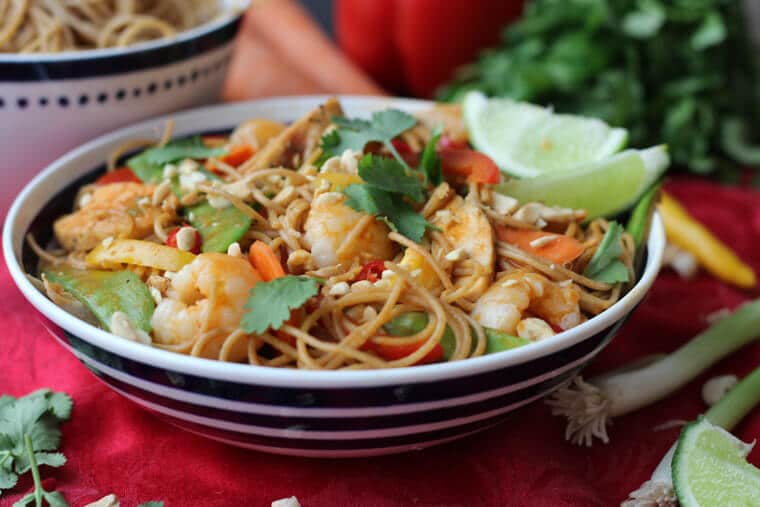 Storytime! Back when I was studying to become a dietitian, I was part of a small group of dietetic interns at a local hospital who literally helped me survive a very difficult year. Once a month, five of us gals would get together to "study" for our end-of-year qualifying exam, promising to each bring at least a few practice scenarios to the table. If I'm being honest, those study sessions were really just an excuse to crack a bottle of wine and eat way too much take-out, but regardless, we all passed.
I was always in charge of ordering (I've always been the most decisive lady in the group), and one of our go-to's was a lychee chicken curry from a local Thai restaurant. Sweet juicy lychees, hearty chicken and a creamy coconut sauce always went down well with the girls and helped get our thinking caps on for a serious "study-sesh".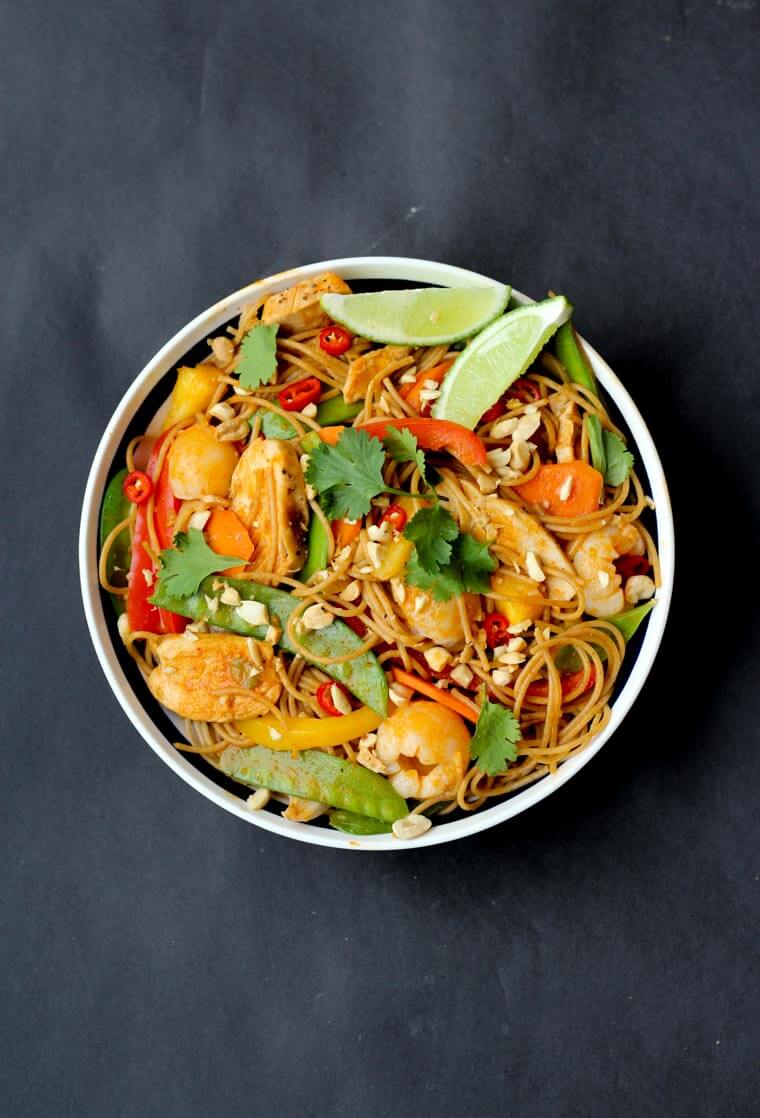 Today, we're long past pretending to study, and yes, our conversations are now more about babies than they are about boys, but we still get together to enjoy a good meal as a group at least once a month. This month, I wanted to pay homage to our old internship tradition by making my own Healthy Lychee Chicken Curry Noodles.
How to Make Healthy Lychee Chicken Curry Noodles
By skipping the take-out, I was able to lighten up the curry sauce, cut the sugar, add tons more veggies (because not surprisingly, they're in high demand with my dietitian friends), substitute the standard white rice for amazing high fiber pasta. I am obsessed with Catelli's new Ancient Grains pasta made with 100% Canadian wheat and five ancient grains including quinoa, teff, amaranth, millet, and sorghum. Each serving packs in 75% of your daily whole grains and 32% of your daily fiber needs – so it's a super satisfying choice in these Healthy Lychee Chicken Curry Noodles.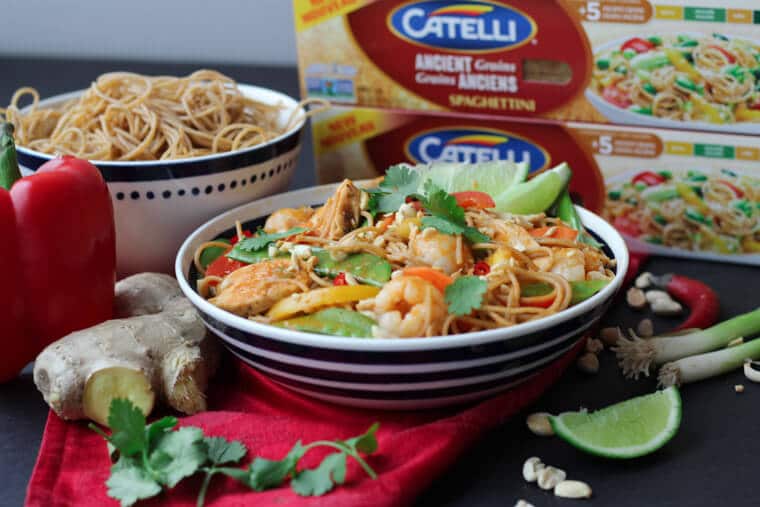 This is also a really easy recipe to pull off, which is the key to casual entertaining. Not sure what it is, but people tend to gravitate around the kitchen island, so I like to keep the cooking chaos to a minimum. With a recipe like Healthy Lychee Chicken Curry Noodles, I dirty up only two pots and you have your protein, veggies and whole grains in one bowl each. In other words, I don't have to worry about timing multiple dishes at once, I have fewer dishes to clean, and I get more time to spend gossiping about who's getting pregnant next and the last tiff with the MIL.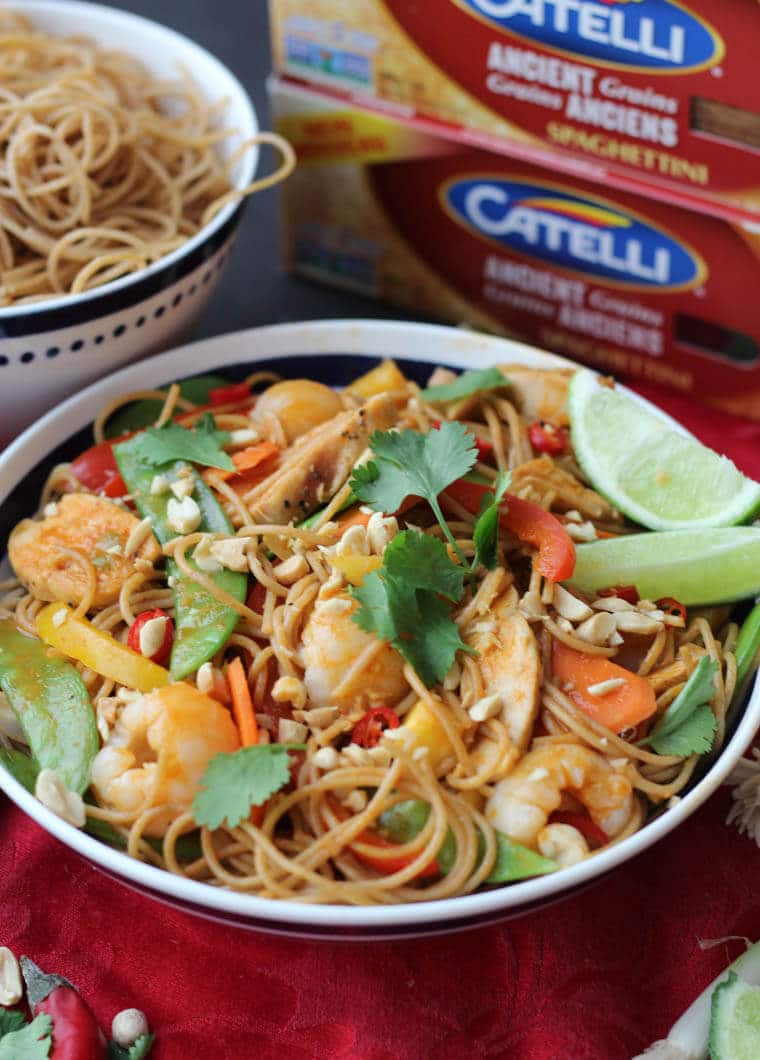 This year, Catelli is celebrating its 150th birthday alongside Canada. To say thank you to families for inspiring them for over a century, Catelli has created an amazing 150th Anniversary Recipe Collection with 12 easy recipes that you can try at your next family reunion! I think anytime is a great time to reunite with family and friends, but with the exciting Canadian milestone, it's a particularly great excuse!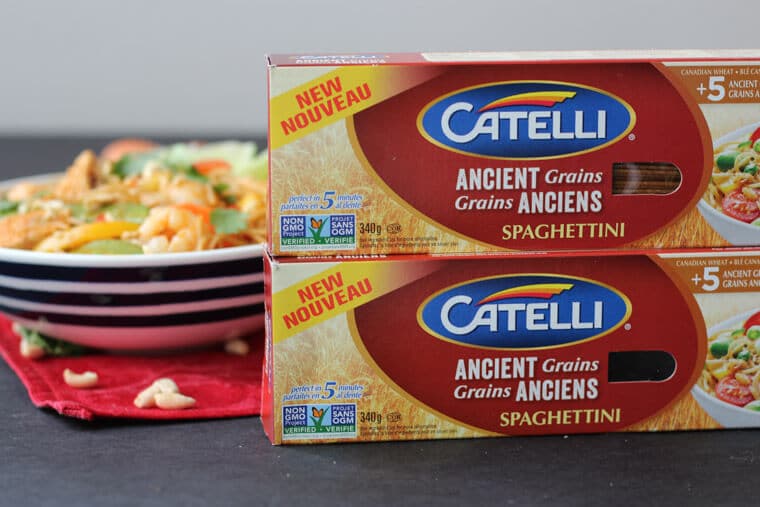 Now tell me, what dishes do you always eat when you're with your best group of friends or family?
Have you tried making this Healthy Lychee Chicken Curry Noodles? What did you think?
Leave me a comment below with your thoughts!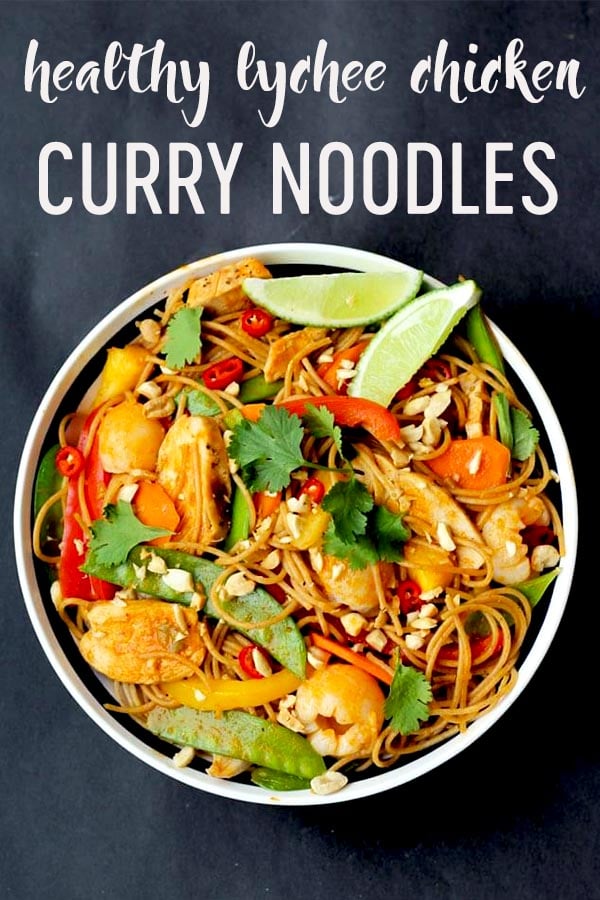 Disclaimer: this recipe was developed in paid partnership with Catelli, however, all opinions are genuine.
Healthy Lychee Chicken Curry Noodles
These Healthy Lychee Chicken Curry Noodles are a perfect one pot, high fibre, high protein dinner for easy casual entertaining.
Ingredients
1 1/2

tablespoons

virgin coconut oil

divided

1

lb

chicken breasts

thinly sliced

1

red bell pepper

thinly sliced

1

yellow bell pepper

thinly sliced

2

carrots

peeled, thinly sliced on a bias

2

cups

snow peas

trimmed

5

green onions

thinly sliced, light green and white parts only

2

tbsp

ginger

grated

4

cloves

garlic

minced

5

tbsp

thai red curry paste

2

cans lite coconut milk

2

tbsp

coconut sugar

4

tsp

fish sauce

2

tbsp

lime juice

1

cup

pineapple

finely diced

1 ½

cups

canned lychees

drained and rinsed

1

package Catelli Ancient Grains Spaghettini Pasta

340 g

Salt

for cooking
Instructions
Heat ½ tablespoon of coconut oil in a large nonstick skillet over medium high heat and add the chicken. Season with a pinch each of salt and pepper, and cook until opaque, about 7-9 minutes. Remove from the pan and set aside in a bowl.

Return the pan to the stove, then add in the bell pepper, carrots, and snow peas. Cook until softened and lightly browned, about 5-6 minutes. Transfer to the bowl with the chicken and set aside.

Return the pan again to the stove and add in the remaining tablespoon of oil. Add the green onions and sauté for 2 minutes on medium heat until softened, then add in the ginger and garlic and sauté for an additional minute. Stir in the curry paste, coconut milk, sugar, soy sauce, fish and lime juice. Simmer the sauce while whisking the curry paste into the liquid and allow the sauce to thicken slightly, about 6-8 minutes. Season with salt and pepper, to taste.

Add in the chicken, vegetables, pineapple and lychees and stir until well coated. Keep warm.

Meanwhile, cook the Catelli Ancient Grains according to the package.

To serve, divide the pasta between bowls, top with the curry and garnish with red chili peppers, cilantro and peanuts.
Nutrition Facts
Healthy Lychee Chicken Curry Noodles
Amount Per Serving
Calories 531
* Percent Daily Values are based on a 2000 calorie diet.