This healthy holiday stuffing recipe is a lower carb, high protein and dairy free take on a classic Christmas and Thanksgiving side dish that your family and friends will love!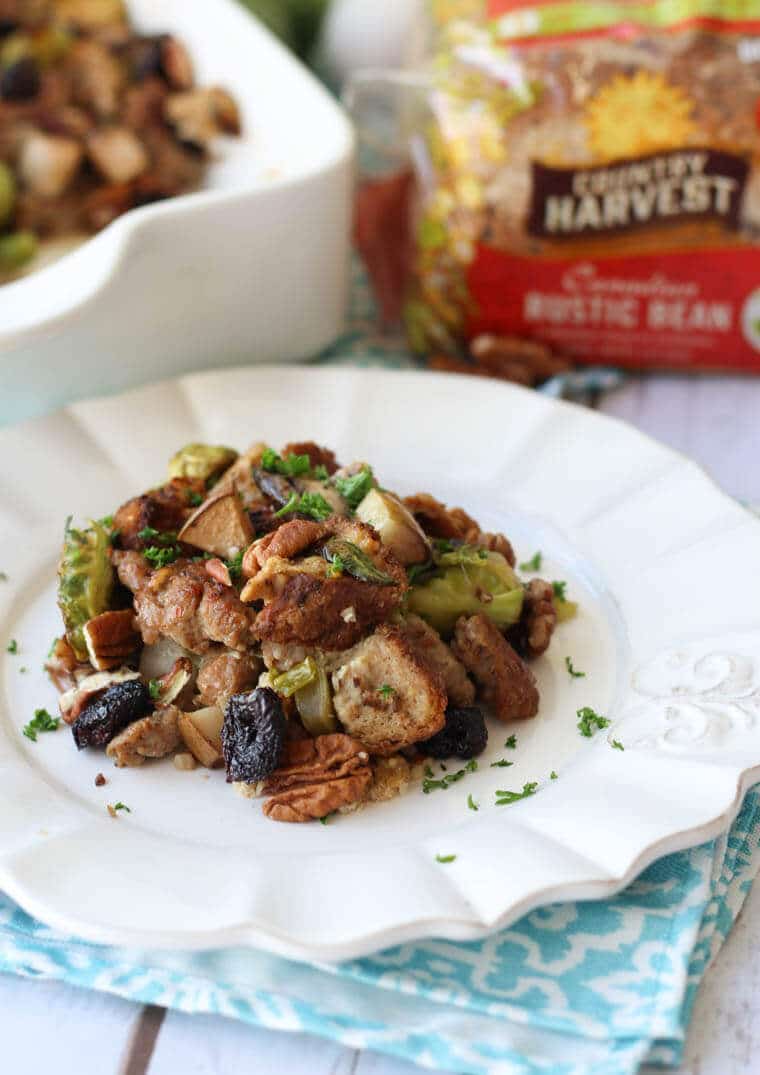 My mom is an absolute Martha Stewart in almost every way. She sewed us clothes and costumes when we grew up, she creates the most elaborate beautiful party decorations and centerpieces out of craft supplies, but when it comes to the kitchen, she's handed that one to me.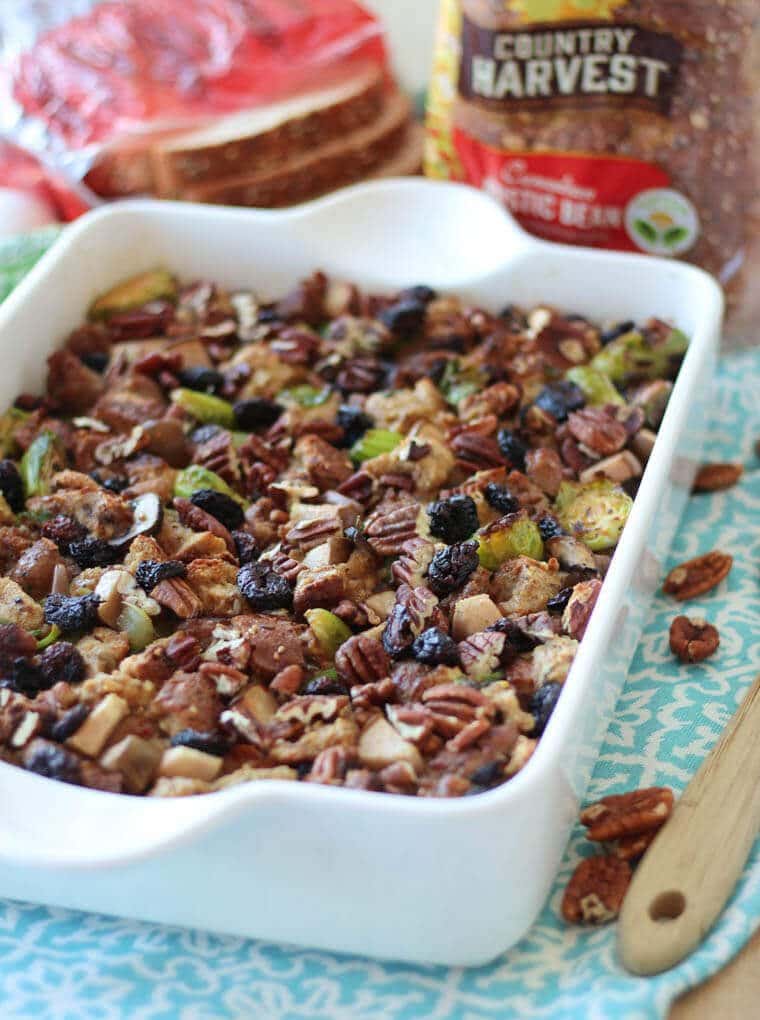 We grew up eating cranberry sauce from a can, and stuffing from a box, and one Christmas, my mom accidentally put twice as much water and butter in with the box of stuffing breadcrumbs resulting in an (obviously) waterlogged pot of mush. I was still a teenager, but I had an idea to rip off the more stale ends of our cranberry focaccia and add them to the pot to absorb the liquid. The result? Probably the best stuffing we had had to date.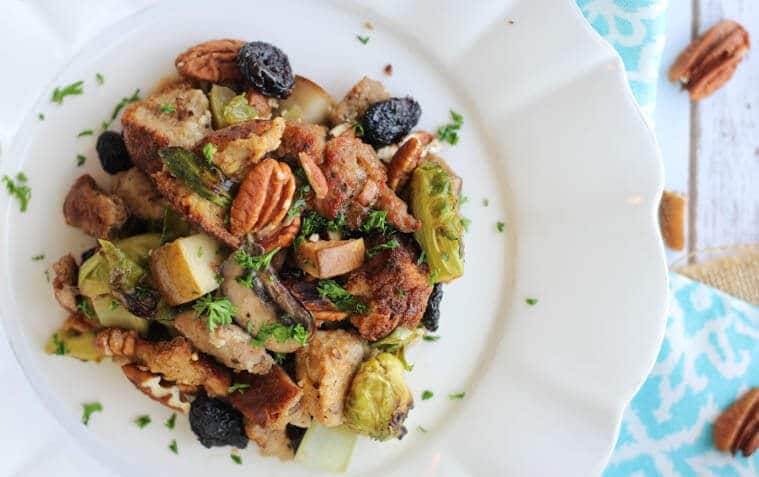 After that save, my mom trusted me to take over the holiday meal responsibilities. My mom was happy to let it go, and I was excited to take up the challenge. My first job? Get rid of the box and take over the holiday stuffing recipe! What emerged was a more indulgent version of this healthy holiday stuffing recipe that I affectionately like to call "everything but the kitchen sink stuffing".
How to Make Healthy Holiday Stuffing
Making healthy holiday stuffing starts by choosing this amazing new Canadian Rustic Bean Bread from Country Harvest made with pulses from Western Canada. This bread is backed with an amazing blend of pulses like chickpeas, beans, lentils and peas, providing 6 grams of protein, 3 grams of fibre and 22 grams of whole grains per serving.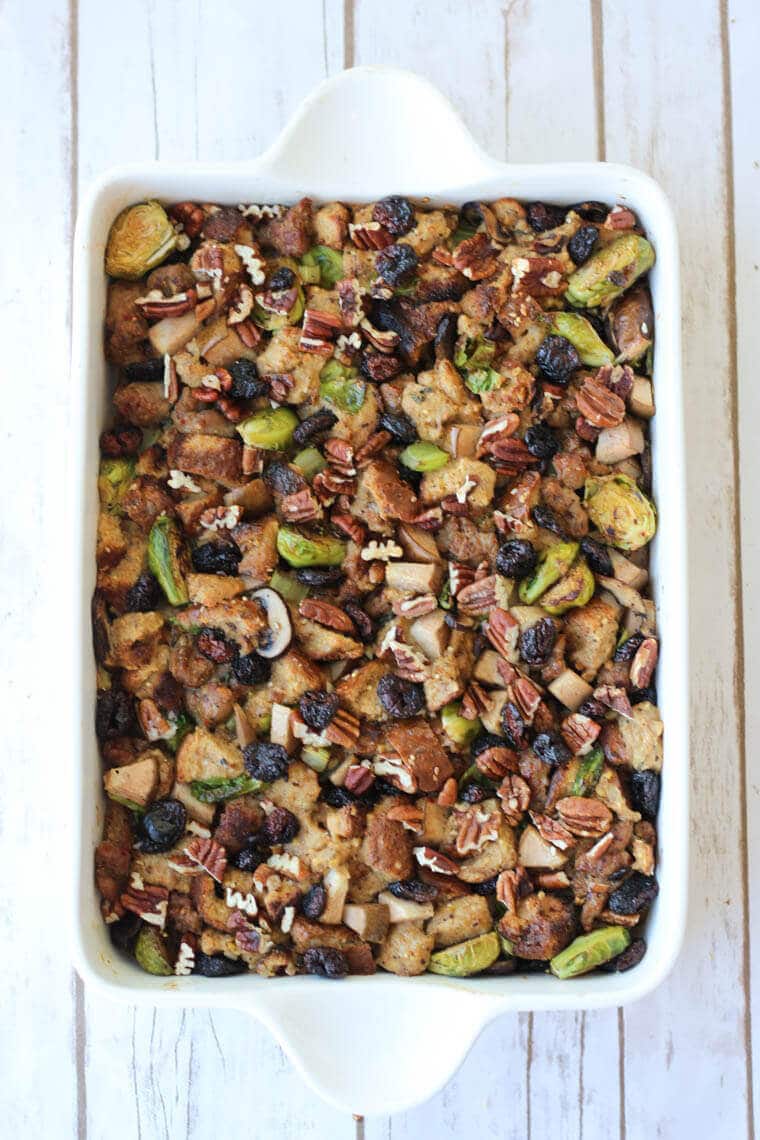 I also add in a ton of veggies, some healthy fats from nuts, and some extra protein from extra lean turkey sausage.
While stuffing used to be the heavy high cal side dish on the spread, the nutrient-dense bread, lean protein and lots of veggies in this version means leaves you a little extra wiggle room for holiday pie.
The result is a colourful and flavour-packed healthy holiday stuffing that not only is better than the boxed stuff (obviously), but will beat out the turkey (hands down) as the favourite dish at the holiday spread.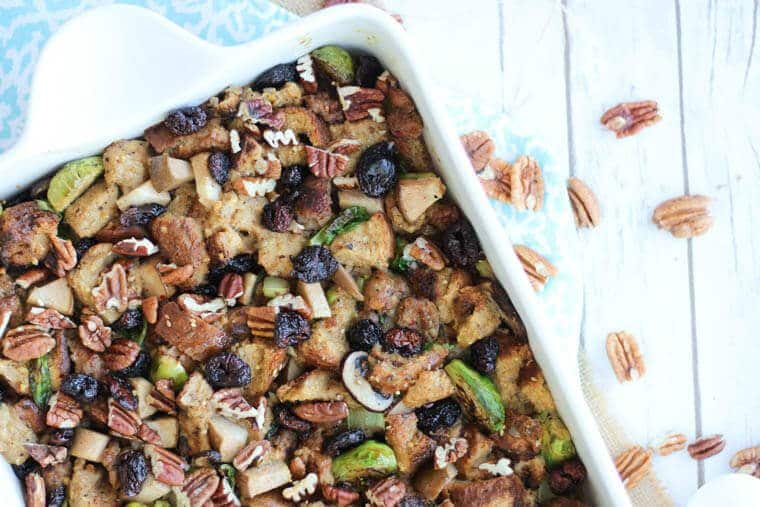 Feel free to mix up the veggies, nuts and meat in this healthy holiday stuffing. If you have bits of pieces of greens (like kale or spinach) from making holiday salads- throw them in! If you have apples or raisins, or almonds- add those too! If you want to up the indulgence factor, throw some bacon in! It's the holidays, kids, own this healthy holiday stuffing and make it all yours!
I want to know:
What's your go-to holiday stuffing recipe?
What would you put into your healthy holiday stuffing?
Leave me a comment below with some of your ideas and happy holidays!!

Healthy Holiday Stuffing | High Protein & Dairy Free!
This healthy holiday stuffing recipe is a lower carb, high protein and dairy free take on a classic Christmas and Thanksgiving side dish that your family and friends will love!
Print
Pin
Rate
Ingredients
1

loaf Country Harvest Canadian Rustic Bean Bread

cut into cubes

1

lb

extra lean turkey sausage

casings removed

1

tbsp

olive oil

2

cups

Brussels sprouts

halved

1

cups

celery

diced

2

cups

mushrooms

sliced

2

cloves

garlic

2

tsp

sage

minced

1 3/4

cups

low-sodium chicken broth

4

large eggs

beaten to blend

1/2

tsp

salt

1/4

tsp

pepper

2

pears

diced

1/4

cup

dried cherries

1/2

cup

pecans

diced into small pieces
Instructions
Preheat oven to 350 F and grease a large 15 inch glass baking dish.

Spread the bread out onto two baking sheets and bake for about 15 minutes, until toasted and dry but not browned. Set aside.

In a large skillet heated over medium heat, cook the turkey until browned. Using a slotted spoon, transfer to a dish and set aside.

Return the pan to the heat and add in the oil. Add in the Brussels sprouts and cook over medium high heat for about 3 minutes. Add in the celery and mushrooms, continue to cook for another 3-4 minutes until the vegetables are browned. Add the garlic, and sage and cook for another 30-60 seconds. Season with a pinch each of salt and pepper and then remove from the heat.

In a large bowl, whisk together the stock, eggs, salt and pepper. Add in the bread and mix until well coated. Add in all of the cooked vegetables, pears, dried cherries and pecans.

Bake uncovered for about 45-55 minutes until well set and browned. This can be made a few hours ahead of time if needed and then reheated at 350 F for 20 minutes.
Nutrition
Disclaimer: This post was sponsored by Country Harvest, however, all opinions are genuine.
Updated on May 10th, 2017