This Healthy Vegan Paella with Chickpeas and Veggie Sausage is a simple one pan meal packed with protein, veggies and healthy fat that the whole family will love.
If you are like most of the world right now, eating out at your favourite restaurant is probably not a possibility. And even if it is a possibility (as here in Ontario, we can eat on patios), you might not feel comfortable doing it for a while. I hear you. I have spent the past 5 months getting really creative in the kitchen, trying to recreate some of my go-to restaurant meals. One of my favourites is paella, and while I obviously don't have a passive outdoor paella pan I figured I could make a homemade healthy vegan paella on the stove at home and make it just (okay, almost) as good.
what is paella
Traditionally, paella is a rice based dish that originated in Valencia Spain. The word paella actually means frying pan so it essentially is a one pan rice dish cooked with vegetables, aromatics and either seafood or meat.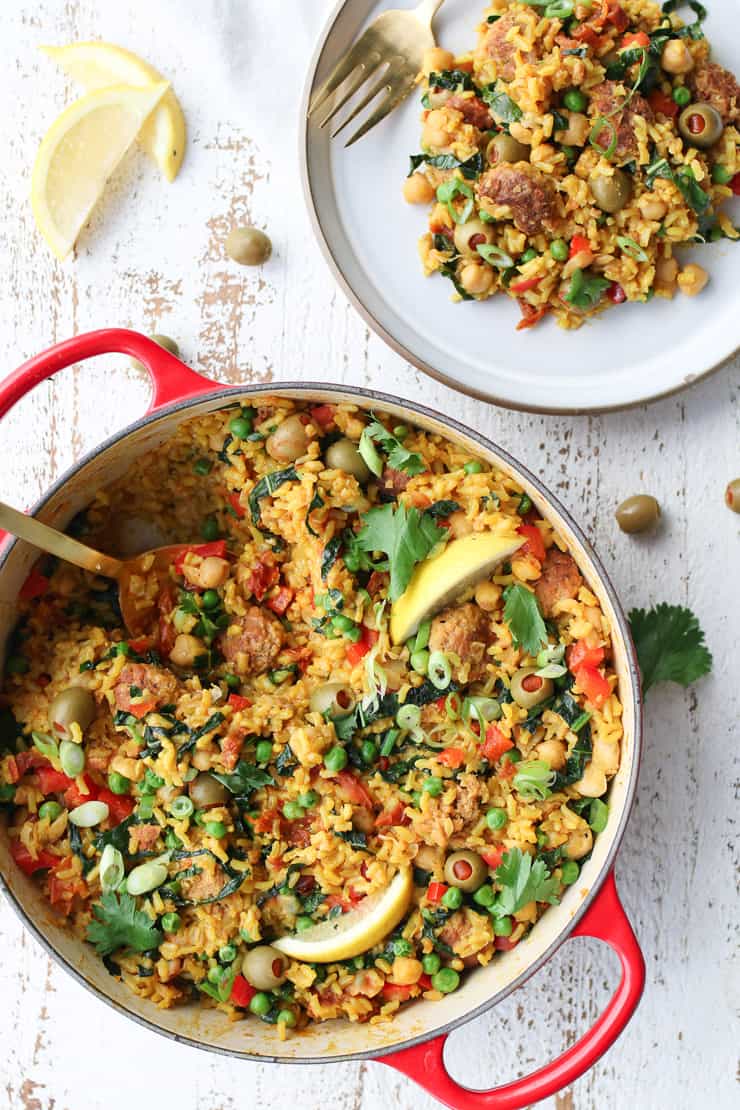 Key ingredients for Vegan Paella
Here are some of the essential ingredients for making this healthy veggie paella.
Vegan Sausage- You can use the "precooked" vegan sausages or ones that require cooking (like Beyond Meat), just make sure they're browned before you move to the next step.
Saffron – This is what gives paella rice that amazing yellow colour, but if you don't have this on hand (and it's pricey so feel free to skip), just add a few pinches of turmeric for an easy hack.
Whole Grain Parboiled Brown Rice – You can use any other kind of rice but it will change the cooking time and possibly the liquid as well. If you're switching things up, keep an eye on the pan to make sure it doesn't get too dry, and if it does, before the rice is cooked, you can add some more broth.
Chickpeas – This is another great way to add some extra fibre and protein, but you could also omit these or use a different canned bean.
Veggies – Since this is a one pan dish, I like to try to throw in whatever veg I have on hand, and bell peppers, spinach, peas and sundried tomatoes are super delish in this paella.
Olives – This gives an automatic Spanish feel, and I LOVE the salty kick. My son is also totally obsessed with olives so it makes this dish a winner every time.
What Other Vegetables or Ingredients can I throw in this Paella?
Paella is a very versatile recipe so feel free to use this recipe and add whatever you have on hand. You could do shrimp or other shellfish, regular sausage or chicken thighs if you're not vegan. You can also add kidney beans or tofu for other sources of protein. Veggies that work great include asparagus, cauliflower, zucchini, squash, sweet potato or snap peas.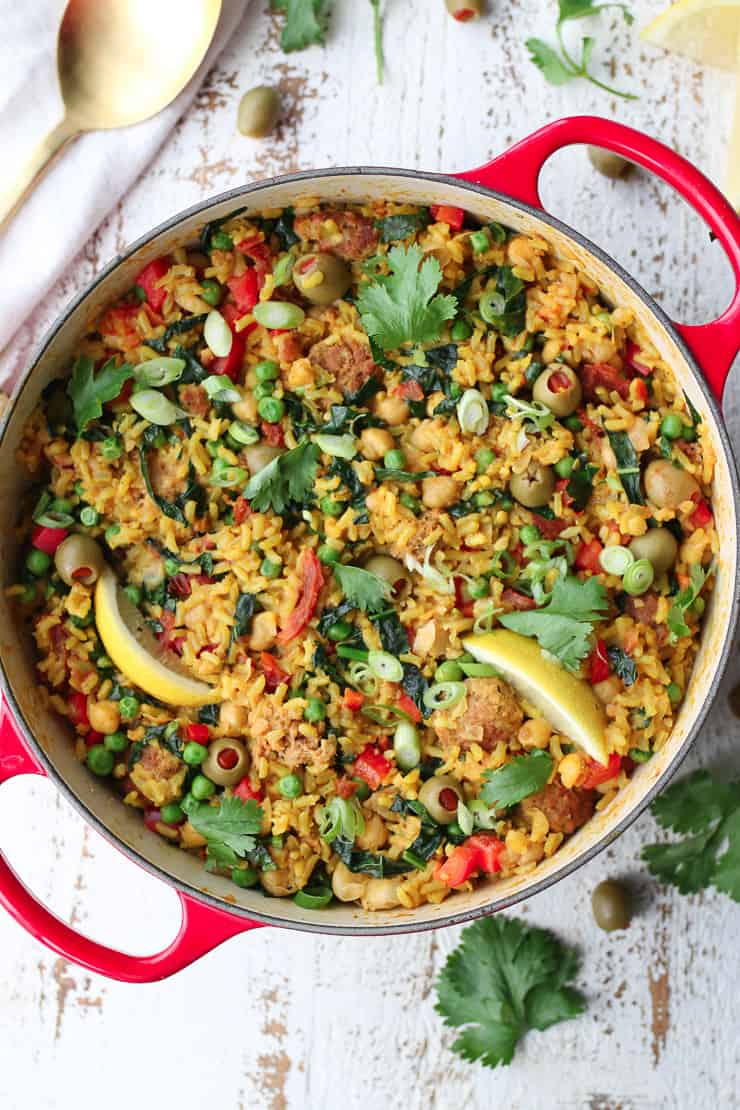 FAQ about this recipe
Here are some commonly asked questions about making this recipe to help you if it's your first time making paella.
What kind of vegan sausage did you use?
You can use whatever you prefer (even regular sausage if you're not vegan), but when I made this I used Beyond Meat sausages. I have also made this with Yves (cooked) sausage.
Is this recipe spicy?
It does depend on the sausage you use so use a mild sausage if you don't like heat. It also depends how much cayenne you add. But generally, by my standards, it's not really that "spicy".
Is this paella kid friendly?
Well, my kiddo loves rice and olives so I would say yes, it is definitely kid-friendly. If your kid is very sensitive to spices, then you can dial back on the cayenne.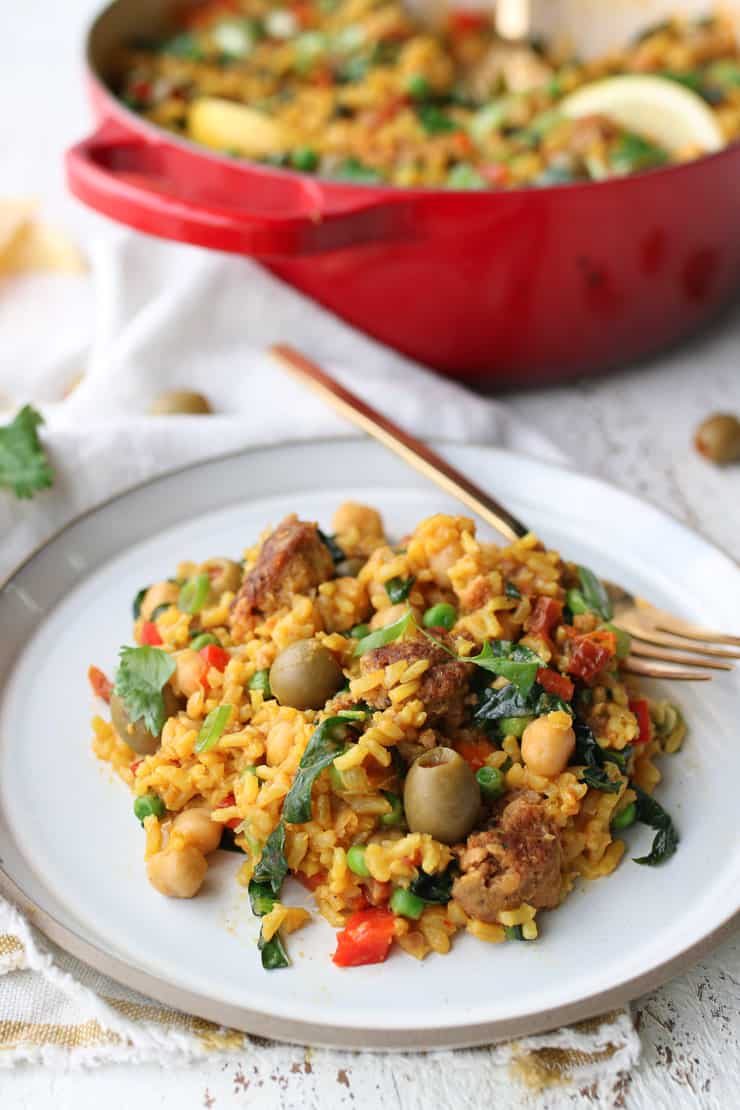 Can I batch prep this for meal prep for the week?
This recipe makes an amazing batch prepped meal since you can cook it all in one pan (YAY minimal cleanup!) and then divvy it up into containers for the week.
Can I freeze cooked rice?
You can make a big batch of this paella and transfer it into freezer containers to be reheated throughout the week. Let the paella cool to almost room temperature, then freeze it immediately. When ready to eat, allow it to thaw in the fridge for an hour just so you can break it up a bit. Then you can reheat it in the microwave or stovetop.
Is this vegan paella gluten free?
Rice is naturally gluten free so yes, this is not only vegan but also gluten free and dairy free.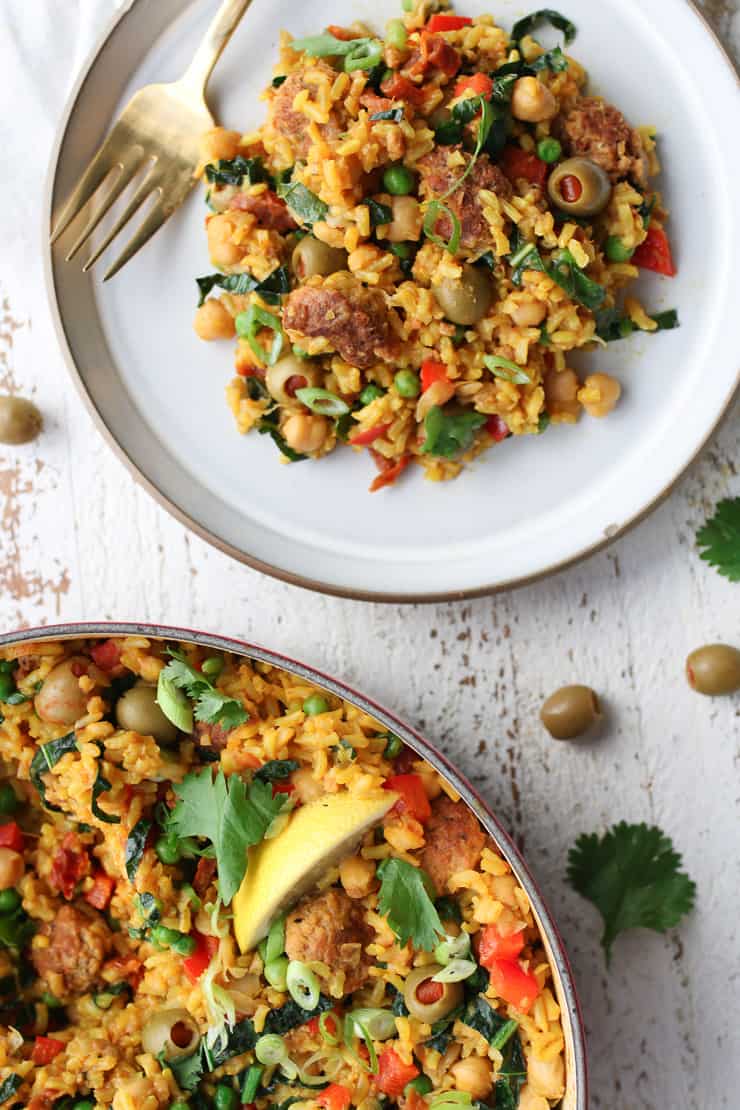 Do you have any other great rice based recipes?
We love rice in my house so yes, we've got a few here for you to check out!
Orange Chicken and Cauliflower Bowl
What are some of your favourite ways to use rice? What restaurant meals are you currently trying to recreate? Leave me a comment below if you have tried this veg paella.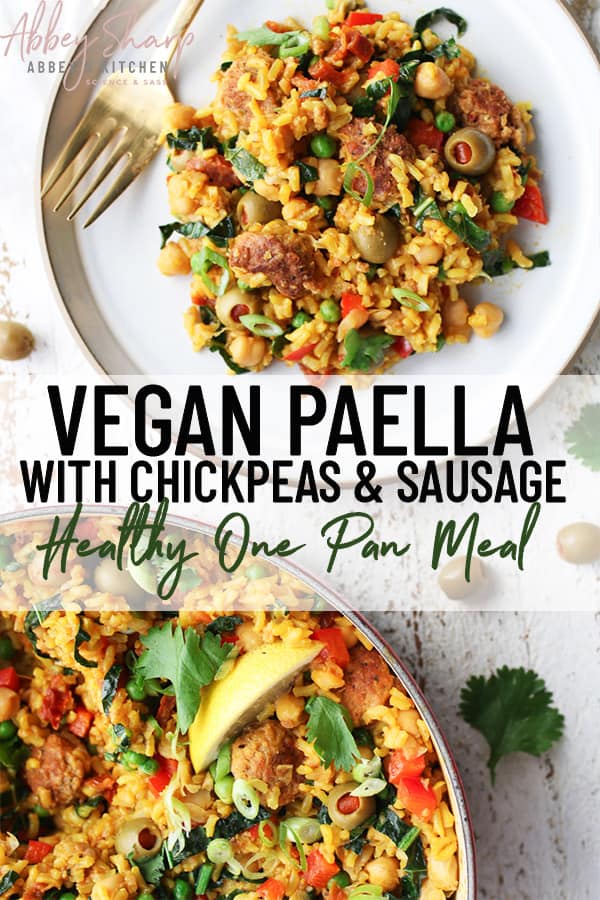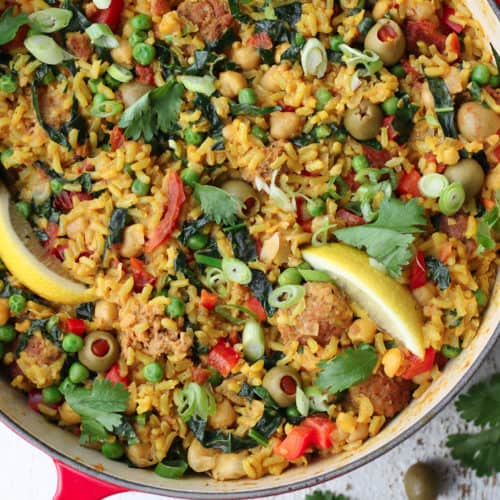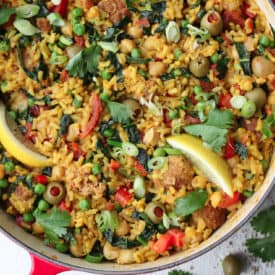 Vegan Paella with Chickpeas & Veggie Sausage
This Healthy Vegan Paella with Chickpeas and Veggie Sausage is a simple one pan meal packed with protein, veggies and healthy fat that the whole family will love.
Print
Pin
Rate
Ingredients
2

tsp

olive oil

350-400

g

pack of vegan sausage

cut into coins

1

small Spanish onion

finely diced

3

garlic cloves

minced

1/4

tsp

cayenne pepper

or more to taste

2

tsp

smoked paprika

Pinch

saffron or 1 tsp turmeric

or optionally both

1 ½

cups

of whole grain parboiled brown rice

4 1/4

cups

reduced sodium vegetable broth

1/3

cup

sun dried tomatoes

1

can

19 oz chickpeas, drained and rinsed

1

red pepper

finely diced

1

cup

spinach

sliced and lightly packed

1

cup

peas

frozen

½

c

pimento olives

2

tsp

lemon juice

Salt and pepper

to taste
To serve:
Parsley

minced

Green onions

minced

Lemon wedges
Instructions
Add 1 teaspoon of olive oil to a large cast iron skillet. Add the vegan sausages and cook on both side until browned. Remove and set aside.

Add another teaspoon of olive oil, along with the onion and garlic and saute for 2-3 minutes.

Add in the cayenne, smoked paprika, and rice and toss in the olive oil.

Add broth, saffron, and sundried tomatoes into the saucepan and bring to a boil. Put the lid on, and simmer for 30 min, or until almost all of the broth is absorbed.

Remove the lid and add in the chickpeas, bell peppers, spinach, peas, olives, lemon juice and salt and pepper. Cook until the peas have thawed and the spinach is wilted.

Top off with parsley, green onions and lemon wedges.
Nutrition
Calories:
465
kcal
|
Carbohydrates:
65
g
|
Protein:
26
g
|
Fat:
12
g
|
Saturated Fat:
2
g
|
Sodium:
1517
mg
|
Potassium:
837
mg
|
Fiber:
8
g
|
Sugar:
10
g
|
Vitamin A:
2508
IU
|
Vitamin C:
50
mg
|
Calcium:
55
mg
|
Iron:
17
mg