This vegetarian kimchi fried rice is a high protein dinner meal that is easy to whip up in a flash and is also freezer and budget friendly!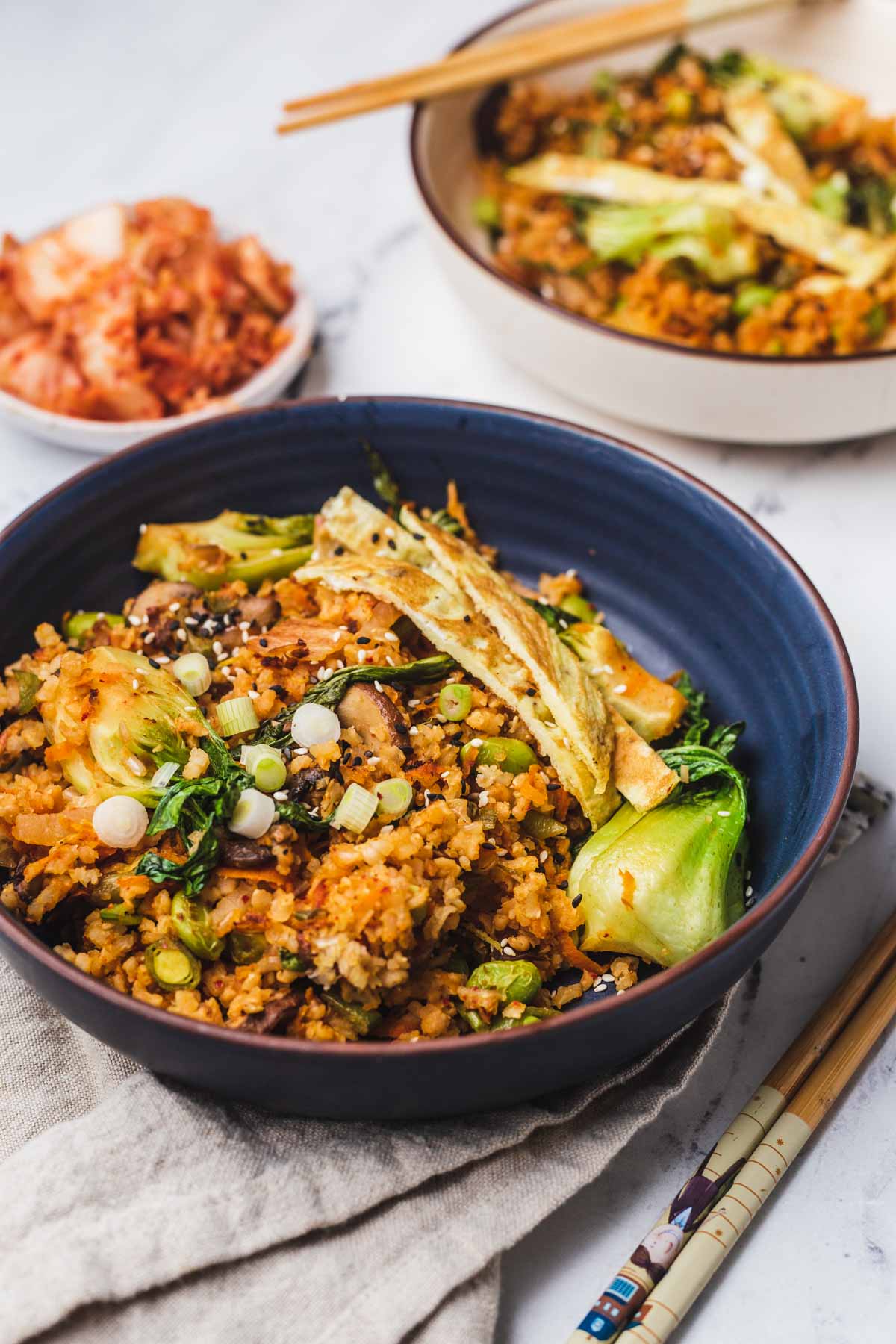 Fried rice dishes are one of my all time favourite quickie weekday meals, especially because you can make a big batch and freeze it for those busy days when you just can't be bothered to prepare a meal from scratch. Lately, I have been looking for a good reason to repurpose the big jar of kimchi just sitting in my fridge so I thought – why not throw it into some fried rice? And alas, this vegetarian kimchi fried rice was born!
Why This Recipe Works
This dish is not only bursting with colourful veggies, but it's also packed with all the flavour of a good ol' fashioned fried rice. Here are a few more reasons why we are loving this recipe:
Protein packed (17 grams per serving)
High fiber (8 grams per serving)
Budget friendly
Freezer friendly
Loaded with veggies
Ready in 35 minutes or less!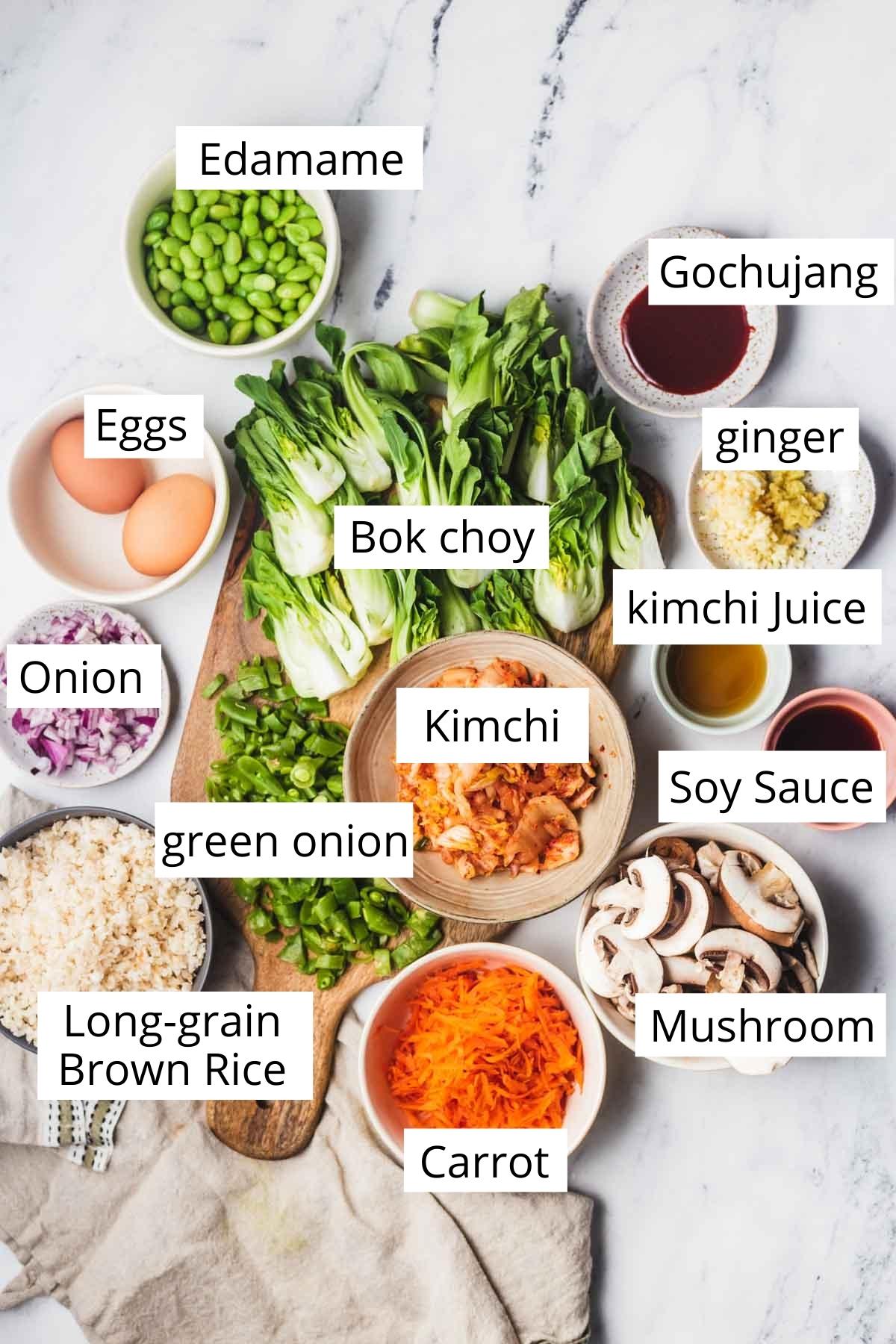 Key Ingredients
Kimchi – Kimchi is an excellent probiotic which helps to give our gut health a boost. It's also packed with vitamins, minerals, and antioxidants and gives this dish some major flavour.
Long-grain brown rice – It ain't fried rice without the star of the show – RICE. I like to lean towards long-grain rice over short-grain since it's lighter, fluffier, and doesn't stick together making it ideal for fried rice dishes.
Veggies – We loaded this kimchi fried rice with all the veg including mushrooms, snap peas, shredded carrots, snap peas, green onion, and bok choy. But If you're in a pinch, you can opt for some frozen veggies or use up whatever veggies you have left over in your fridge.
Spices – This recipe gets its delicious flavour profile by combining onions, garlic, ginger, soy sauce, kimchi juice, and one of my favourite condiments of all time, gochujang. Beware that gochujang can turn up the heat real quick so if you are sensitive to spice use very little or omit all together.
Eggs – It isn't quite a fried rice dish without some egg to bind everything together. But it doesn't stop there! For this recipe we like to take things up a notch by garnishing with a fried egg or sliced omelette.
How to Make This Recipe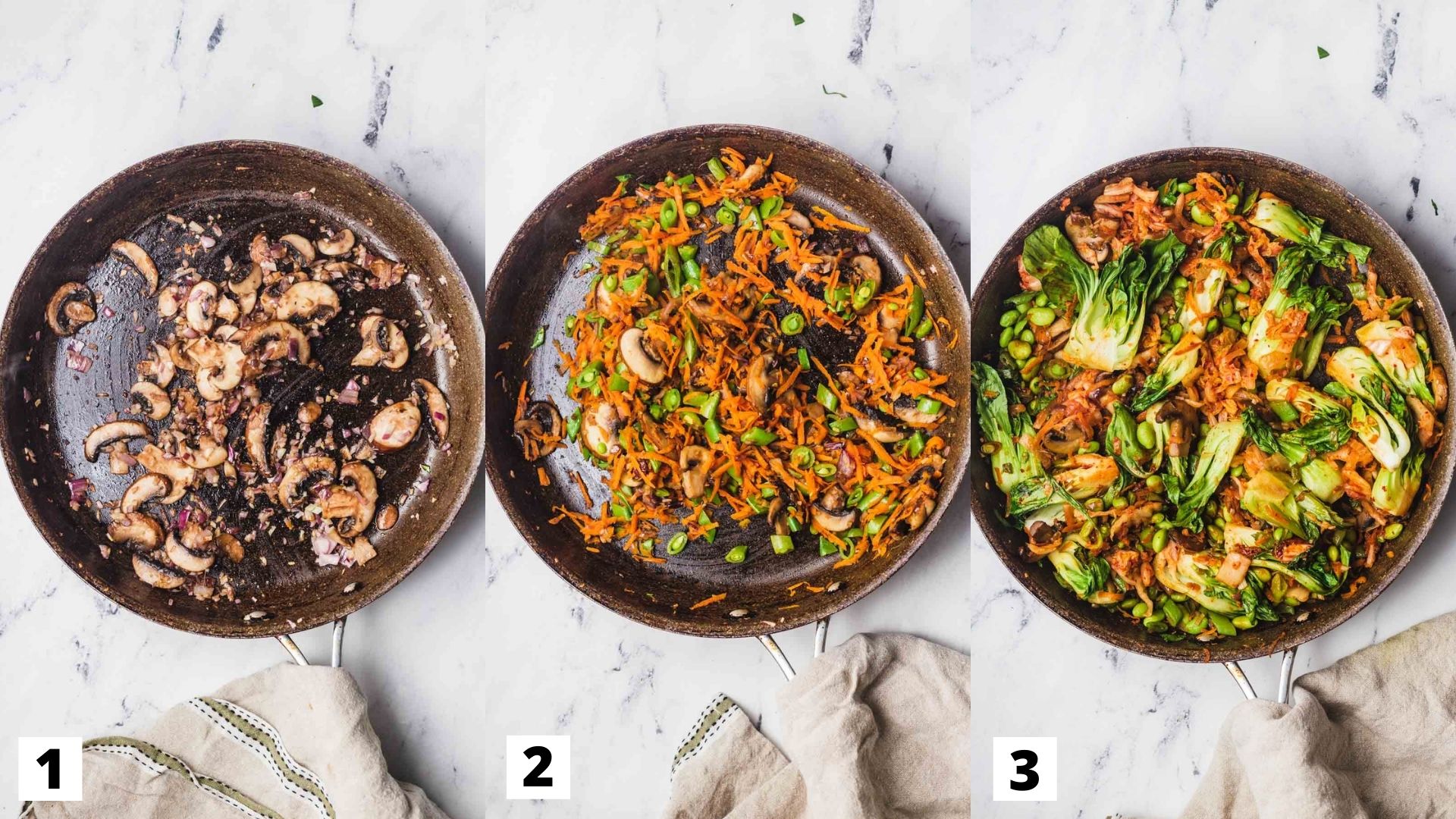 Step 1: Heat a large cast-iron or non-stick skillet over medium-low heat. Add 1 tsp of oil to the pan and saute the onion for about 5 minutes until soft. Add garlic, ginger, and mushroom.
Step 2: In the same skillet, add snap peas, shredded carrot, and 1 tbsp of tamari. Cook for 3 minutes, or until the carrots are starting to soften and the rest of the veggies are warmed through and look vibrant.
Step 3: Add bok choy and cook until wilted, stirring occasionally. Add kimchi juice and kimchi to the pan and 1 tbsp of sesame oil and mix.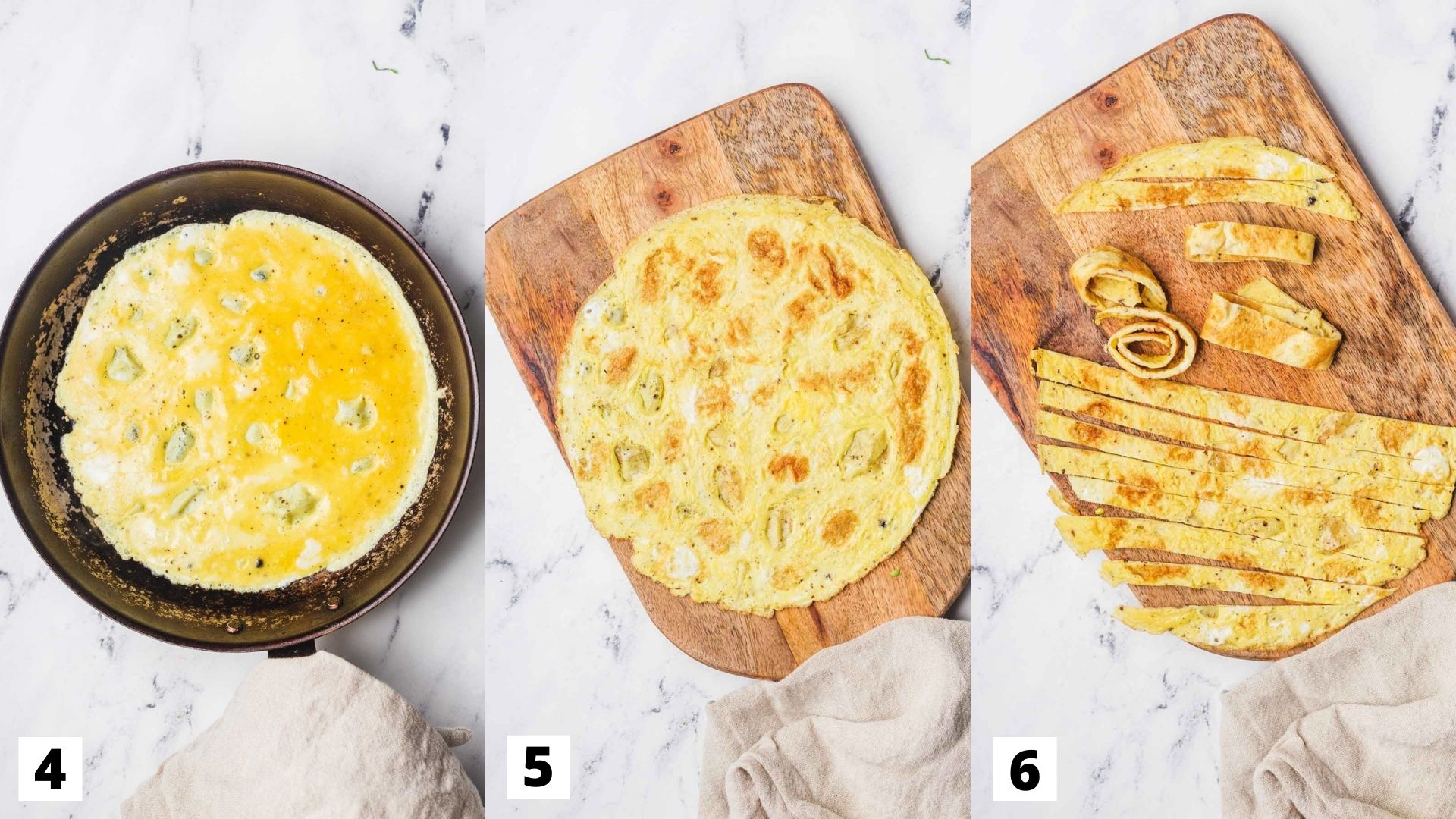 Step 4: Add 2 eggs to a small bowl and mix until combined, slowly pour the egg into a large skillet so that it doesn't scramble. Bring the outer cooked edge of the egg to the center of the pan, allowing the uncooked egg to fill the space. Leave to cook for 1-2 minutes being mindful not to let the egg stick and keeping it as one complete piece, like an omelet.
Step 5: When almost cooked through, carefully transfer the fried egg to a chopping board.
Step 6: With a sharp knife, slice the egg into 1cm lengths and rest. This will be our fancy garnish!
Expert Tips
As is the case with all fried rice recipes, this recipe works best with chilled day old rice than freshly cooked. However, if your hands are tied and you need to use fresh rice – no biggie. I recommend spreading the rice evenly out over a large plate or baking tray to allow it to cool so that it loses some moisture.
As I mentioned before, this dish is super flexible and forgiving. So you are very welcome to add whatever veggies you have on hand, just be sure to cook your hard veggies first because they'll need to be softened! You can even throw in any frozen veggies you've been storing.
Where the heck do you find kimchi juice? Kimchi juice isn't some kind of mysterious Korean beverage, it's actually just the juice in your kimchi jar. If you find there isn't a lot of juice left or that your kimchi is running a little dry, you can add some water to your kimchi, shake it, and there you have it, kimchi juice!
Recipe FAQs
Is this recipe freezer friendly?

Yup! Left-over fried rice can be kept in the fridge for 3-4 days and reheated in a pan or microwave. If you've instead decided to make a big batch and would like to keep it for longer, you can freeze it! Just be sure to let it cool completely and transfer it to a zip-top freezer bag. I recommend pressing out the air first before sealing it. You can freeze this dish for up to three months! When you decide to pull it out to eat, gently heat it until defrosted and hot.
Can this dish be made vegan-friendly?
You can transform this dish to be vegan-friendly by replacing the egg with tofu, which is another great source of protein! I recommend using extra-firm tofu for the crispiest results although you can probably get away with using firm tofu. Just know that regular, soft, and silken tofu will be far too watery to use in this recipe.
If I use entirely frozen veggies will it make a difference? Will it get soggy?
It's totally possible to make this dish using frozen veggies. To make sure they don't come out soggy and to ensure that the dish doesn't lose its quality I recommend that you DONT let them thaw before you cook them. They should go into your skillet straight from the freezer. Also, make sure that your stir-fry is on a medium-high setting (using a high setting will make a BIG difference and is the best way to avoid soggy veggies).
Can I use something else instead of brown rice?
You can substitute the brown rice for a comparable amount of cauliflower rice, quinoa, bulgur, or any other grain of your choice.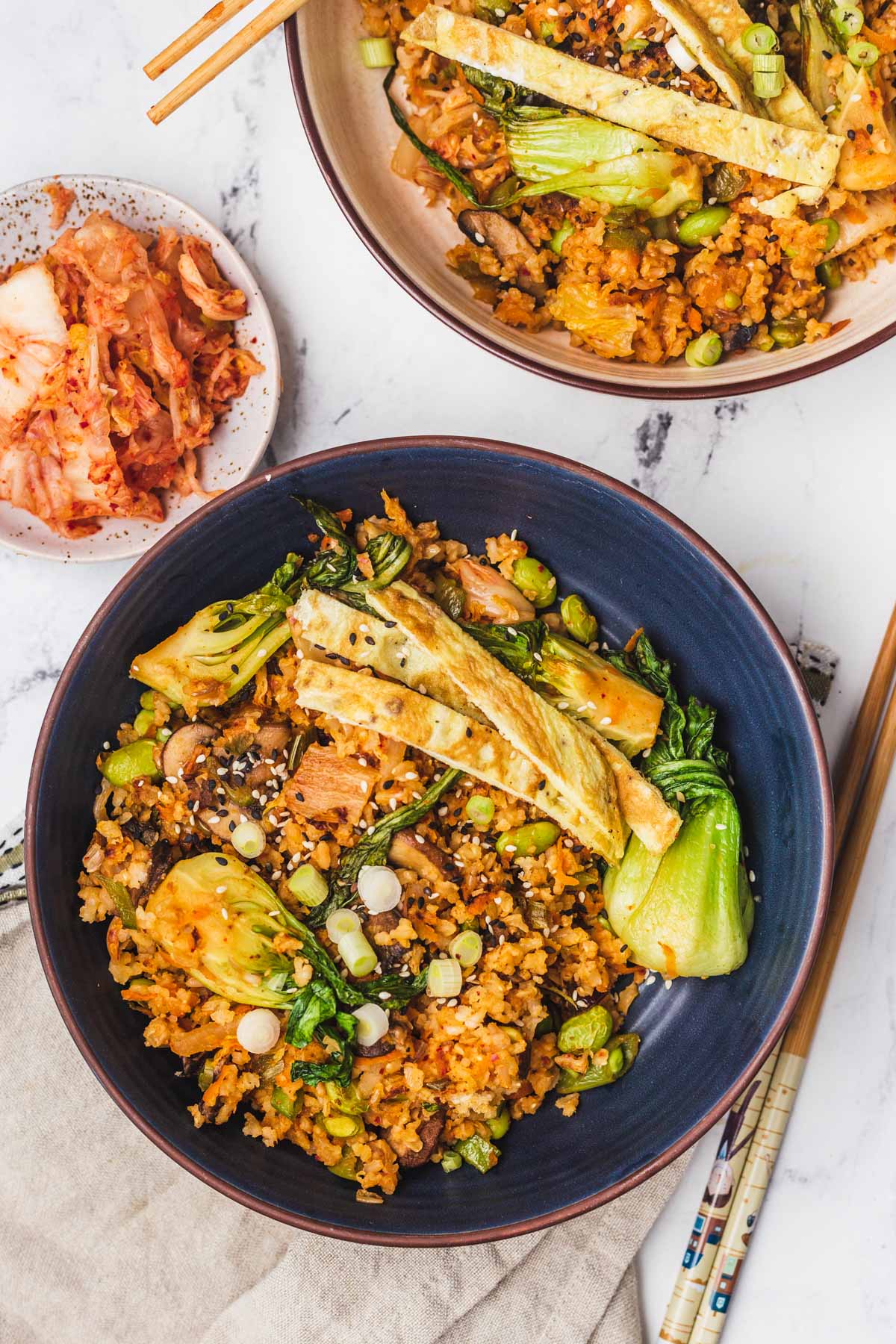 More Recipes You Might Like
If you enjoyed this vegetarian kimchi fried rice recipe, then you might also like these recipes on the blog!
What are your thoughts on this kimchi fried rice? What other ways to you like to integrate kimchi into your meals? Let me know down in the comments below!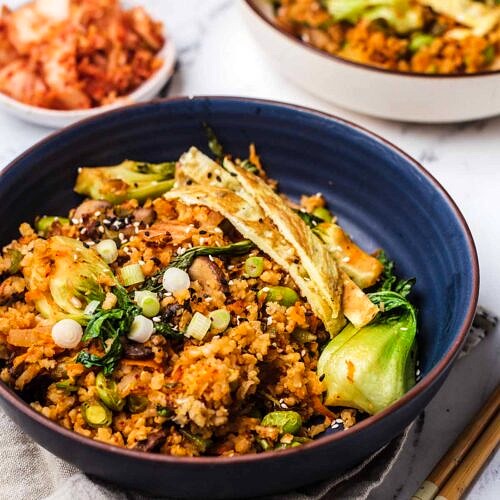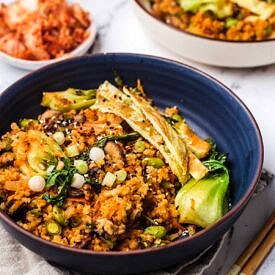 Vegetarian Kimchi Fried Rice
This dish is a high protein dinner meal that is easy to whip up in a flash and is freezer and budget friendly!
Print
Pin
Rate
Ingredients
1 cup

long grain brown rice

2

tsp

Ginger

minced

2

tsp

Garlic

minced

Small onion

chopped

1

cup

Mushroom

chopped

1

cup

snap peas

1

cup

of shredded carrot

1

tbsp

soy sauce or tamari

2

cups

Bokchoy

chopped

1

tbsp

Kimchi juice

1/2

cup

Kimchi

2

eggs

1

cup

Edamame

1

tbsp

Gochujang

1

tbsp

Sesame oil
Garnish
Green onion

Nori sheets

Sesame seeds

Fried egg
Instructions
Cook rice according to instructions (for best results use rice that has been cooked the day before).

Add 1 tbsp of oil to pan and sautee onion until soft (3-5 mins). Add garlic and ginger and sautee for another 2 minutes until fragrant.

Add mushroom, snap peas, shredded carrot, tamari, and Gochujang. Sautee until vibrant (3 minutes)

Add bok choy and cook until wilted. Then add kimchi juice and kimchi to pan plus 1 tbsp of sesame oil and combine.

Add 2 eggs to a small bowl and mix until combined. Slowly add to pan, mixing while pouring so that it doesn't scramble.

Turn off the heat, and add edamame and rice. Stir everything together until well combined.

Top with green onion, nori, cashews, sesame seed, and a fried egg.
Nutrition
Calories:
506
kcal
|
Carbohydrates:
87
g
|
Protein:
17
g
|
Fat:
11
g
|
Saturated Fat:
2
g
|
Polyunsaturated Fat:
4
g
|
Monounsaturated Fat:
4
g
|
Trans Fat:
1
g
|
Cholesterol:
82
mg
|
Sodium:
233
mg
|
Potassium:
801
mg
|
Fiber:
8
g
|
Sugar:
7
g
|
Vitamin A:
7303
IU
|
Vitamin C:
38
mg
|
Calcium:
128
mg
|
Iron:
4
mg
Updated on November 13th, 2022