This vegan enchilada bowl with rice and beans is a super simple complete meal that is made exclusively with pantry staples and cooked in one pot!
I was never a rice person but I have to say, since going into quarantine, I have really grown a new love and appreciation for this humble grain. It's inexpensive, it keeps for a long time, and it's actually really nutritious. My son is also obsessed with rice, and while we do try to be mindful of portions (due to the arsenic), we still do offer it at least once a week.
This vegan enchilada rice and beans recipe is so simple, it hurts. It relies on a lot of your pantry staples, plus some store-bought short cuts to help you get a meal on the table with just one pan to clean STAT.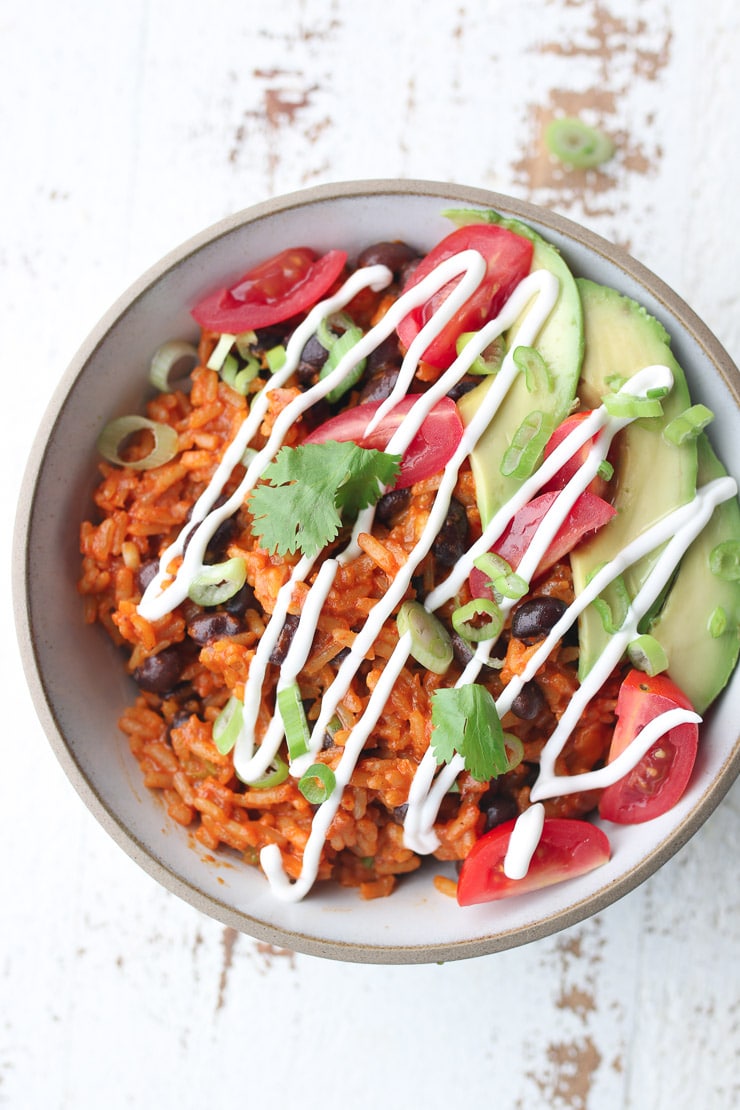 Key ingredients for making vegan enchilada bowl with rice and beans
Brown Rice-
Brown rice does have more fibre than white rice but hey, if you're a white rice fan, you can totally use whatever you have on hand. In fact, you could even use quinoa, buckwheat or any other grain for this recipe. It really is that versatile! I use long grain brown rice, but if you're using another variety you may need to adjust the cooking time and/or the liquid. Also I never soak my rice because I never think to, but if you did, then the cooking time may be a bit less. I do, however, rinse it, which just helps remove some of the anti-nutrients for easier digestion.
Enchilada Sauce-Â If you want to make your own enchilada sauce, I have an AMAZING recipe here that has a lot less sugar than most of the store-bought options. But if you're currently drowning in housework, childcare and trying to like I am, then feel free to pick up a pack or bottle of red enchilada sauce from the store and cut yourself a break.
Black Beans-Â Another classic pantry staple, I currently have a lot of beans in the house. You can also use dried if that's what you have and you want to cook them yourself.
Cheese – If you want to keep this vegan, go with a vegan cheese, but if not, then any good cheddar cheese will work!
Your Favourite Fixin's-Â This is where you can empty out the contents of your fridge for topping. I love sour cream (can be vegan) and lots of avocado, plus some extra veggies like tomatoes.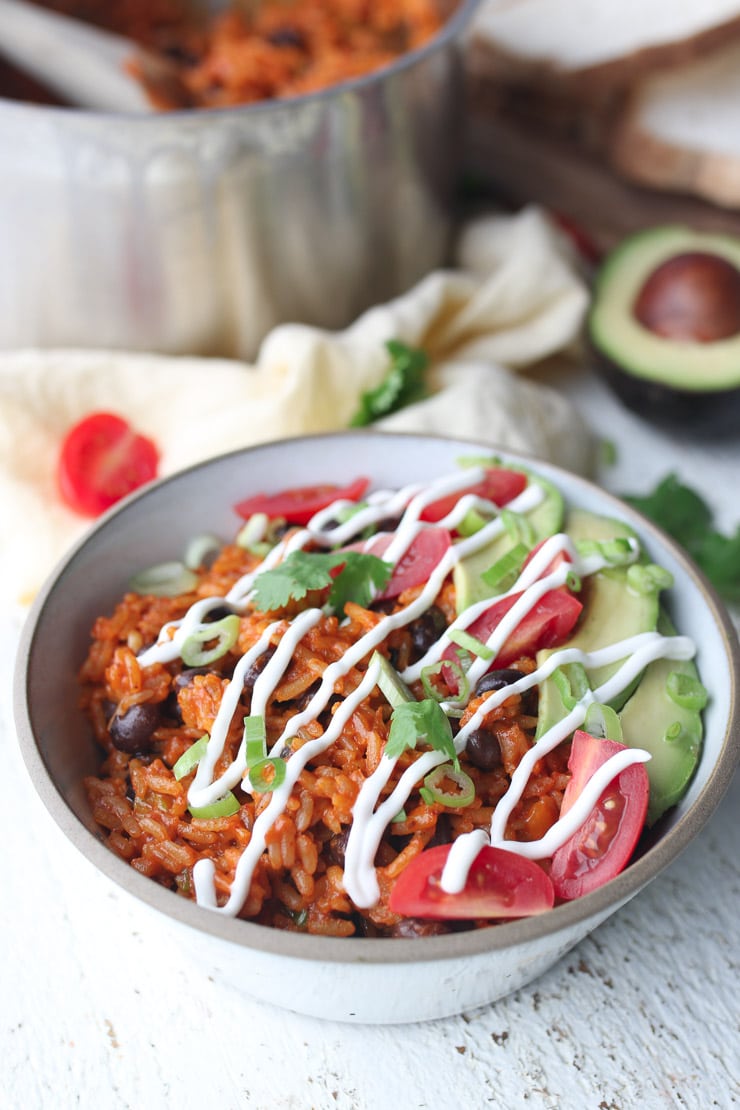 Tips for making this easy recipe even easier
So I have made this vegan enchilada bowl a bunch of times because it's so easy, and what I've learned is that the amounts here will vary depending on the type of rice you use. If you're soaking your grains first, you'll need about 1/2 cup less liquid. If you're using a brown short grain like Basmati or jasmine, you may need a little less time. And if you're using white rice, it will take less time than brown.
FAQ about this recipe
Here are some common questions about this recipe.
Is this recipe too spicy for kids?
It depends on your enchilada sauce and your kid's tolerance. I would try the enchilada sauce on its own first and decide if your kid will be able to handle it. If not, you can always take a portion out first before you add it.
can i use white rice instead of brown?
Yes, but it will likely cook in a shorter amount of time, so always check the package to adjust the cooking and liquid.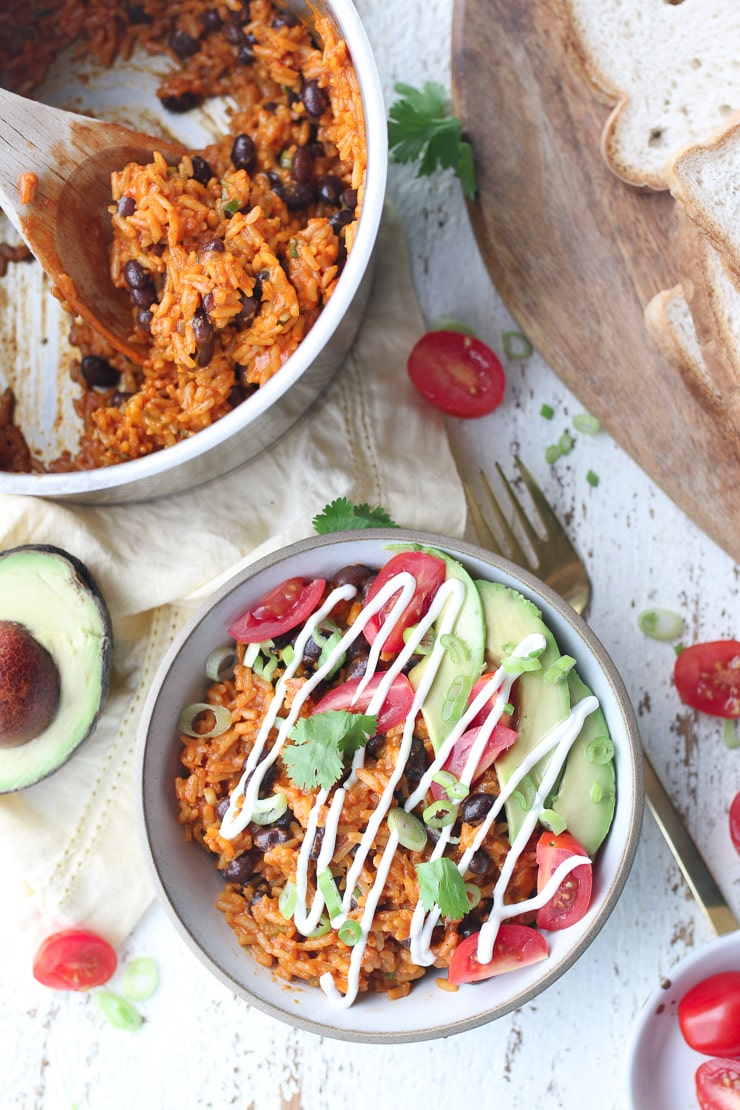 Can i add an egg if i'm not vegan?
OMG yes. A little fried or poached egg on top of this rice and beans is super delicious. Like REALLY good.
can i cook in regular water if i don't have stock?
Of course. It won't make that much of a difference since most of the flavour is coming from the enchilada mix.
How long will this last in the fridge?
You should aim to eat this within 3-4 days after it's been prepared, but it does reheat REALLY well!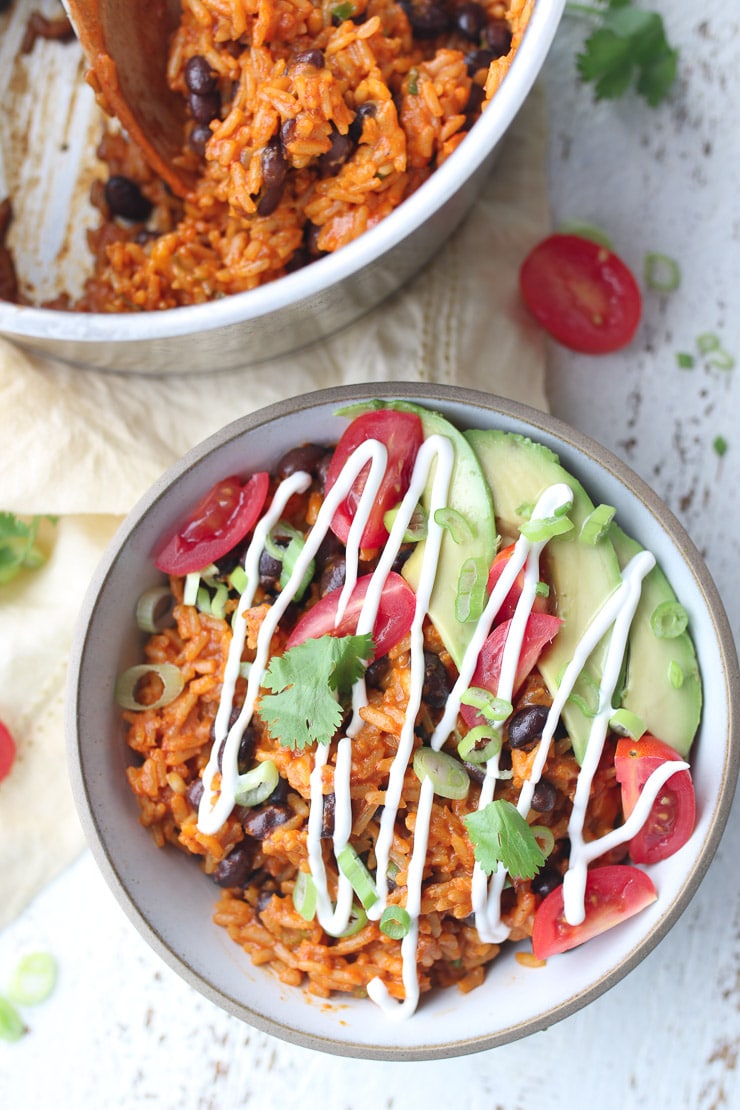 Do you have any other easy pantry staple recipes?
You bet. I'm pumping them out right now. Here are some favourites:
VEGAN LENTIL BUTTERNUT SQUASH SOUP
VEGAN PASTA BAKE WITH SAUSAGE, WHITE BEAN & KALE
UNSTUFFED CABBAGE ROLLS IN A BOWL
What are you making with your rice and beans right now? Leave me a comment below!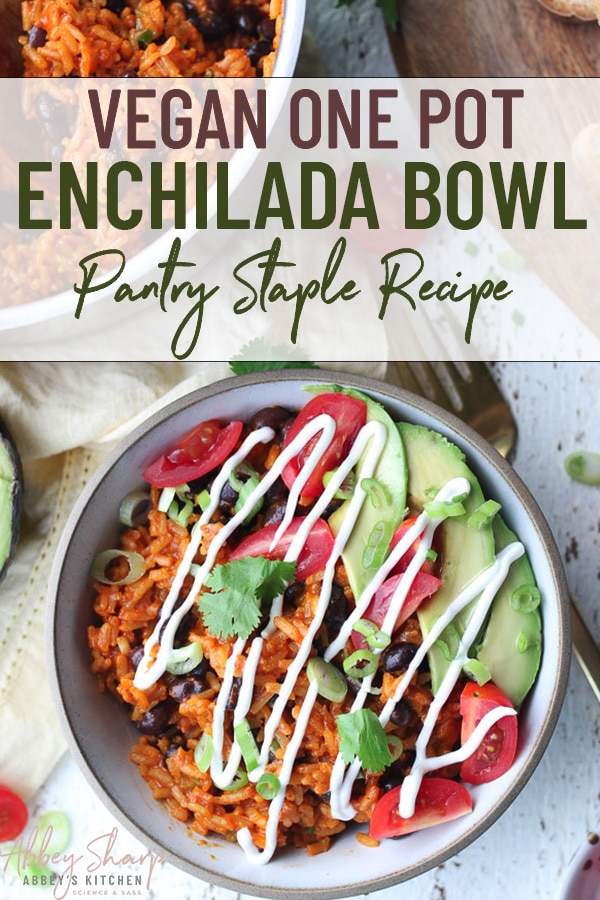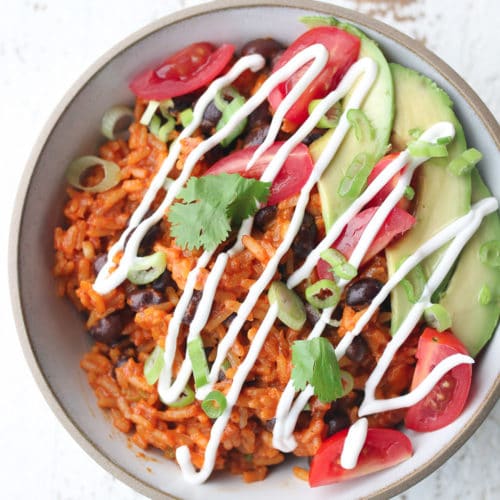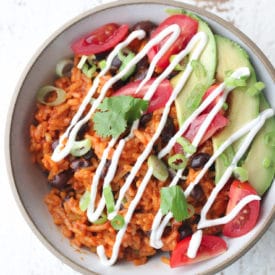 Vegan Enchilada Bowl with Rice and Beans (Pantry Staple Recipe)
This vegan enchilada bowl with rice and beans is a super simple complete meal that is made exclusively with pantry staples and cooked in one pot!
Print
Pin
Rate
Ingredients
1

cup

long grain brown rice

rinsed

2

cups

low sodium vegetable broth

¾

cup

red enchilada sauce

1

cup

shredded vegan cheddar cheese

or regular cheddar!

1

cup

canned black beans

drained and rinsed

2

tbsp

green onions

finely sliced

salt and pepper

to taste
Garnish:
Vegan sour cream

Cilantro

Green onions

thinly sliced

Chopped tomatoes

Avocado
Instructions
In a medium saucepot, combine the brown rice and the broth. Cover and bring to a boil, then reduce heat to simmer on medium low with the lid on. Cook for about 25 minutes, and add in the enchilada sauce. Continue to cook with the lid on until the moisture is removed, about another 10-15 minutes. You should see crater-like steam holes on the surface. If you taste it and it's still crunchy, add a splash more liquid and cook for another 5 minutes (with the lid on).

While still hot, fold in the cheese, green onions and beans, season with salt and pepper to taste.

Serve hot garnished with vegan sour cream, cilantro, green onions tomatoes and avocado.
Updated on July 24th, 2020