This Vegan Chocolate Zucchini Baked Oatmeal is a delicious naturally gluten free, kid friendly breakfast idea that is packed with healthy fats and veggies!
I don't know how the division of roles work in your home, but if I'm ever not home early in the morning to squeeze in a quick workout, I will almost ALWAYS get a call from my hubby asking me "what can we have for breakfast?" Oh boy. While of course I can walk my hubby through putting together a bowl of yogurt and chia jam or a slice of peanut butter toast for him and baby E, it's sometimes just easier to have something in a casserole dish that is ready to slice up and serve. This is why I created this amazing Vegan Chocolate Zucchini Baked Oatmeal. It's loaded with healthy fats and veggies, so it's a great way to start the day off satisfied. You guys know I love baked oatmeal (check out another BLW friendly favourite here), but I had never experimented with putting veggies in there!
How to Make Vegan Chocolate Zucchini Baked Oatmeal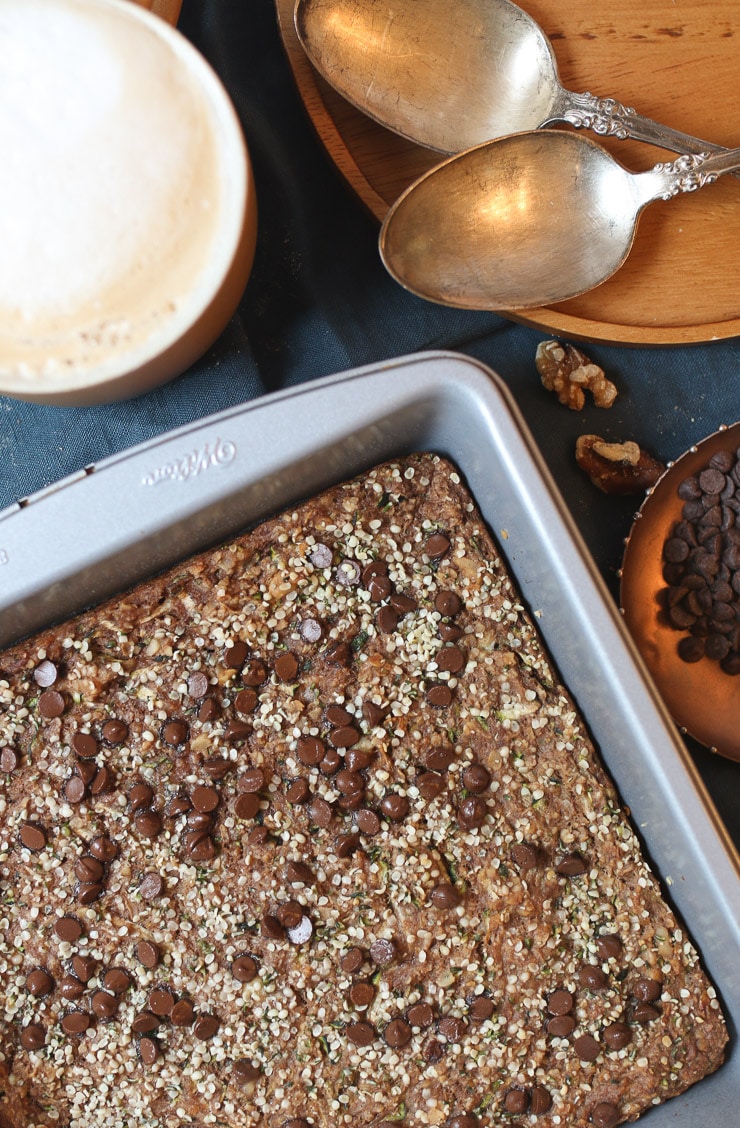 This recipe comes together quickly and is super easy to sneak in whatever veggies, fruit or add-ins your family likes. I basically just mix together some oats, spices, a little maple syrup to taste, bananas to sweeten naturally, and of course some shredded zucchini. The key is to squeeze the grated zucchini really well so you don't end up with a super soggy baked oatmeal. Give it a good wringing out and you'll be in good shape. I also like added super finely minced walnuts and hemp hearts for extra omega 3s and protein.
Is this recipe Gluten Free?
Yes! Assuming you use a certified gluten free oat brand, you will have a completely gluten free Vegan Chocolate Zucchini Baked Oatmeal that is safe for people with celiac and gluten intolerance.
Is this easy breakfast recipe Safe for Babies (BLW) or Toddlers?… it has chocolate!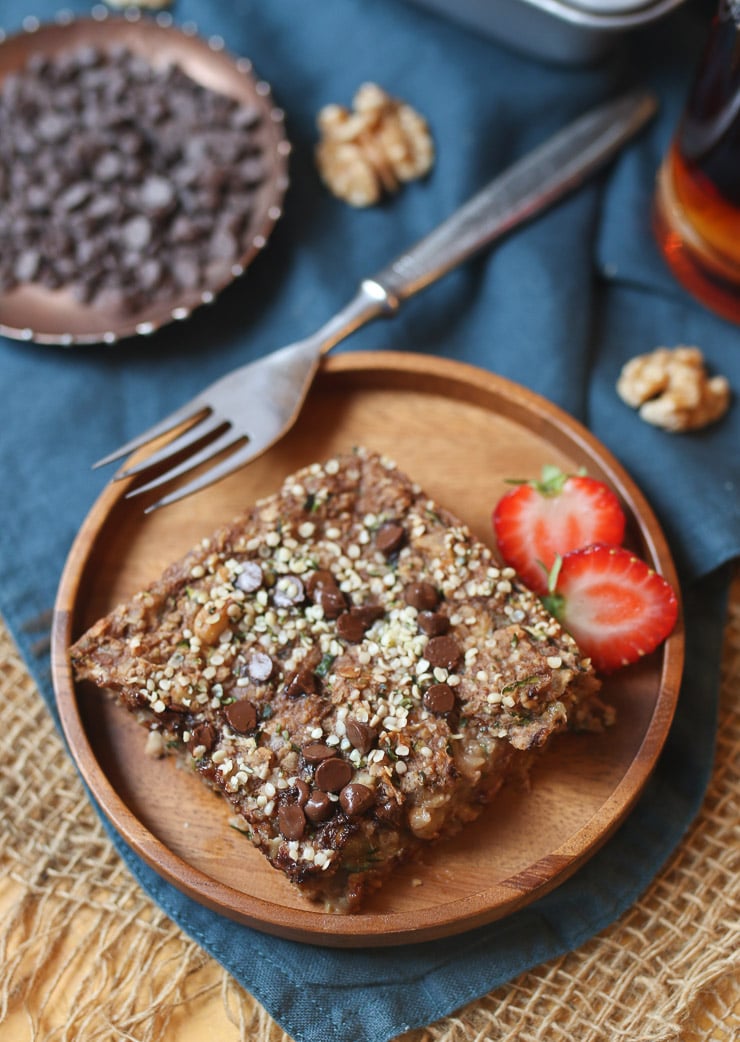 It can be! If you want to include the walnuts, just mince them SUPER fine (or pulse in a food processor). Otherwise, you can sub in some almond flour or more hemp hearts. You can also add apple sauce or more banana in place of the maple syrup and avoid the chocolate if you want it to be completely sugar free. It's super versatile to make this baked oatmeal baby friendly, and you can also check out my BLW baked oatmeal fingers here.
Can I Make this plant based Baked Oatmeal for Meal Prep and Freeze it?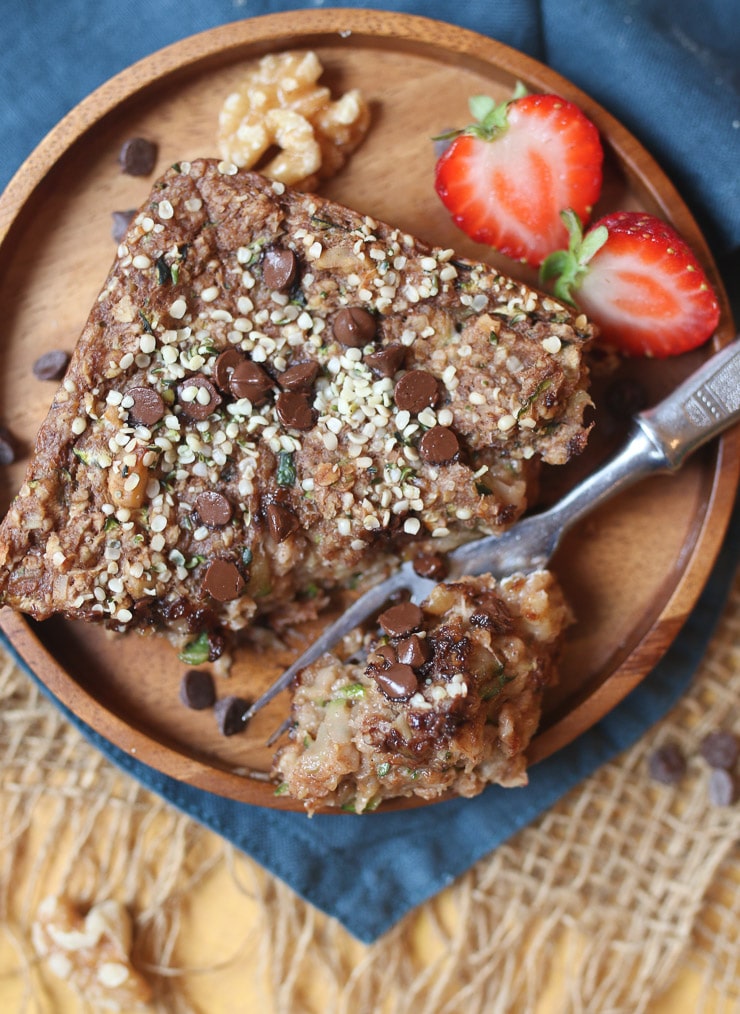 Yes, absolutely! To make this zucchini baked oatmeal easy to serve, I suggest letting the baked oatmeal cool, then cut it into strips or squares and wrap each in foil or plastic wrap to freeze. Then you can easily just pull one or two pieces out as you need them throughout the week.
How long will this Vegan veggie packed Baked breakfast last in the fridge?
This zucchini baked oatmeal will stay pretty fresh for about 4 or 5 days. If you think you can't go through it fast enough, then I suggest cutting it up and freezing it.
So loves, let me know- what some of your favourite easy fast breakfast options?
Leave me a comment below with your ideas and be sure to share this!
If you liked this recipe, you may also like: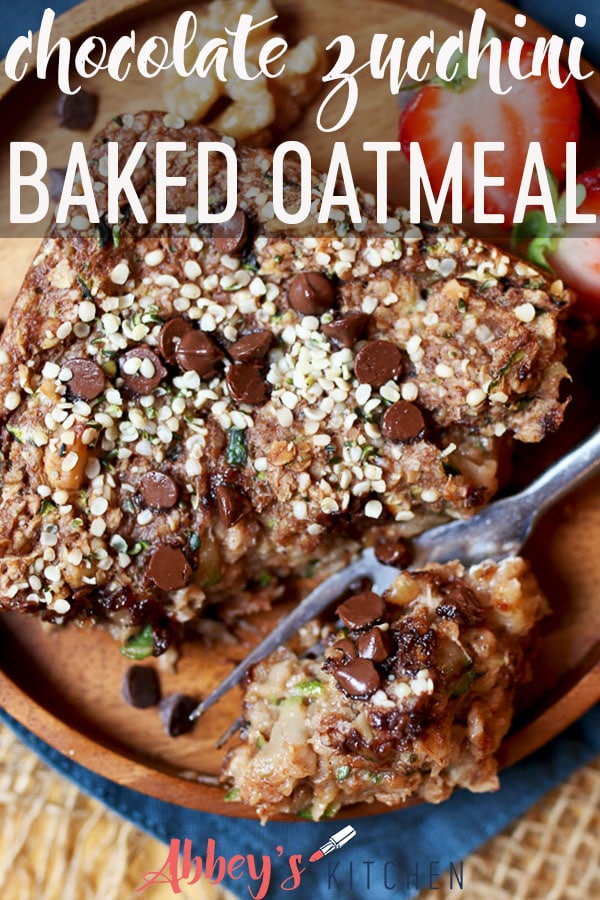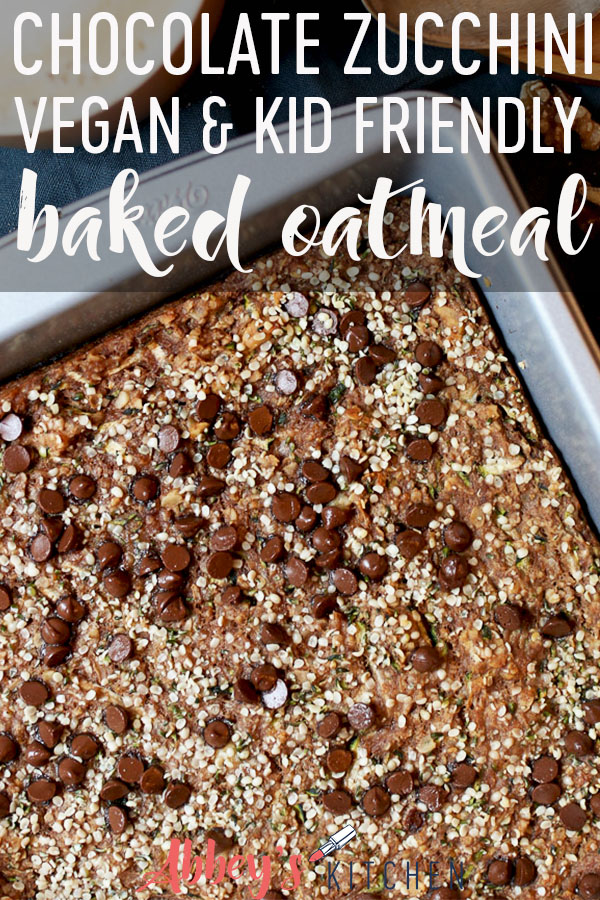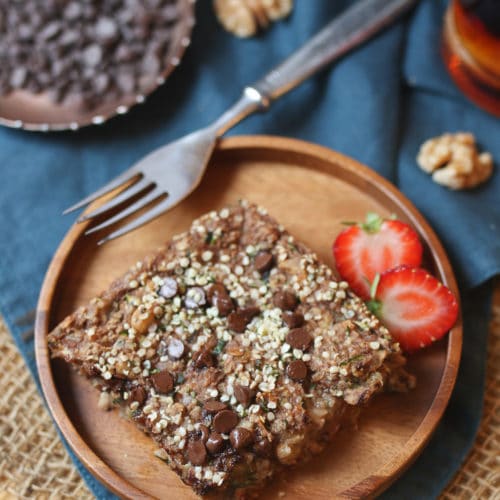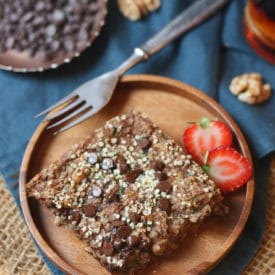 Vegan Chocolate Zucchini Baked Oatmeal
This Vegan Chocolate Zucchini Baked Oatmeal is a delicious naturally gluten free, kid friendly breakfast idea that is packed with healthy fats and veggies!
Print
Pin
Rate
Instructions
Preheat oven to 375 F. Grease two 9" square baking dishes.

Mix together the oats, cinnamon, cocoa, nutmeg, baking powder and salt in one bowl.

In another, mix the almond milk, maple, flax eggs, coconut oil, vanilla, banana, zucchini, and walnuts. Mix into the dry ingredients.

Transfer mixture to the two baking dishes. Sprinkle with chocolate chips and hemp hearts. Bake for 22-25 minutes or until golden brown on the outsides and firm to the touch. Allow to cool before cutting into pieces.
Nutrition
Calories:
169
kcal
|
Carbohydrates:
20
g
|
Protein:
4
g
|
Fat:
9
g
|
Saturated Fat:
3
g
|
Cholesterol:
1
mg
|
Sodium:
182
mg
|
Potassium:
205
mg
|
Fiber:
3
g
|
Sugar:
8
g
|
Vitamin A:
79
IU
|
Vitamin C:
6
mg
|
Calcium:
62
mg
|
Iron:
1
mg
Updated on July 22nd, 2020