This Vegan Lentil Butternut Squash Soup is one of my favourite pantry & freezer recipes for using up what you have on hand in a pinch.
Greetings from quarantine! If you are stuck at home with limited access to the grocery store (like most of us), you're probably leaning heavily on your pantry and freezer staples. I know I am. That's why a lot of the recipes you'll see on my blog right now are relying heavily on these workhorse ingredients.
This vegan lentil soup with sweet butternut squash and cauliflower is definitely one of my new go-to recipes because it's hearty, satisfying and uses up a LOT of the bits of random ingredients I've got on hand.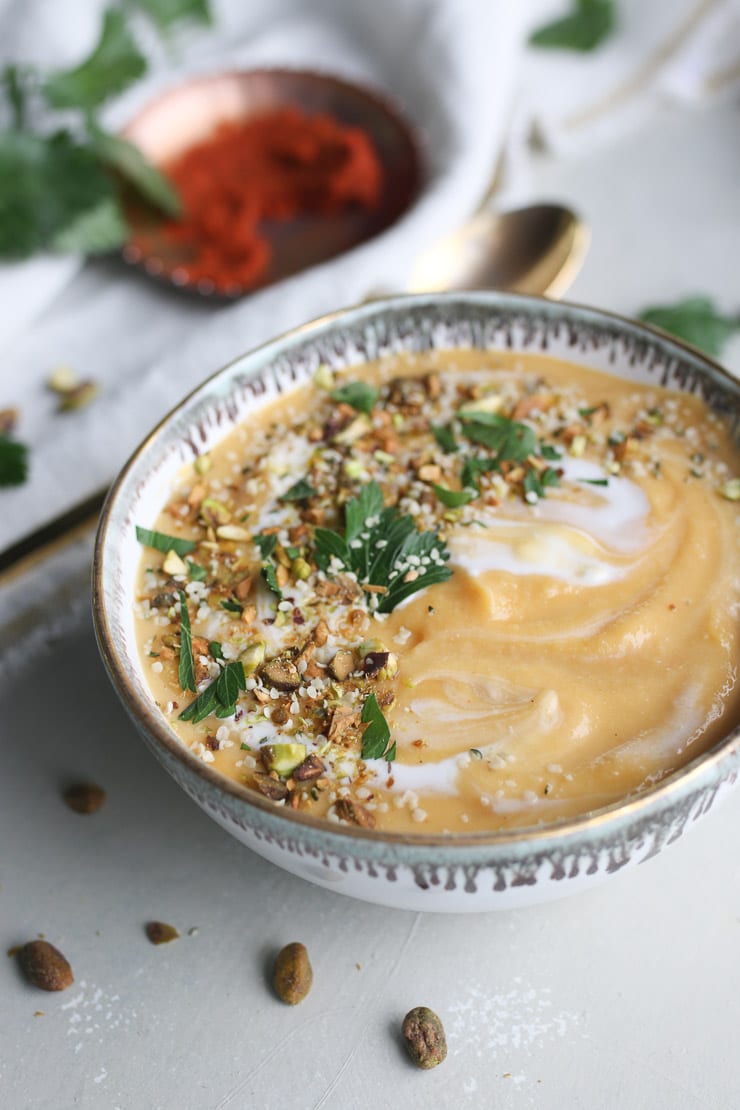 Key Ingredients in this Vegan Lentil Butternut Squash Soup
Lentils –
I like red lentils for their pretty colour and the fact that they cook down super smooth in soup.
Cauliflower – This recipe is a great way to sneak in lots of extra veggies and no one will even taste the cauliflower.
Butternut squash – I hate hacking into a fresh squash, but when it's frozen, it's so easy because it's already cooked.
Red curry paste – This adds undeniable flavour and a little kick. See my notes below if you're worried about it being too spicy (because I do like it spicy).
Coconut milk- I tried this recipe with and without the coconut milk, so you can see my tips below if you don't have it or want to keep this lower in fat.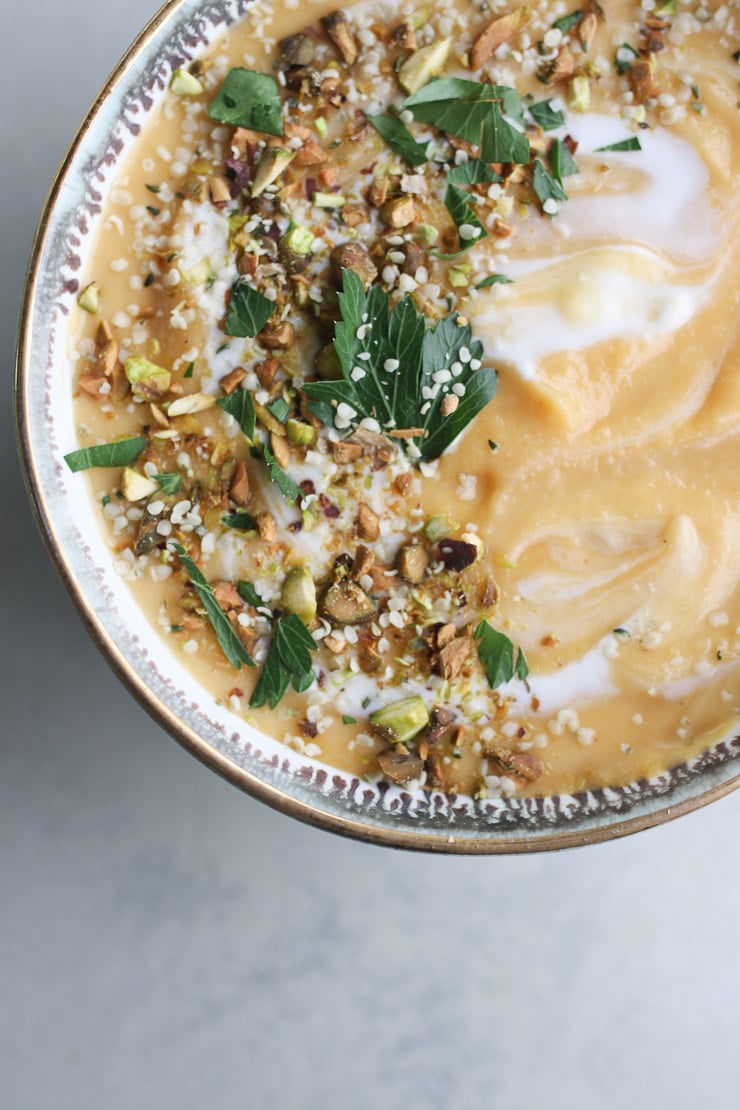 Tips for Making a Creamy Plant-Based Soup (without dairy)
There are a few important considerations when it comes to making this vegan butternut squash soup super creamy. One is that i like to use a super high power blender to puree everything together.
Two, I like to make sure my vegetables are VERY soft before I puree. Like they basically need to immediately fall apart when you poke them with a fork. This happens really quickly with frozen cauliflower and butternut squash (since it's already cooked), but you can easily get there with fresh as well if that's what you have.
Three, if you want this to be suuuuuper creamy, definitely add the coconut milk. It will balance out the heat and just add that luscious mouth feel.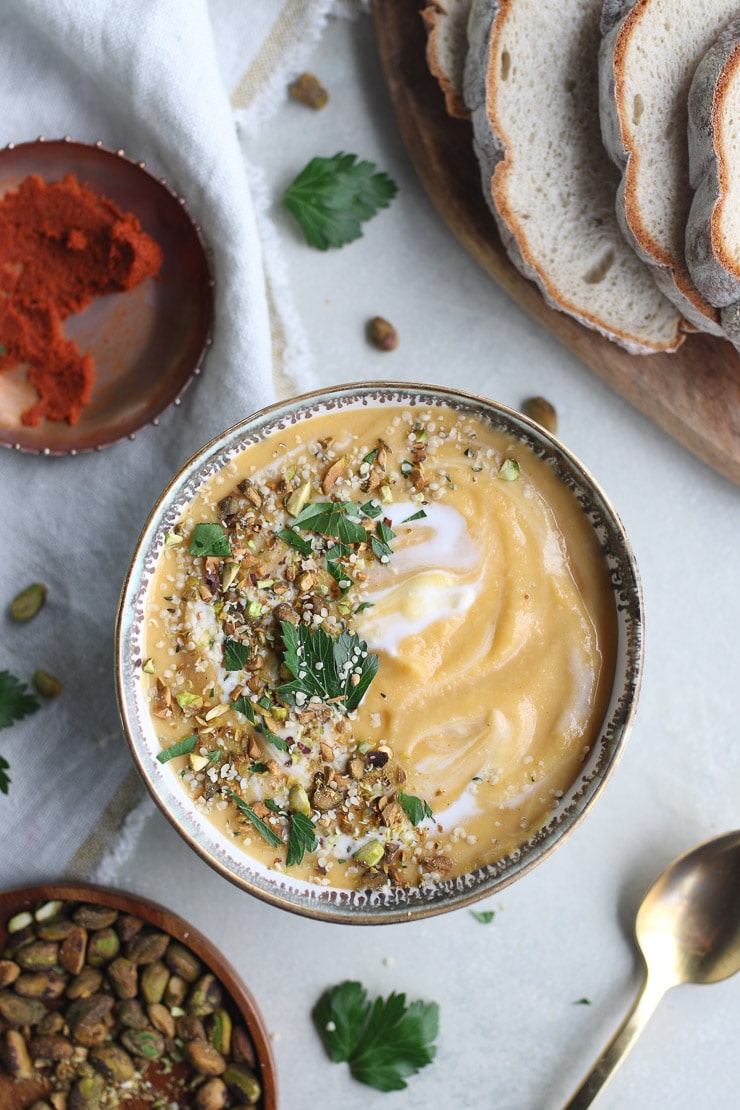 FAQ about this recipe
Here are some common questions I anticipate about this recipe.
how spicy is the soup?
If you add the two teaspoons of the curry paste, it has a nice solid kick that is balanced out well by the coconut milk. If you want to make it more mild, I would half it. Either way, if you're sensitive to heat, definitely add the coconut milk to mellow everything out.
is this recipe appropriate for toddlers and kids?
If your kids are sensitive to heat, again make sure you take the curry paste down or out. My son definitely would not be able to handle the 2 teaspoons, but maybe could do a 1/2 teaspoon of the curry paste.
can i use fresh cauliflower or squash?
Yes! You will need to cook the soup longer to get those vegetables nice and soft, but you can definitely use fresh. You can also use frozen cauliflower rice if that's what you have.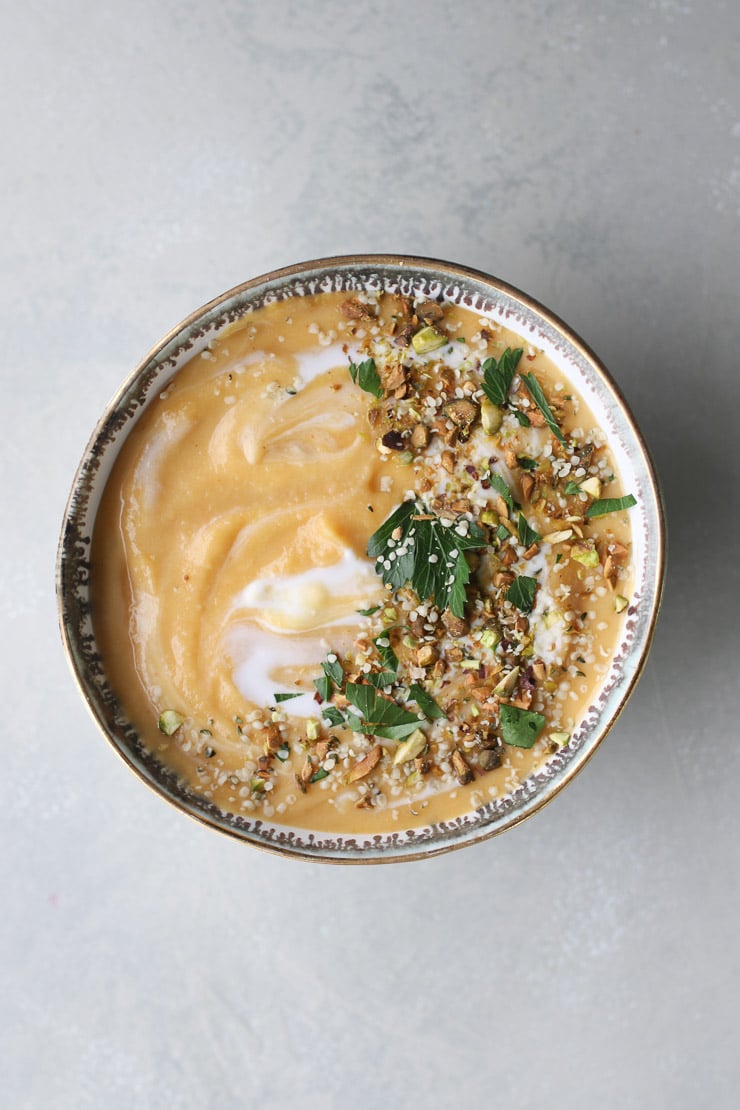 do i have to use coconut milk?
I have tried making this with and without coconut milk as a lower fat option. It's delicious both ways but I will say the curry paste is stronger without it, so if you're unsure and want to omit the coconut milk, I suggest cutting the curry in half until you try it and then adjusting.
is this soup gluten free?
Yes, this is a naturally gluten free soup assuming you use a gluten free curry paste.
can i batch prep this soup and freeze it?
This butternut squash soup is one of my all time favourite batch-prepped meals. I have two bags in the freezer I am so excited to enjoy post-birth. Allow the soup to cool, then transfer to freezer bags and lay them flat in the freezer to firm up.
do you have other recipes that use a lot of pantry or freezer staples?
Of course I do, so many! Check out some of my new go-to's here!
KOREAN SAVOURY OATMEAL WITH RUNNY EGGÂ
EASY 10 MINUTE MEXICAN TORTILLA SOUPÂ
EASY VEGAN PASTA BAKE WITH SAUSAGE, WHITE BEANS & KALEÂ Â
What are you making with your freezer and pantry staples? Leave me a comment below with your thoughts!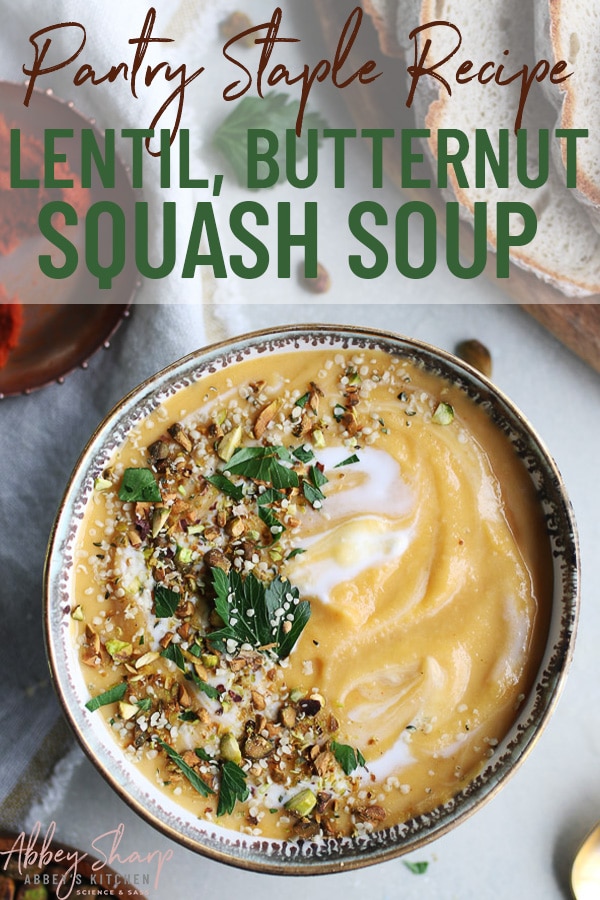 Vegan Lentil Butternut Squash Soup
This Vegan Lentil Butternut Squash Soup is one of my favourite pantry & freezer recipes for using up what you have on hand in a pinch.
Ingredients
1

tbsp

extra virgin olive oil

1

onion

diced

4

cloves

garlic

minced

2

tsp

ginger

grated

1-2

tsp

red curry paste

1 ½

cups

dried red lentils

4

cups

frozen butternut squash

4

cups

frozen cauliflower

6

cups

low sodium vegetable broth

1

tbsp

lemon juice

1

cup

light coconut milk

Salt and pepper

to taste
Instructions
Heat the olive oil in a large soup pot over medium heat. Add the onion, garlic and ginger and cook until softened and fragrant, about 3 minutes.

Add the red chilli paste and cook until softened.

Add in the lentils, butternut squash, cauliflower and broth, cover and cook on medium low for 20 minutes or until the vegetables are very soft.

Add the lemon juice and coconut milk and stir until combined, then transfer to a blender to puree until smooth. Season with salt and pepper, to taste.

Top with a swirl of coconut milk, crushed pistachios, parsley, and hemp hearts.
Updated on July 23rd, 2020