This creamy pistachio pomegranate & tahini protein smoothie is a perfect post-workout pick-me-up for getting your through any tough workout!
This week was a bit of a doozy. I recently started workout out with a TRX suspension trainer, which for those who don't know stands for HOLY-THIS-LOOKS-EASY-BUTIS-CRAZY-HARD. Okay, so maybe that wasn't the exact translation of the abbreviation but I'm pretty sure it's close.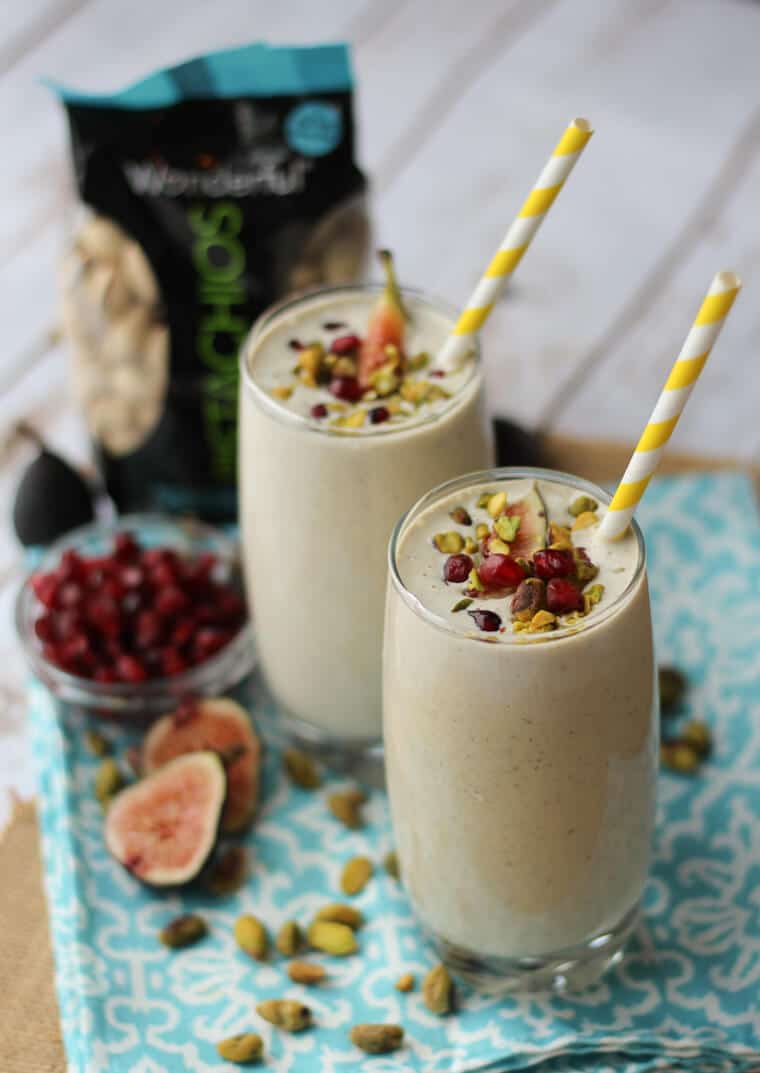 Anyhoo, after an hour doing pistol squats, plank pikes and upright rows galore on that monster of a machine, I am so ravenous (and sweaty) I rush into my kitchen with REAL determination. If only I had that kind of energy during my workout. I need protein, I need carbs, I need real food. I was able to pull together a recipe for just this kind of occasion at recent event I hosted with Wonderful Pistachios & James van Riemsdyk from the Toronto Maple Leafs. This exclusive event provided attendees with an authentic off-ice training experience at SWAT Health alongside JVR. And as you may have guessed, with the extensive workout came a much needed post-workout refuel, that's where this Pistachio & Tahini Protein Smoothie really came into play.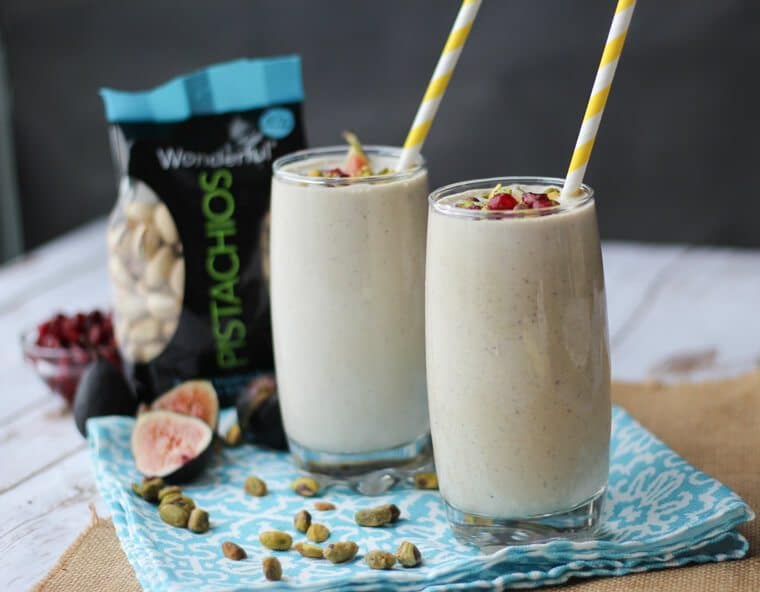 How to Make my Pistachio Pomegranate & Tahini Protein Smoothie
So if you're staring at the tahini in "Pistachio & Tahini Protein Smoothie" and thinking WHAT THE WHAT? Trust me; I've got you on this. The tahini adds this subtle savory note that totally works with our smoothie star- Wonderful Pistachios! Pistachios offer the perfect combination of fibre, protein and monounsaturated and polyunsaturated fats to keep you satiated and that is something to celebrate! I've written about awesome post-workout snacks before and Wonderful Pistachios are some of my faves. Not only do they pack a powerful nutrition punch in this Pistachio & Tahini Protein Smoothie, but they're also totally shelf stable, so I can just throw a baggie of them in my gym bag to quickly grab after a workout.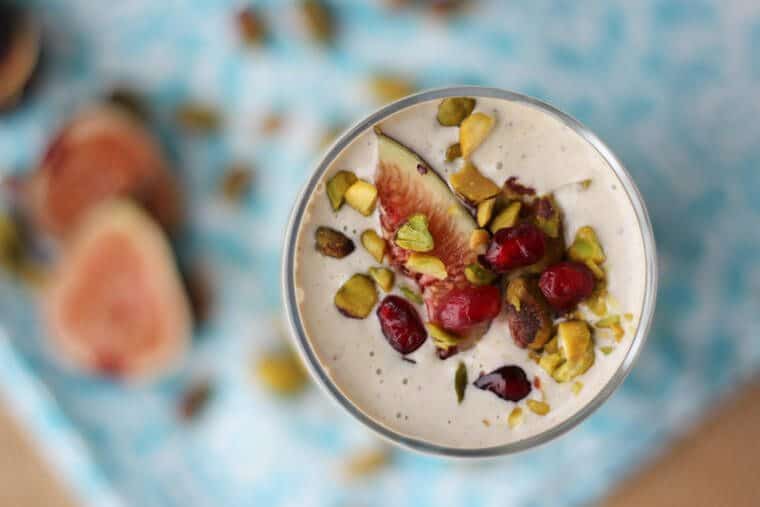 Plus, for those of you who have planned your new year's resolution to try to eat more mindfully, pistachios may be your BFF. Since in-shell pistachios may take longer to eat (you actually have to open each one), you can slow down your eating enough that you will be more likely to hear those satiety cues before you overeat. In fact, a preliminary behavioural study showed that in shell snackers ate 41% fewer calories than those with shelled nuts, and another study showed that when the shells were cleared away immediately, snackers ate 22% more nuts then when they saw them. We call this little bit of magic the pistachio principal (and yes, you can bust out that little factoid at your next dinner party).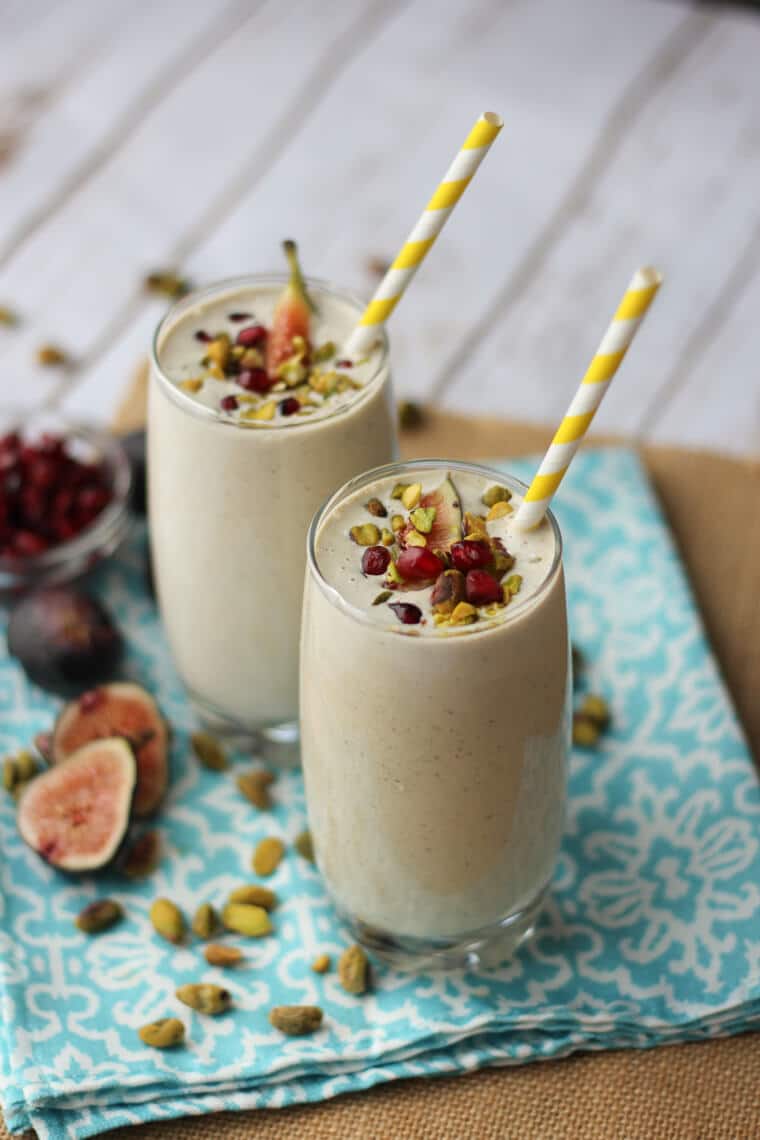 But before we can party, we need to snack. And if you're going to snack, you might as well make it a good one like this Pistachio & Tahini Protein Smoothie. You're hunger beast is thanking me right-about-now.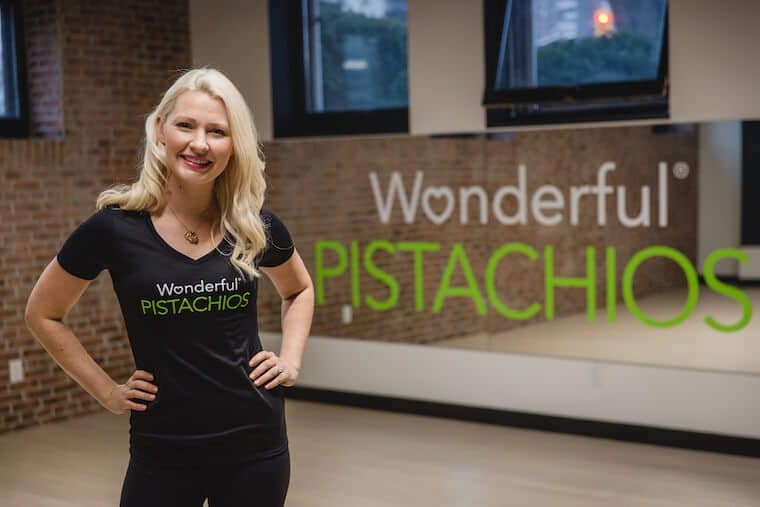 So tell me friends:
What are some of your favourite post-workout snacks?
Have you tried making this Pistachio & Tahini Protein Smoothie?
Let me know your thoughts in the comments below!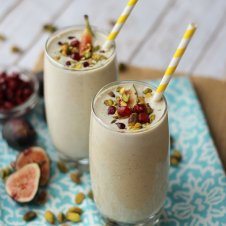 Pistachio & Tahini Protein Smoothie
This creamy pistachio & tahini protein smoothie is a perfect post-workout pick-me-up for getting your through any tough workout!
Print
Pin
Rate
Ingredients
Optional Garnish:
1

fig

quartered

2

tbsp

pistachios

unsalted, shelled and crushed

2

tbsp

pomegranate arils
Instructions
In a blender, pulse the pistachios until they reach a ground up consistency. Add in the yogurt, figs, dates, tahini and milk. Puree until smooth.

To serve, pour into two glasses. Top with sliced fig, crushed pistachios and pomegranate arils, if desired.
Nutrition
Calories:
420
kcal
|
Carbohydrates:
50
g
|
Protein:
22
g
|
Fat:
17
g
|
Saturated Fat:
3
g
|
Trans Fat:
1
g
|
Cholesterol:
11
mg
|
Sodium:
92
mg
|
Potassium:
999
mg
|
Fiber:
8
g
|
Sugar:
38
g
|
Vitamin A:
533
IU
|
Vitamin C:
6
mg
|
Calcium:
342
mg
|
Iron:
2
mg
Disclaimer: This post was developed in paid partnership with Wonderful Pistachios; however, all opinions are genuine.