This easy 10 minute Mexican Chicken Tortilla Soup is made with all of your go-to pantry staples & grocery store shortcuts to make dinner a total breeze!
I'm a huge soup fan as the weather cools off, and I'm an even bigger fan when making said soup is not a full day event. Mama don't have time for that. So this week I busted out a variety of household staples to make the EASIEST 10 minute Mexican Chicken Tortilla Soup you EVER put in your mouth.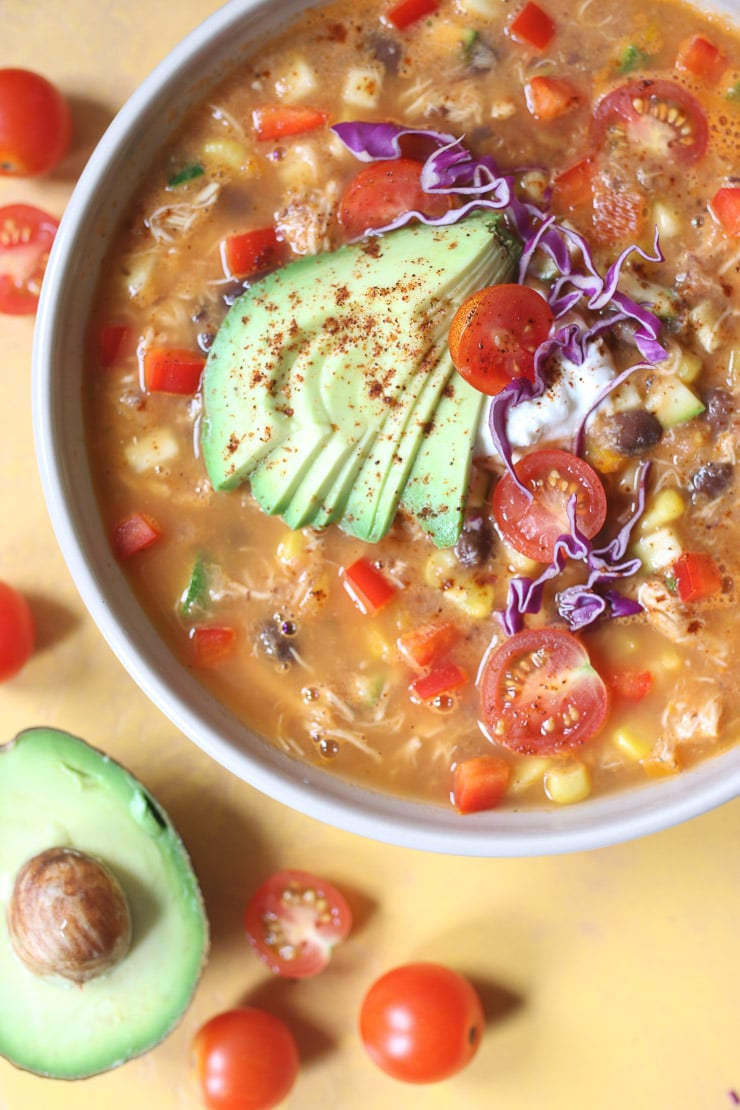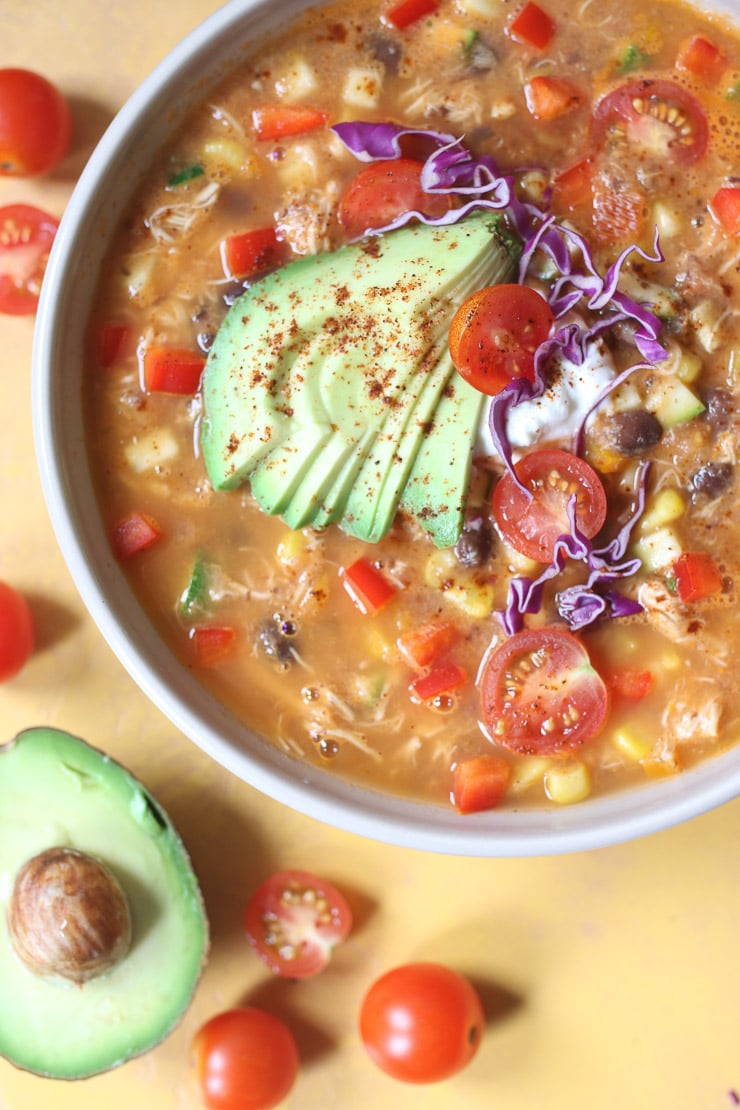 KEY INGREDIENTS FOR THis easy mexican tortilla soup
Black Beans
– preferably canned as it makes it easier to just throw into the soup. But if you cant find canned black beans at the store and have an extra hour to spare, dry black beans will certainly do.
Salsa – this recipe is pretty flexible and based on your own taste preferences. You can make salsa from scratch or store-bought. Really whatever floats your boat.
Rotisserie Chicken – because it wouldn't be "easy" if we didn't take a few shortcuts.
Spices – to stay true to the Mexican flavour that we want, this recipe uses cumin and chilli powder but feel free to add in any other spices that you like!
Tortilla – because, duh! It wouldn't be called a Mexican tortilla soup without this key ingredient now would it? I personally like to use tortilla strips, but any tortilla type of chip crushed up definitely works.
Tip for making this Soup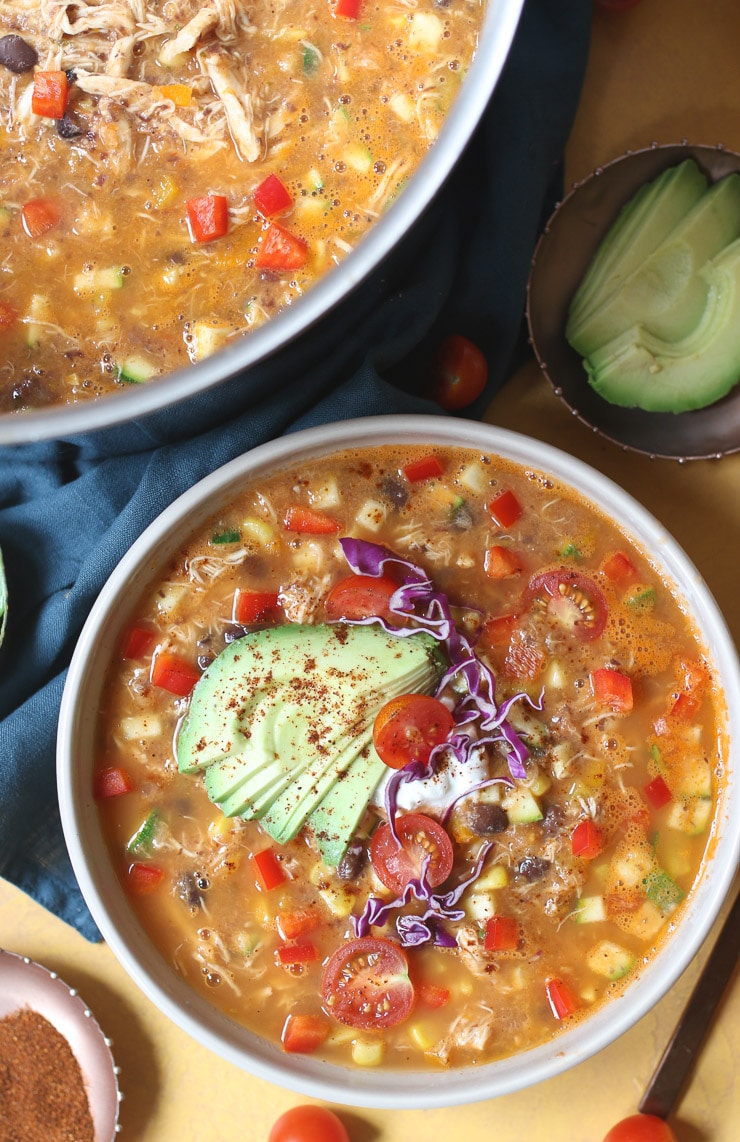 This Mexican Chicken Tortilla soup is more of a guide than a full on recipe since a lot of this depends on the shortcuts you use. When I've made it with fresh pico de gallo, I have found it needed more tomato paste to add depth. When I've made it with salsa, it might need a little lime. And if I make it with medium or hot salsa it needs less spices than if I make it with mild. Different brands have different flavours, too! Some are smoky, some are pretty bland so they might need a little more help. But if you start with a product you really like, you're going to make a tasty soup.
My recommendation for making this Mexican Chicken Tortilla Soup is to puree 1 can of black beans, salsa/pico de gallo and broth together, then taste and adjust to balance things out. I also added some some fresh veggies I had (zucchini and bell pepper) plus some canned corn and shredded rotisserie chicken, but feel free to switch it up and add whatever fresh, canned or frozen veggies you have!
FAQ ABOUT THIS RECIPE
Can I make this Tortilla Soup VEGAN?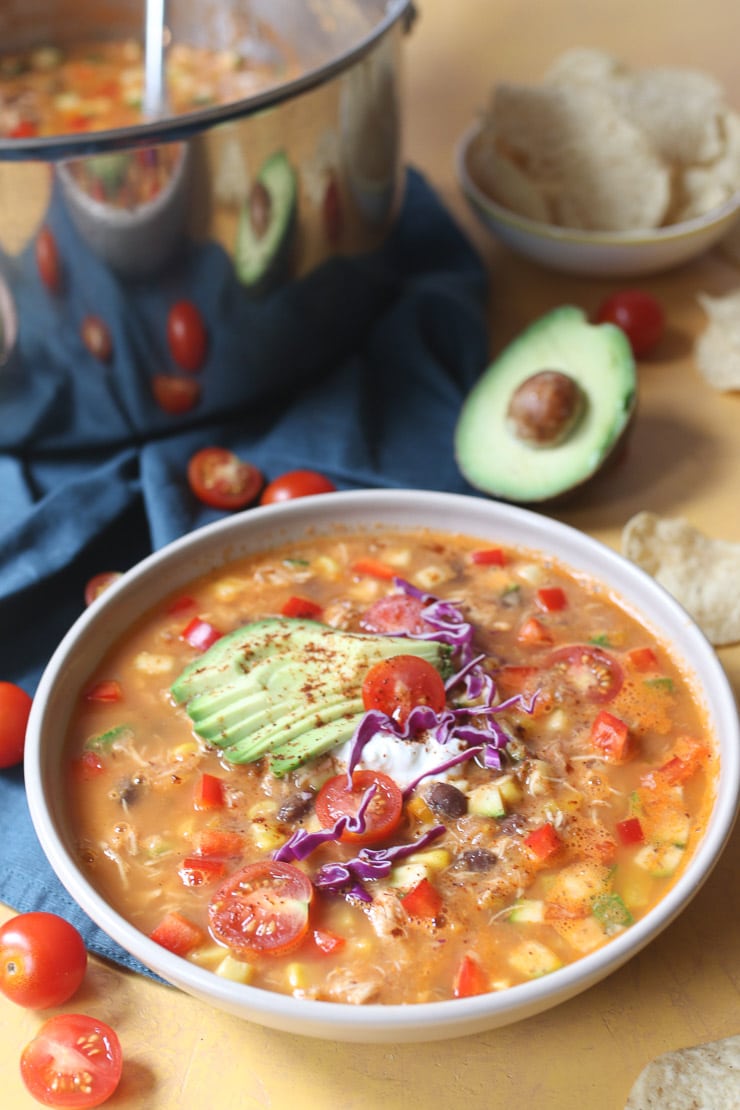 Sure!! Just omit the chicken, and add another can of beans (maybe switch it up and do kidney or chickpea for variety). You can also try adding tofu or veggie ground round to your tortilla soup base. Make it your own!
Is this soup gluten free?
It definitely can be! You'll just have to make sure you use gluten free tortilla chips.
Can I Freeze this RECIPE?
Yep! I got a batch of this tasty stuff hanging out in the freezer right now just waiting for a rainy day when I just CAN'T. Simply transfer it to a freezer bag on a baking tray and let it freeze flat (rather than a big clump), then transfer to your freezer until you're ready to eat it.
is this soup spicy?
Its not too spicy but if you're not a spice person than I would definitely recommend opting for a mild salsa and holding back a bit on the cumin and chilli powder, or season to your own preference.
Do you have any other easy soup recipes?
Easy soup recipes are my JAM so the answer is absolutely yes! Here are some of my favs.
VEGAN BROCCOLI WHITE BEAN SOUP
VEGAN FLORIDA OJ SWEET POTATO SOUP
VEGAN PEA, MINT, AND COCONUT SOUP
Now friends, tell me – what's your favourite pantry staple recipe lately? Leave me a comment below with your thoughts!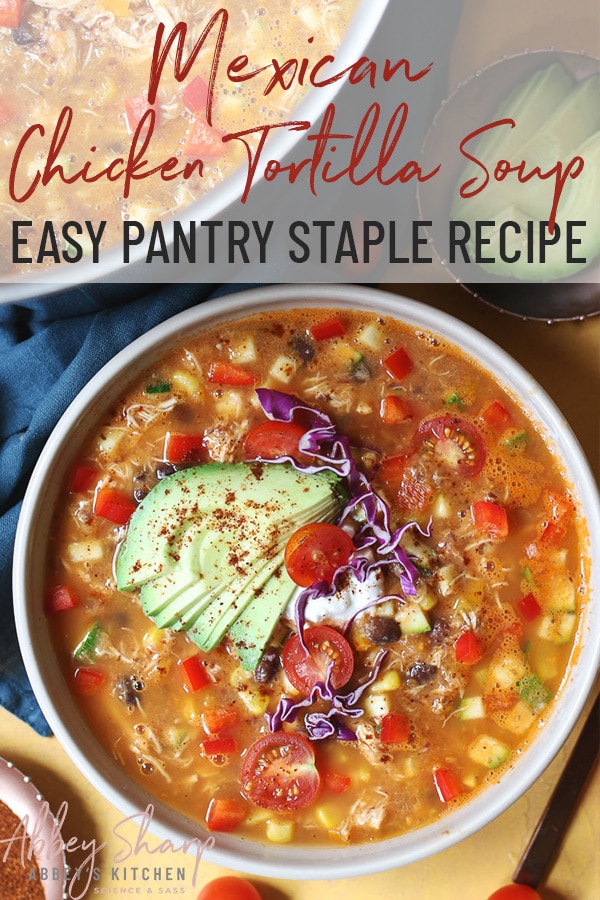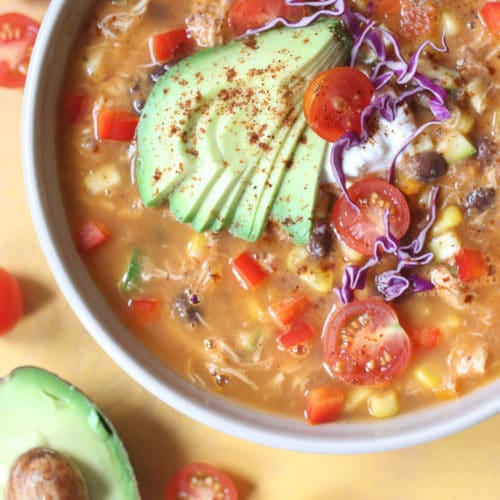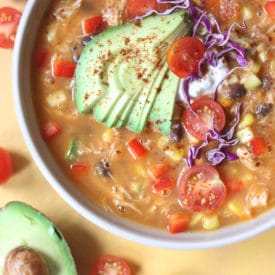 Mexican Chicken Tortilla Soup
This easy 10 minute Mexican Chicken Tortilla Soup is made with all of your go-to pantry staples & grocery store shortcuts to make dinner a total breeze!
Print
Pin
Rate
Ingredients
2

x 19 oz can no salt added black beans

drained and rinsed and divided

1

x 15.5 oz jar of salsa or pico de gallo

mild, medium, or hot

4

cups

no salt added chicken broth

1

tsp

cumin

or to taste (optional)

1

tsp

chili powder

or to taste (optional)

2

tbsp

tomato paste

optional

Juice of 1 lime

or to taste (optional)

2

bell peppers

diced2 zucchini (diced)

1

x 340 g can corn

1/2

rotisserie chicken

shredded

Salt and pepper

to taste
To serve:
Avocado

Sour Cream

Tortilla Chips

Cilantro
Instructions
To a large pot, combine one can black beans, salsa, stock, cumin, chili, lime, and tomato paste, if using. If your using homemade salsa or pico de gallo that is more fresh and less flavourful, then I recommend adding tomato paste. How much lime and tomato paste you use will depend on the salsa you use. Puree using an immersion blender or just add everything to a stand blender and puree before adding to the pot.

Heat over medium heat until simmering, then add in the bell peppers, zucchini, corn, chicken, and residual black beans. Adjust seasoning (depending on your salsa's flavour) by adding more lime, tomato paste, chili, cumin, and salt and pepper. Cook for 10 minutes until the vegetables have softened and the soup is hot. Serve with tortilla chips, avocado, sour cream and cilantro.
Updated on July 22nd, 2020