This vegan roasted broccoli salad is tossed with a rich and tangy tahini oil free dressing made with Florida OJ and topped with Middle Eastern flavours.
I'm a dietitian so I'm pretty sure I have a professional responsibility to love salad and make a lot of them. That, my friends, is no problem when they look like this vegan roasted broccoli salad.
Salads don't have to have lettuce. In fact, I find when there's more actual crunchy whole vegetables in my salad, I just feel more satisfied. Toss in some healthy fats from nuts and tahini, and protein from chickpeas, and you've got a super hearty meal salad that is easy enough for a weeknight, but pretty enough for entertaining.
What Are the Key Ingredients for this Vegan Roasted Broccoli Salad and Dressing?
This recipe was born out of the contents of my fridge, however, there are a few key things you'll definitely want to have.
Broccoli – I do prefer to buy whole broccoli in case you want to keep a little of the stalk on for roasting.
Florida Orange Juice – I always cook or bake with 100% Orange Juice in my recipes because it adds natural sweetness and tang, is loaded with vitamin C, folate and potassium, and has no added sugar, so it's great for helping to cut the bitterness of the tahini. In fact, ½ cup of 100% Orange Juice has just 55 calories and 11.5 grams of naturally occurring sugar. Since only one in ten Canadians are meeting their recommended daily intake for fruits and veggies, I use every opportunity I can to sneak more in.
Cabbage – I love purple cabbage for the colour with the broccoli but you can also use green if that's what you can find.
Tahini – I am admittedly obsessed with the super savoury flavour of tahini. It's a wicked flavour base for dressings and the healthy fats are super heart healthy as well.
Crispy Chickpeas – I often make these but you can also buy them (affiliate link) to make it easier and they make an awesome snack.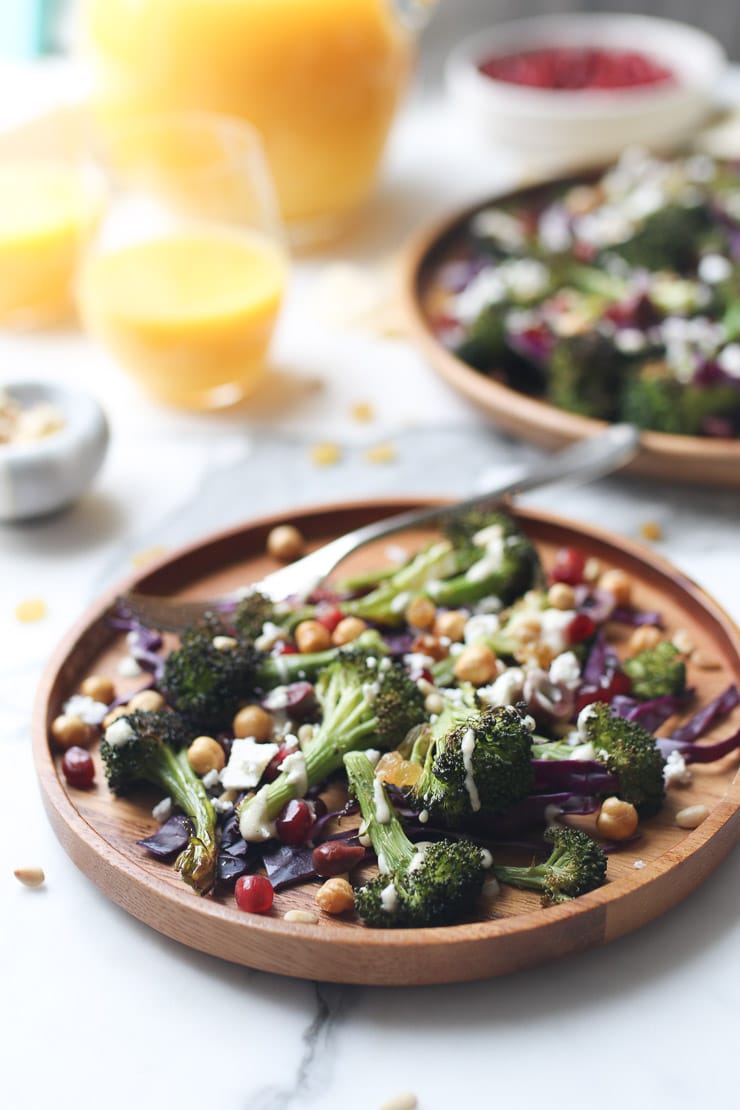 Tips for Making this Recipe Perfect Every Time
I have tried to make this tahini Florida Orange Juice dressing in a bowl while my son slept to be super quiet and honestly, it just won't get as smooth. A quick whiz in the food processor or the blender will yield a way smoother salad dressing that stores in the fridge really well.
For the actual broccoli, I do recommend using a really large baking sheet or spreading the broccoli out onto two sheets so they don't touch and get really crispy and brown.
Other than that, making a salad with your roasted broccoli is pretty simple – you're literally going to throw everything together on a nice big platter, garnish with all of the toppings and then top with the dressing.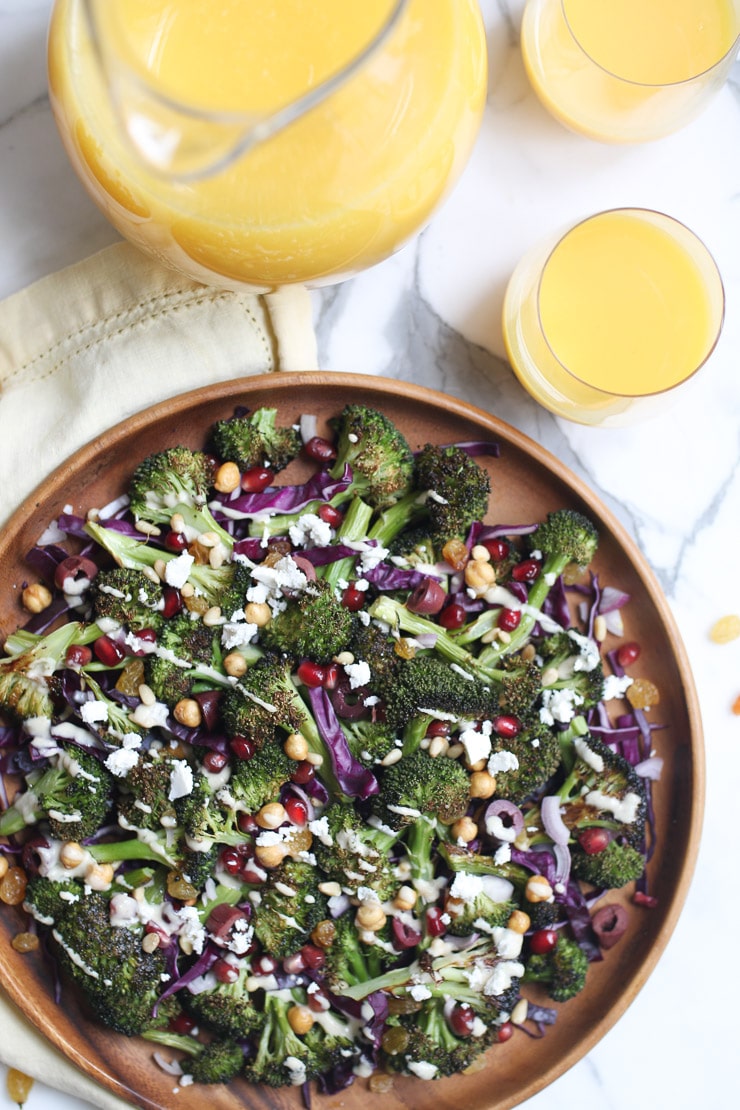 FAQ About This Recipe
Here are some of the major questions I will likely get about this salad.
Can I batch prep the tahini dressing and how long will it last?
You bet! I often will double it and use the tahini dressing on potatoes/ sweet potatoes, in pita sandwiches and on other salads in the week. It should last in your fridge for the week.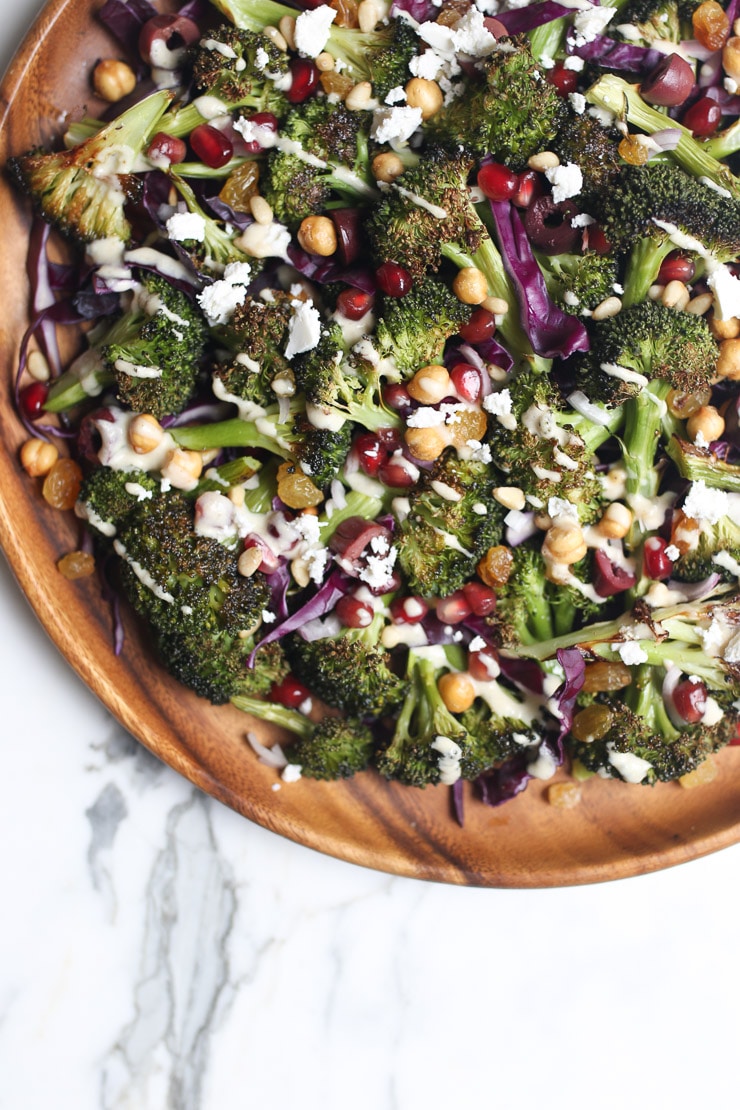 Can I add other ingredients or lettuce to the salad?
Of course! Feel free to throw some chopped lettuce, tomatoes, cucumber, grapes, whatever you have in there.
Is this recipe gluten free for guests with celiac?
Yes! Everything in this recipe is completely gluten free, and vegan, and you can also make it nut free if you leave out the pine nuts.
Why is this dressing oil free?
It doesn't have to be, but I did try it with oil and without and I found that the olive oil overpowered the natural sweetness of the orange juice, and the FLOJ thinned it out enough that it didn't need it.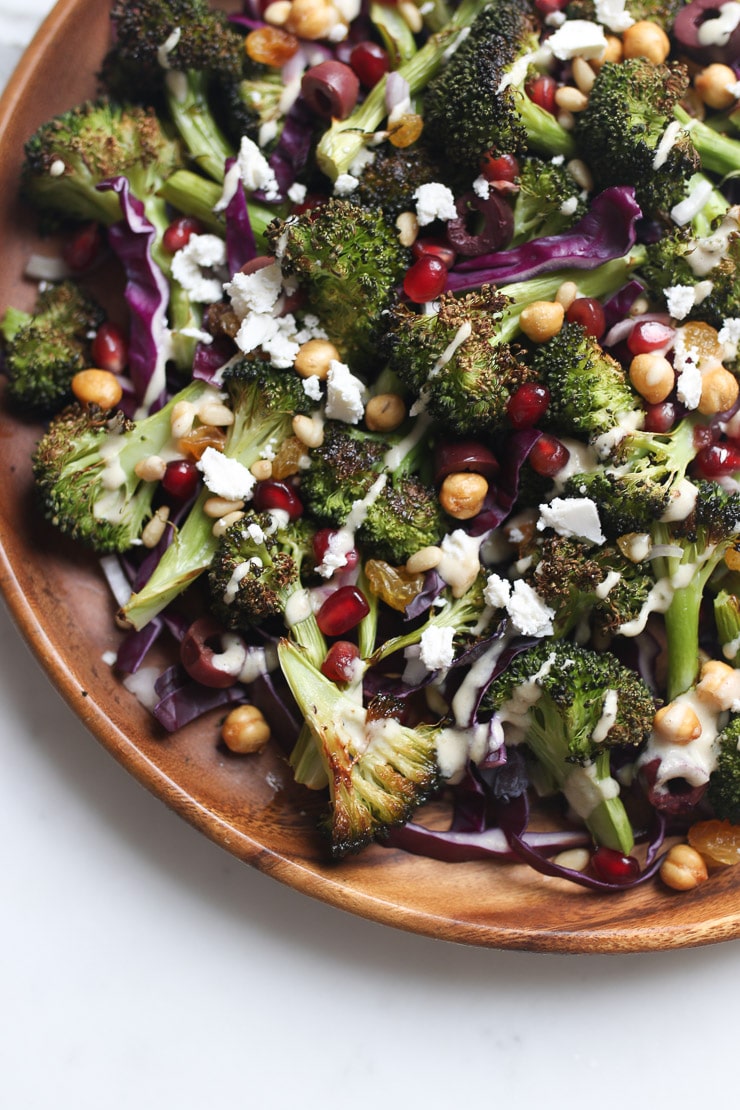 Can I make this salad with roasted cauliflower instead of broccoli?
Absolutely. Roasted cauliflower would be equally delicious in this salad.
Do you have any other easy delicious meal salads?
You bet I do! Here are some of our favourites to get you started!
PISTACHIO PARSLEY VEGAN PESTO PASTA SALAD
VEGAN GRILLED BROCCOLI, CARROT AND AVOCADO SALAD WITH SESAME DRESSING
CELERY, KASHA, AND TOFU FETA SALAD
LENTIL SALAD WITH SWEET POTATO, GRANOLA & HONEY VINAIGRETTE
Now friends tell me, what are some of your go-to salads that are nice enough for company but easy enough for a Tuesday? Leave me a comment below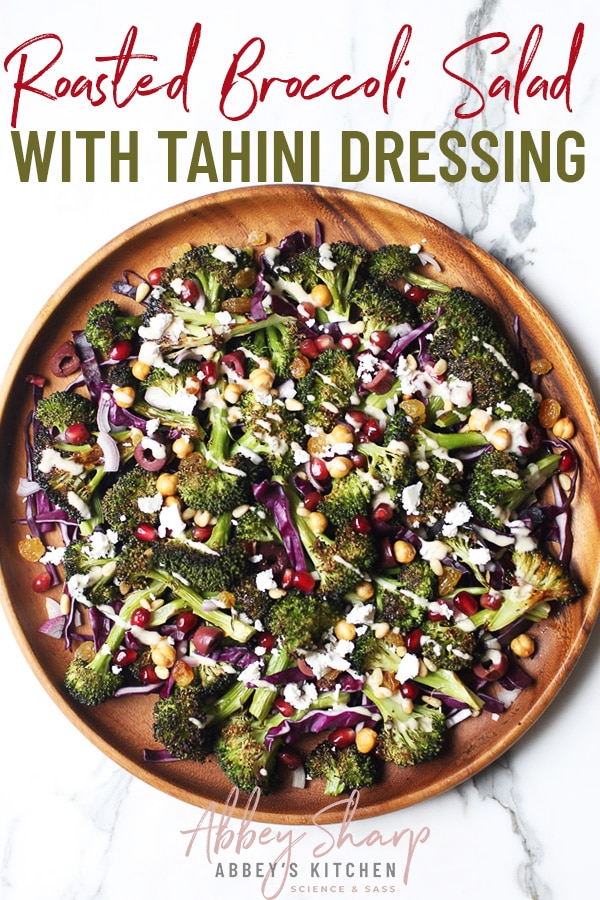 Disclaimer: This video was developed in paid partnership with the Florida Department of Citrus, however all opinions are genuine.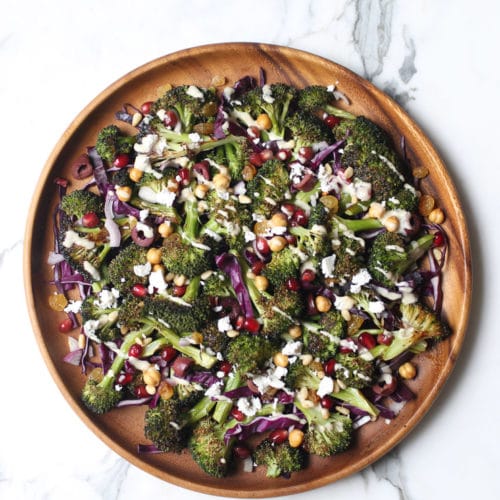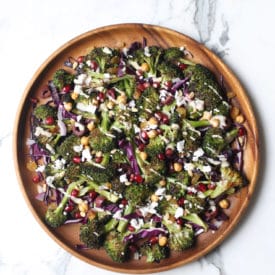 Vegan Roasted Broccoli Salad and Tahini Dressing with Florida OJ
This vegan roasted broccoli salad is tossed with a rich and tangy tahini oil free dressing made with Florida OJ and topped with Middle Eastern flavours.
Print
Pin
Rate
Ingredients
2

Heads broccoli cut into florets with a bit of stalk on

2

tbsp

extra virgin olive oil

Generous pinch each salt and pepper

6

cups

cabbage

finely shredded

3

shallots

finely diced
Toppings:
¼

cup

Golden Raisins

1

cup

crispy roasted chickpeas

¼

cup

toasted pine nuts

¼

tsp

za'atar

¼

cup

vegan feta

½

cup

Pomegranate arils

1/3

cup

Olives kalamata

thinly sliced
Instructions
Preheat oven to 450 F. Spread the broccoli onto the baking sheet (or two) so that they're not touching. Toss with olive oil and salt and pepper. Roast for about 20 minutes or until golden brown. Allow to cool to room temperature.

Meanwhile, in a food processor or blender, puree together the tahini, Florida Orange Juice, apple cider vinegar, maple syrup, and a pinch of salt and pepper. Set aside.

To a large platter, arrange the broccoli, cabbage, shallots, raisins, chickpeas, pine nuts, za'atar, feta, pomegranate, olives and drizzle generously with the dressing. Enjoy at room temperature.
Updated on October 21st, 2020