These Vegan Spinach Muffins are egg free & gluten free, yet are perfect for Toddlers, Kids and Babies doing BLW.
Raise your hand if your kid is constantly asking you for snacks around the clock?
If you're in quarantine trying to introduce solids or keep their littles well fed without going mad, I hear you. Honestly, I think for most of us it's survival mode time, so there is ZERO shame in letting your kids live off crackers, muffins and other convenient snacks. But when the snacks are really healthy for them, it doesn't feel quite so stressful, right?
That's why I wanted to create these mini vegan spinach muffins that are naturally egg free and gluten free. They're perfect for toddlers who keep asking for snacks around the clock and they're ideal for your new eaters who are starting solids with baby led weaning.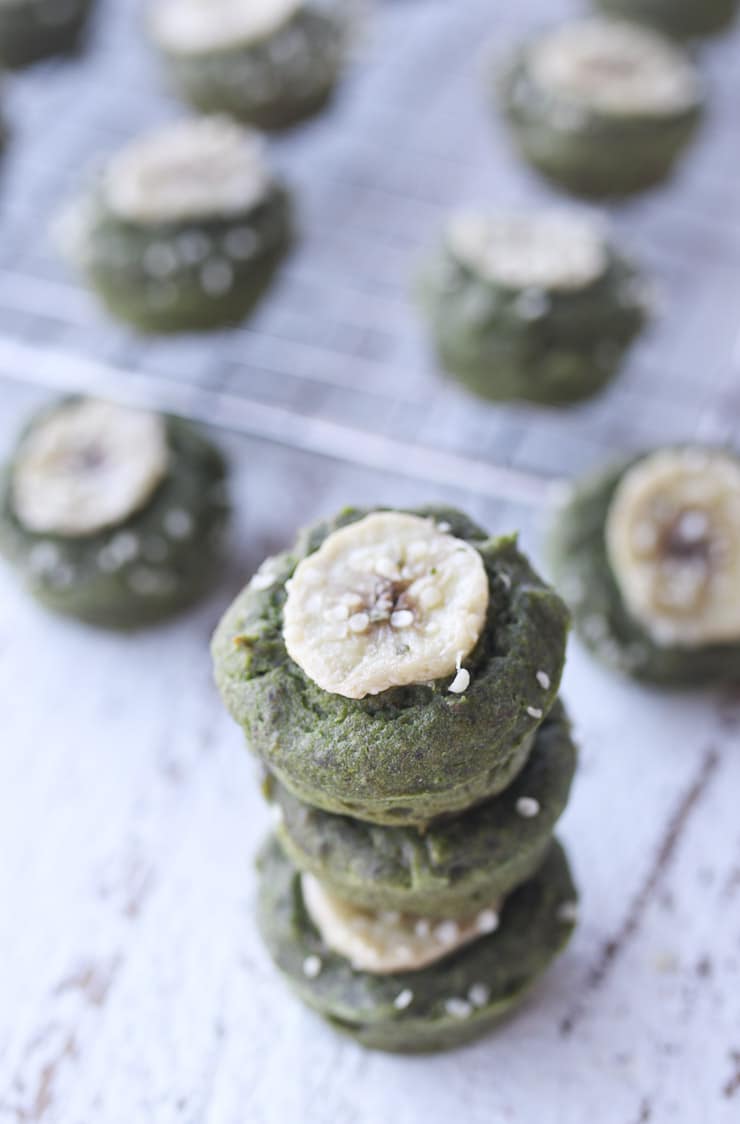 Key ingredients for these mini vegan spinach muffins
Oat flour- I love using oat flour because not only is it not a common allergen and is naturally gluten free, but it's really easy to find oats right now UNLIKE regular all purpose flour. To make oat flour, just process a bunch of oats in the food processor until very smooth. You will need about 1 1/2 cups of oats to make 1 cup oat flour.
Almond flour– Another easy flour to find right now, almond flour is nutrient rich and packed with healthy fats, protein and fibre.
Apple cider vinegar- Because this has no eggs, the apple cider vinegar helps with leavening. I promise your kids will not taste it as being sour.
Egg replacement – You can totally use eggs in this recipe if you have them, but I found that mixing water, baking powder and oil together is a great leavener that isn't as heavy as using a flax egg (which I do also love).
Spinach- I use frozen spinach (because I am all about the frozen veg right now) but you can also use kale or fresh if that's what you have.
Bananas- Bananas are one of the only fruit I can reliably find right now, and I tend to always have leftover from the week, so when they start to get a little speckly, I cut them up and freeze them for recipes just like this.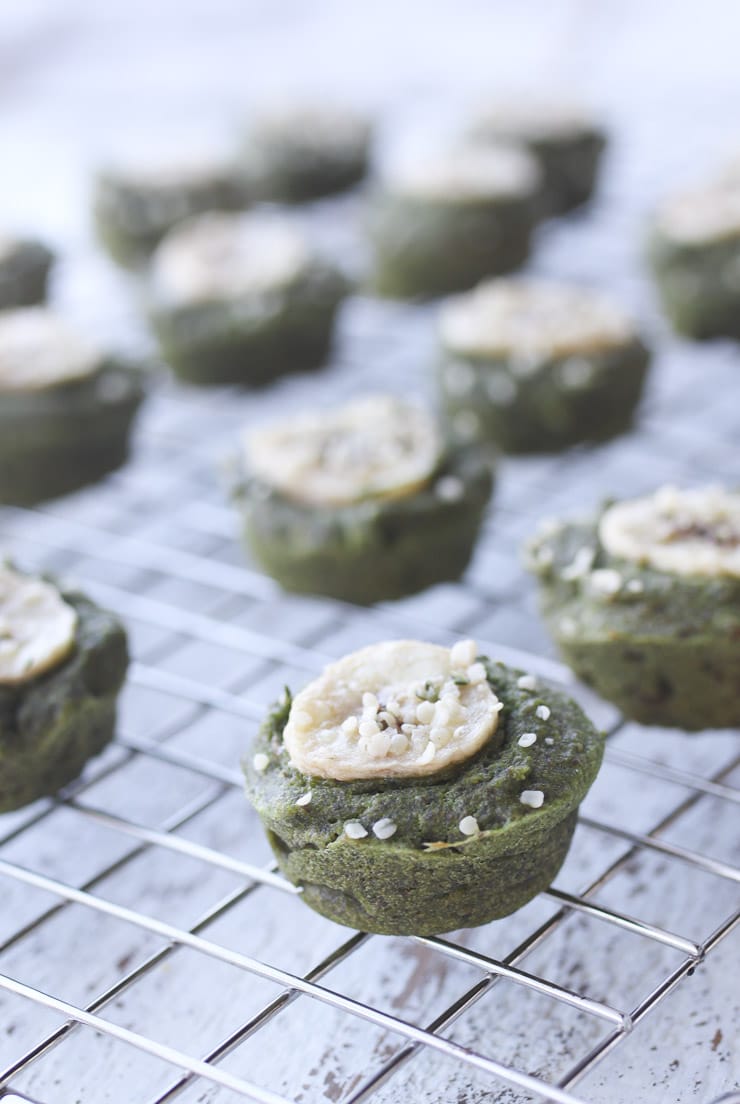 tips for making these mini muffins kid approved and mom approved
Okay so I do not ever like to "hide" vegetables in a deceitful way. My son is too young to really ask "hey ma, what's in these muffins", but if your kid is old enough, I would personally not lie about the fact that there is spinach in these. I believe that lying about what is in your kids as a way to get them to eat more vegetables, sneakily, sets your kids for having a distrustful relationship with food. I think it's bad news bears.
Having said that, my kid is obsessed with dinosaurs, so we have been calling these "dino eggs". I didn't even come up with this- my kid did! He saw them and said "raw raw" which is code for dinosaur to my 2-year old. So now I just call them dino eggs and guess what, HE LOVES THEM.
faq about this blw friendly recipe
Here are some commonly asked questions about this recipe.
Are these safe for kids with peanut allergies?
There are no peanuts in this recipe, however, there is almond flour, so if your kiddo also has a tree nut allergy, check out one of my other BLW muffins below.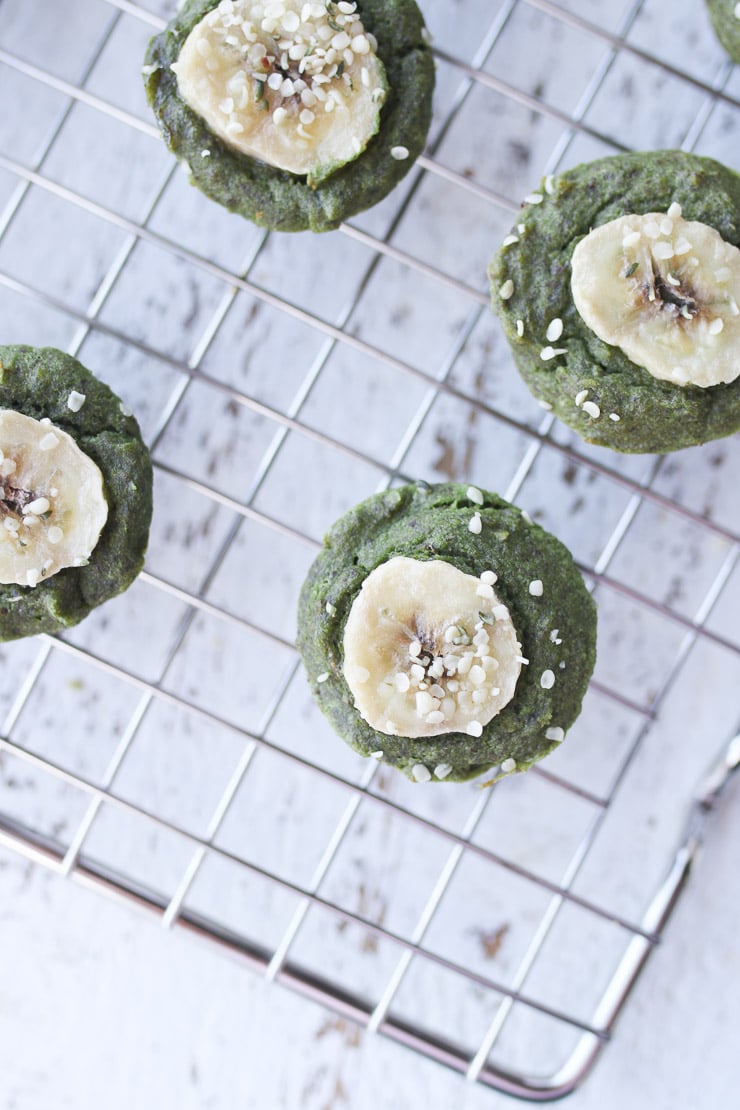 can i freeze these mini muffins?
Yes. Absolutely. I always do. To freeze them, pop them on a baking sheet once they've cooled that you've lined with a silpat or parchment paper. Freeze for about 30-60 minutes until solid, then pop them into a freezer bag for up to 3 months. When you're ready to eat, I just pull out a batch and let them thaw in the fridge or microwave them one at a time (in 30 second intervals to be safe).
can you taste the spinach?
Honestly, not really at all. It tastes mainly like a soft banana pancake to be honest. They're super delicious.
Can i use regular milk if we are not vegan or dairy free?
Absolutely. Use whatever milk you have on hand.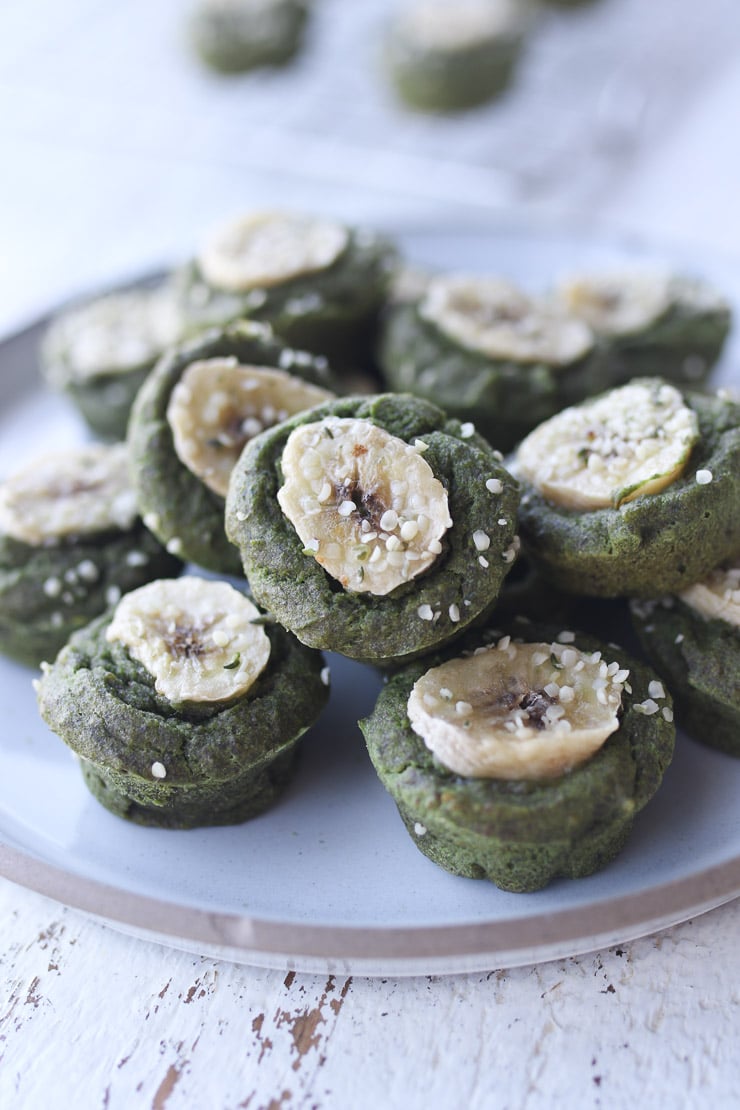 Do you have other awesome BLW muffin or pancake recipes that are great for babies and toddlers?
You bet. My kiddo loves his mini muffins. Here are some favourites.
BLW PEANUT BUTTER BANANA MINI MUFFINS
BLW SPINACH CHICKEN PROTEIN MUFFINS
BLW IRON SWEET POTATO APPLE MUFFINS
BLW BROCCOLI AND CHEESE EGG MUFFINS
What are you making for your snack obsessed kids right now? Leave me a comment below!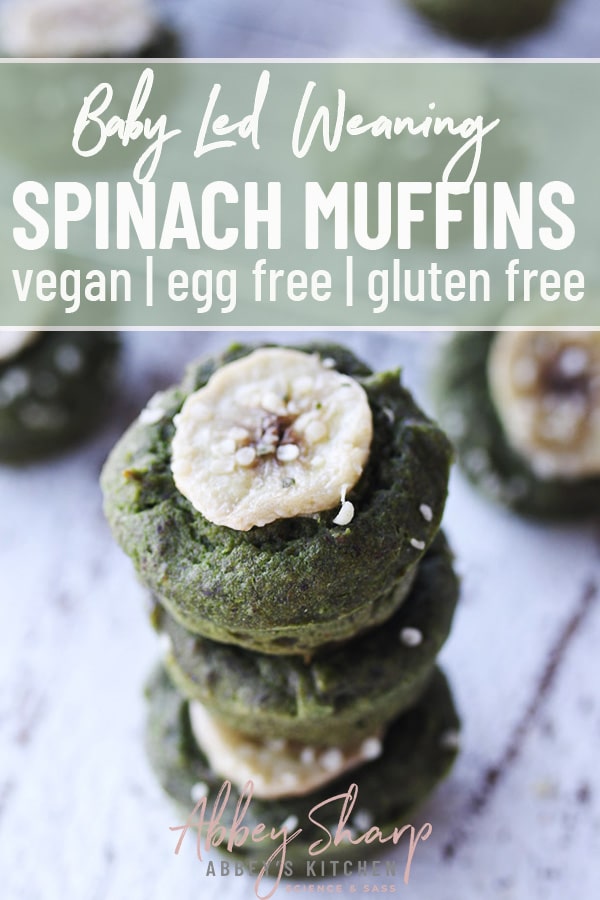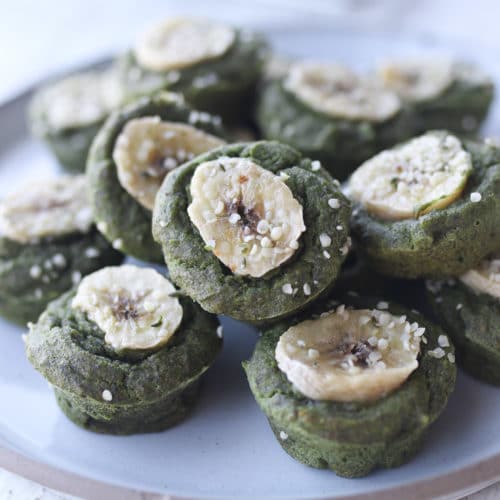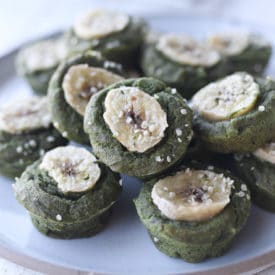 Vegan Spinach Muffins for Toddlers & BLW
These Vegan Spinach Muffins are egg free & gluten free, yet are perfect for Toddlers, Kids and Babies doing BLW
Print
Pin
Rate
Ingredients
2 Egg replacement:
1/4

cup

water

4

tsp

baking powder

2

tsp

vegetable oil

1

cup

oat flour

1 ½ cups oats

5

tbsp

ground flax

1

cup

almond flour

¼

tsp

salt

1 1/4

tsp

baking powder

1

cup

very ripe mashed banana

about 2

2

cups

frozen spinach or kale

thawed

2

tsp

vanilla

½

cup

unsweetened vanilla non-dairy milk

1

tbsp

melted coconut oil or vegetable oil

2

tsp

apple cider vinegar

2

tbsp

hemp hearts

1

banana

very thinly sliced on top
Instructions
Preheat oven to 350 F and grease 30 silicon mini muffin tins.

Mix together the water, 4 tsp baking powder, and 2 tsp vegetable oil in a small bowl.

In a food processor, pulse together the oat flour, flax, almond flour, salt, and baking powder.

Add in the banana, spinach or kale (thawed), vanilla, almond milk, vegetable oil, and cider vinegar. Process until very smooth. Add the egg replacement and pulse just to combine.

Spoon the batter (about 2 tablespoons) into the mini muffin tins. Top with a thin slice of banana and a sprinkle of hemp hearts. Bake for about 15-18 minutes, and then allow to cool for at least 10-15 minutes before carefully popping them out.
Nutrition
Calories:
73
kcal
|
Carbohydrates:
7
g
|
Protein:
3
g
|
Fat:
4
g
|
Saturated Fat:
1
g
|
Sodium:
31
mg
|
Potassium:
191
mg
|
Fiber:
2
g
|
Sugar:
1
g
|
Vitamin A:
1246
IU
|
Vitamin C:
2
mg
|
Calcium:
73
mg
|
Iron:
1
mg
Updated on July 21st, 2020