I share how to make easy homemade playdough that stays soft much longer than the storebought version and it's totally edible and non-toxic!
Parents know what a struggle this past year has been, and by this point, if you're still hanging on, you're probably looking for some easy and cheap activities to do with your kids. When I was a kid, my mom regularly made homemade playdough. It was never something she would buy for us because as a Montessori principal and teacher, she always said the homemade stuff lasted so much longer. It just didn't make sense to keep buying the storebought only for it to dry right out. She also said that making the playdough was an activity in itself, and let's be real – WE NEED ALL THE ACTIVITIES WE CAN DREAM UP (I also wrote a whole blog post of toddler activity ideas while social distancing for coronavirus which you can read right here).
So this week, big boy E and I decided to whip up our own homemade playdough using a recipe my mother gave me.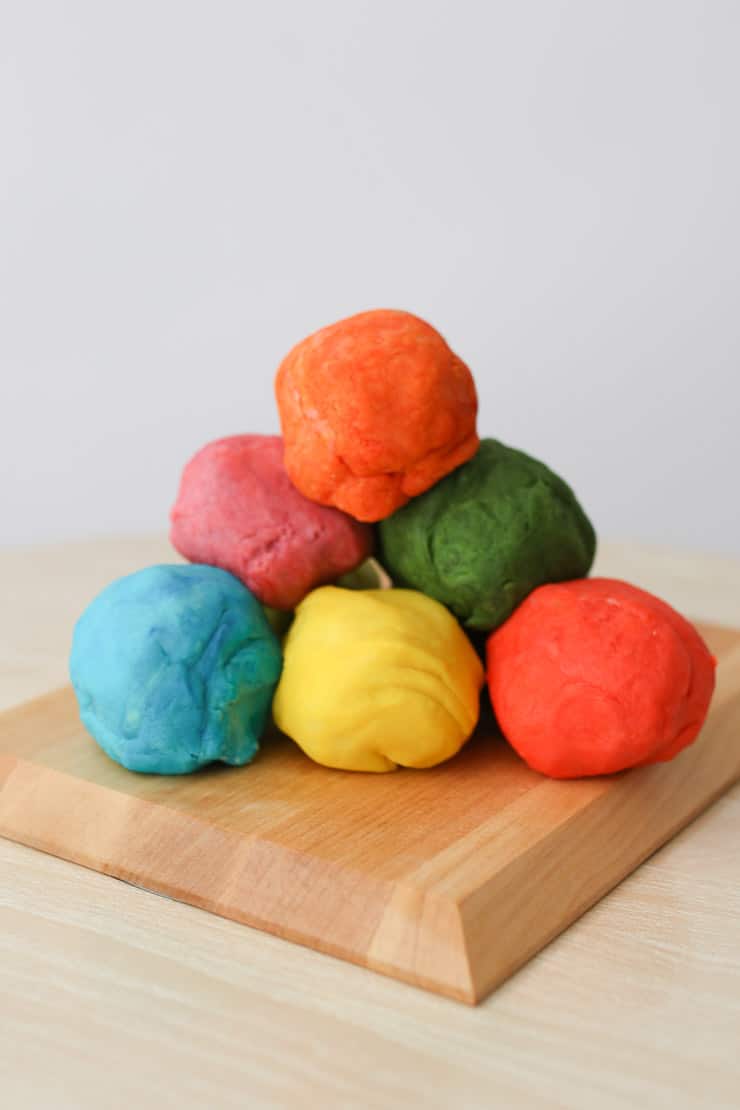 Key Ingredients for this DIY playdough recipe
The ingredients for playdough is pretty straight forward.
All purpose flour
Salt
Oil
Water
Food colouring
You probably have most, if not all, of these ingredients in your pantry, so it's pretty easy to whip up a batch on the fly.
How to Make Easy Homemade Playdough in multiple colours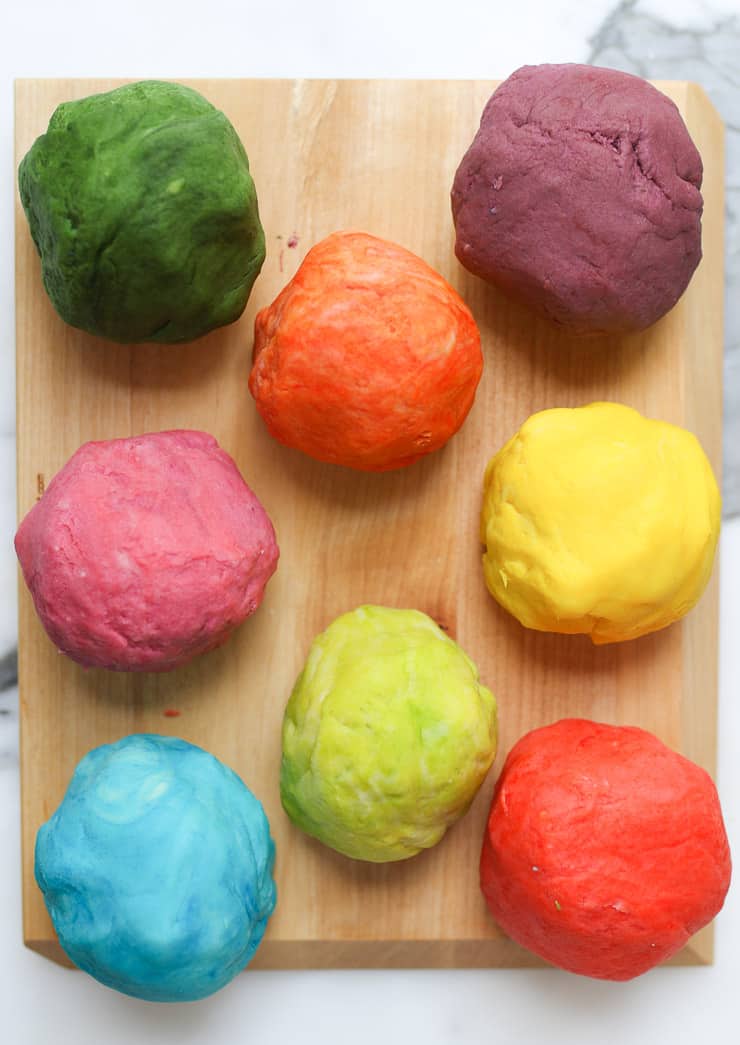 My mom always made one batch with one colour, putting the dye right into the pot. But that meant we would be limited to a huge batch of one colour and I feel like half the fun of playdough is the colours! So to combat that, I make the playdough first COLOURLESS, then divvy it up into bowls and kneed a little colour into it. Yes, it means my hands get some food dye on them, but you know what? That is part of the fun.
ways to get your kids involved and learning
Put your kiddos painting smock on (or at least take off their clothes) and let them help you kneed in some of the dye (see below for how to remove the dye from hands).
You can also use this opportunity to teach your kids about secondary and primary colours. So for example, if you mix a little blue and yellow dye into the playdough, massage it around, you will get GREEN!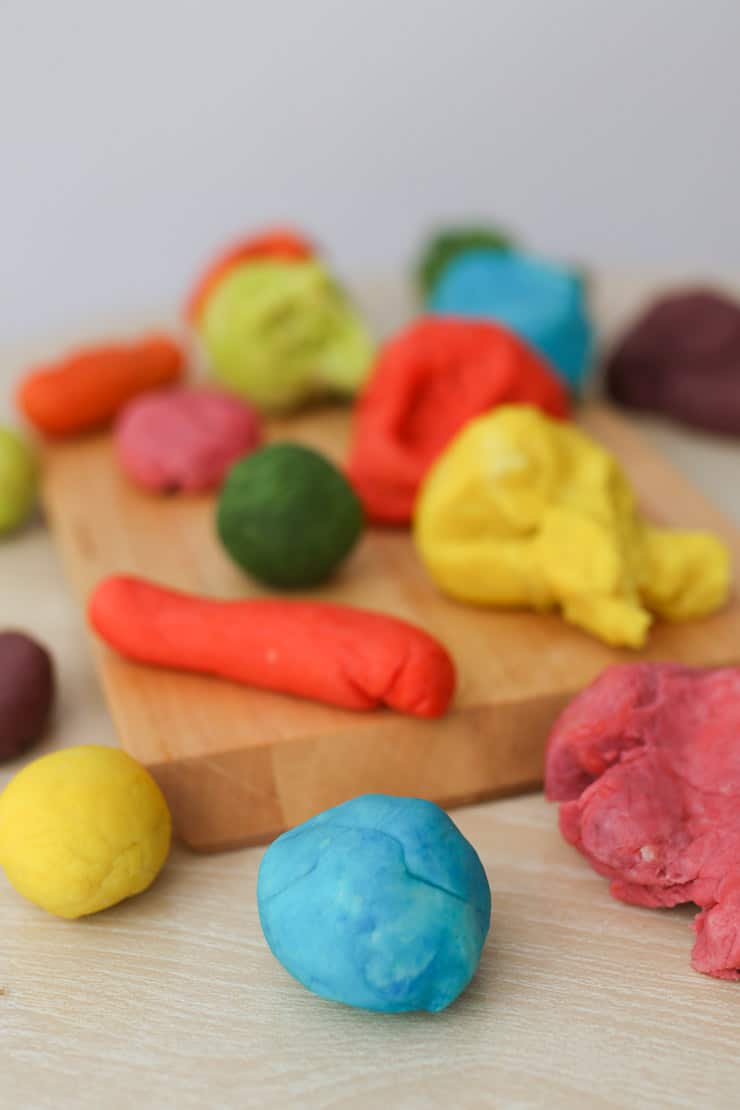 FAq about this recipe
Here are some commonly asked questions about this recipe.
How to Store this Playdough
I pop each colour into a resealable baggy and leave them in the fridge until I'm ready to use. Well stored homemade playdough will last a few months in the fridge.
Colour combinations from primary colours
If you're working just with primary colour food dyes (red, yellow, blue), you can make other colours by mixing as follows:
Dusty Rose – 1 blue : 3 red
Minty green – 2 yellow : 1 blue
Orange– 1 red: 3 yellow
Mauve – 2 blue : 3 red
Turquoise– 1 yellow : 3 blue
Green – 1 blue : 1 yellow
Liquid vs Gel Food colouring
I experimented with both and while liquid is convenient, you need SO MUCH OF IT to colour your playdough, so I do suggest using gel if possible. A little goes a long way and you get more vibrant colours.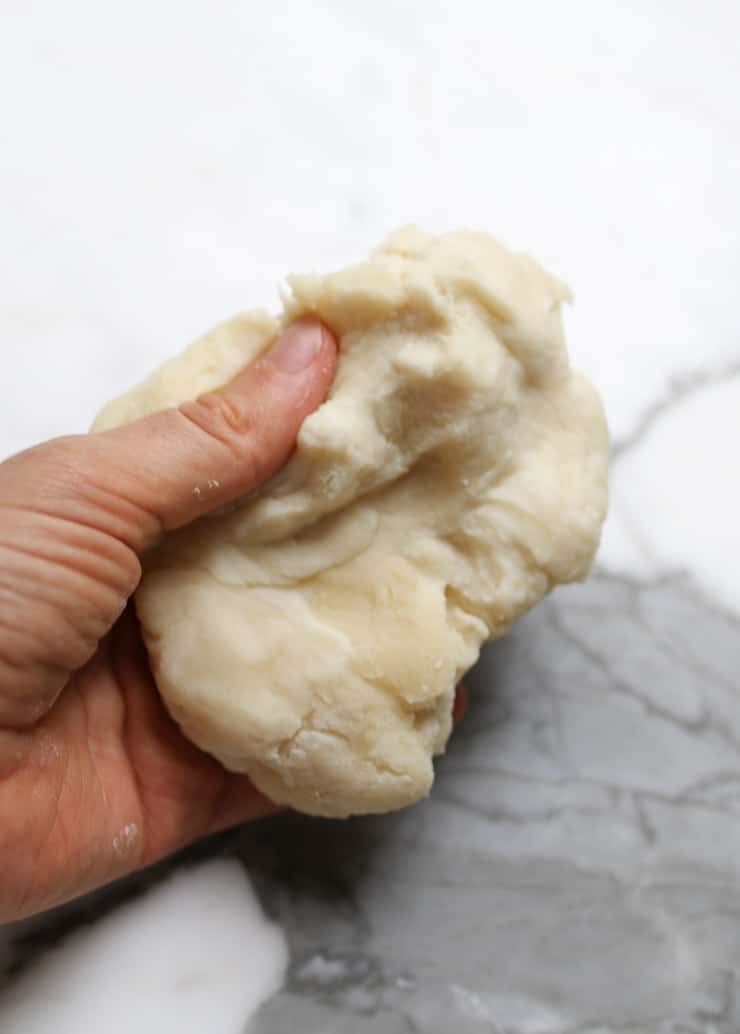 should you use natural food colouring?
It's up to you. If you think your kid will put this in their mouth and you're concerned about food dyes, sure! The awesome thing about this playdough is that it's completely edible (though, kinda gross). But if your kid is old enough to know not to put it in their mouth, I personally wouldn't spend extra on the pricey natural food dye.
How many colours will this make?
This makes about 3/4 cup of each colour and I made 8 colours. But you can make smaller amounts of more colours, or larger amounts of fewer colours! Your call!
what happens if it dries out?
Sometimes we forget to put the playdough back into the fridge or the plastic baggy and it sits outside all day. You can revive it with a little bit of water and a little kneading action.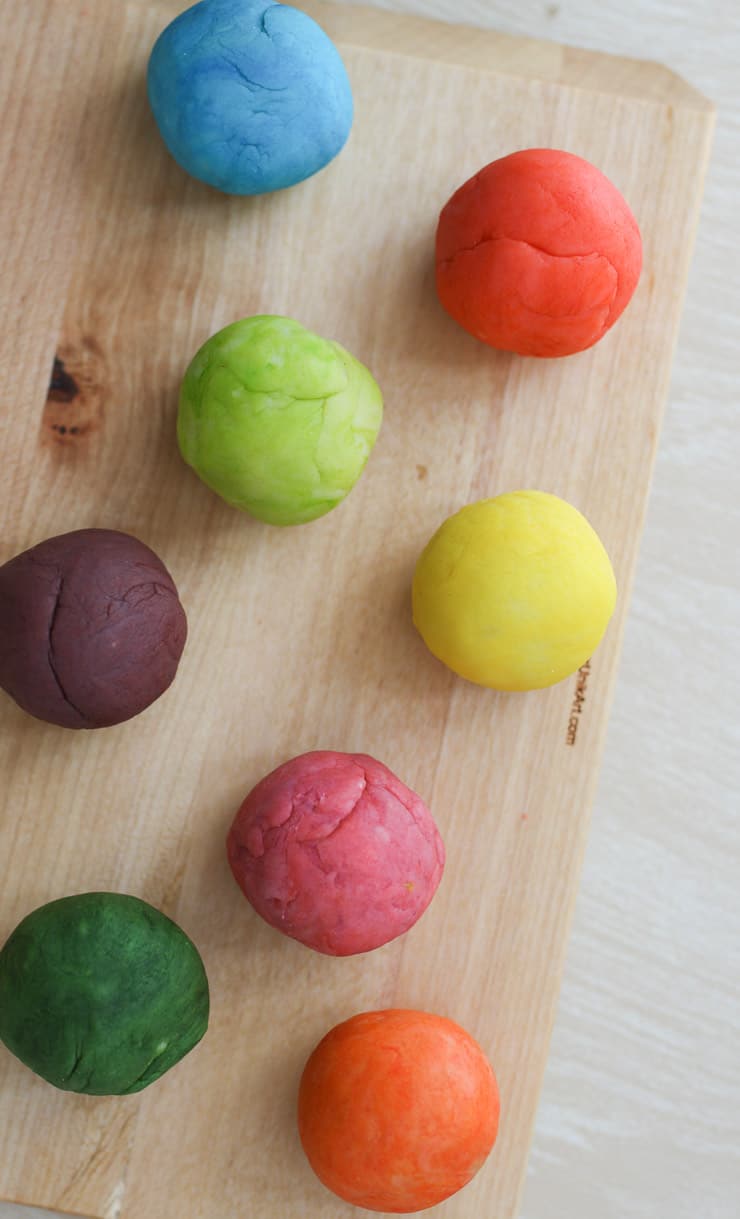 how to remove food dye from your hands
If you get in there and massage in that dye, you're probably going to be left with pretty colourful hands. I experimented with a bunch of ways to remove food dye from your hands and this is what I found works best.
Rinse skin and wash with a washcloth.
Soak the cloth in white vinegar and then rub your skin with the cloth. Rinse again.
Make a paste with baking soda and a bit of water (should look like a thick paste) and rub your hands in that. Rinse your skin.
If it's still dyed, repeat the steps as needed.
What are some fun homemade DIY activities you're doing with your kids? Have you tried this playdough recipe? Leave me your thoughts below!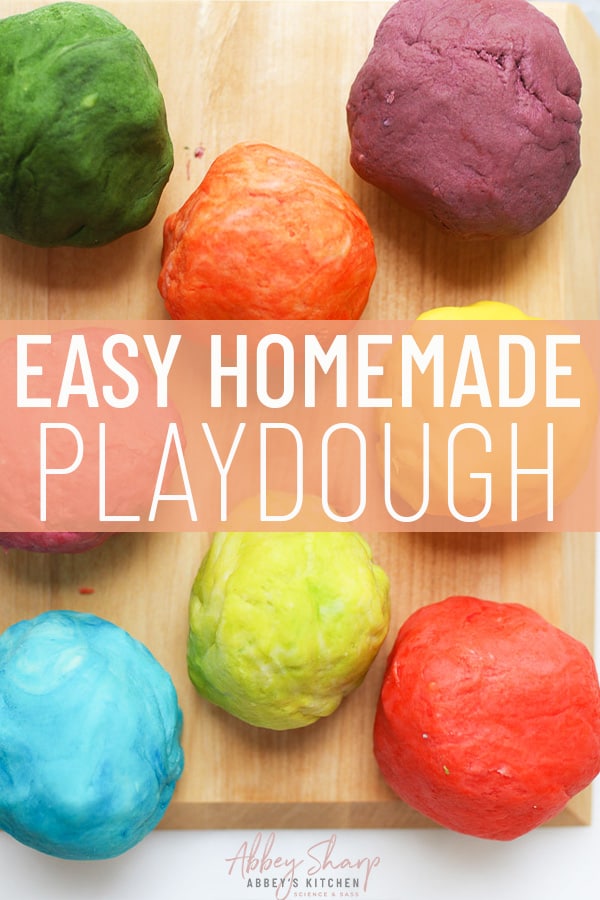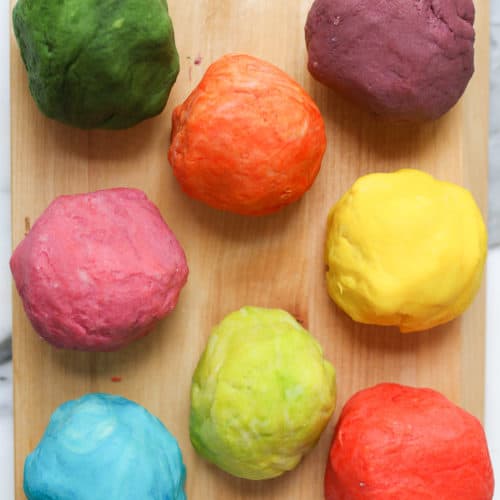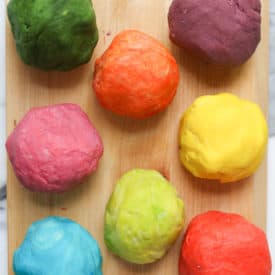 Easy Homemade Playdough
I share how to make easy homemade playdough that stays soft much longer than the storebought version and it's totally edible and non-toxic!
Print
Pin
Rate
Ingredients
4

cups

flour

4

cups

water

8

tsp

cream of tarter

1 1/3

cup

salt

1/4

cup

vegetable oil

Food colouring
Instructions
Mix together all the ingredients, except the food coloring, in a medium saucepan.

Cook over medium low heat, stirring with a wooden spoon. Continue to stir until the mixture is very thick, sticks to the spoon, and hard to stir. This will all take about 10-15 minutes and will become a bit of a workout!

Feel the dough. It should not feel wet, but should easy get imprints in it if you squeeze it or press into it.

Transfer the dough to a piece of wax paper for 5 minutes.

Divide up into sections (I did 8 colours so I split it into 8). Add a section to a bowl and add a bit of food colouring. I suggest starting with the lightest colours (ie. yellow) so you don't have to keep washing the bowl out. Kneed the colour into the dough.

Transfer to a plastic bag and refrigerate.
Nutrition
Calories:
294
kcal
|
Carbohydrates:
50
g
|
Protein:
6
g
|
Fat:
7
g
|
Saturated Fat:
6
g
|
Sodium:
18871
mg
|
Potassium:
562
mg
|
Fiber:
2
g
|
Sugar:
1
g
|
Calcium:
25
mg
|
Iron:
3
mg