Learn my top 10 stress-free dinner party tips to throw one hell of an impressive dinner party this holiday season!
Watching my parents and grandparents throw one beautiful dinner party after the other with family and friends, as a child, I couldn't wait to grow up and entertain. Thankfully, as I matured into an actual adult with my own actual kitchen, actual dining room and actual cooking skills, I never lost my love for sharing great memories and great food. Actually, I'm known to throw some pretty delicious events in my circles – whether we're talking an intimate weeknight double date or a full blown house-full dinner party. Let's just say, I've accumulated some awesome stress-free dinner party tips in my time.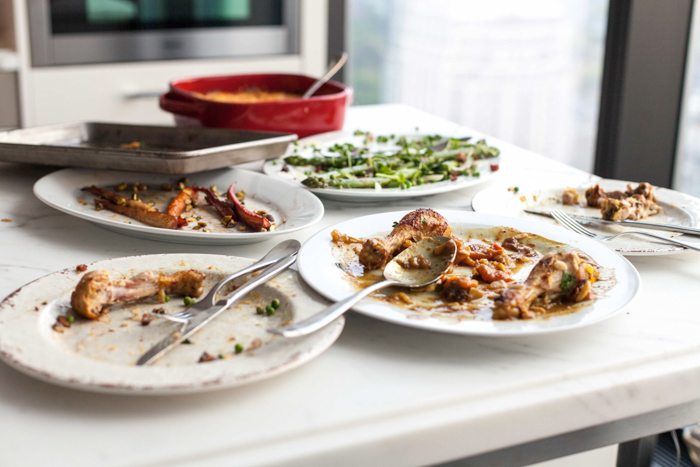 There's just one problem with my dinner party addiction. I really, really hate cleaning up. Actually, in all honesty, cleaning is the one unfortunate aspect of entertaining that prevents me from having company over every night of the week. My mom (and fiancé) say I'm a tornado in the kitchen- but that's just how I do my thing. Hey, as long as the food tastes good, looks great, instagrams beautifully- isn't that all that matters? Thankfully, I've dreamed up some solid dinner party tips for that now too.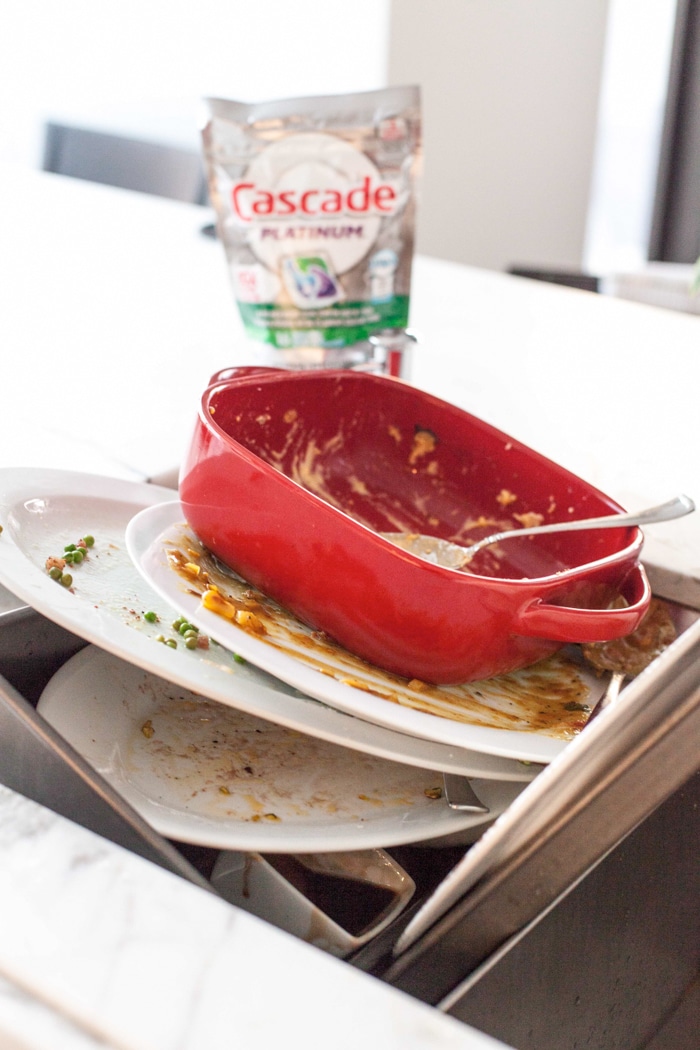 I tend to make a mess…
Apparently when you live with another human who happens to also be a clean freak, online food porn and perfect roast chicken is not a good enough reason to make a mess. So I was on a mission to find an easy, quick, pain-free solution to my dinner party woes that wouldn't involve chipping my mani, ignoring my guests as I clean up, or (shamefully) getting everyone to help.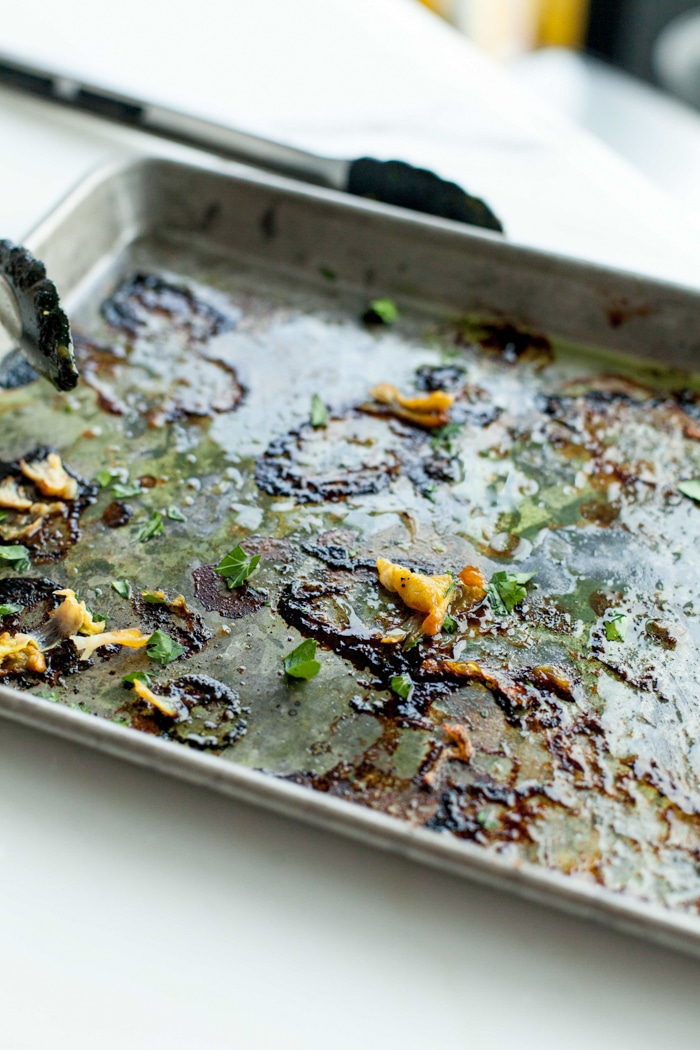 Lord knows I don't want to have to scrub that…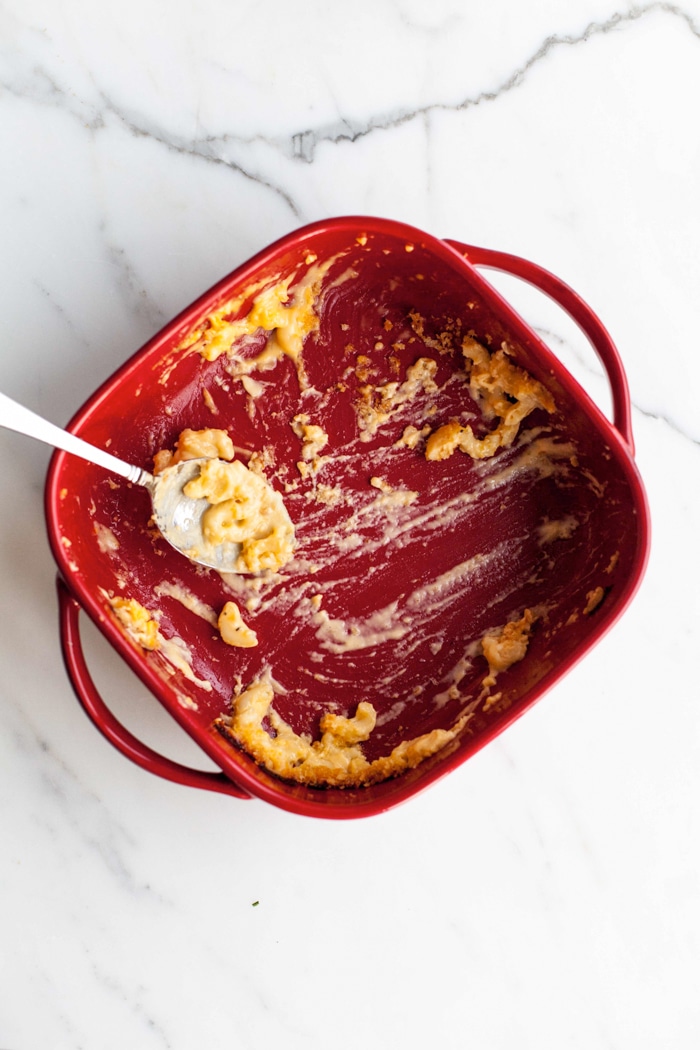 Or that.. yikes.
So a week ago, I picked up a bag of Cascade Platinum, a cart full of groceries, and invited over a few of my favourite friends for a dinner party- Kyla Zanardi (my YouTube producer) and Matt Basile (TV host and owner of Fidel Gastros). I was armed with my secret cleaning weapon, and my own arsenal of dinner party tips to put into practice.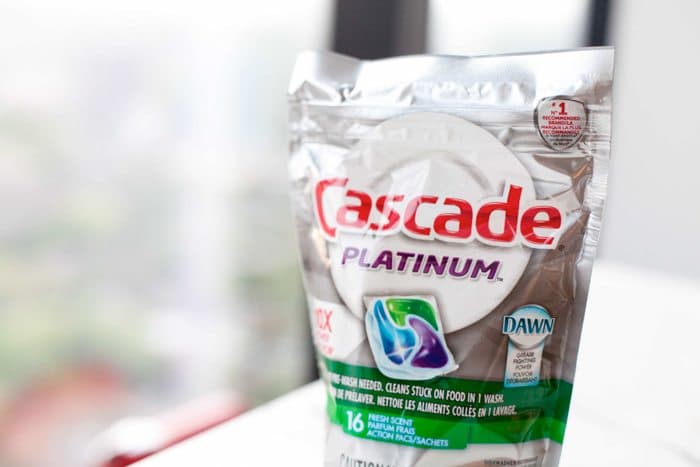 After perusing Chef Michael Smith's Family Meals cookbook for inspiration, I created a menu with some of the stickiest, gooiest, greasiest recipes I knew how to make (exactly the foods I usually avoid making as a way to cut back on hours spent scrubbing.)
Dinner Party Menu
Sticky Honey Moroccan Chicken
Sweet & Sour Pomegranate Molasses Carrots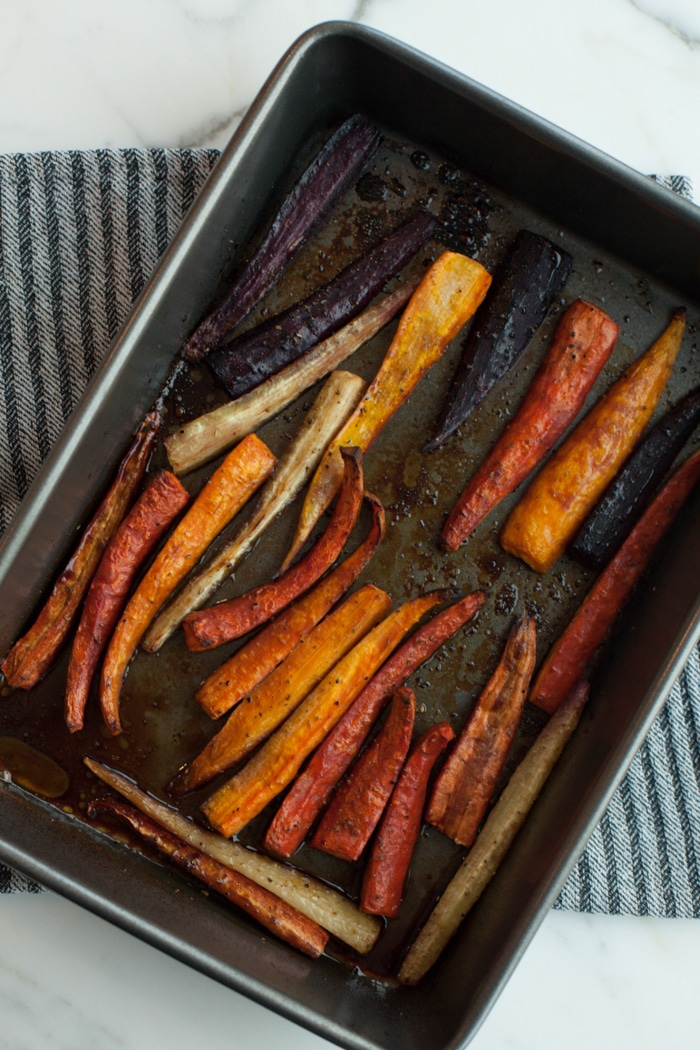 Bubbling Baked Mac n' Cheese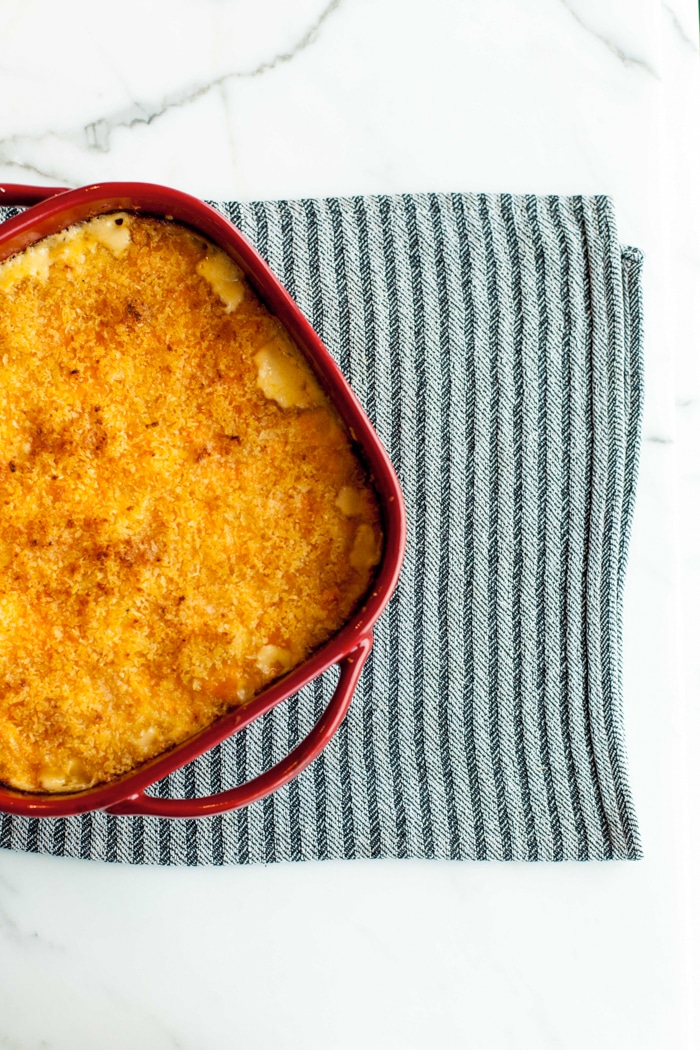 Pancetta & Caramelized Shallot Pea & Asparagus Salad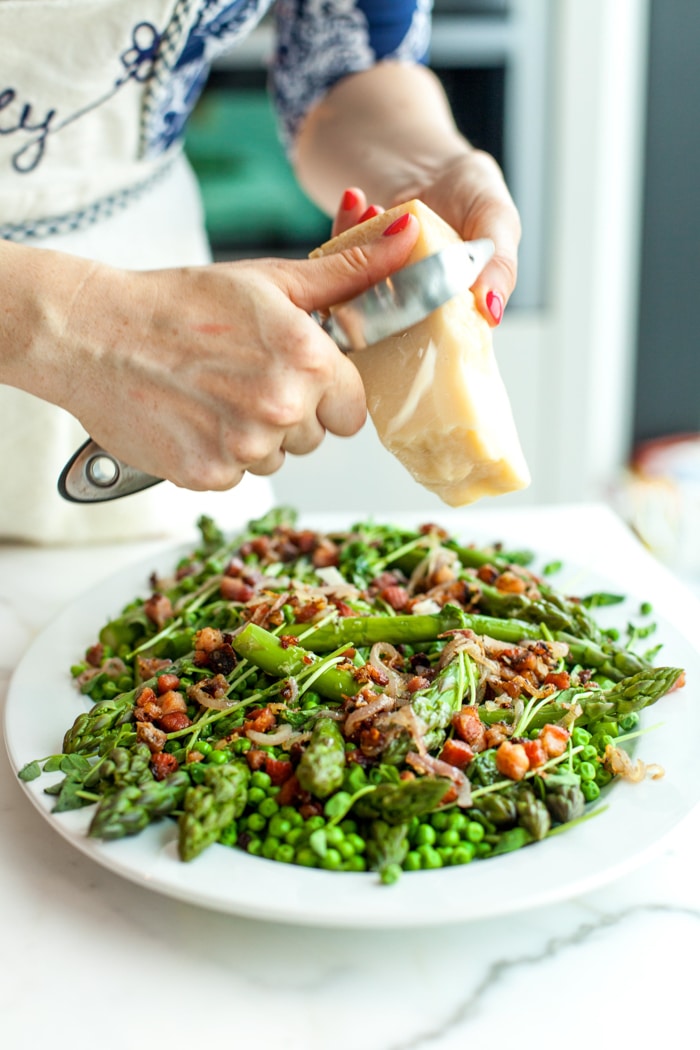 Buttertart Brownies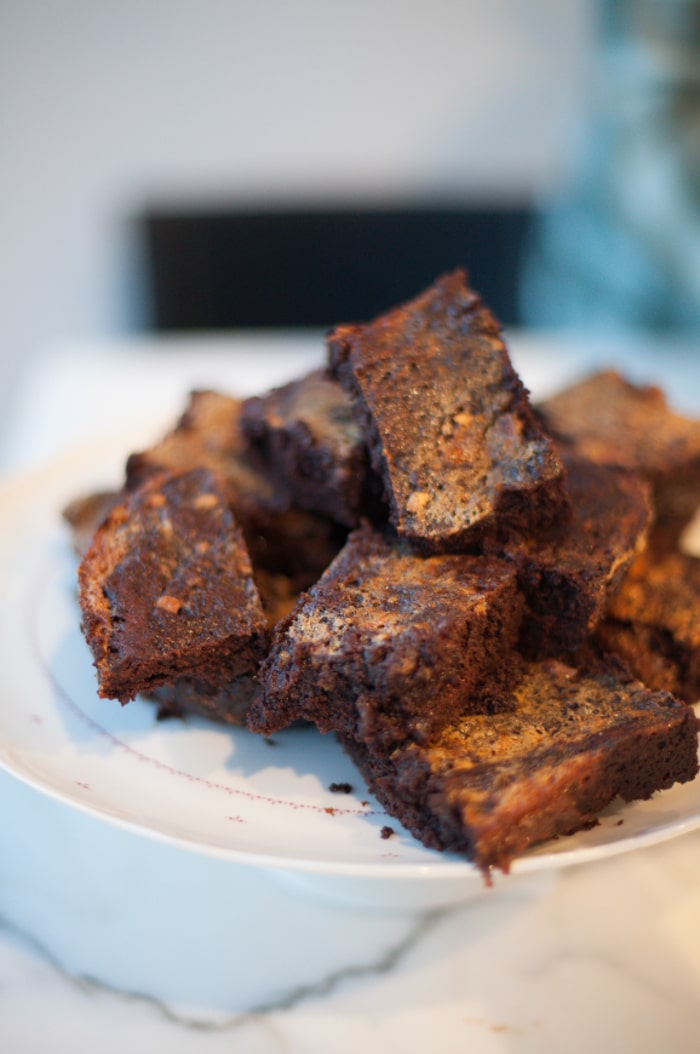 Yep. I combined two of the messiest desserts I could think of into one disastrous pan. Wish me luck.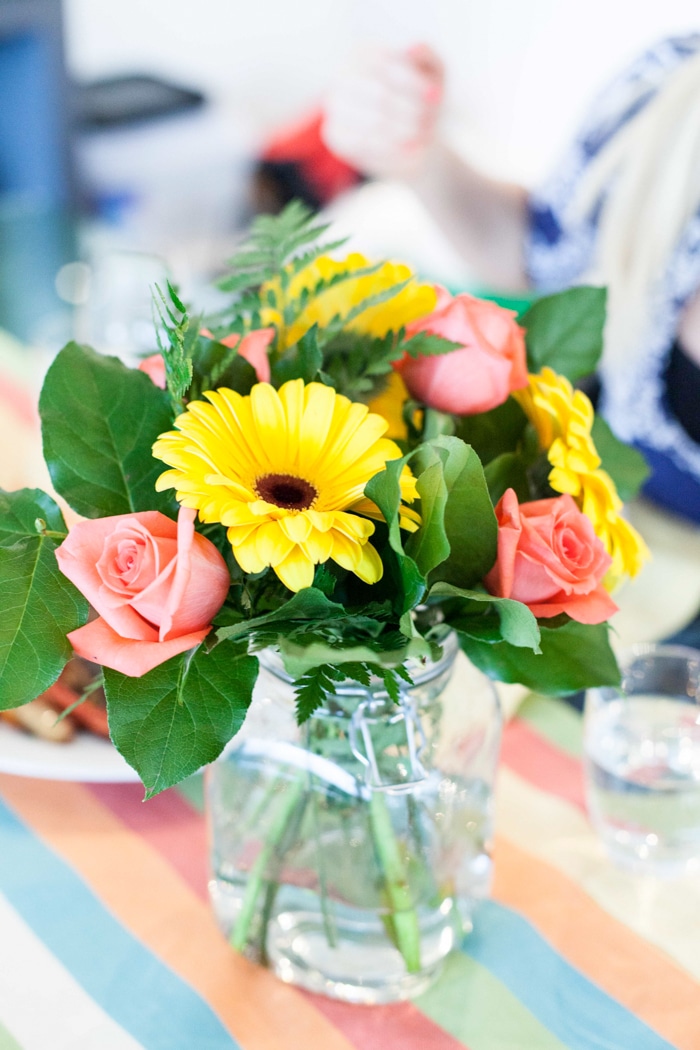 I set the table simply with a pretty flower arrangement, colourful table runner and placemats and kept things simple with rustic plates and a single set of simple cutlery. This was a casual late Spring meal with friends, so no need to bust out the fine china and 4 forks no one knows what to do with.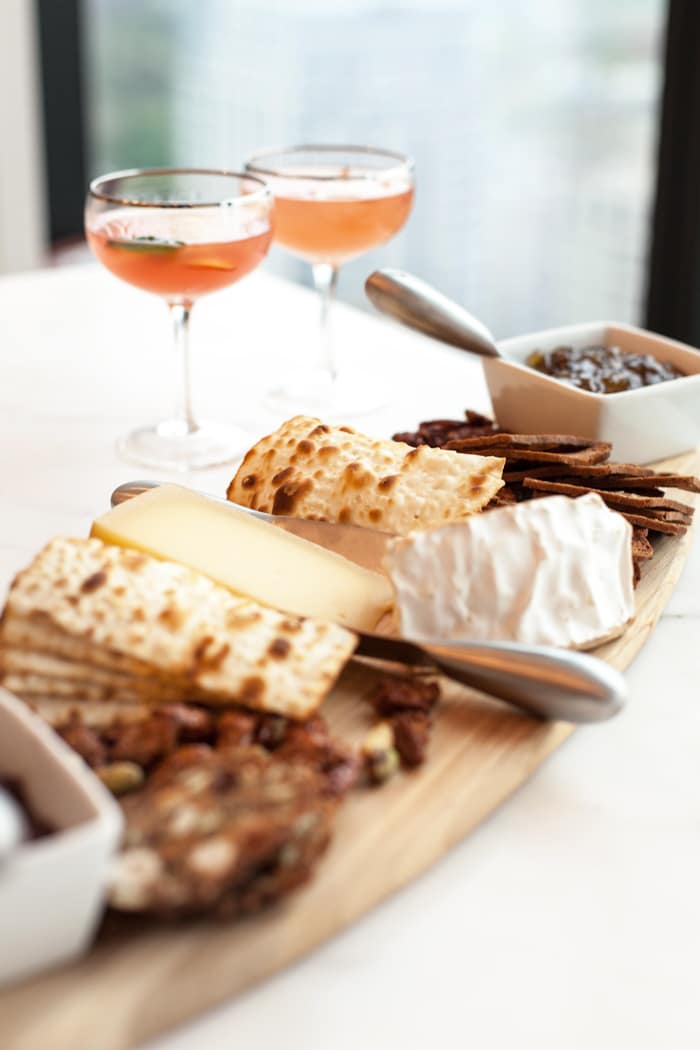 Drinks-wise, I have a lot of cool barware that I wanted to show off at my dinner party, so I served a fruity Gin, Elderflower and Peach cocktail to start. After that, it was beer, cider, and an easy drinking Pinot Grigio – some options we were testing out for our upcoming engagement party.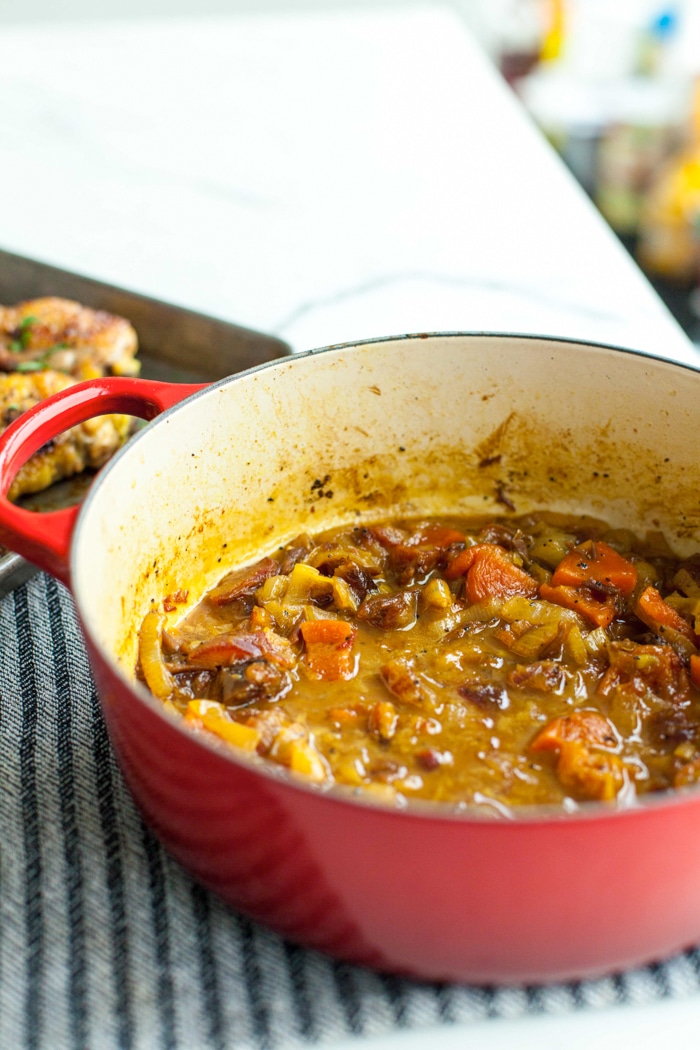 I wanted to keep things convivial and easy with family style fare. That meant no fussy plating, and crusty casserole dishes served straight to the table so guests could serve themselves. Personally, I don't like when hosts serve my plate anyway (I know, I know, Type A rears its ugly head.)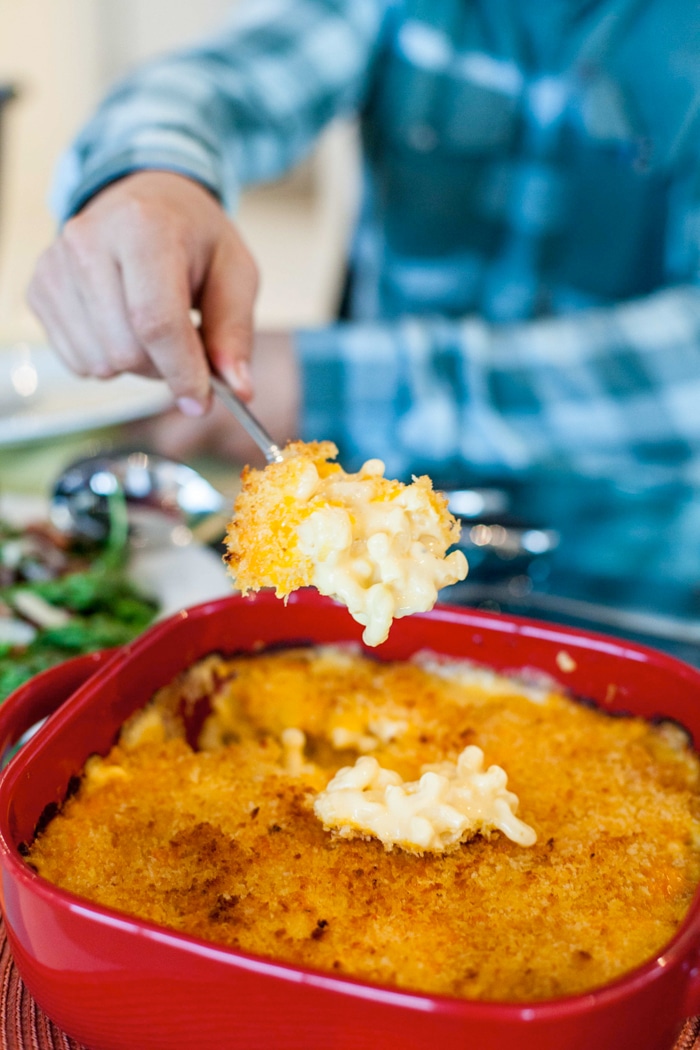 When dessert rolled along, I wanted a little change in scenario so I offered tea along with a platter of brownies on the couch. This may not always be possible depending on the size of your space and how many guests you've got over, but it is nice to be able to recline after a big (gluttonous) meal.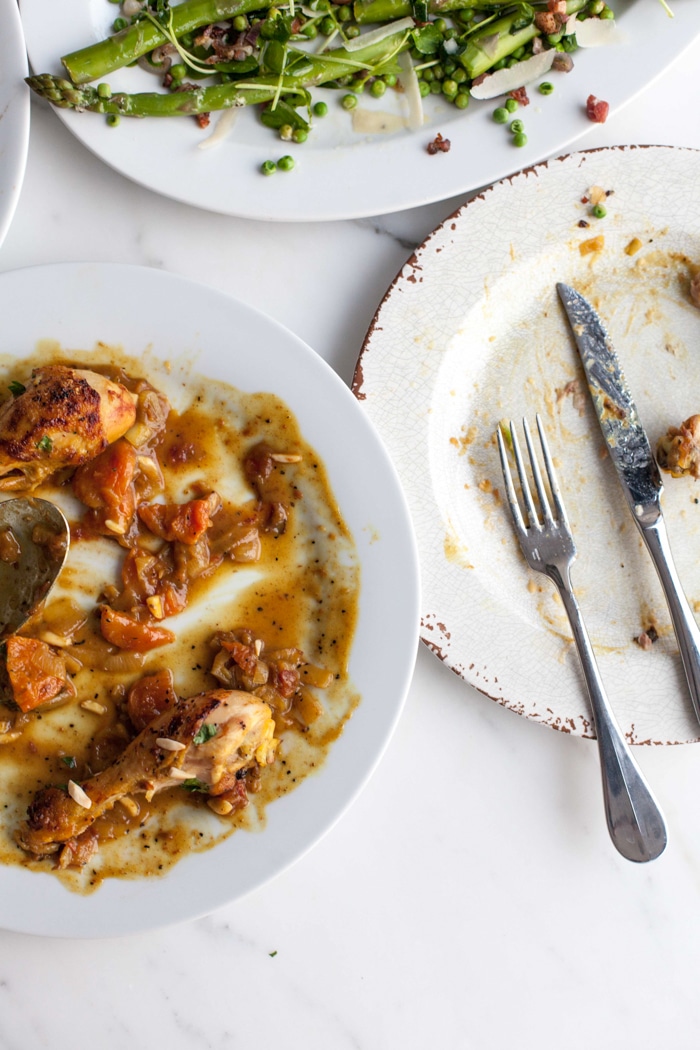 As my fiancé entertained at the dinner party, I put Cascade Platinum to the test, loading up the dishwasher and popping in a single pod. I was really truly apprehensive about not scrubbing the stuck on brownie bits, cheese, honey and molasses that was caked onto the pans- I didn't even rinse anyone's soiled plates remove baby peas or pancetta bits.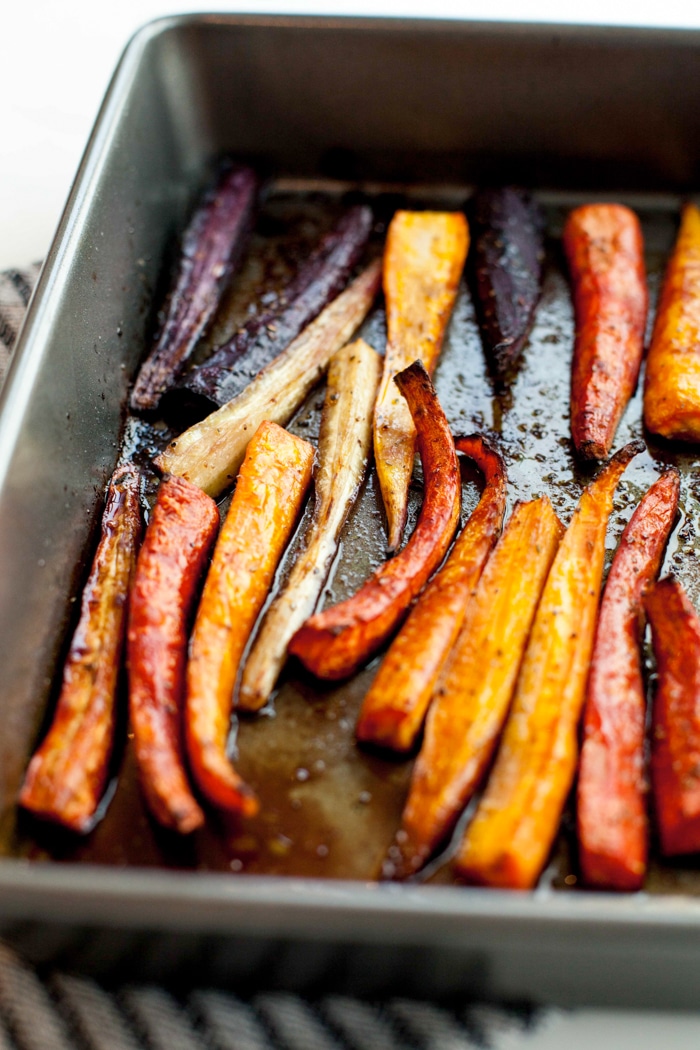 Sticky molasses pan!
Yep, I was throwing myself in blind to the unknown world of no-rinse dishwashing and I feared there was a good chance I would be getting a scrub-a-dub arm work-out in at 11 PM on a Friday night.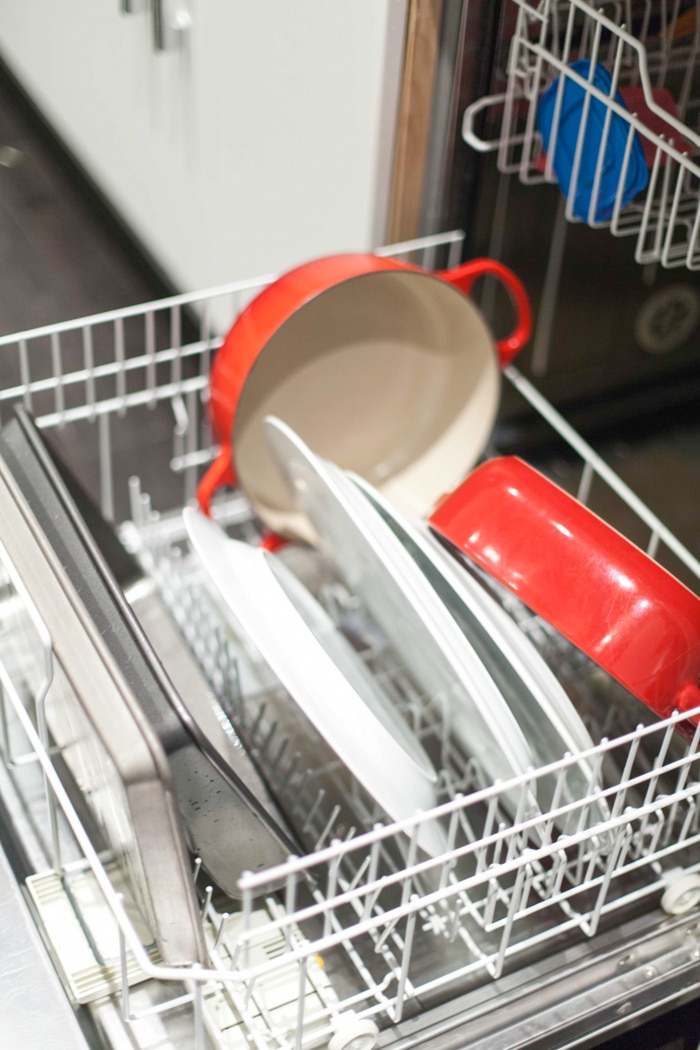 I couldn't believe my eyes…
Well, no short of a lie, my cheesy caked-on dishes came out #SparklingClean without any pre-rinse, soak or scrub. Kyla and I were floored, while the guys…well, they didn't really care. Cascade Platinum is really the only dishwasher formula I've found that makes clean-up as easy as load in, load out without any need to pre-rinse or scrub.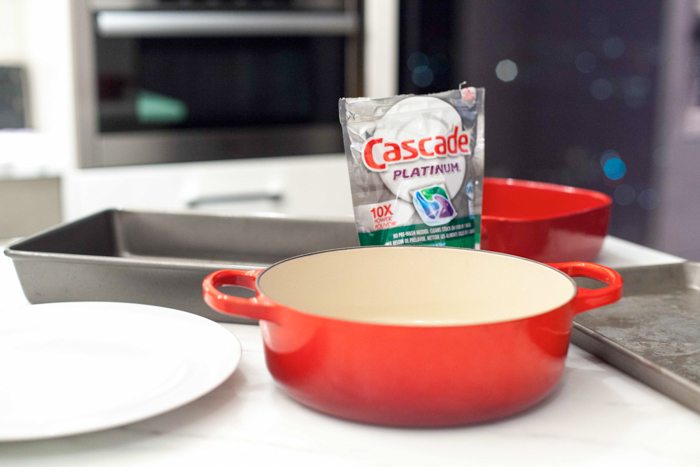 Sparkling clean!!
What else have I learned in my experiences entertaining?
My Top Stress-Free Dinner Party Tips
Dinner Party Tips #1) Plan & Schedule Ahead
Okay, so I know not everyone is as Type A as I am, but this will save you mucho stress (and mistakes) in those precious moments when your guests are walking in the door. Once you've compiled your recipes, a week before your dinner party, check the pantry and build a comprehensive shopping list. Then working backwards from the party start time, plan out at exactly what time you're going to do what. I go so far as to write down when I'm going to shower and use the ladies room. Ha, just kidding. Kinda.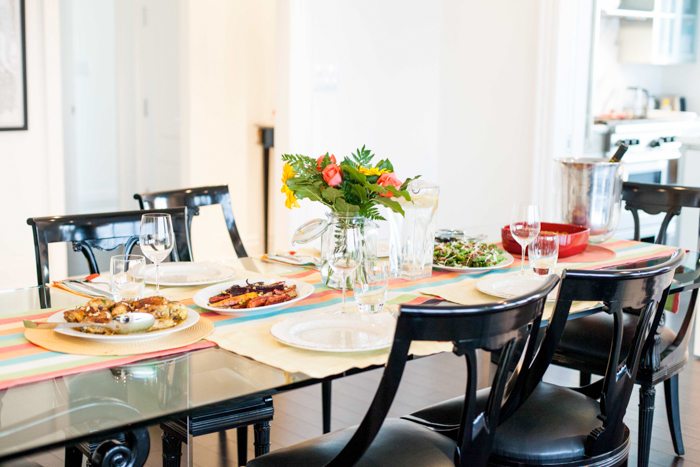 Dinner Party Tips # 2) Go Tried & True – with a Twist
You've heard it time and time again- don't choose recipes you've never made before. I agree with that- kind of. If you're somewhat skilled in the kitchen (no need to be a professional chef, but if you regularly cook), my suggestion would be to stick to a technique or base recipe you know, but switch something up to make your dinner party special. For example, every holiday I make my Ultimate Stuffing, but I often switch up the veggies, herbs and fruit add-ins to give my guests something unique to look forward to. Now, sometimes, this is not a great idea- like if you're famous in your circles for a very specific dish and you know everyone will ring your neck if you dare try something even slightly new. But in my experience, this keeps you and your guests interested.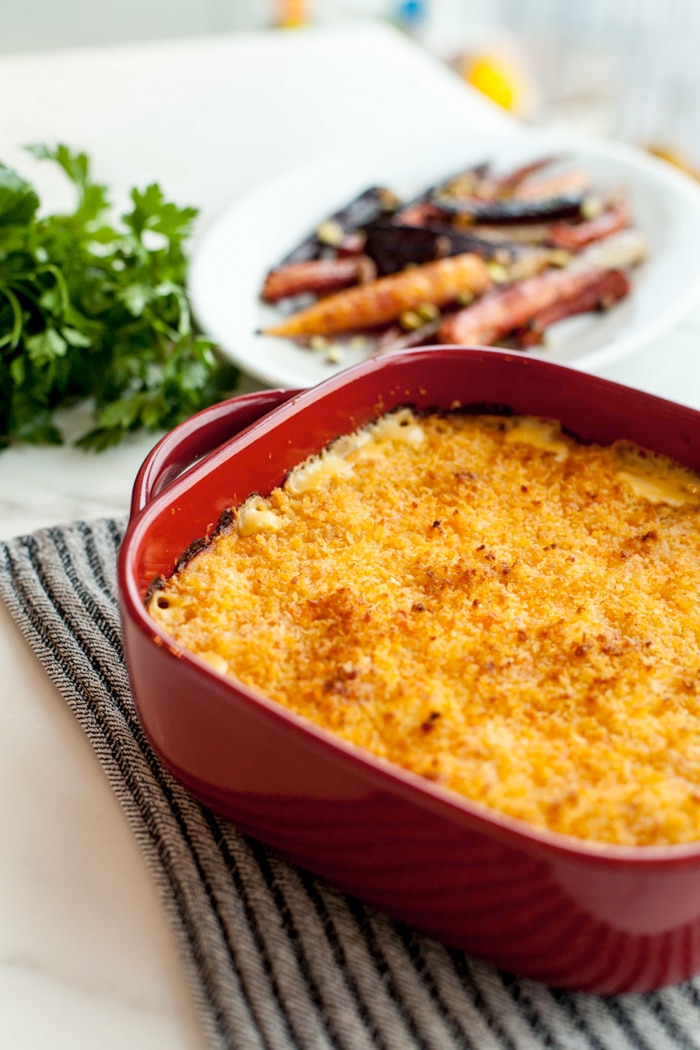 A classic Mac n' Cheese- how can you go wrong?
Dinner Party Tips 3) Organize & Consider Fridge Space
Before my dinner party, I go through the fridge and remove anything expired or questionable. You need to make as much room as possible for your groceries, drinks and desserts- especially at the holidays when there are big turkeys, roasts and hams to accommodate. I then try to choose recipes that include a few pantry or freezer staples so you don't end up overloading your fridge with ingredients and leave no space for the booze. Hello! No good dinner party host serves a guest a luke-warm beer.
Dinner Party Tips 4) Cook (as Much as You Can) Ahead
When I'm planning a dinner party menu, I try to look for family style recipes that can be mostly cooked ahead of time and then re-fired at the last minute. For example, casseroles are generally really great for this because most of the steps can happen before your guests arrive, and then you just throw some cheese on top, pop it in a hot oven, and its hot and ready for guests. For any dishes that have last minute elements (like grated cheese toppings, or fresh herb garnishes), I always create a mis en place. Not only does this save you time during those hectic last moments, but it also helps ensure you don't forget that you wanted to throw a little chopped parsley on your braised lamb leg once it came out of the oven.
Dinner Party Tips # 5) Dig Out Serving Ware & Set The Table Ahead
Notice a dinner party trend here? You gotta get organized, folks. Simply dress your table with a simple table cloth or table runner, and have all of your cutlery, plates, glassware and serving dishes ready to go. I also recommend making sure you have a vase in an easy to access place (aka. not hidden behind your luggage in your storage locker) just in case a guest graciously decides to bring you flowers.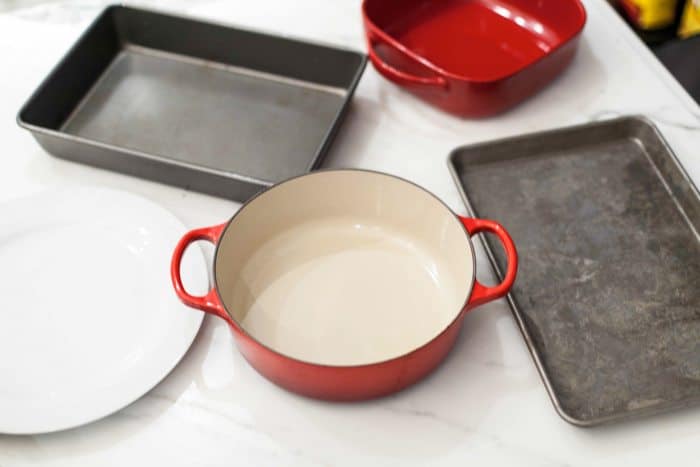 Sparkling clean with no pre-wash!
Dinner Party Tips 6) Make Drinking Easier
Unless I'm running a full bar with a hired bartender, I try to limit the cocktails to one signature drink at a dinner party (like a take on Gin & Tonic, Margarita, or Caesar bar) so that you're not busting out every possible garnish in the fridge and googling recipes instead of spending time with your guests. The rest of the night should be strictly grab, open and pour kinds of drinks. In other words, while its always nice to offer your guests drinks when theirs are getting low, if you're keeping it casual, its nice when they can top themselves off when you've got your hands full. Keep the fridge stocked with a range of craft beer cans and an easy drinking white wine, and decant a red before guests arrive.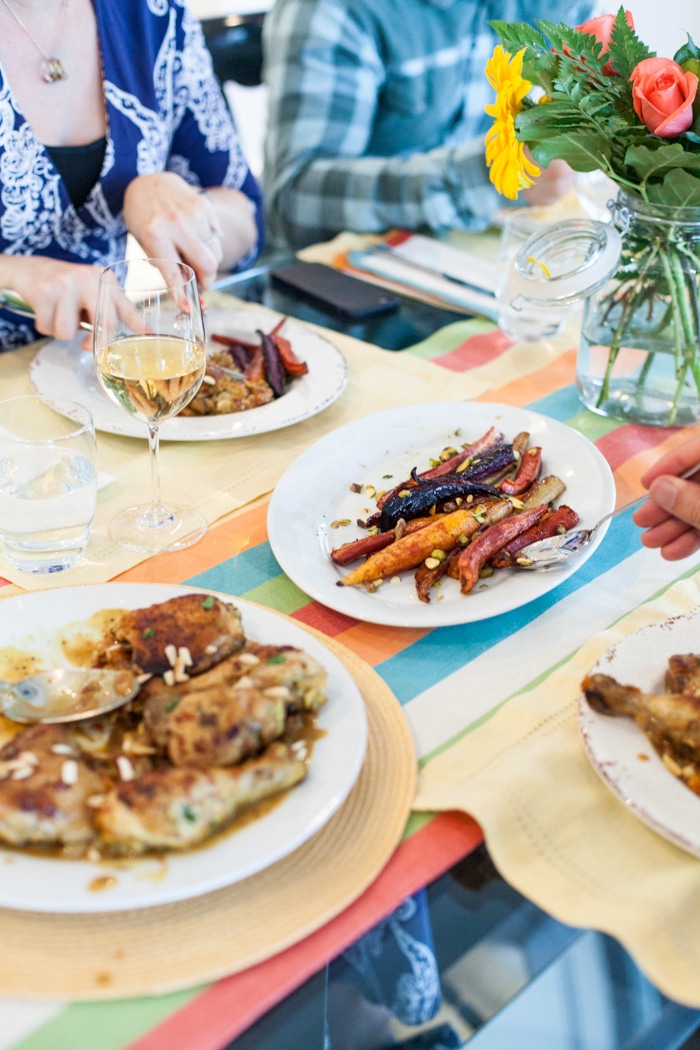 Dinner Party Tips 7) Put Music On Before Guests Arrive
This is something I am always forgetting to do, partially because the technology is not my strong point and partially because I'm usually so busy with the food that I can't be bothered trying to figure it out. But music really does set the tone, and can help fill the silence between topics of conversation. Decide on a station or build a playlist (that's not too loud or fast) and just let it run.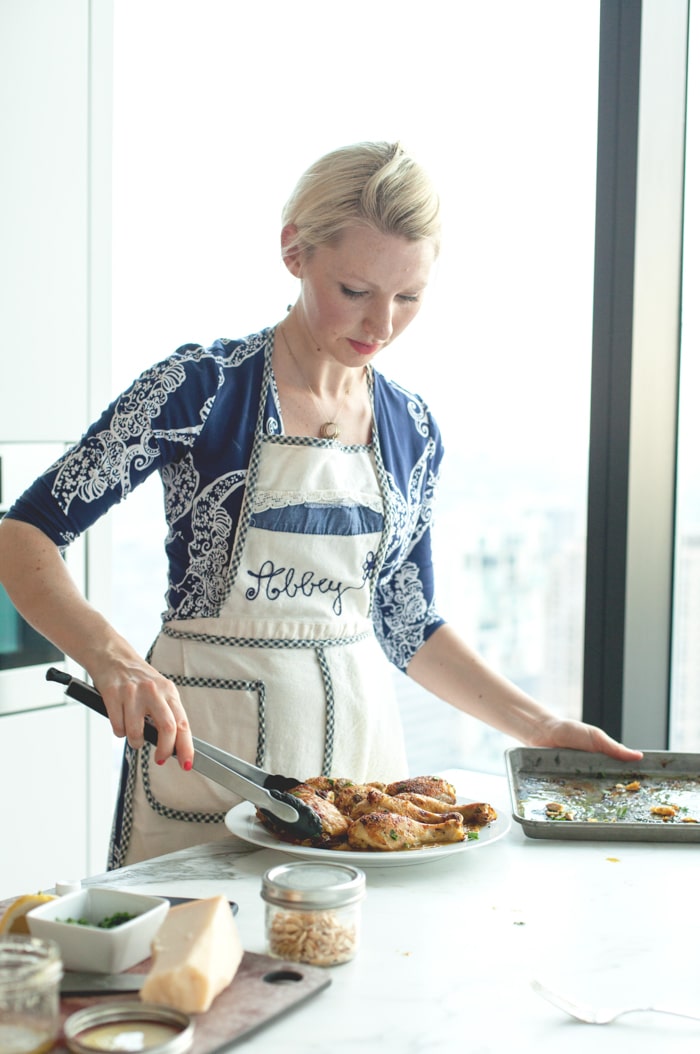 Dinner Party Tips 8) Delegate & Be Honest When Guests Offer to Help
Remember how I said that music is not my forte? Well then tell your partner or (nicely ask) your best friend to figure it out for your dinner party. And when guests ask if there's anything they can bring, consider their offer genuinely and take them up on it! In my experience, when you tell a guest not to bring something, then they usually do anyways, so you might as well let them know what the theme is or what would be most helpful for you. If it means you can scratch off needing to make a salad or another trip to the liquor store, help yourself out and say YES to the helpful guest!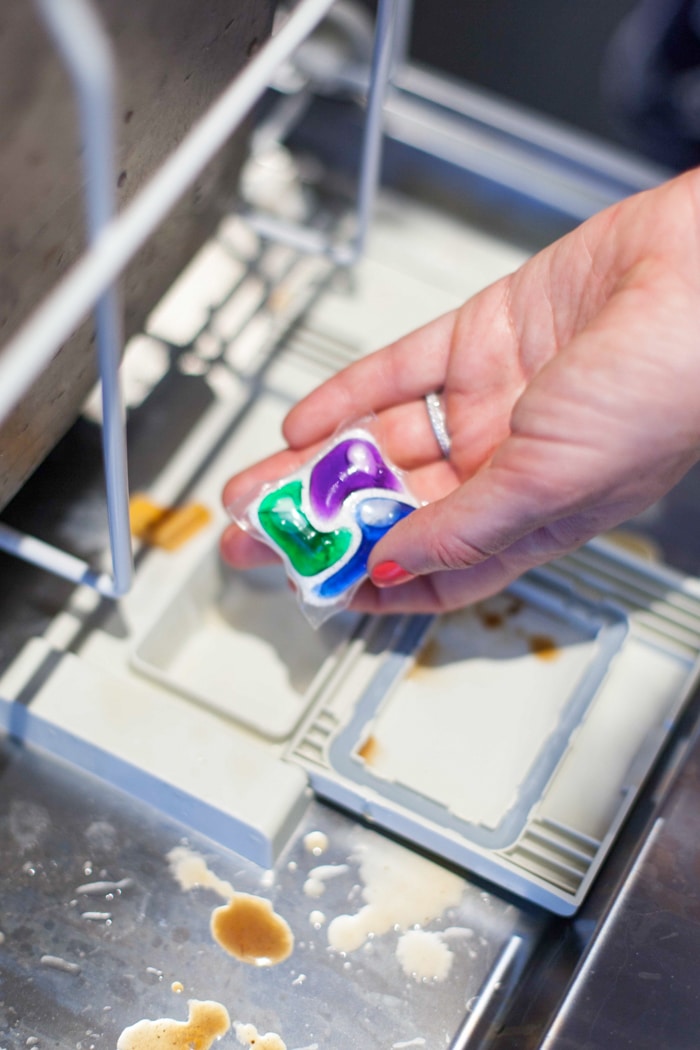 Dinner party Tips # 9) Do a Dish Load Before Guests Arrive
You've been cooking up a storm before your dinner party, and surely you've got some messy pots, pans and utensils piling up your sink. Take the time to do a full load with my go to Cascade Platinum before your guests arrive. It's never fun to get through dinner, only to realize you still have a full dishwasher of dirty dishes and then have to pile your soiled dinner plates up in the sink. Make it your goal to get that dishwasher empty before you even sit down to eat. Then, after dinner, quickly load all of the dinner dishes into the dishwasher again with another Cascade Platinum pod. No pre-scrub means more time spent with guests and #SparklingClean dishes when they leave!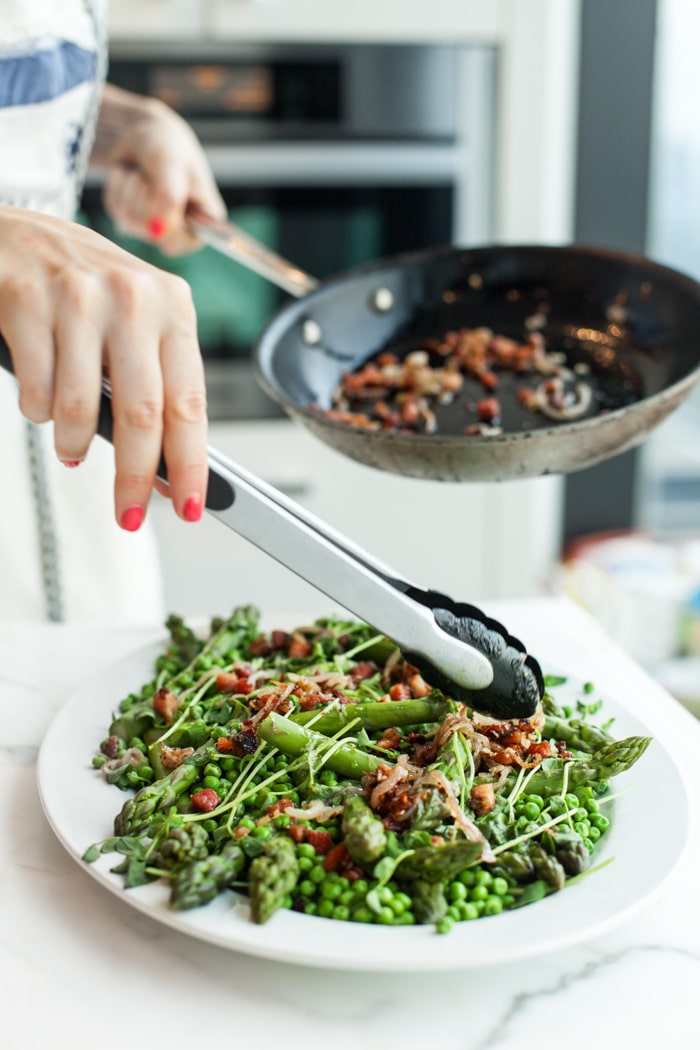 Dinner party Tips # 10) Have Fun
This is a dinner party! Key word: Party! Every decision you make should be to ensure you and your guests have a great time. So skip the a la minute soufflés or the Michelin star style plating, and focus instead on enjoying that time you spend with your guests. And for me, that means less cleaning- so thank goodness for my beloved Cascade Platinum dishwasher pods.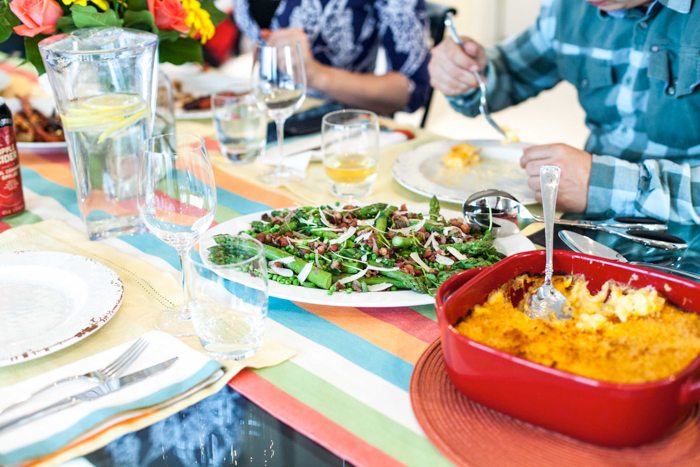 Thank you to my lovely dinner party guests and my fiancé (even though he didn't do anything). And thank you to Cascade for saving me time and my new manicure with your grease-fighting power. You're definitely my newest secret to dinner party success! What are your stress-free dinner party tips? Leave me a comment below with what you find helps you throw an amazing party!

Photo credits: Kyla Zanardi
Disclaimer: The preceding dinner party was created as a paid partnership with Cascade, however, as always, all opinions are genuine.
Updated on October 23rd, 2020