Have you heard about Cookina? If you're into grilling this Summer, you're definitely going to want to check this out. With Spring in full gear, and BBQ season around the corner, we've all got juicy steaks, saucy ribs and beer-can chicken on the brain. Unfortunately, that enthusiasm is usually short lived after you get a look at the grit and grime caked on from last summer's Labour Day bash. Admittedly, I also get a little anxious remembering the huge range of dietary restrictions I often have to cater to at my parties. I mean, I don't know about you, but most of my vegetarian friends aren't cool with their asparagus touching the same grill that I previously cooked my steak.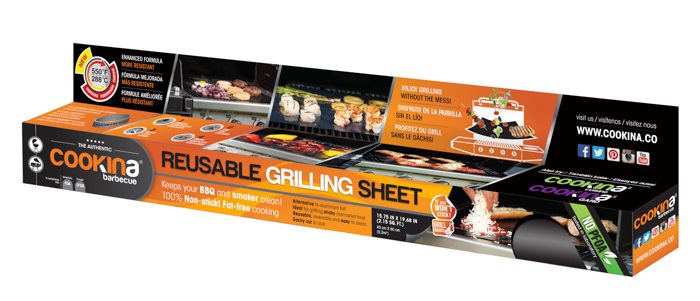 That's why I'm planning to enter grilling season with a new friend in my BBQ belt called the Cookina Barbeque Reusable Grilling Sheet. Honestly, this thing is perfect for any foodie who just wants to sit down and enjoy the fruits (or meats) of their labour rather than putting their back out trying to violently scrape down their grill. It also makes for a healthier meal because the non-stick surface allows you to forgo the extra oil, while preventing you from any unwanted flares. That means fewer burnt burgers, and lower risk of possible carcinogens in your meal.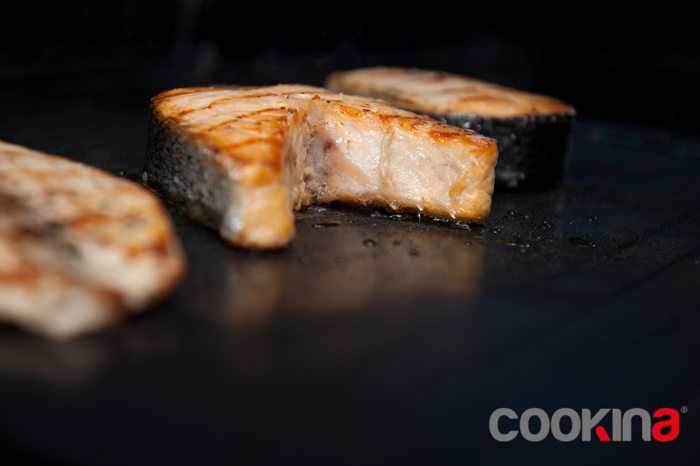 So here's the tried and tested 411. You lay down a Cookina Barbeque sheet on your grill as it heats up—this baby is completely heat resistant up to 550° F! Not only does it actually produce those sexy Summer foodporn grill lines, but it also helps retain heat like a BBQ plate for flawless even cooking. You can also just wipe it down between uses to remove any cooking juices, flavours and odours, meaning you can cook Uncle Joe's rare bloody lamb chops, wipe it down, and then caramelize fresh pineapple for dessert. And no, it won't taste or smell anything like meat!
I am absolutely dying to bust out my Cookina sheet this summer with all my favourite grillable recipes. I could whip up my Vegan Asian Grilled Corn Salad with Coconut milk Dressing, then switch gears to make my Beer Marinated Flank Steak Bruschetta!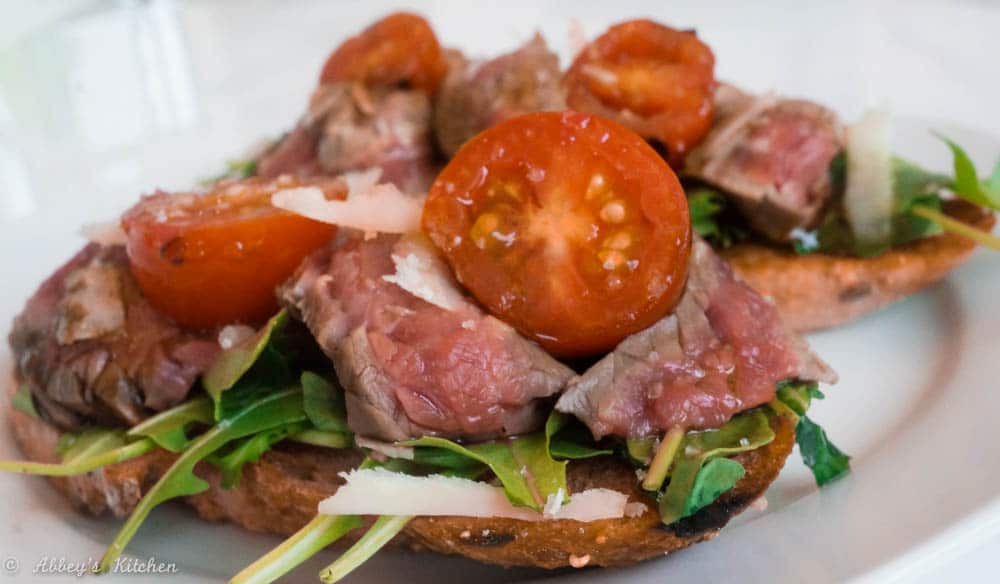 If you want to pick one up for yourself or as a great hostess gift for backyard parties, Cookina can be found at most home and cooking stores like Canadian Tire, Home Depot, RONA, Home Hardware, Metro, Sobeys/IGA and Costco.ca. You can find out more about the product by visiting their website at cookina.co !
What grilling recipes do you have in your repertoire that would benefit from the Cookina Barbeque Reusable Grilling Sheet? What gross leftover bits have been hanging out on your grates since last Summer? Tweet or instagram to me with the hashtag #WhatsOnYourGrill with your grilling confessions! I'm looking forward to seeing your healthy creations made easier on the grill!
Disclaimer: The preceding post was developed as part of an Ambassador program between Abbey Sharp and Cookina, however, as always, all opinions are genuine.
Updated on October 23rd, 2020