I share three kid-approved allergy-friendly recipes and some top tips to help prevent food allergy reactions in you and your kids.
Last month was Food Allergy Awareness Month and for the first time in my life, I was paying attention. While I have been lucky not to be one of the 2.6 million Canadians living with a food allergy, I'm now a mom and one day, I may have a child with a food allergy. The incidence of food allergies is a growing public health issue among Canadian children, with almost 500,000 kids needing to avoid some type of food nationwide.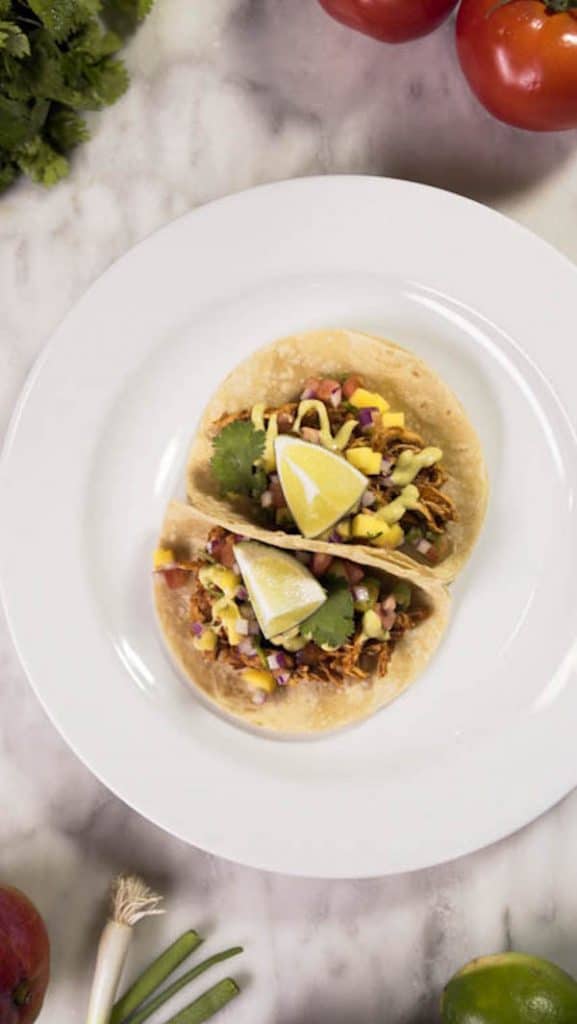 Since we are kicking off summer and that likely means a lot of casual entertaining, it becomes more important than ever to learn some easy, healthy, allergy-friendly recipes. The other week, I was invited to an allergy-friendly event presented by Food Allergy Canada and Pfizer Canada, and hosted by MasterChef Canada 2017 runner up, Thea Vanherwaarden and NASCAR driver, Alex Tagliani where I got to taste (and even help make) three delicious allergy-friendly recipes. As they both have food allergies, the duo shared some of their top tips to prevent allergic reactions when cooking at home or dining out.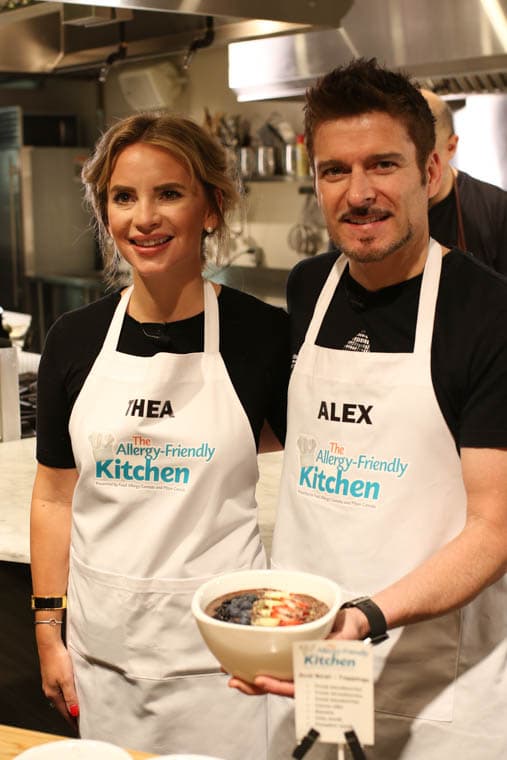 Most Common Food Allergens
While it's very possible to develop an allergy to almost any food, there are a handful of foods that tend to be the most common.
In Canada, these common food allergens include:
Milk
Egg
Tree Nuts
Peanuts
Wheat and triticale
Mustard
Fish
Crustaceans and molluscs
Soy
Sesame
Tips for Preventing Food Allergy Reactions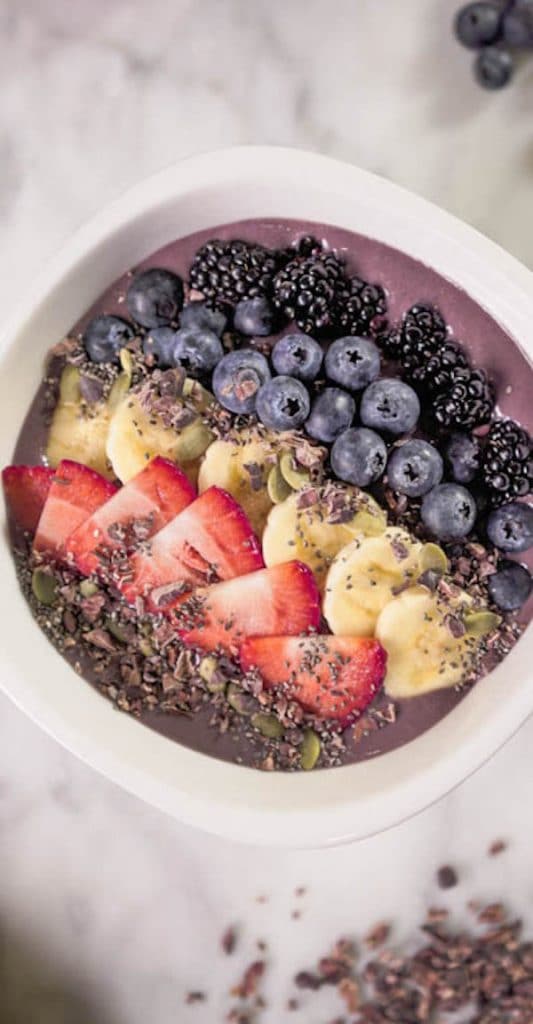 Here are some of the most important things to remember to help prevent food allergy reactions.
Read food labels every time. Even if a food had been "safe" and allergy-friendly in the past, it doesn't mean the food manufacturers haven't changed their formulation. Always read the label each and every time you eat a prepared or processed food. If a food doesn't have a label (and isn't a whole natural food like a vegetable), then avoid it. In fact, Food Allergy Canada recommends checking a label three times – once before you buy it, once before you put it away at home, and once before you serve it. Buying prepared foods or bulk foods where you cannot guarantee each of the ingredients (or the potential for cross-contamination) is risky. You also will want to avoid food products that have precautionary statements like "made in a facility that also processes nuts/ eggs/ soy etc." or "may contain". Again, it's just not worth taking that risk of cross-contamination. Which brings me to tip number two.
Take the threat of cross-contamination seriously. Cross-contamination can occur three different ways. One, with food-to-food where a food allergen may have been touching another food (for example if nuts were on a salad and you removed the nuts). Two, with food-to-object where a food allergen may have touched a cooking utensil or cutting board and then those objects touched your food. And three, with food-to-saliva. This one is hard for a momma to swallow, but it's possible that if you were to consume an allergen (like peanut butter, for example) and then kiss someone who was allergic, that they could have an allergic reaction. Always make sure to wash your hands thoroughly before eating, avoid sharing food with others, use disposable cleaning tools to prevent lingering allergens on sponges and towels, and wash all surfaces and cookware really well.
Be informed. If you're going out for a meal somewhere, or your child is, be sure to call ahead and discuss the allergy and your options with the host or chef. Thea and Alex suggested that you not only discuss what ingredients to avoid, but share what could be used or served instead to make it safe for you or your child. Once kids are old enough to understand their own allergy, be sure to teach them how to ask questions and speak up about their allergens in any setting where food may be served or consumed.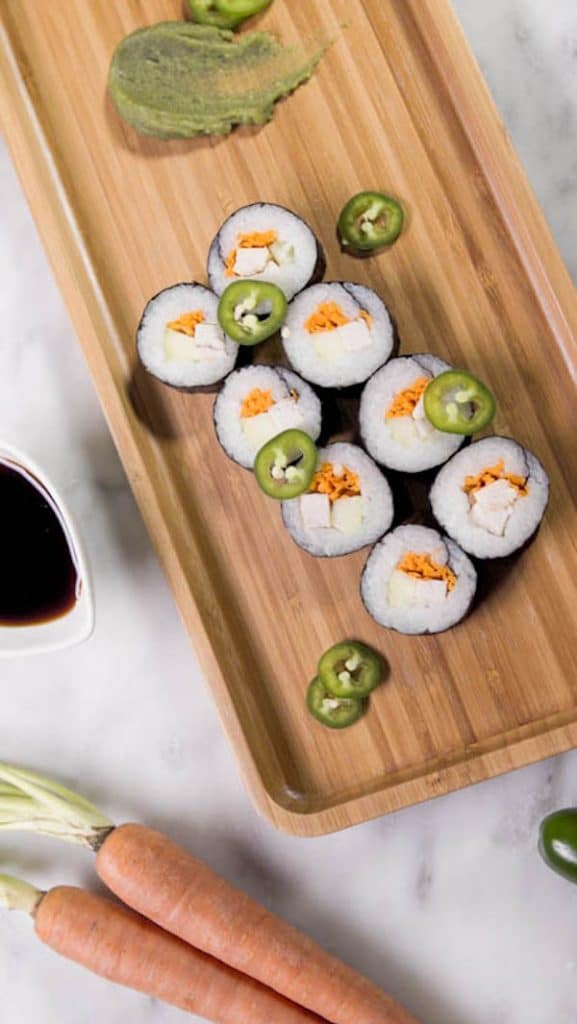 As a new mom, I was really grateful for the reminder on how to prevent allergic reactions so that I can feel a bit more prepared when baby E starts eating solids. And while food allergies may feel overwhelming (for both those with them, and those who take care of them), they don't need to be restrictive! The three allergy-friendly recipes that Thea Vanherwaarden shared with us were not only super simple and kid-friendly, but absolutely delicious and well balanced. The nut-free smoothie bowl was totally Instagram worthy, the chicken tacos would make a great easy lunch, and the soy and fish-free sushi is something I can see the whole family having fun making together. I'll definitely be busting these allergy-friendly recipes out over the next few months.
Now friends, tell me, what are some of your favourite recipes that avoid the top most common food allergens?
Do you or does someone you know have a food allergy? What tips can you share with this new momma on how to manage food allergies in kids?
Leave me a comment below with your thoughts, check out Food Allergy Canada's website for some great allergy friendly recipes, and stay tuned to a #SummerOfTAG Allergy-Friendly Kitchen contest in the upcoming weeks here!
Disclosure: This post was developed in paid partnership with Pfizer, however, all opinions are genuine.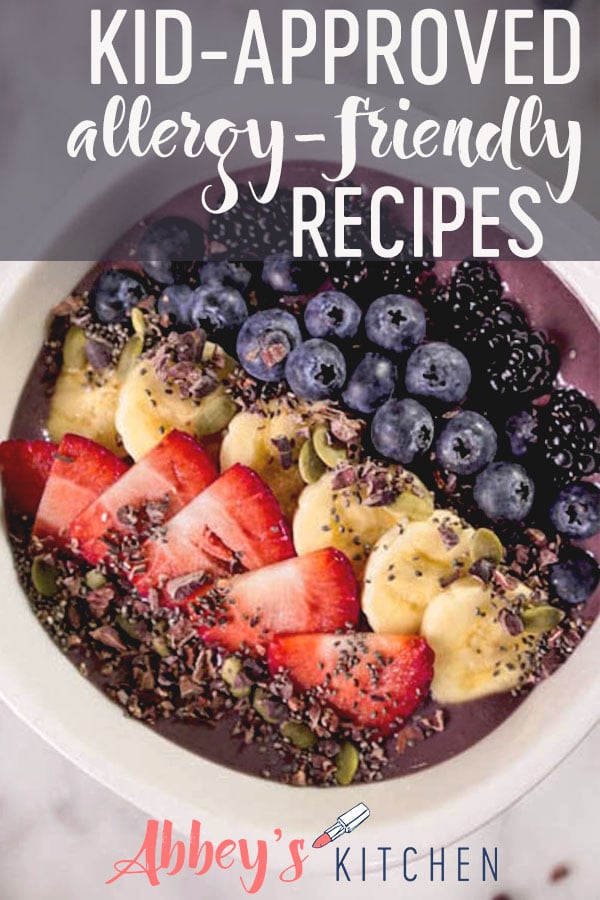 Allergy-Friendly Acai Bowl
I share three kid-approved allergy-friendly recipes and some top tips to help prevent food allergy reactions in you and your kids.
Ingredients
½

cup

frozen blueberries

½

cup

frozen strawberries

1

banana

halved

1

tbsp

sunflower butter

1

tbsp

pumpkin seeds

divided

1

tbsp

chia seeds

divided

¼

cup

gluten free oats

¾

cup

fortified rice beverage

¾

blackberries

halved

2

strawberries

sliced

¼

cup

blueberries

1

tbsp

cocoa nibs
Instructions
In a blender, add the frozen blueberries, strawberries, ½ banana, sunflower butter, ½ of the pumpkin and chia seeds, oats, and rice beverage. Puree until smooth and thick.

Pour into two bowls and top with the fresh blackberries, strawberries, blueberries, cocoa nibs, remaining banana and seeds. Enjoy!
Allergy-Friendly Chicken Tacos with Mango Salsa and Chickpea Avocado Crema
I share three kid-approved allergy-friendly recipes and some top tips to help prevent food allergy reactions in you and your kids.
Ingredients
2

chicken breasts

Salt and pepper

to taste

2

x 6.55 oz cans chipotle in adobo sauce

1

red onion

½ sliced and ½ diced

1 ¾

cups

water

2

tbsp

cumin

1

tbsp

coriander

4

limes

divided

1

mango

diced

1 to

mato

diced

¼

green onion

thinly sliced

2

tbsp

cilantro

chopped

½

cup

cooked chickpeas

1

avocado

¾

cup

fortified coconut beverage

½

tbsp.

hot sauce

12

soft corn tortillas

Cilantro

to taste
Instructions
Season chicken with salt and pepper and place into a medium pot. Add the chipotle in adobo sauce, ½ sliced red onion, water, cumin, coriander and the zest and juice of one lime. Bring to a boil, then reduce the heat and simmer for 45 minutes.

In a medium bowl mix the mango, tomato, green onion, remaining diced red onion, cilantro and the juice of one lime. Mix and season with salt and pepper, to taste.

In a blender, add the chickpeas, avocado, coconut beverage, hot sauce, juice of one lime, and a pinch of salt and pepper. Puree until smooth and season to taste with salt and pepper.

Preheat oven to 350 F.

Wrap corn tortillas in foil and place in the oven for 10-15 minutes to warm up.

Once chicken is cooked through, place in a large bowl and shred with two forks. Strain liquid and pour into a saucepan. Cook liquid on medium heat for another 10 minutes. Pour liquid onto shredded chicken and mix well.

Remove the tortillas from the oven. To each tortilla, add a portion of chicken, mango salsa and the chickpea avocado crema. Roll and garnish with cilantro and lime wedges.
Allergy-Friendly Sushi
I share three kid-approved allergy-friendly recipes and some top tips to help prevent food allergy reactions in you and your kids.
Ingredients
1

cup

sushi rice

white

1 ½

cups

water

¼

cup

rice vinegar

¼

cup

sugar

1

chicken breast

¼

cup

plum sauce

Pinch

each of salt and pepper

2

tbsp

olive oil

divided

½

sweet potato

3

nori seaweed sheets

1

carrot

½

cucumber

½

avocado

2

serrano peppers

3

tbsp

soy and wheat free soy sauce

1

tbsp

wasabi
Instructions
Preheat oven to 400 F.

In a medium pot add water and rice and bring to a boil. Once boiling, cover pot with lid and reduce heat to low. Simmer on low for 30 minutes. Remove from heat and allow to rest with the lid on for 5 to 10 minutes.

In a small saucepan, add the rice vinegar and sugar. On medium heat, cook until sugar has dissolved. Remove from heat and set aside. Once rice is cooked, add rice vinegar mixture and mix well. Allow to completely cool. Rice should be sticky but not pasty.

In a medium baking pan, season chicken breast with salt and pepper. Cover chicken with plum sauce and 1 tbsp olive oil.

Peel sweet potato and cut lengthwise, into strips just under ½ inch thick. On a small baking sheet, place strips on parchment paper and drizzle with the remaining olive oil. Sprinkle with salt and pepper and place in oven.

Bake the chicken and sweet potato for 25-30 minutes or until the chicken is cooked through and the juices run clear and the sweet potato is tender. Remove from the oven and cool.

Slice chicken breast into thin strips and set aside.

Place plastic wrap on top of sushi rolling mat. Add nori sheet on top of plastic wrap. Dampen hands then pick up a handful of rice and spread it onto half of the nori sheet.

Place toppings along the middle of the rice. Hold the near edge of the mat, lift up and roll away from you. Wet the top of the nori that has no rice with water to help seal the roll. Once completely rolled, seal with the plastic wrap on each end of the roll and place in fridge to chill until firm. Alternatively, you can omit the plastic wrap and wrap after.

Cut rolls into rounds. Serve with wasabi, soy free soy sauce and sliced serrano peppers.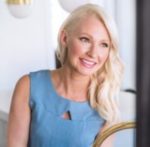 Abbey Sharp is a Registered Dietitian, an avid food writer and blogger, a cookbook author and the founder of Abbey's Kitchen Inc.