This vegan tofu french toast is a great way to sneak in some protein in the morning, and a unique new way to enjoy tofu that isn't savoury! Kids will love this breakfast too!
I can't tell you how many requests I get for more recipes that are high in protein for breakfast that don't include eggs or greek yogurt. It can feel like a challenge sometimes, especially to find vegan breakfast recipes that are high in protein that don't rely on protein powder! So if you're not feeling like a vegan tofu scramble, and are more of a sweet breakfast person, you're going to LOVE this vegan tofu french toast.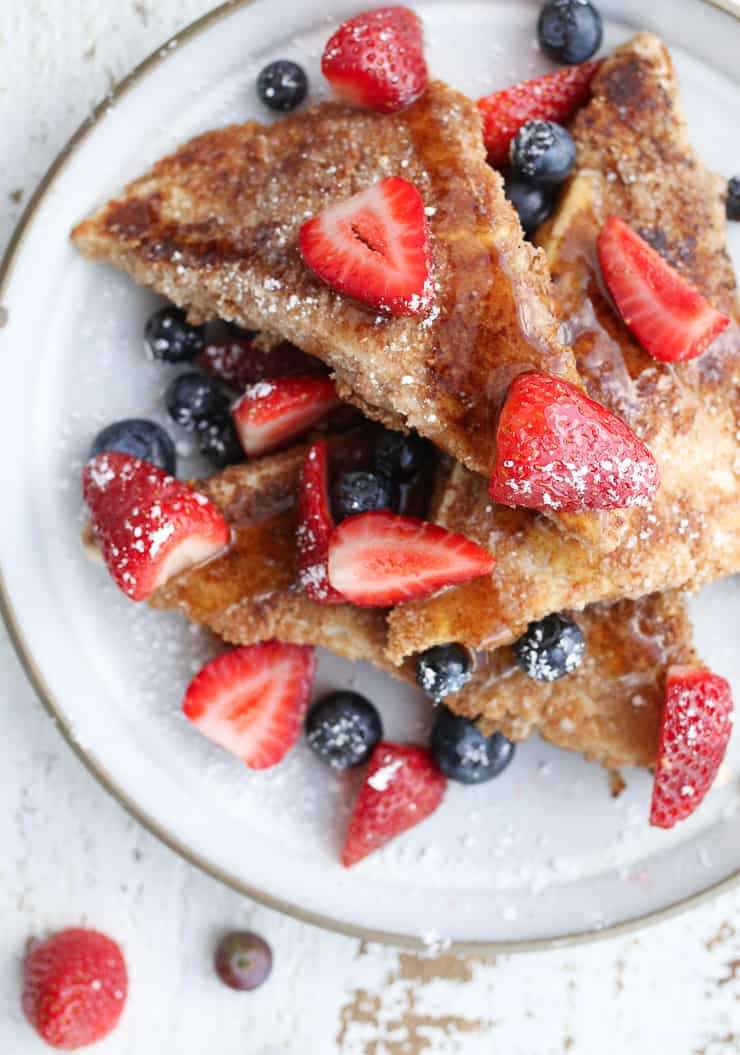 Key Ingredients in this vegan tofu french toast
These are the key ingredients to making this super easy vegan tofu french toast.
Extra firm tofu – It's important to use extra firm because soft tofu will be too wobbly and watery to hold its shape in the pan. It will make you reallllllly frustrated if it keeps falling apart. Trust me.
Almond flour- Almond flour is rich in monounsaturated fats and adds a nice nutty flavour. It also adds the crunchy crust for this tofu!
Cinnamon- French toast is all about flour and I do believe cinnamon is key. Feel free to add in whatever other yummy spices you enjoy like nutmeg or ginger.
Brown Sugar- I like using brown sugar because its a "dry" sugar while maple or honey tends to inhibit the crispy coating and just gets in the way.
Tips for Getting Crispy Tofu French Toast
The key to a crispy vegan french toast is first to really squeeze that liquid out by pressing the tofu. I use towel or paper towel on a cookie sheet, put the tofu down, then add more towel and a bunch of really heavy items. You should find the towels are pretty wet about 20 or so minutes.
The almond flour breading also really helps to keep these super crispy.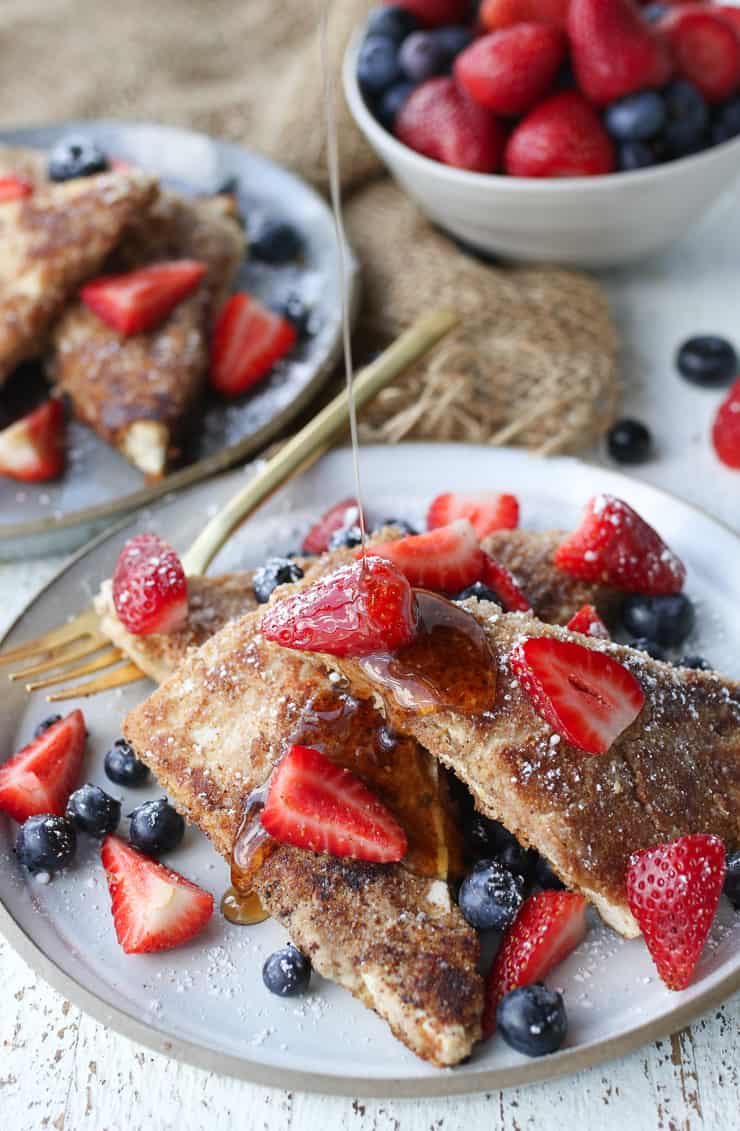 What to serve with the french toast?
Of course, the classic pairing is maple syrup (I am Canadian after all), but since I am partial to serving mine with fruit, I also love to serve this with my homemade easy chia jam. Check out this recipe (there's a reason why it's so popular). You could also serve this alongside a brunch salad or my vegan maple sausages.
FAQ About this recipe
Here are some of the most commonly asked questions about this recipe.
Is this recipe keto and low carb?
Since this recipe does not use any bread, just tofu, and uses almond flour in place of regular wheat flour, this is low carb and may be appropriate for those on a low carb diet. Of course, if you add a lot of fruit, jam, or maple syrup, and use real brown sugar in place of a non-sugar alternative, then you will see the carbohydrate content rise.
Is this kid-friendly?
If you're struggling to get your kiddo to get enough protein or iron in their day, they will LOVE this take on french toast. I mean, who doesn't like french toast?
Can I make this ahead of time and batch prep?
You can, however, be aware that it will lose it's crispy exterior so I recommend rewarming it in a 400 F for 10 minutes to perk back up.
Is this gluten free and safe for celiac?
Yes, this is not only vegan but it is also naturally gluten free and therefore safe for those with celiac and gluten intolerance since we are relying on soy, not bread for the french toast.
What are some other protein rich breakfast recipes on your blog?
Sheet Pan Protein Pancake Fingers
Eggs and Cheese Savoury Protein Waffles
What do you think about making french toast out of tofu without TOAST?! Leave me a comment below with your thoughts!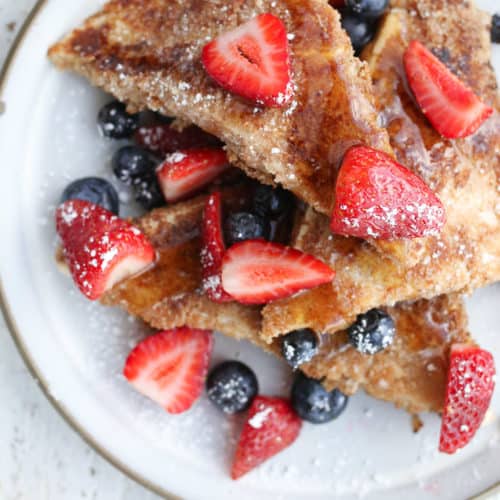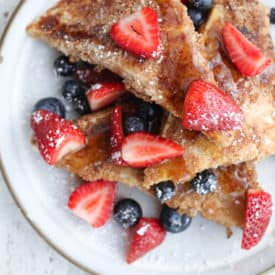 Vegan Tofu French Toast
This vegan tofu french toast is a great way to sneak in some protein in the morning, and a unique new way to enjoy tofu that isn't savoury! Kids will love this breakfast too!
Print
Pin
Rate
Instructions
Cut the tofu in quarters lengthwise and then in half on the diagonal to yield 8 triangles.

Lay a few paper towels or a kitchen towel down on a baking dish. Add the tofu triangles, some more towels and then top with heavy things. Allow to sit for 1 hour to press out the moisture.

In a pie plate or dish, mix together the almond flour, cinnamon, sugar and salt.

Heat the coconut oil in a large nonstick skillet over medium heat and generously dip the tofu pieces into the almond flour mixture until well coated. Place in the pan and cook until golden brown on each side, about 3 minutes per side.

Serve with berries, maple syrup or powdered sugar if desired.
Nutrition
Calories:
428
kcal
|
Carbohydrates:
20
g
|
Protein:
25
g
|
Fat:
31
g
|
Saturated Fat:
2
g
|
Sodium:
111
mg
|
Potassium:
270
mg
|
Fiber:
7
g
|
Sugar:
7
g
|
Calcium:
185
mg
|
Iron:
4
mg