Ever since young chef Eric Chong was announced as the first ever winner of CTV's MasterChef Canada, there have been whispers in the foodie community about his first step. Lucky us, he's pretty much fulfilling the absolute best case scenario by launching his debut restaurant with MasterChef judge and Michelin Star culinary icon, Alvin Leung (Bo Innovation, Bo London, MIC Kitchen). Working alongside their new Chef de Cuisine, Nelson Tsai (Trump, Blue Water Café, Auberge de Pommier), their General Manager, Robin James Wynne (Rock Lobster Food Co.) and the Oliver & Bonacini group, Chong and Leung launched
R&D
at the beginning of April to massive buzz amongst MasterChef fans and local foodies, alike. When I visited R&D, they were only 10 days into service, and the reservation books were already completely slammed.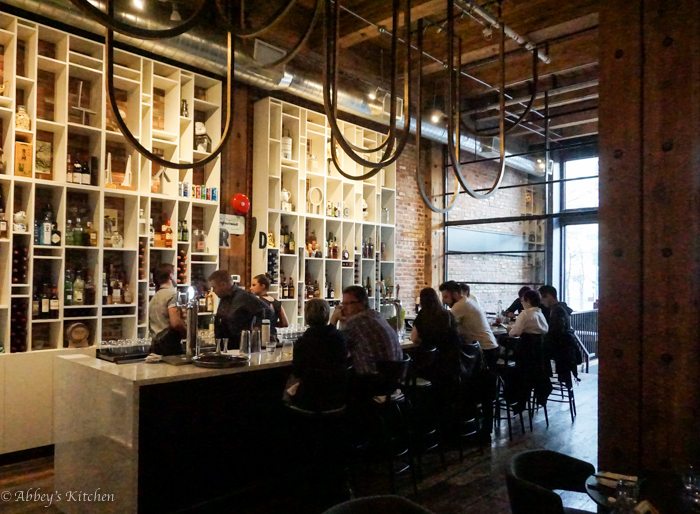 The name R&D can be interpreted two ways- first, it's representative of Chong and Leung's "rebel & demon" personalities and second, it references the concept of "research & development" as both chefs have engineering backgrounds and therefore approach the kitchen with a methodological culinary style.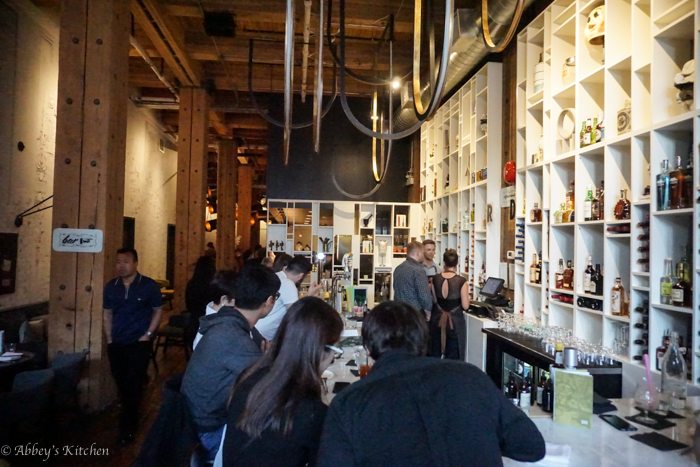 Speaking of style, R&D is located in Toronto's Chinatown proper, an ideal setting considering its Asian inspired menu. Designed by Commute Design, the open concept 85-seat space features a playful dualistic theme and three main dining experiences. First, you'll walk through the more lounge-like seating and bar. Next, is an exclusive chefs rail overlooking the open kitchen. And finally, you'll come to the larger main dining room for larger groups and a more intimate setting. The impressive (and no doubt expensive) décor features an industrial drum-like lighting installation, rustic wooden beams, large graffiti-like murals (with lucky Chinese numbers like 8, 9 and 3 hidden within), leather banquettes and colourful padded chairs. It feels upscale and grandiose, but still very raw, stylish and sexy.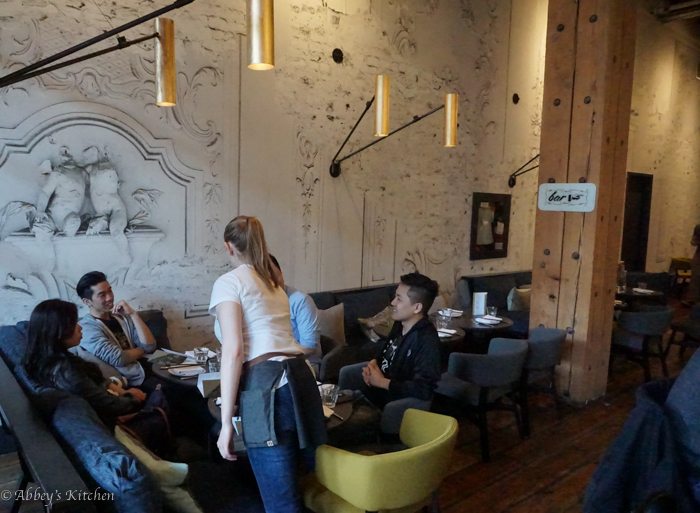 But let's talk about food and drink. R&D boasts a generous list of creative cheeky cocktails designed by the man who put a lobster tail in a Caesar and made it the best-thing-ever- aka. R&D GM, Robin James Wynne. Just as Wynne embraced the East Coast theme with his Lobster Caesar, here he infuses playful Asian flare into familiar drinks. Think a Dark and Stormy with Ume plum wine, and black pepper, or a Caesar with Black Garlic and Chinese Mushroom infused vodka. Oh, oh and a Pina Colada Bubble tea with toasted coconut and chai syrup. Honestly, I was wiggling in my seat as I read through the list of playful sippers wondering how I was going to metabolize all of them in one night.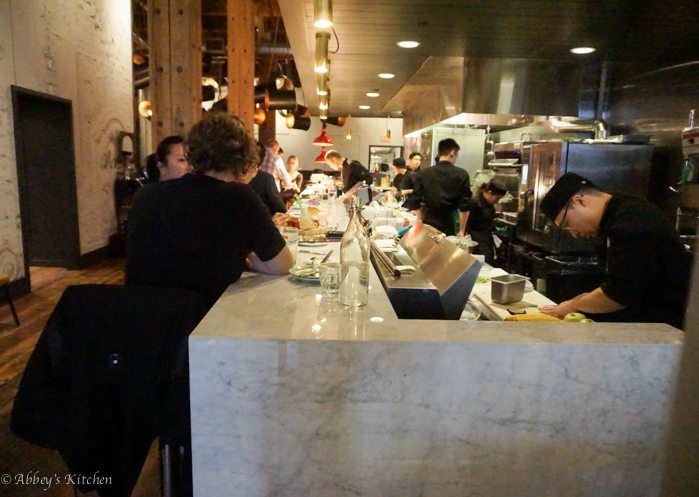 For those who prefer wine, the list features 19 local and International options by the glass ($9.50-15.50 for 6 oz) and another 25 by the bottle ($50-160). Now, wine is always fine, but those cocktails were calling my name and I was thrilled at the prospects of getting a few down.
Pina Colada Bubble Tea ($13)
Havana Club 3 Yr Rum, Toasted Coconut & Chai Syrup, Lime, Pineapple, Coconut Milk, Tapioca Pearls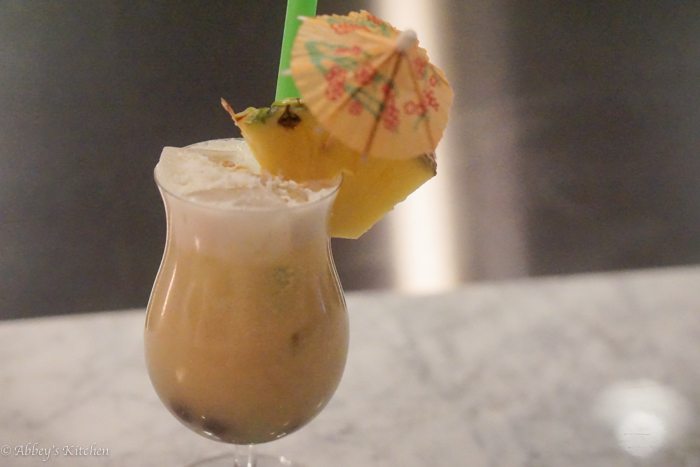 What a fun (boozy) take on a China-town staple. I loved the aromatic chai flavours with the nutty coconut, while the housemade tapioca balls offered a fantastic supple pop. You probably can't drink more than one of these (unless you want to use up fried chicken space on drinks- spoiler alert-YOU DON'T), but it's certainly a really fun treat.
Shanghai Sour ($12)
Wild Turkey Bourbon, Lemongrass, Coriander, Pepper, Yuzu, Lime, Egg White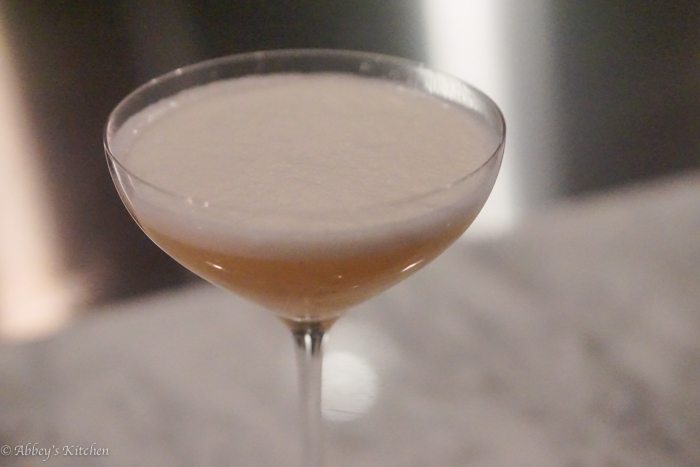 Well balanced with a nice tangy bite from the sprightly yuzu, lime and fragrant lemongrass. A fantastic take on a Bourbon sour.
Something Stormy ($13)
Appleton Estate v/x Rum, Ume Plum Wine, Lime, Black Pepper, Vanilla, Ginger Beer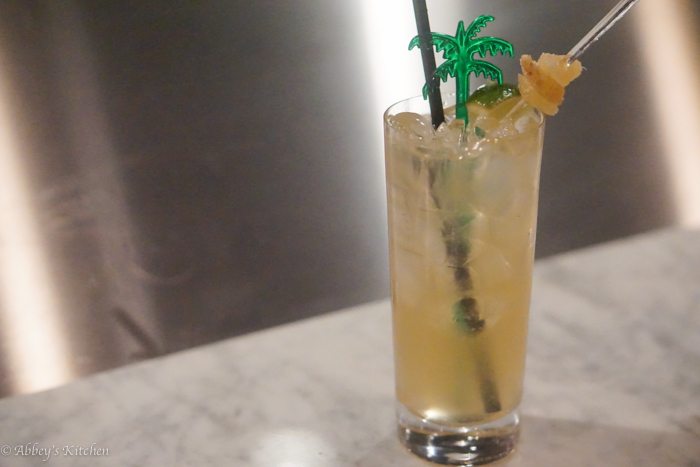 If you're a Dark & Stormy fan (and both of us definitely are), then you'll love the added heat from the black pepper balanced out by the delicate sweetness of the Ume wine. Also, I love Ume- I want to see more cocktails with this stuff. Hopefully the Toronto restaurant gods are listening.
Red Star Punch ($12)
Oolong Infused Beefeater Gin, Hawthorn, Mandarin, Lemon, Shanghai Rhubarb Bitters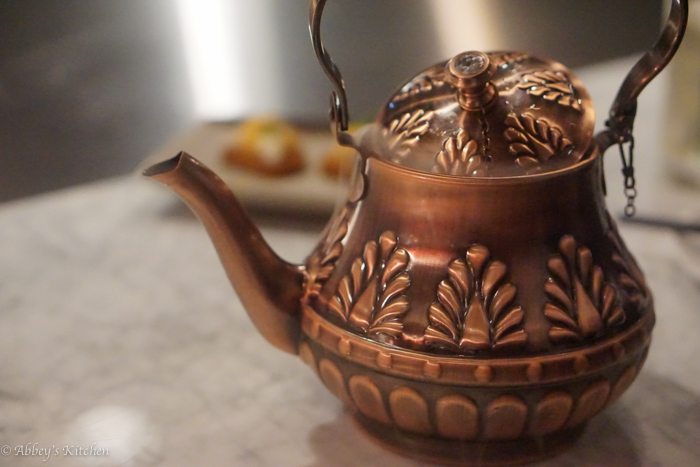 The red star punch can be ordered by the glass or "Cold Tea" style in a green tea pot. Either way, you should get it.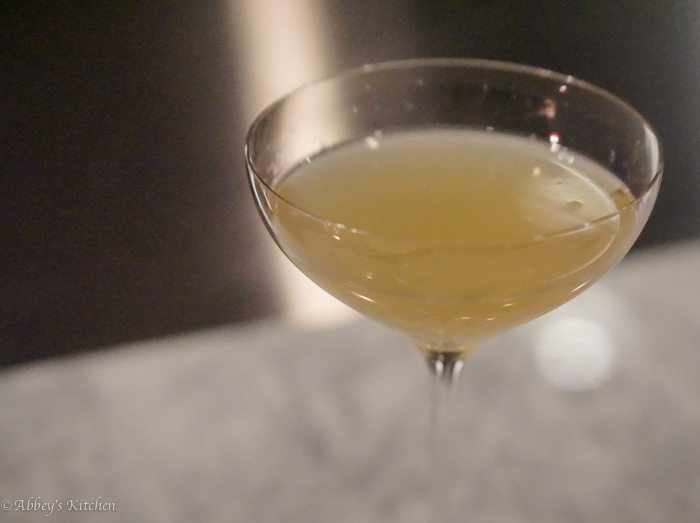 The herbal oolong infusion made this drink remarkably soothing and easy to drink – so much so, that on my next visit, I may order a whole pot just for me.
Moving onto food, it's easy to see the playful approach to Chong and Leung's menu. This is certainly not your traditional Chinatown fare, but it also doesn't feel gimmicky or inauthentic either. The R&D menu is divided into Modern Dim Sum (think Chicken tom yum steamed buns, and shrimp toast with preserved duck egg), Skewers with different cultural inspirations (like Malasian satay pork neck, Thai flank steak, Indonisian chicken and more), Shareable Platters (like sweet and sour ribs, Peking duck, and Fried chicken with HK egg waffles), Sides (Brussels sprouts, rice, and snow pea leaves with duck gravy), and Plates. This is where you definitely see the most play with the East vs. West theme. Think an umami Caesar salad with clams and tomato, a Poutine with mapo style bean curd, and Shitake Polenta fries. Honestly, I totally wanted it all. Take a peak at what I sampled sitting at the Chef's rail on a busy Saturday night.
R&D Eats
Grandpa's Fun Guo ($9)
Chicken, Black Truffle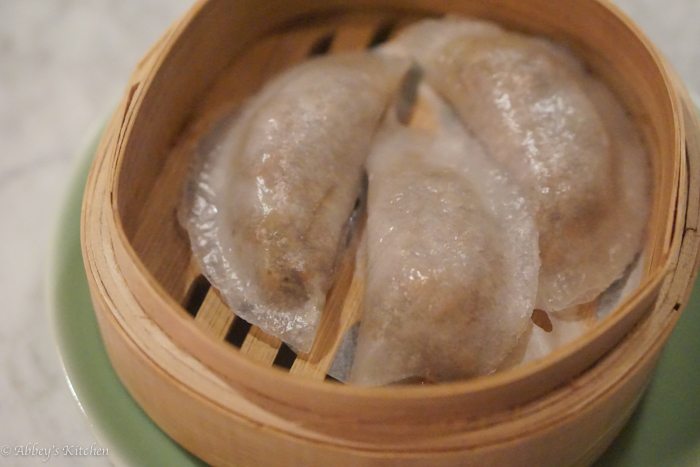 Three generous steamed dumplings filled with juicy ground chicken and a delicate shaving of umami-rich truffle. Truffle is a real indulgence but it can be overwhelming. Thankfully, this filling struck a perfect balance.
Little Dragon Buns ($7)
Spicy Sichuan Lamb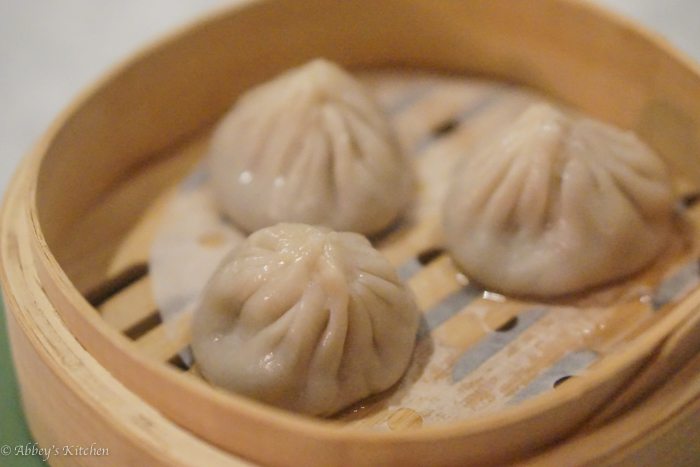 Okay so here is the deal with these. First of all, listen to your server when he/she tells you how to eat them. I thought I listened, but apparently I was distracted thinking about how to photograph them or something. So dumb-dumb Abbey, I decided to put the whole thing into my mouth where the broth (please re-read the description… SPICY SICHUAN broth) just exploded into the back of my throat. Once I stopped choking from the tingling pain and made a wide range of ugly faces (that's what my lovely fiancé told me anyway), I realized it tasted really awesome (I also realized my Spring-allergy sinuses were suddenly cleared). I had one extra dumpling to confirm my initial impression (the second time, I was much more cautious of course), and man, that tingle-inducing broth is addictively good. I hope you feel much more ready then I was for this dish now.
CSB ($8)
BBQ Pork Buns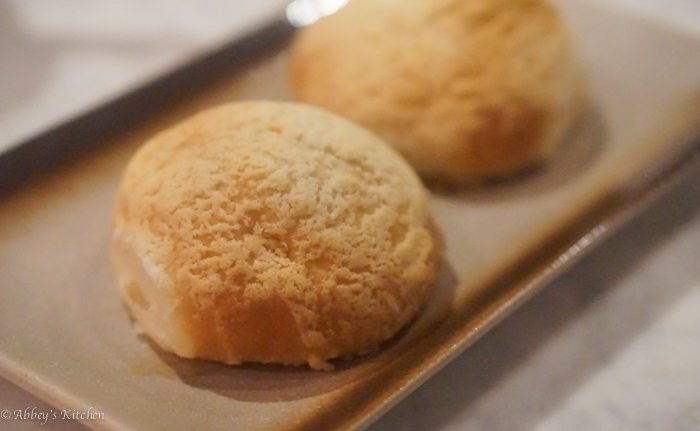 Okay guys, so another warning. These come out only once each hour and when they do, the staff sells them off immediately. We were lucky to get our hands on a few and my goodness, were they ever divine. Sweet light pastry with saucy unctuous savoury pork filling – they may look big, but this deflates and merely dissolves into a poor of happiness on your tongue. Even if you're half way through dessert when these come out, do yourself a favour and order 4.
Shrimp Toast ($13)
Spot Prawn, Preserved Duck Egg, Cauliflower, English Mustard, Truffles
An easy one-biter packed with savoury umami flavour and a contrasting texture from the snappy prawn and crisp buttery crisp brioche.
Roasted Beets ($9)
Pat Chun Vinaigrette, Goat Cheese, Lotus Room, Walnut, Gingerbread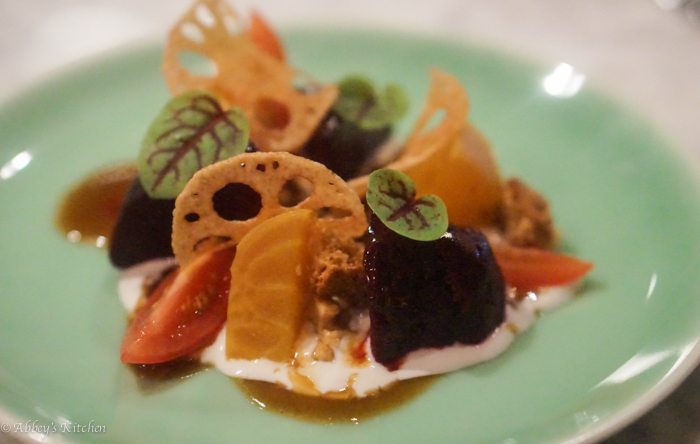 Amidst all of the indulgent-sounding dishes on the menu, it may be tempting to forgo your veg. Trust me, with these roasted beets- you won't want to. While sweet rich beets and tangy chevre is always a winning combination, the spicy addition of crunchy gingerbread really drove this home.
Octopus ($16)
Chargrilled, Choy Sum Chimichurri, Yu Heung Eggplant
My fiancé is always in his best spirits when octopus is being served, and R&D's version did not disappoint. The tentacles were smoky yet nicely cooked, complimented beautifully by the contrasting sweet eggplant puree and herbaceous chimichurri sauce.
Egg Rolls ($8)
Chicken, Bamboo Shoots, Pesto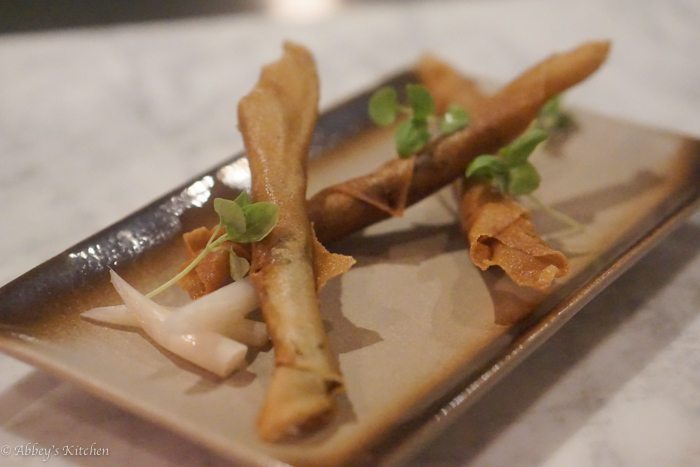 I totally loved these to bits. These basically take the best part of the egg roll (aka. the crispy slightly-greasy deep-fried shell) and exaggerate it with just enough flavourful filling to ensure you're not just eating chips. I also loved the pickled bamboo shoots on the side, which offered a nice acidic palate cleanser after the obviously indulgent snack.
General Sanders' Chicken ($25)
Kung Pao Sauce, Sichuan Maple Syrup, HK Egg Waffles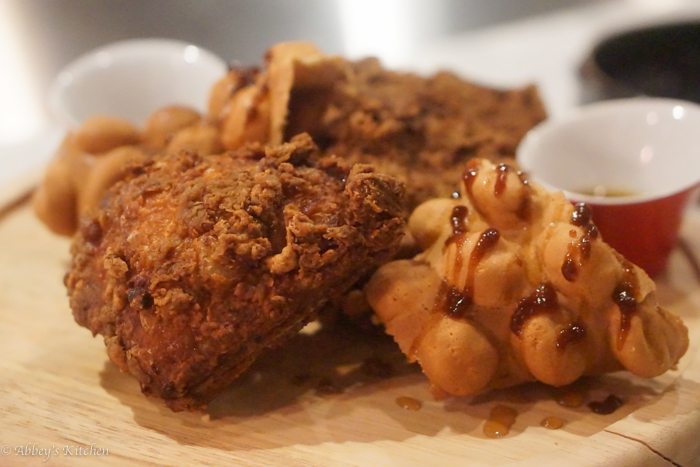 Alright kids, so you're getting a full How-To guide on how to order at R&D here, but if you only remember one thing, remember this- ORDER THE CHICKEN. Call ahead, bribe someone, pull an old school prank to make your neighbor turn his head while you snatch his last drumstick. Do whatever you have to do to get your hands on one of these coveted chicken platters. When I dined in Saturday at 7:30, we got the last plate (and it was a close one!) so consider yourself warned. So what makes this chicken so insta-worthy? Well, while the chicken itself was wickedly crispy on the outside, moist on the inside, and worth me waxing on about for hours, it was the buzzing Sichuan maple syrup that made this fried chicken unique. I have an unusual love for Sichuan peppercorns, so seeing it played up with one of my all time favourite dishes (chicken and waffles) definitely made my day.
Lobster Chow Mein ($25)
Wok Fried Lobster, Chitarra Noodles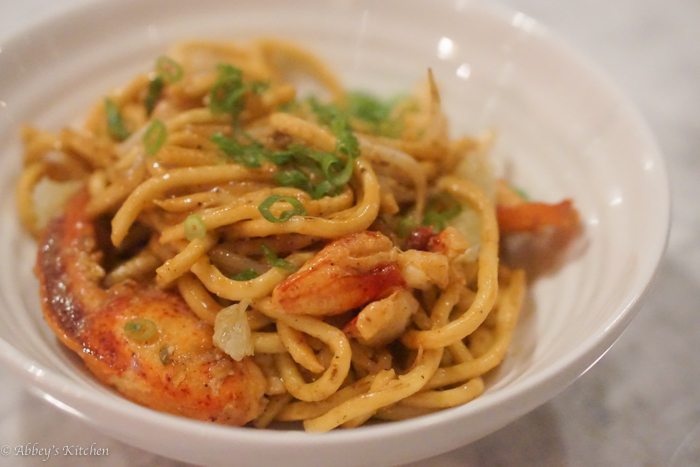 We were crazy full, but we were told that this was the dish that Eric supposedly won MasterChef with, so I needed to taste what the fuss was about. Now, I can't speak for his competitors' offerings, but I agree, this was game show winning worthy. Perfectly cooked sweet succulent lobster tossed in simple but perfectly supple house-made chitarra noodles. I couldn't finish the whole bowl knowing dessert was on the way….but we did eat it as a midnight snack.
Crispy Smoked Milk ($8)
Malted Milk Ice Cream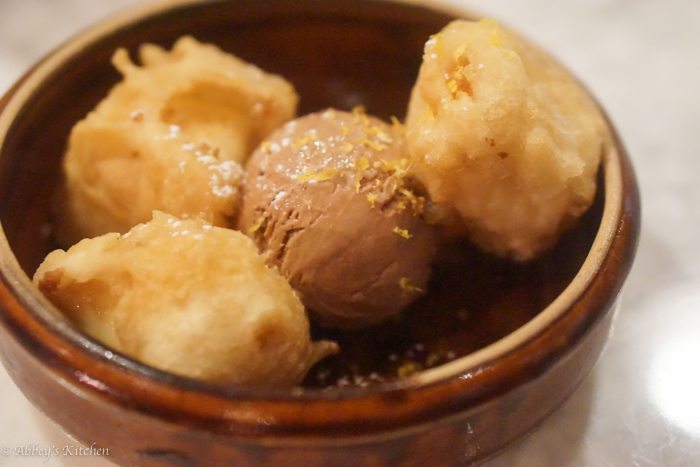 You may be thinking- what the heck is crispy smoked milk? And let me tell you, there's a lot going on right here. The milk part is a panna cotta-like wobbly custard that's been smoked in jasmine tea and rice, battered and then fried. The result tastes a bit like a roasted marshmallow that's then been deep fried and served with a slightly tangy chocolate ice cream. Obviously, quite delicious and kind of like S'mores, but without the West-Nile ridden mosquitos.
Banana Split ($14)
Crispy Banana Fritter, Sour Cherry, Condensed Milk & PB, Bitter Chocolate and Tamarind Ice Creams, Coconut Cream, Macerated Strawberries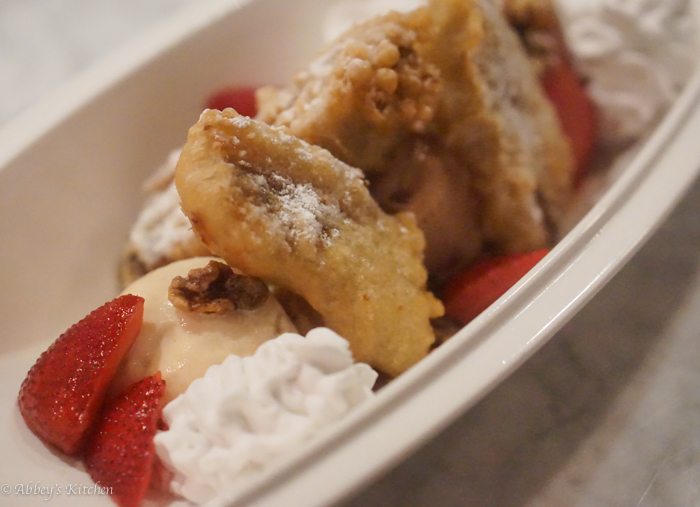 If you only get one dessert at R&D (and you have a group to feed- or just one person like me), then this should be it. Holy moly, this is all of my favourite things in one big bowl. Crispy deep fried sweet bananas with three incredibly distinct ice creams- a tangy sweet sour cherry, a bitter sweet tropical tamarind chocolate, and the best ice cream I've ever put in my mouth- sweetened condensed milk and peanut butter. I'm having a bit of a seizure just reliving the whole thing right now. Never take this off the menu, and I will continue to come.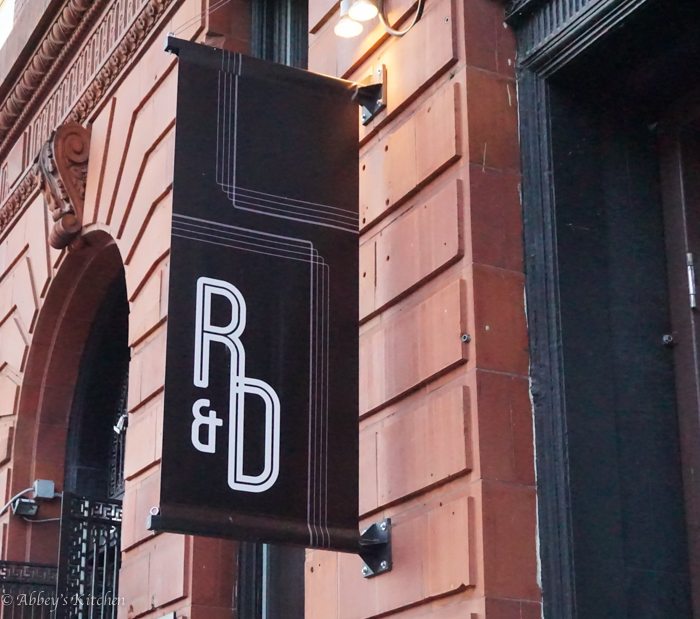 As you can probably tell, I really enjoyed my meal at R&D, and loved sitting right at the chefs rail to see Chef Eric and his team in action. I am also super excited to bring some of my friends here for a casual meal –and I may actually call ahead to make sure they put a chicken aside for me (yah, I'm going to be that crazy chicken girl). R&D is located at 241 Spadina Ave and is open for lunch Thursday through Sunday from 11:30 a.m. to 3 p.m. and for dinner from 5 p.m. nightly. For more information or to make reservations, check out their website here.