In Toronto you can get your basic hot dog fix on practically any street corner at any time- day or night. Despite the array of run-of-the-mill ketchup, mustard, relish, and condiments, it won't be long before you're likely going to go searching for more. And you'll find it with Fancy Franks.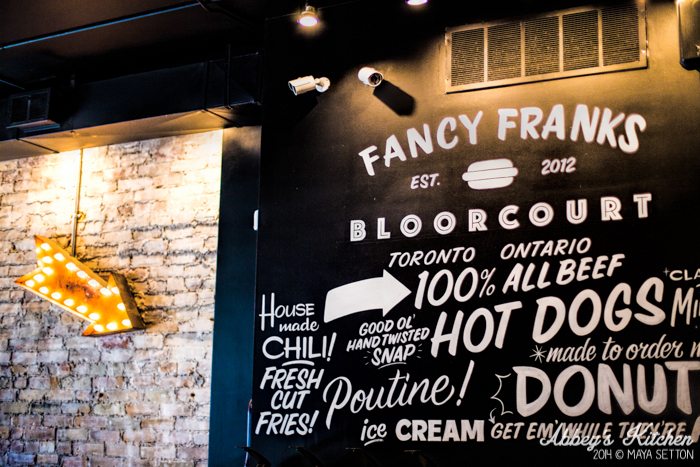 Answering all Torontonian's frustrating hot dog conundrum is the gourmet hotdog shop Fancy Franks. I've written about this place before but I just had to share my experience with their new playful Fall menu. With toppings ranging from spaghetti and meatballs to huevos rancheros, everyone can find a dog they'd like to chow down on at Franks.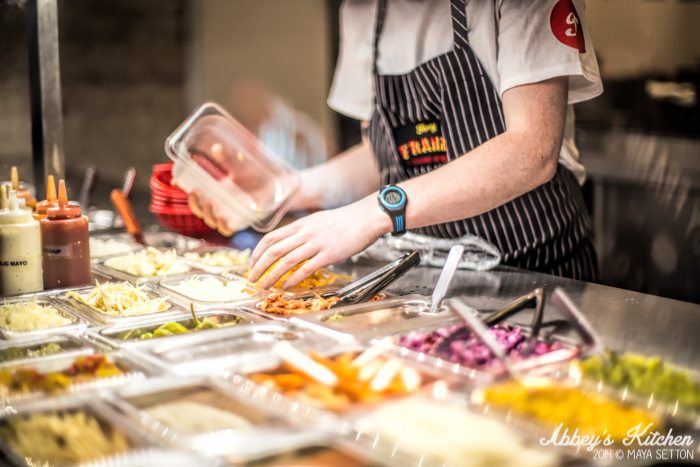 Now, we all know hot dogs are always a bit of an indulgence, but it's nice to know Fancy Franks wieners are made of 100% beef and lamb casing and are provided by a local Toronto butcher. The buns and toppings are all fresh and local as well, making this this more of a haute-dog than what you get on the street. That may not spare you the calories but at least you know the ingredients are of the highest quality!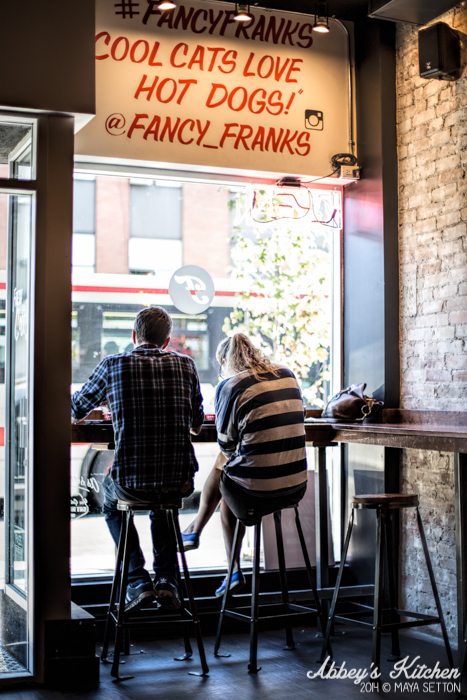 The interior of the small restaurant is certainly conducive to letting loose. Décor is vintage and whimsical, with bright-lighted signs, abstract wall murals and one huge picnic table for family style dining. The open space makes the atmosphere young and fun, perfect for the late night, post-bar crowd. Because let's be honest with ourselves- spaghetti and meatballs on a hotdog is interesting and surely tasty when you're sober, but way more exciting after a few pints.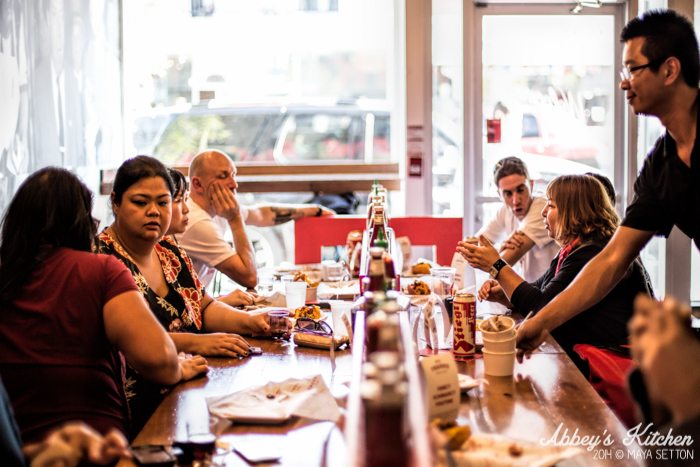 If you're not in the market for a hot dog, your options are slightly limited. You can, however, get a salad, soup or chili and wash it all down with a creamy milkshake. And speaking of options, check out Frank's gourmet toppings and unusual flavour combos!
Fancy Franks Food
Frankie Goes to Buffalo
Panko Fried Weiner, Chicken Bacon, Carrots, Celery, Blue Cheese Dressing and Buffalo Wing Sauce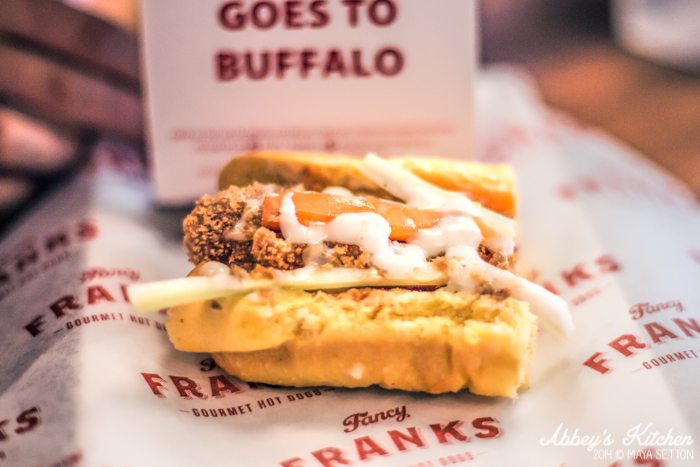 So-so-good – if you closed your eyes you could swear you were eating a real chicken wing!
Frankie Wanna Meatball
Beef Hotdog, Spaghetti, Meatballs, Parmesan Cheese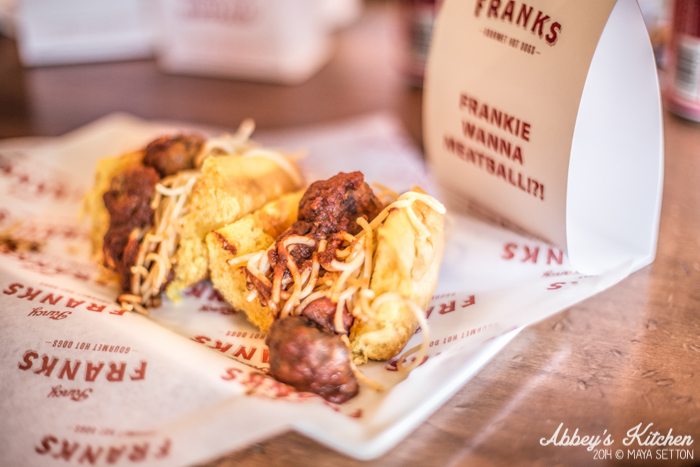 Beware: this dog requires some serious napkins. Succulent and meaty but definitely not first-date worthy.
Franko Y Huevos
Chopped Beef Hotdog, Chorizo, Grilled Peppers, Scrambled Eggs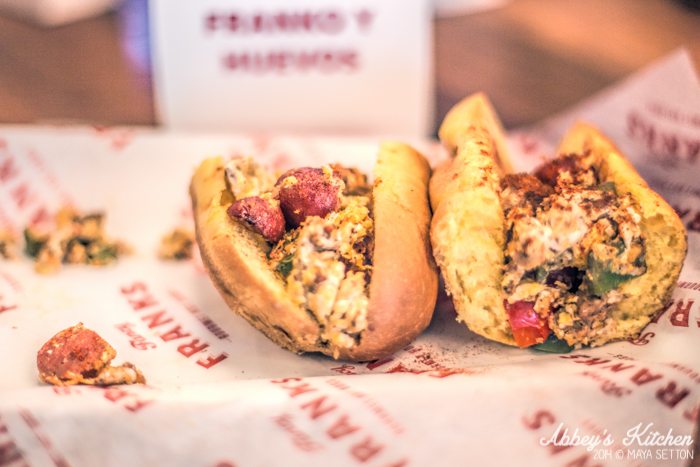 While I did like the taste of this one, I found to mouthfeel to be a bit offputting – I'm admittedly not a scrambled egg girl so the combination of that texture on the snappy wiener was probably just not for me.
Fancy Schmancy Poutine
Fries, Cheese Curds, Beef Gravy, Beef Ribs, Grilled Onions, Fried Eggs, Scallions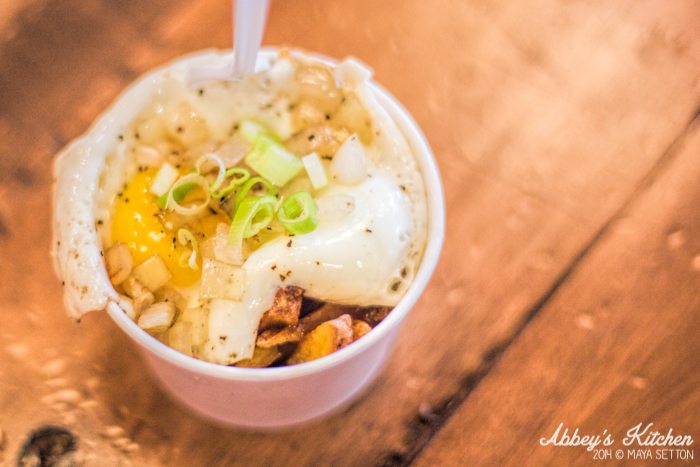 Loved the salty bursts of beef ribs with the creamy luscious yolk. So decadent!
Porker Poutine
Fresh Cut Fries, Cheese Curds, Beef Gravy, Bacon, Grilled Onions, Fried Eggs, Green Onions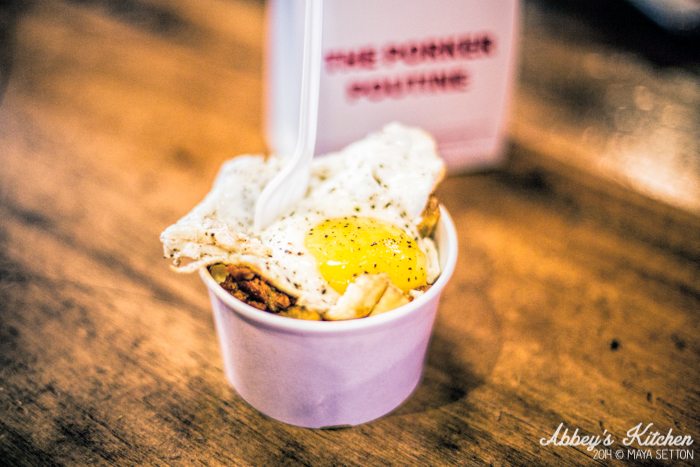 Same deal but with salty bacon- how could this be bad?
Mini Donuts
Chocolate and Vanilla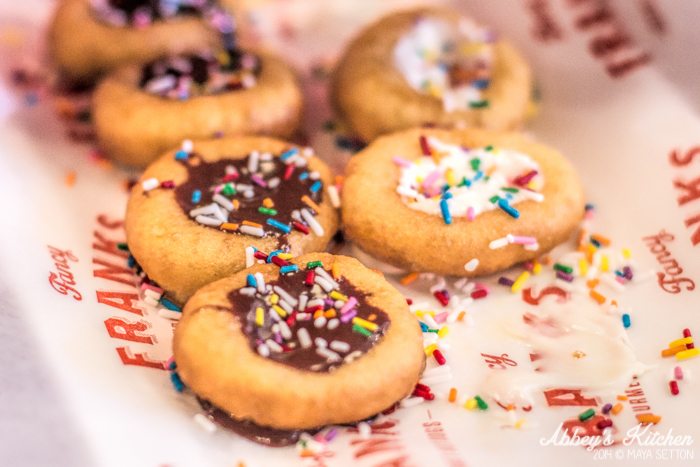 Addicting, light as a feather donuts that came straight out of the fryer- there's not much better than that!
So if you're looking for a twist on a ballpark classic, look no further than Fancy Franks. With two locations on Bloor West and College street and plenty of gourmet grub to choose from, that next hot dog craving (come on, everyone has them once in a while) can be quickly satisfied by Franks!
Disclaimer: The preceding meal was complimentary, however, as always, all opinions are genuine.
Contribution by AK Tasters: Maya Setton and Brea Giffin
Updated on October 23rd, 2020