This Zoodles Carbonara recipe is gluten free, low carb, keto friendly optional and can be ready in under 30 minutes!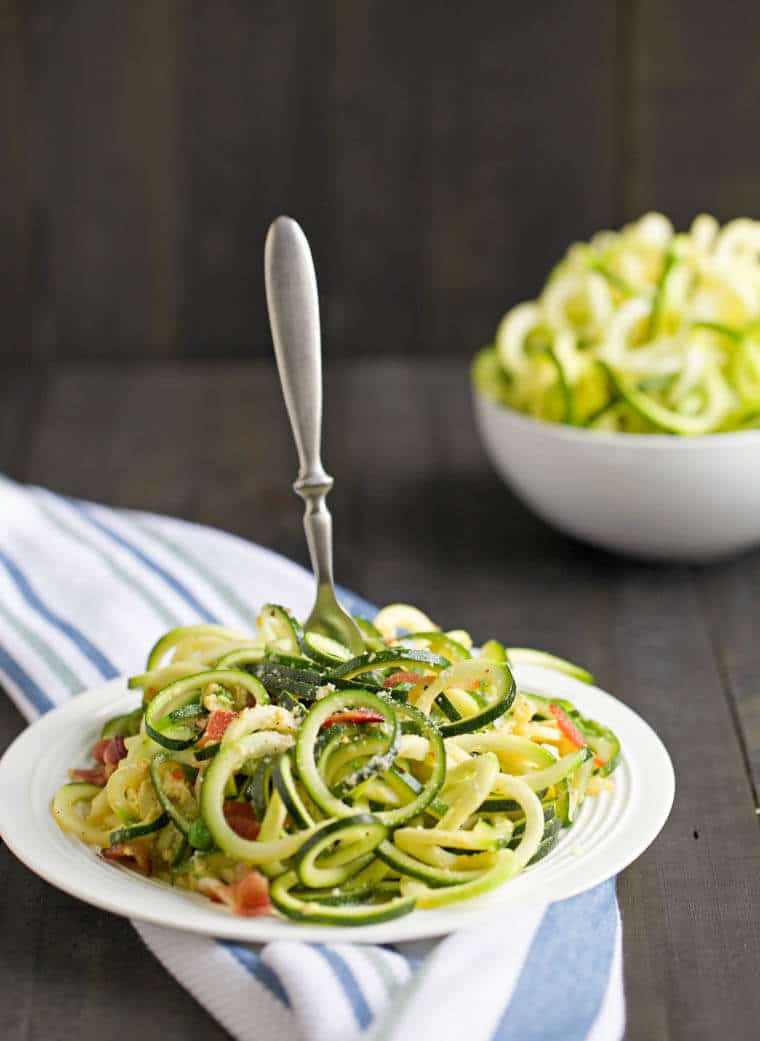 If you were to ask me what was in my top 10 favourite foods of all time – carbonara pasta would definitely be one of them. There is something really satisfying about a big bowl of cheesy, creamy noodles with the salty kick from pancetta or bacon.
But it's probably not an every day dish because carbonara is decadently rich, so I set out to make a version that was a little more weeknight friendly. This zoodles carbonara is a low carb, gluten free option for those who are craving that cheesy goodness.
What is Pasta Carbonara?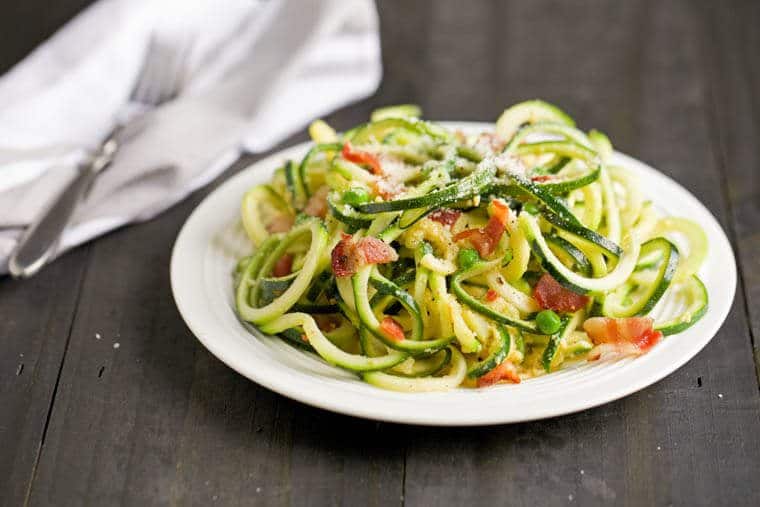 Carbonara is basically an Italian pasta dish made with egg yolks, pancetta or bacon, lots of parmesan cheese and pasta. It tastes super creamy, but miraculously, it is completely cream-free! My zoodles carbonara version swaps in zucchini noodles in place of the pasta, and adds a handful of peas in for some extra fibre and veg.
WHY THIS RECIPE WORKS
Do you like cheese and bacon?
Do you want to enjoy said cheese and bacon but balance them out with some fibre-rich veg?
This zoodles carbonara is for you. You're welcome.
No but seriously, this recipe is also gluten free naturally (and you don't need to rely on overly processed gluten free pastas), and is loaded with fibre. It can also be made keto friendly (see my notes below) and can be ready in under 30 minutes!
Key Ingredients
Zucchini – When choosing zucchini, make sure you have one that is very firm, and blemish free. I also prefer smaller thinner zucchini for this recipe since some fat ones won't fit so well into your spiralizer. I also find that fat zucchini often are more watery, and the key to a good zoodle recipe is to limit moisture.
Bacon or pancetta- The difference between bacon and pancetta is that pancetta is not smoked the way bacon is and is usually a thicker cut. You can use whichever you can easily find!
Eggs – I prefer to use omega 3 eggs to bump up the healthy fats in this recipe.
Parmesan cheese – Use a good parmesan or asiago cheese and grate it yourself. There are so few ingredients, you want to use the best.
Black pepper- The black pepper is key to balancing out the salt and richness in this recipe. I promise this will not be a spicy recipe, just totally delish.
KEY EQUIPTMENT
All you really need to make this carbonara is a good spiralizer. I love the Kitchen-aid spiralizer attachment, but a stand alone handheld will work great too.
I also recommend a good cast iron skillet for cooking the zoodles to keep them really crisp.
HOW TO MAKE THIS RECIPE
This recipe is really simple but it DEPENDS on you getting your zoodles to stay crisp and NOT SOGGY.
The Key to Non-Soggy Zoodles (Zucchini Noodles)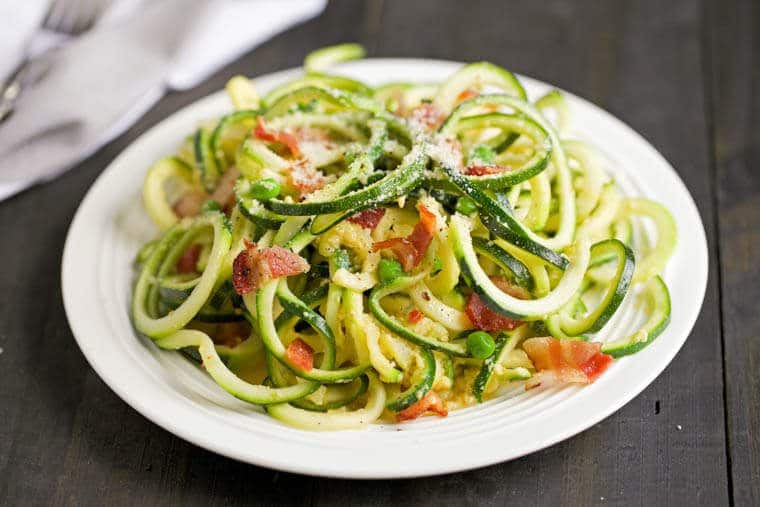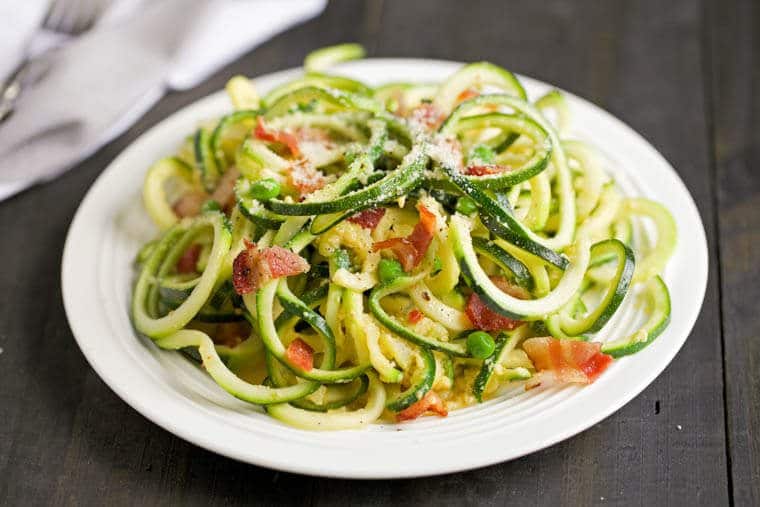 Now, this is important. I experimented with this recipe and updated it after some people were having trouble keeping this zucchini noodle pasta carbonara from getting soggy. Ultimately, zucchini are mainly water so you need to find a way to get the excess water OUT. The solution? Basic osmosis.
1. Lightly sprinkle the zoodles with a bit of salt to dry out the water. Press them into a few sheets of paper towel and let it sit for 10 minutes. Then, I rinse them off with cold water and lay them back on fresh sheets of paper towel to dry. Yes, I know it seems strange to remove water and then add water, but it DOES WORK. Once you get them super dry, add them to the pan and let them cook ever so quickly. I like mine a little al dente so a quick little dip in the hot pan is all it takes. And there you go, NON SOGGY Zucchini Noodle Pasta Carbonara.
Zucchini Noodle Pasta Carbonara 101
We all know pasta carbonara just cannot be made "low fat" – if you omit the egg yolks and try to do a fat free milk sauce, it's just not real pasta carbonara. I would have to just serve pasta with no sauce and that's no fun. But how can a pasta dish be low carb? With my zucchini noodles of course! So with my new best friend in hand, I set out to make this dish low carb with zucchini noodles in place of the real deal. Bonus points for the fact that it was now also naturally gluten free without any gross tasting, expensive gluten free pastas. The result? Honestly, this zucchini noodle pasta carbonara is mind blowing.
The Key to Non-Soggy Zoodles (Zucchini Noodles)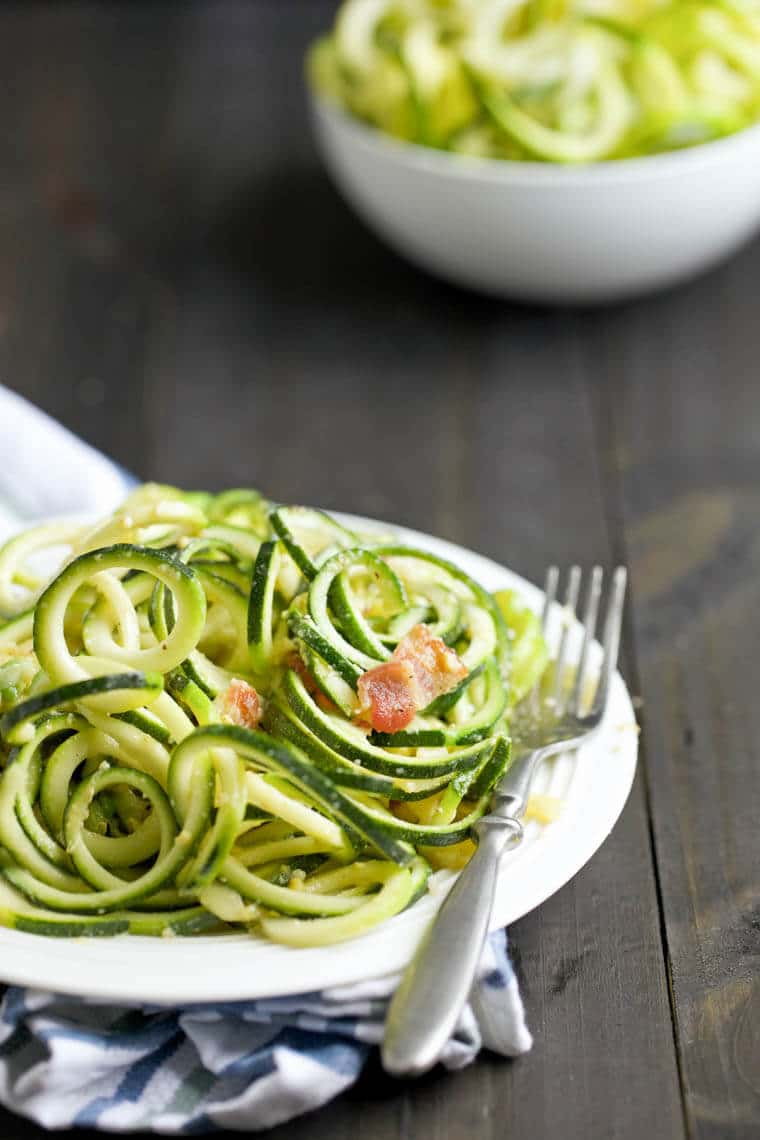 What are your favourite zucchini noodles recipes?
Have you tried this amazing zucchini noodle pasta carbonara?
Leave me a comment below and I'll give them a try!
If you liked this recipe, you may also like: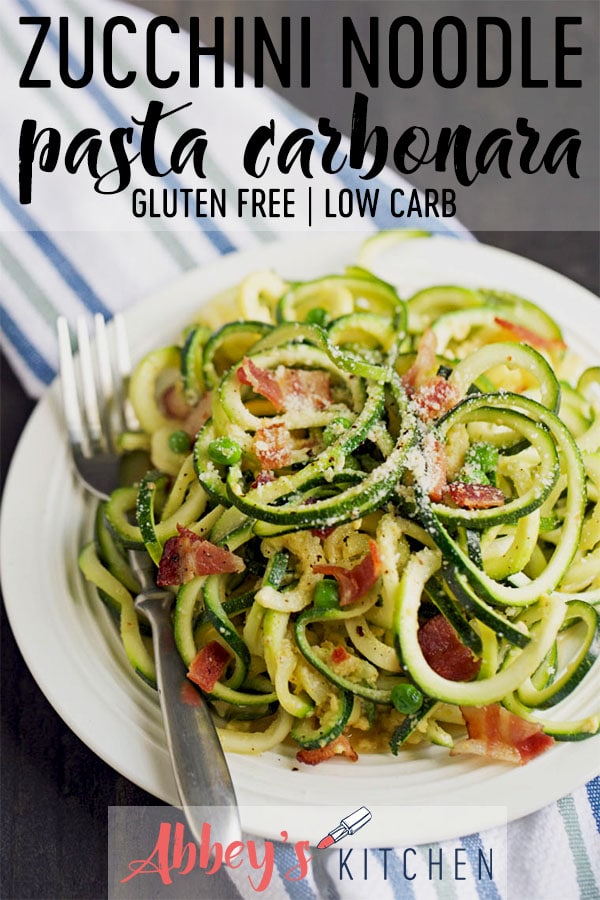 Zucchini Noodle Pasta Carbonara
This zucchini noodle pasta carbonara is gluten free, low carb and packed with flavour.
Print
Pin
Rate
Ingredients
4

medium zucchinis

top and bottom sliced off

1/2

tsp

Kosher salt

2

slices

pancetta

diced

3

tsp

olive oil

divided

1

shallot

minced

1

clove

garlic

minced

1

cup

frozen peas

2

eggs

beaten

1

egg yolk

beaten

1/3

cup

finely grated parmigiano cheese

plus more for garnish if desired

Cracked Black Pepper

to taste

Salt

to taste
Instructions
Line a baking sheet with a few layers of paper towel. Lay the zucchini noodles down and sprinkle with salt. Top with another few layers of paper towel, a cutting board and some heavy items like books or pots. Let sit for 10 minutes.

After 10 minutes, transfer the noodles to a colander and rinse thoroughly with cold water to remove the salt.

Refresh the paper towels on the baking sheet with a few new layers. Gently squeeze and shake the zoodles and lay them down on the paper towel. Top with a few more layers of paper towel, the cutting board and the heavy items. Let dry for 10 minutes.

Heat a large cast iron skillet over medium heat and add one teaspoon of oil. Add in the pancetta, cook until crisp, then remove the bacon to a small dish and return the pan to the stove.

Add in the remaining olive oil and return the pan to medium heat. Add in the shallot and saute for 2 minutes. Then add in the garlic and stir for 1 minute. Next, add the peas and stir until thawed through, about 2 minutes.

Finally, add in the zucchini, increase the heat to medium high, and saute for 2-3 minutes or until fully warmed through.

Turn off the heat.

Beat together the eggs, egg yolk and cheese then add them to the pasta and toss gently until coated. This should take literally 2 minutes.

Add back the bacon and season with freshly cracked black pepper.

Divide between two bowls, add additional parmesan if desired, and season with salt to taste.
Nutrition
Calories:
362.94
kcal
|
Carbohydrates:
26.9
g
|
Protein:
23.84
g
|
Fat:
19.14
g
|
Saturated Fat:
7.36
g
|
Cholesterol:
281.91
mg
|
Sodium:
1159.64
mg
|
Potassium:
1330.21
mg
|
Fiber:
8.27
g
|
Sugar:
15.3
g
|
Vitamin A:
1865.22
IU
|
Vitamin C:
100.64
mg
|
Calcium:
314.43
mg
|
Iron:
3.82
mg
Updated on October 19th, 2020