This NEW AND IMPROVED recipe for Zucchini Noodle Pasta Carbonara will quickly become your weeknight favourite.
I don't know about you- but my kitchen and I got unnecessarily spoiled at Christmukkah (short story- I'm Jewish, my family is not). I got 3 Le Creuset pots, a dehydrator, all new bar ware (including some bad ass retro glasses from BYOB), a few cookbooks and this cool gadget called a spiralizer that I was dying to make zucchini noodles with. And a really good quality one from Williams Sonoma, too- my parents really splurged.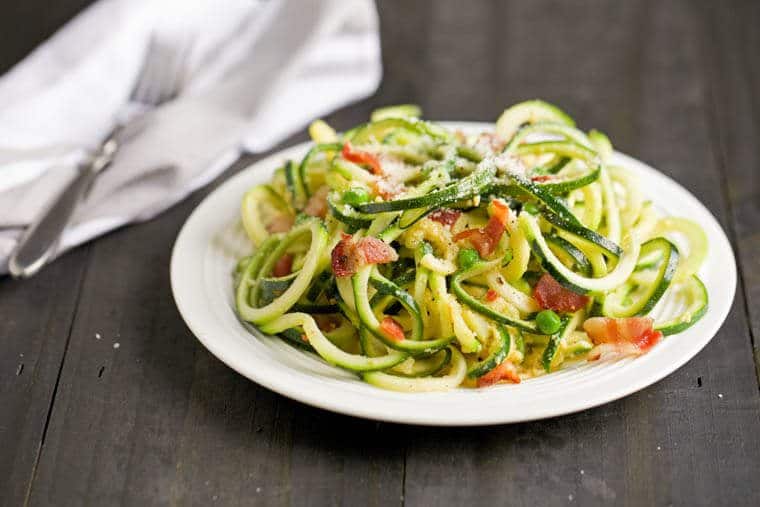 So what is this contraption? Well, it allows you to transform vegetables like zucchini into zucchini noodles (aka zoodles) of all different shapes! It's basically a low-carbers dream. So I decided to try this out with one of my all-time favourite decadent pasta dishes- carbonara. This zucchini noodle pasta carbonara is now my favourite meal of all time.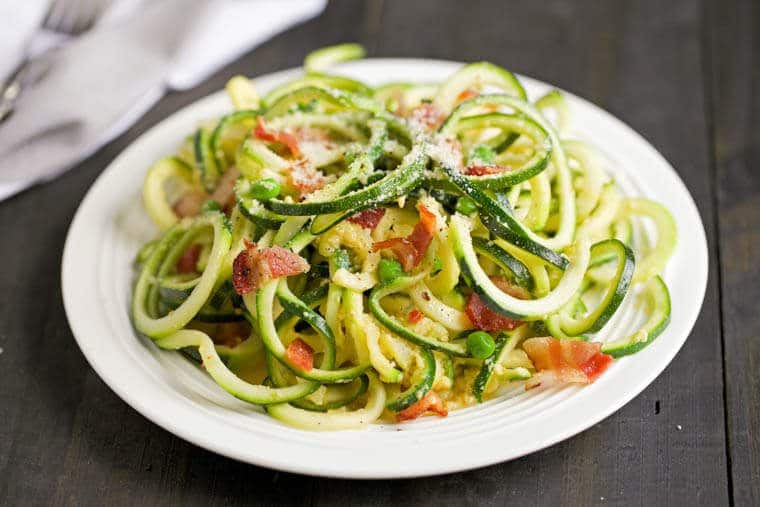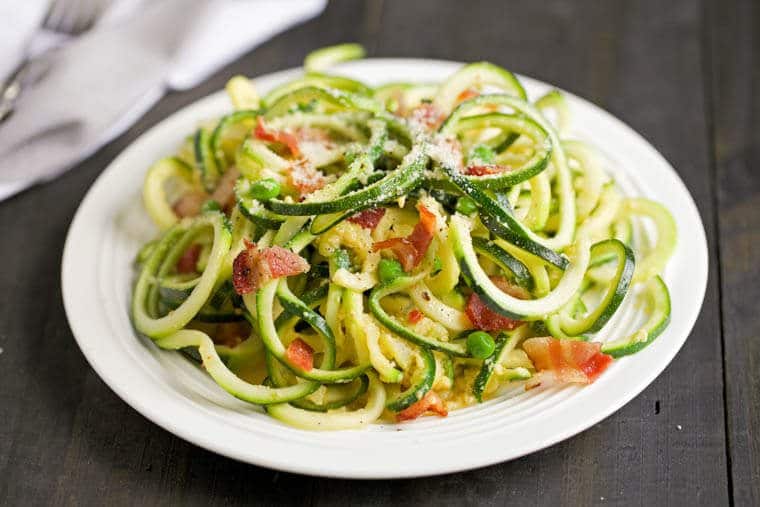 See, I never make pasta carbonara at home because I just know how many calories are in a creamy dreamy bowl. The combination of pasta + egg yolks + cheese + bacon (with the only green coming from a few starchy peas) is not exactly wedding-dress-appointment-is-coming friendly. But if I could cut down in one department (the carbs or the fat) I could absolutely justify the dish as a healthy weekday meal. So which would it be? Carb or fat? Spoiler alert- this is where the zucchini noodles come into play. The zucchini noodle pasta carbonara is the answer to all of your low carb, gluten free prayers.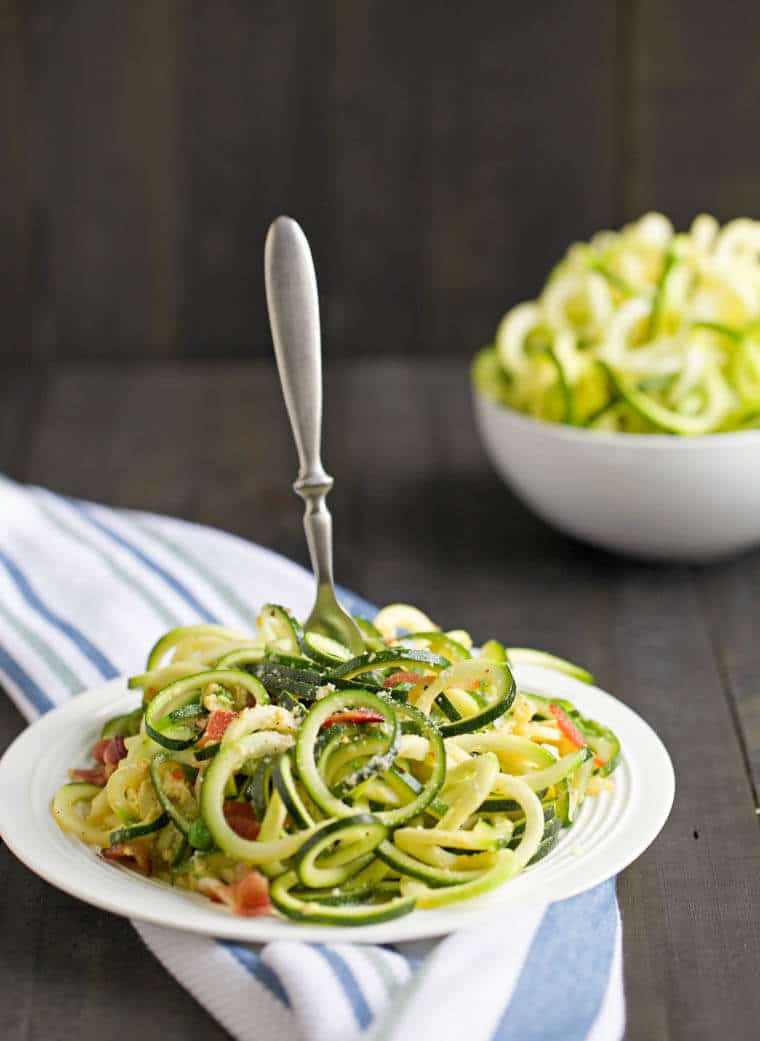 Zucchini Noodle Pasta Carbonara 101
We all know pasta carbonara just cannot be made "low fat" – if you omit the egg yolks and try to do a fat free milk sauce, it's just not real pasta carbonara. I would have to just serve pasta with no sauce and that's no fun. But how can a pasta dish be low carb? With my zucchini noodles of course! So with my new best friend in hand, I set out to make this dish low carb with zucchini noodles in place of the real deal. Bonus points for the fact that it was now also naturally gluten free without any gross tasting, expensive gluten free pastas. The result? Honestly, this zucchini noodle pasta carbonara is mind blowing.
The Key to Non-Soggy Zoodles (Zucchini Noodles)
Now, this is important. I experimented with this recipe and updated it after some people were having trouble keeping this zucchini noodle pasta carbonara from getting soggy. Ultimately, zucchini are mainly water so you need to find a way to get the excess water OUT. The solution? Basic osmosis. I start by lightly sprinkling the zoodles with a bit of salt to dry out the water. I press them into a few sheets of paper towel and let it sit for 10 minutes. Then, I rinse them off with cold water and lay them back on fresh sheets of paper towel to dry. Yes, I know it seems strange to remove water and then add water, but it DOES WORK. Once you get them super dry, add them to the pan and let them cook ever so quickly. I like mine a little al dente so a quick little dip in the hot pan is all it takes. And there you go, NON SOGGY Zucchini Noodle Pasta Carbonara.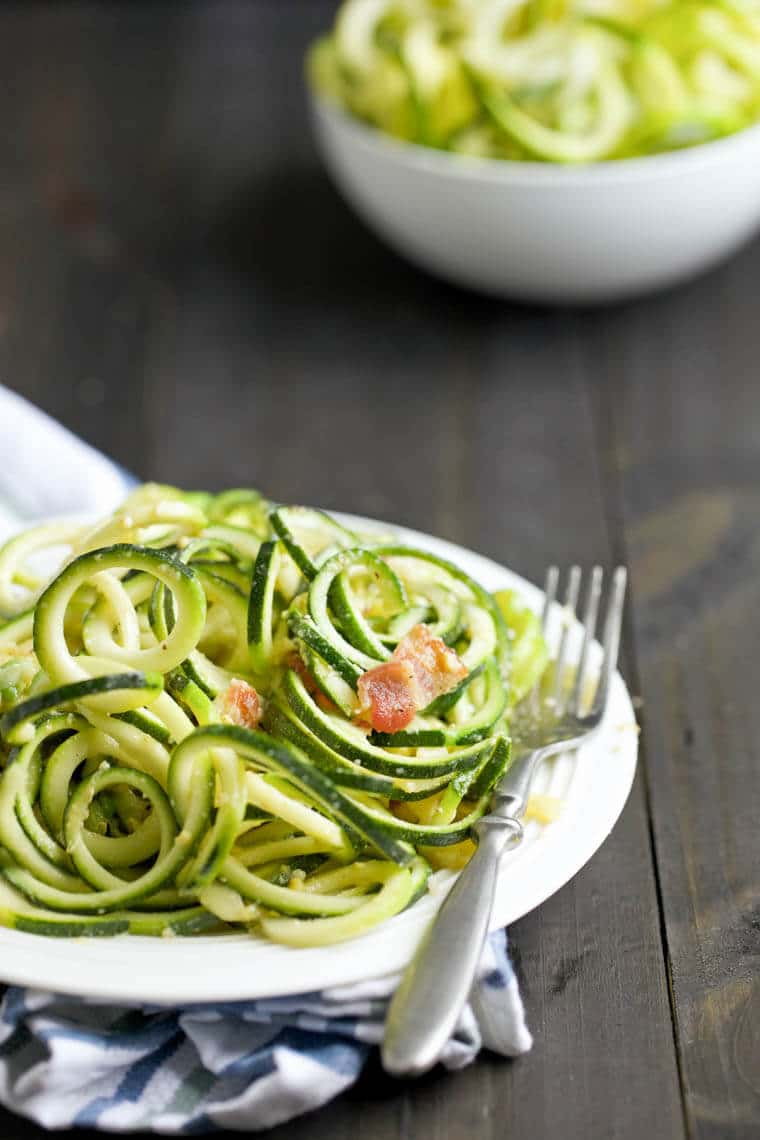 What are your favourite zucchini noodles recipes?
Have you tried this amazing zucchini noodle pasta carbonara?
Leave me a comment below and I'll give them a try!
If you liked this recipe, you may also like: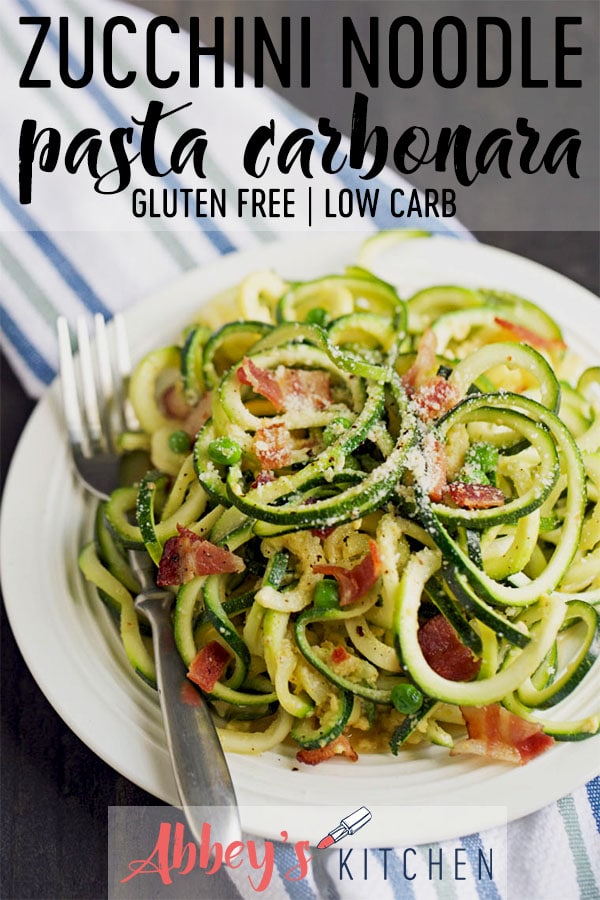 Zucchini Noodle Pasta Carbonara
This zucchini noodle pasta carbonara is gluten free, low carb and packed with flavour.
Ingredients
4

medium zucchinis

top and bottom sliced off

1/2

tsp

Kosher salt

2

slices

pancetta

diced

3

tsp

olive oil

divided

1

shallot

minced

1

clove

garlic

minced

1

cup

frozen peas

2

eggs

beaten

1

egg yolk

beaten

1/3

cup

finely grated parmigiano cheese

plus more for garnish if desired

Cracked Black Pepper

to taste

Salt

to taste
Instructions
Line a baking sheet with a few layers of paper towel. Lay the zucchini noodles down and sprinkle with salt. Top with another few layers of paper towel, a cutting board and some heavy items like books or pots. Let sit for 10 minutes.

After 10 minutes, transfer the noodles to a colander and rinse thoroughly with cold water to remove the salt.

Refresh the paper towels on the baking sheet with a few new layers. Gently squeeze and shake the zoodles and lay them down on the paper towel. Top with a few more layers of paper towel, the cutting board and the heavy items. Let dry for 10 minutes.

Heat a large cast iron skillet over medium heat and add one teaspoon of oil. Add in the pancetta, cook until crisp, then remove the bacon to a small dish and return the pan to the stove.

Add in the remaining olive oil and return the pan to medium heat. Add in the shallot and saute for 2 minutes. Then add in the garlic and stir for 1 minute. Next, add the peas and stir until thawed through, about 2 minutes.

Finally, add in the zucchini, increase the heat to medium high, and saute for 2-3 minutes or until fully warmed through.

Turn off the heat.

Beat together the eggs, egg yolk and cheese then add them to the pasta and toss gently until coated. This should take literally 2 minutes.

Add back the bacon and season with freshly cracked black pepper.

Divide between two bowls, add additional parmesan if desired, and season with salt to taste.
Nutrition Facts
Zucchini Noodle Pasta Carbonara
Amount Per Serving
Calories 362.94
Calories from Fat 172
% Daily Value*
Fat 19.14g29%
Cholesterol 281.91mg94%
Sodium 1159.64mg50%
Potassium 1330.21mg38%
Carbohydrates 26.9g9%
Protein 23.84g48%
Vitamin A 1865.22IU37%
Vitamin C 100.64mg122%
Calcium 314.43mg31%
Iron 3.82mg21%
* Percent Daily Values are based on a 2000 calorie diet.
Updated on June 24th, 2020