These healthy Chicken Parmesan Sliders are created using Kellogg's® All-Bran and update the Italian classic by crusting low fat high protein chicken in a cheesy crust that's a high source of fibre and sandwiching it all in a saucy slider bun.
Chicken parmesan wasn't a dish I ate growing up. Believe it or not, there wasn't much cheese in the Sharp home because my mom had a legit fear of the stuff. Okay, so maybe it wasn't "legitimate" at all but rather super strange and irrational but in any case, she didn't cook with cheese so we never got to eat it.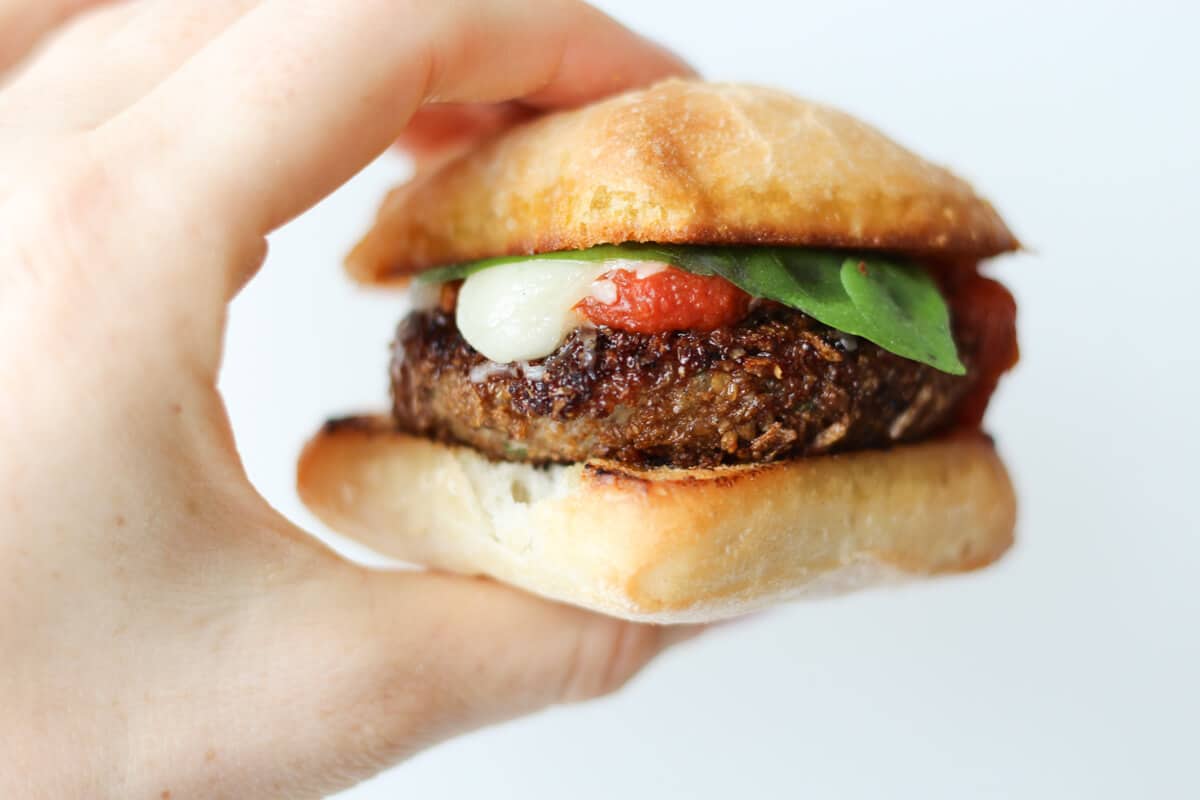 I didn't get my first plate of chicken parmesan until I was in high school and went out to eat with my friends at East Side Marios. Now, I know what some of you may be thinking (especially my Italian readers). That's definitely not real chicken parmesan. And you're probably right. But hey, a foodie's got to start somewhere.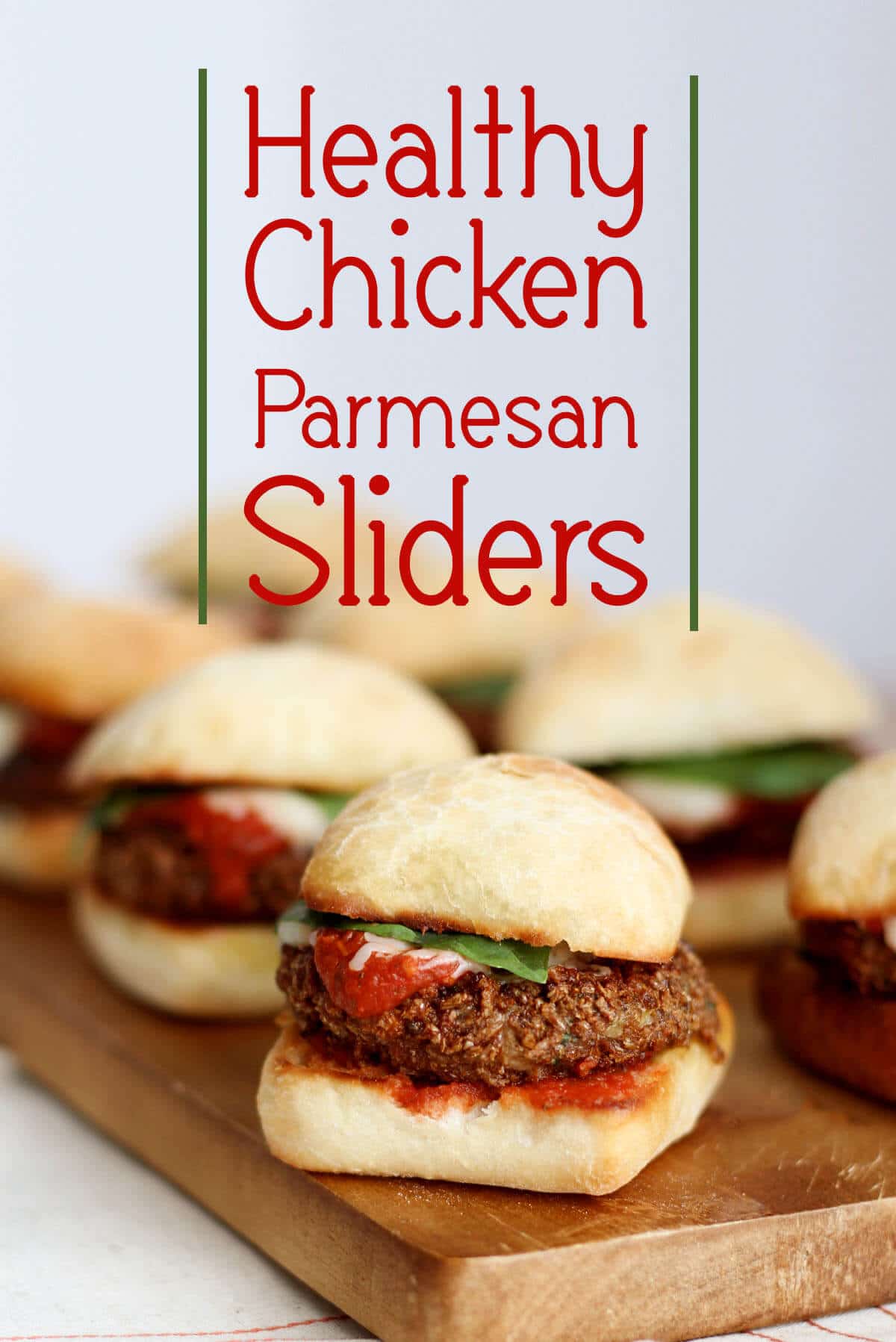 Today, chicken parmesan is one of my all time comfort foods, something I indulge in once in a blue moon when I crave carbs on fat on carbs. Because let's be honest- most chicken parmesan you get in restaurants is not healthy chicken parmesan. That's where I come in.
How to Make Healthy Chicken Parmesan Sliders
In this recipe for healthy chicken parmesan sliders, I wanted to turn the classic hearty Italian meal into a fun appetizer or party food. That meant goodbye, big carby bowl of noodles and hello, cute petite slider buns. I wanted to put few solid hacks into play for filling my slider buns with healthy chicken parmesan.
First, I added ground up mushrooms to my patties as a way to boost fibre and cut down on calories. I do this often with burgers and meatballs, too.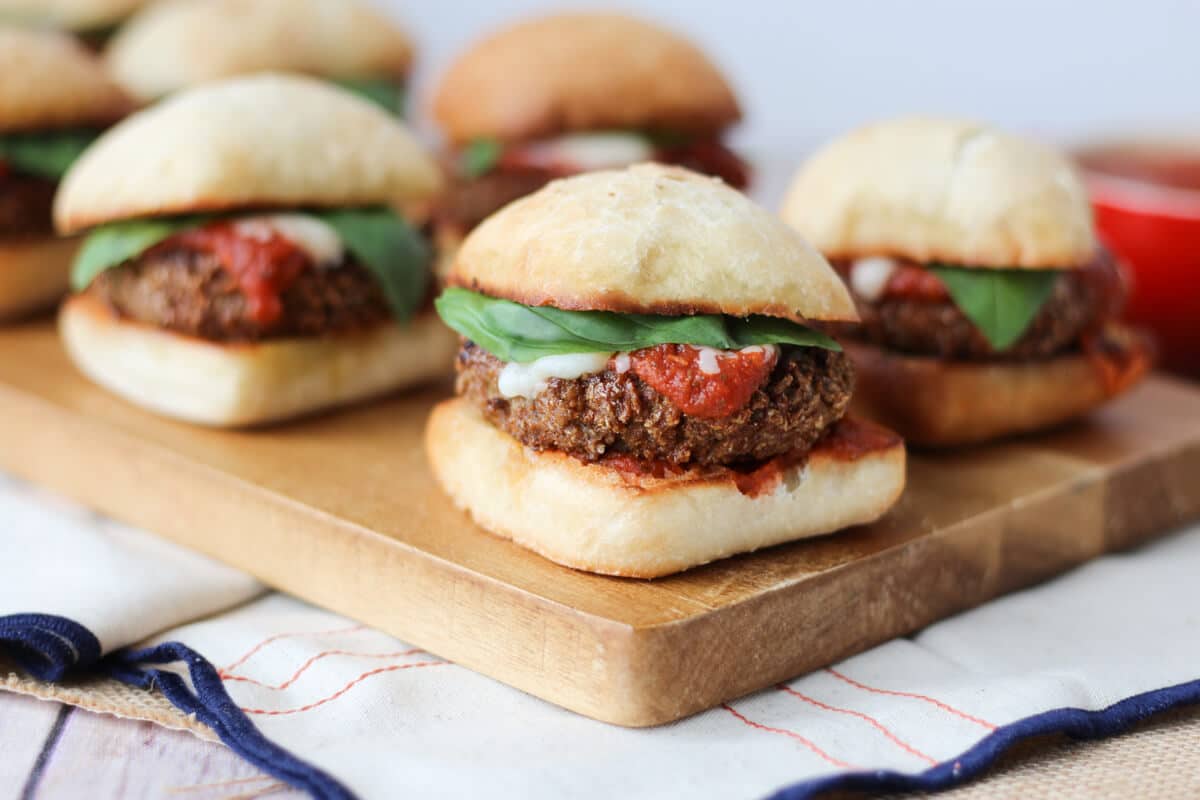 Second, I skipped the refined breadcrumb crust for a version that's a high source of fibre with Kellogg's All-Bran cereal. Just 1/2 cup of Kellogg's® All-Bran Original® has 48% of your recommended daily fibre, which Canadians are notoriously lacking in their diet. Love this sneaky hack.
Third, I pan fried the healthy chicken parmesan patties lightly in a non stick skillet rather than deep-frying or shallow-frying them in a ton of oil.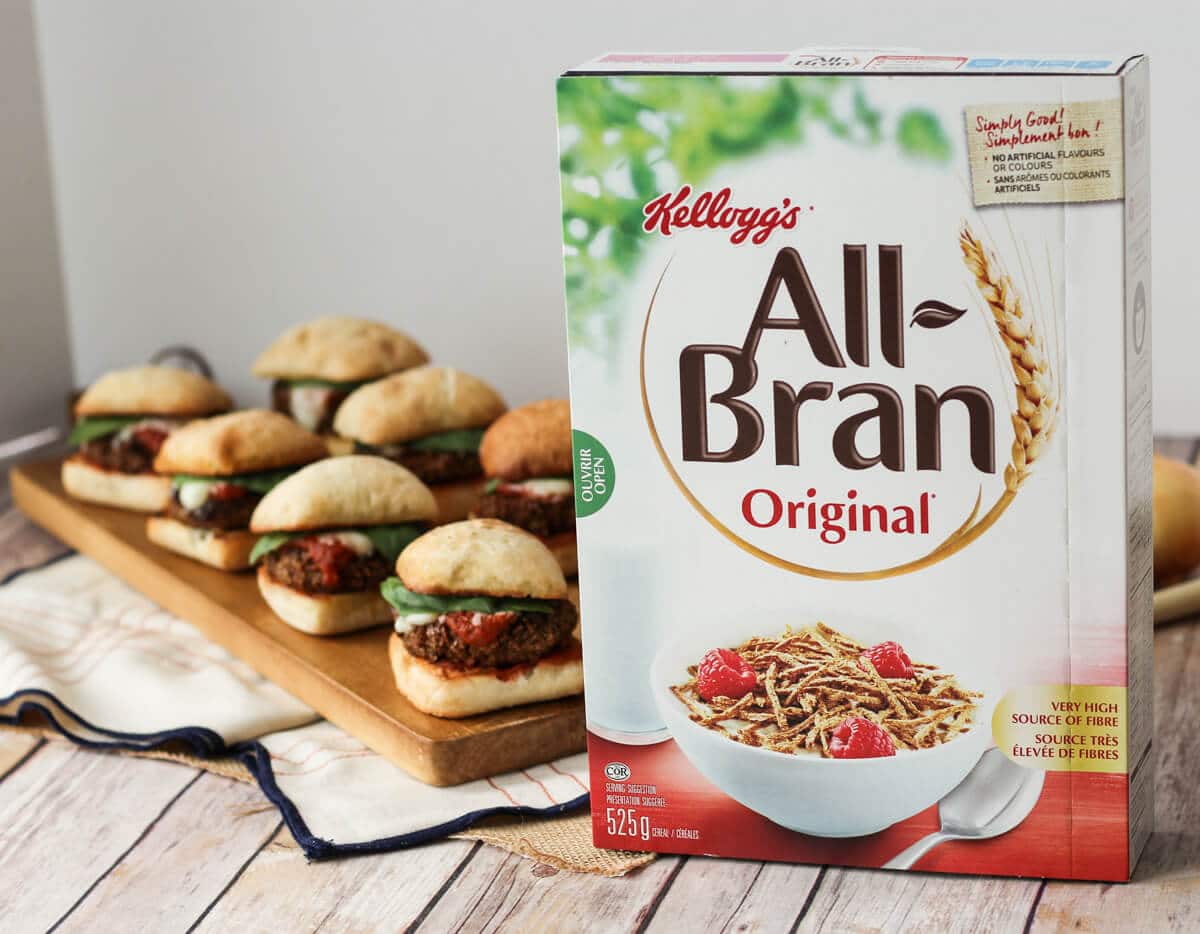 And fourth, I cut back on calories and carbs by skipping the bowl of pasta and then hollowing out my slider buns, leaving me a bit more room for that healthy chicken parmesan patty.
The result is a perfect healthy snack for entertaining or an easy weeknight meal that the whole family will love.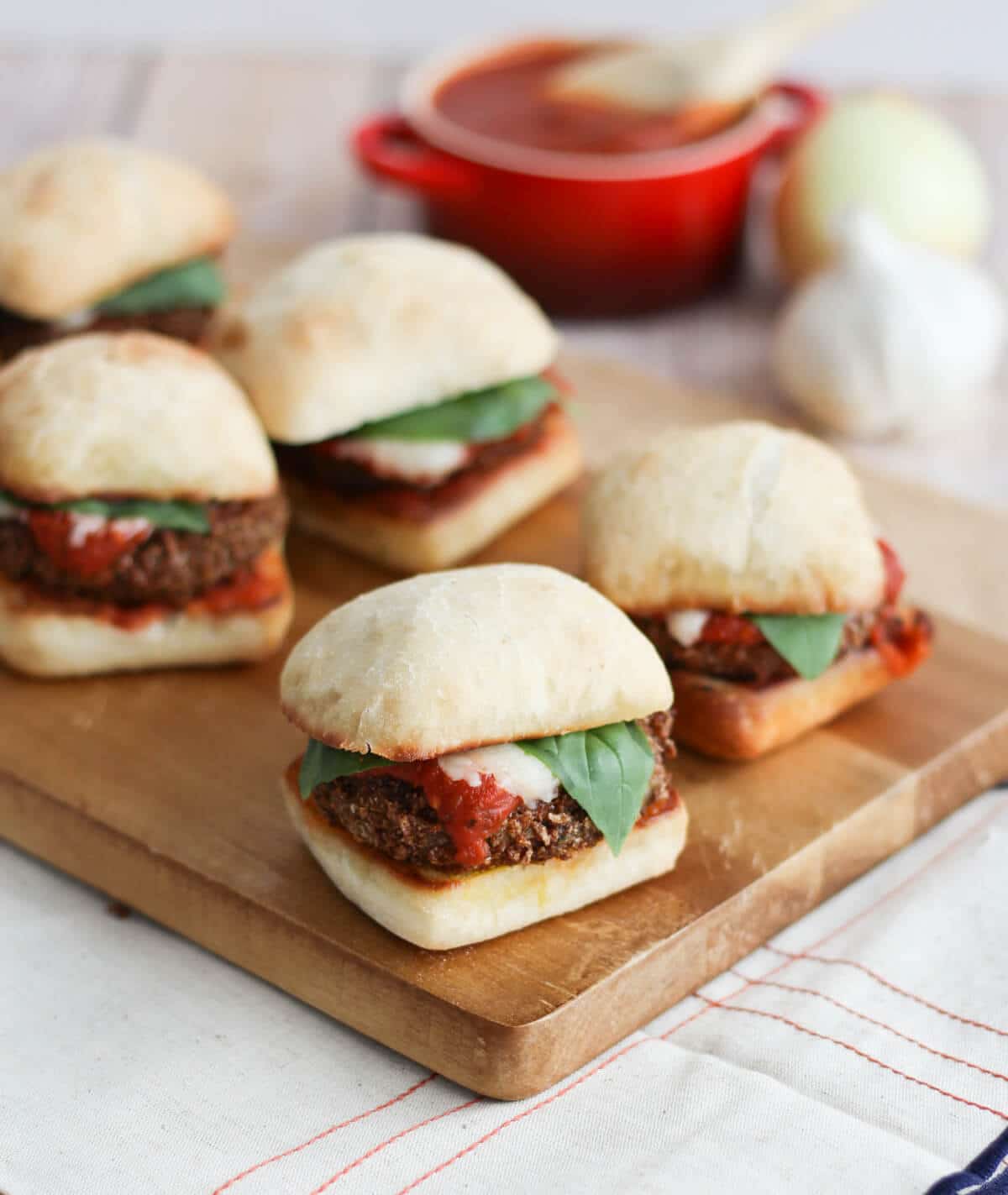 Have you tried making healthy chicken parmesan? How about skipping the bowl of pasta to make chicken parmesan sliders? I would love to hear what your family's favourite appetizers and finger foods are!
Nutrition Info Per Serving (2 sliders): Calories 480, Protein 39 g, Carbohydrate 51 g, Fat 16 g, Dietary Fibre 10 g, Sugars 8 g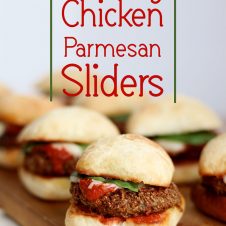 Healthy Chicken Parmesan Sliders with High Fibre Crust
This updated classic with a fibre twist, features cheesy Kellogg's® All-Bran® cereal-crusted chicken between saucy slider buns with a fibre twist!
Print
Pin
Rate
Servings:
4
Servings (2 Sliders Each)
Ingredients
Chicken Patty
8

oz

cremini mushrooms

stems removed

1

teaspoons

olive oil

1/4

small chopped onion

1

tsp

dried oregano

2

cloves

garlic

minced

3/4

lb

ground chicken breast

2

tbsp

fresh basil

finely minced

1/4

cup

finely grated Parmesan cheese

1/4

cup

sundried tomatoes

rehydrated in boiled water and finely minced

1/2

tsp

worchestershire sauce

1/8

teaspoon

kosher salt

1/4

teaspoon

black pepper

1/2

teaspoon

crushed red pepper
Coating
1

cup

Kellogg's® All-Bran Original® cereal

2

tbsp

parmesan cheese

pinch

salt and pepper

pinch of each
Sliders
1

tsp

olive oil

1/2

cup

lower-sodium marinara sauce

8

slider buns

halved and toasted if desired

3/4

cup

part-skim mozzarella cheese

shredded

leaves

Fresh basil
Instructions
Add the mushrooms to a food processor and pulse until they reach a ground meat-like consistency. Set aside.

Heat a medium non-stick skillet over medium heat. Add the oil to pan along with the onion, oregano, and garlic. Sauté for about 2-3 minutes or until the onion softens. Transfer to a bowl and set aside to let cool slightly.

Once cool, add in the ground mushrooms, ground chicken, basil, parmesan , sundried tomatoes, worchestershire sauce, salt, pepper and crushed red pepper. Shape into 8 (1/2-inch-thick) patties. Refrigerate for 5 minutes to firm up.

While chilling, add the Kellogg's® All-Bran Original® cereal and parmesan cheese to a small food processor and pulse until it breaks up into a bread crumb like consistency. Season with a pinch each of salt and pepper. Transfer the All-Bran mixture to a shallow pie plate.

Wipe down the pan and add in another teaspoon of oil over medium high heat. Carefully toss the chicken patties in the All-Bran crumbs until they are coated on all sides. Add them to the pan and cook until golden brown on both sides and reach an internal temperature of about 165 F, about 5-6 minutes per side.

Preheat broiler and place the bottom halves of the slider buns on a baking sheet. Top with a spoonful of marinara sauce, then the chicken patty, then another spoonful of sauce, and a sprinkle of mozzarella cheese. Broil until the cheese melts.

Garnish each with a basil leaf and the top of the slider bun.
Nutrition
Disclaimer: This recipe was developed in paid partnership with Kellogg's® All-Bran® , however, as always, all opinions are genuine.
LEGAL: In keeping with good allergy practices, we remind you to be aware of allergens and to check labels on any packaged goods used. This recipe has been tested using Kellogg's® products. Results with other products may vary.
Updated on October 23rd, 2020