For all my American friends, this red, white and blue Vegan Watermelon Cake will be the healthiest dessert at your 4th of July party. It's low calorie, low fat, dairy free and gluten free!

There are a lot of things I truly love about summer (you know, like ice cream, burgers, butter-soaked corn, beer), but the healthiest thing by far is watermelon. Watermelon is low in calories, and packed with antioxidants like lycopene which research has linked to a reduced risk of certain cancers.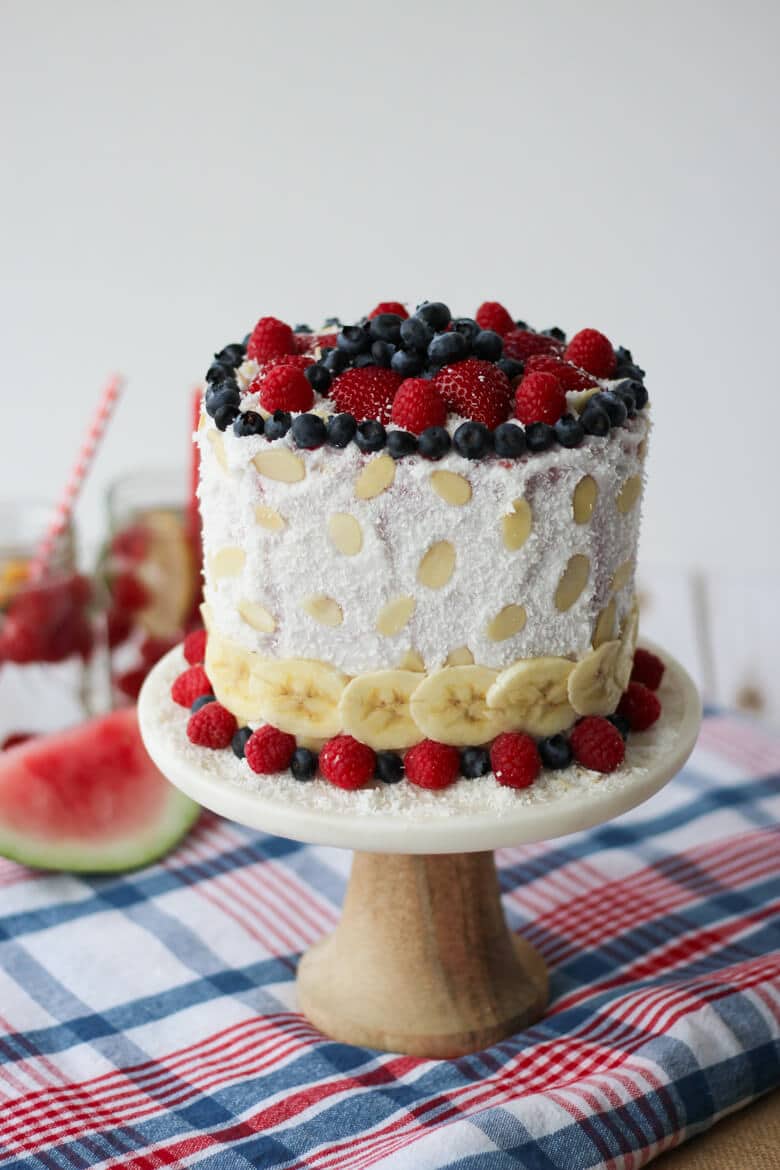 While watermelon is fantastic just sliced up and slurped up, it's irresistible in this red, white and blue vegan watermelon cake for the 4th of July. We all know that most 4th of July BBQs are all-you-can-eat food and booze fests. I get that it's part of the fun, but it's important to pace yourself. We've still got another few months of patio drinking, ribs on the grill and ice cream cones to get through. So if you're heading to an Independence Day BBQ this Summer and you want to impress your friends AND enjoy something super light then you've GOT to make this Red, White and Blue Vegan Watermelon Cake. It's a perfect dessert to please a crowd because it's low calorie, dairy-free, vegan, gluten-free and OMG so good.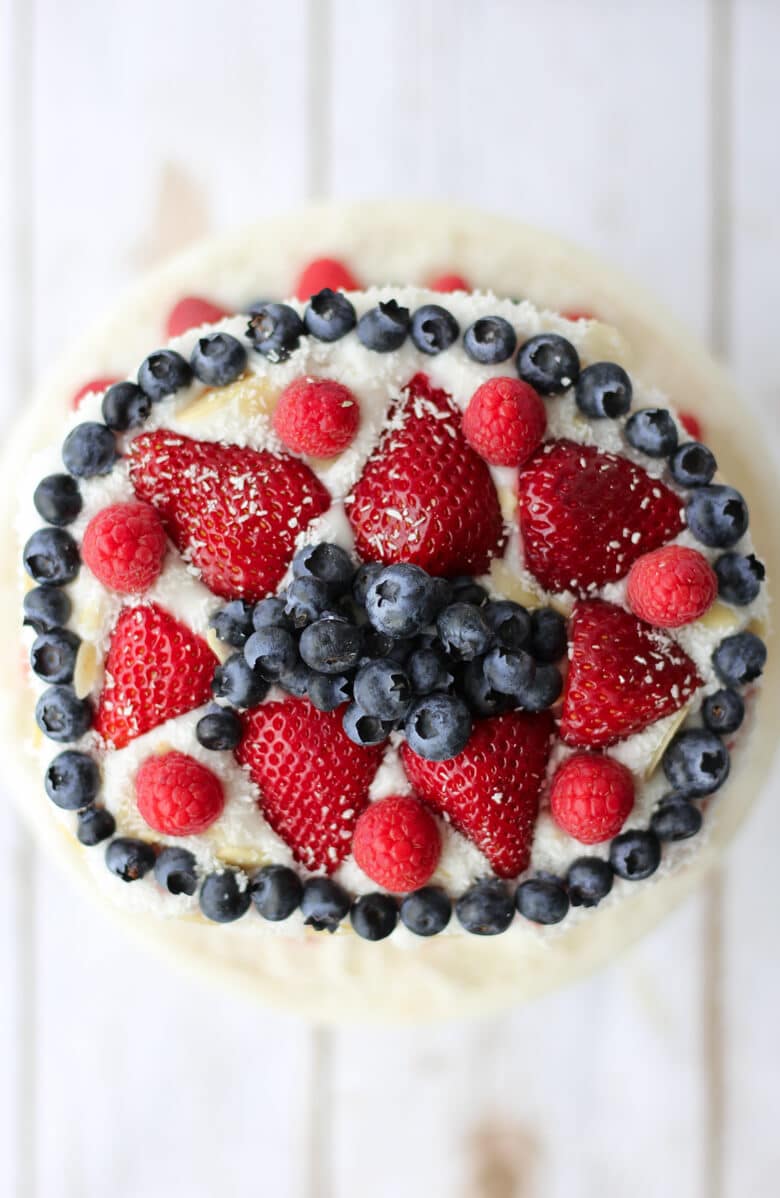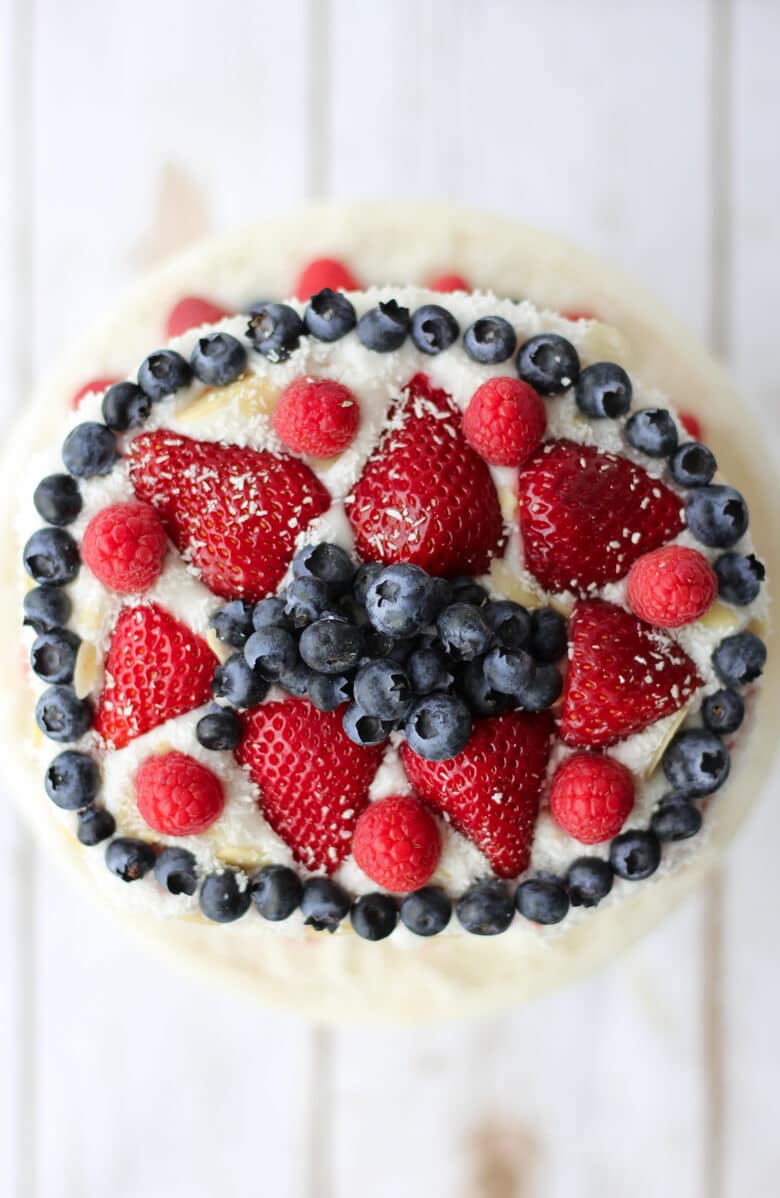 How to Make Vegan Watermelon Cake
I know this seems a bit miraculous that I'm suggesting you make CAKE out of low-calorie water-rich WATERMELON. But bare with me, mmkay? First, you've got to cut your watermelon into the shape of cake. This is probably the hardest part, but even if you don't end up with a perfect circle- who gives a crap? It's your cake. You do you. The cake will still taste pretty bad ass.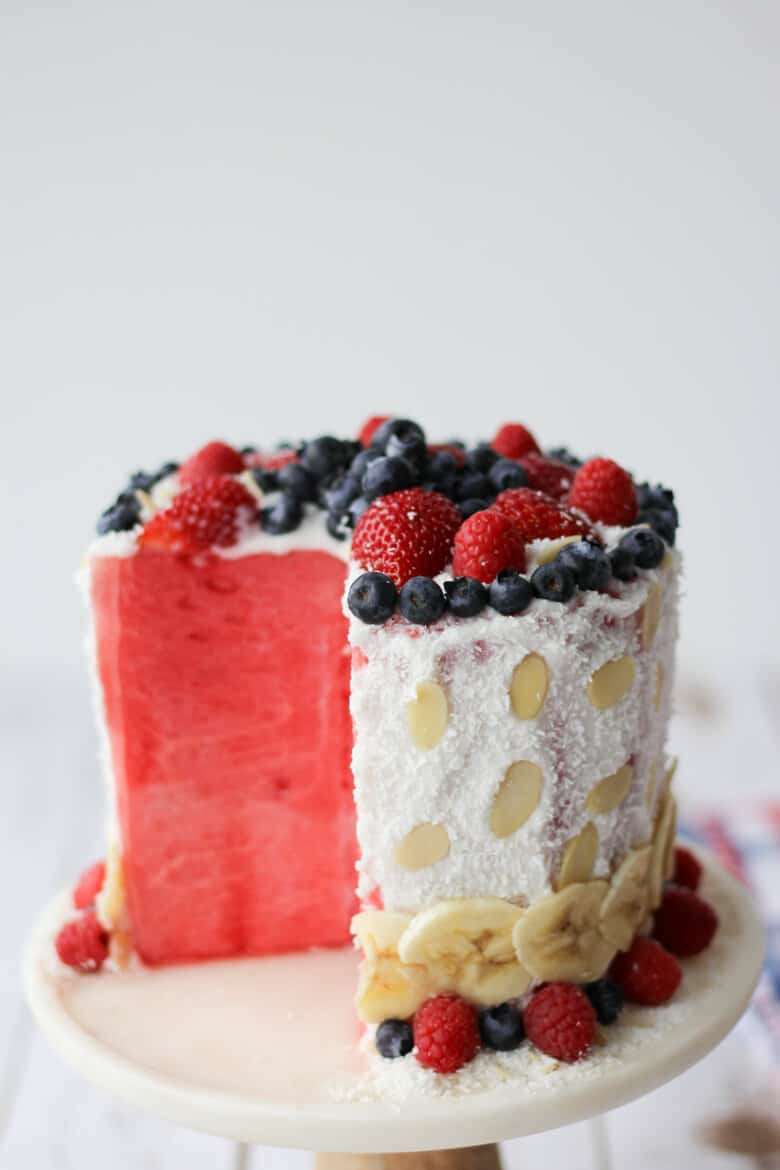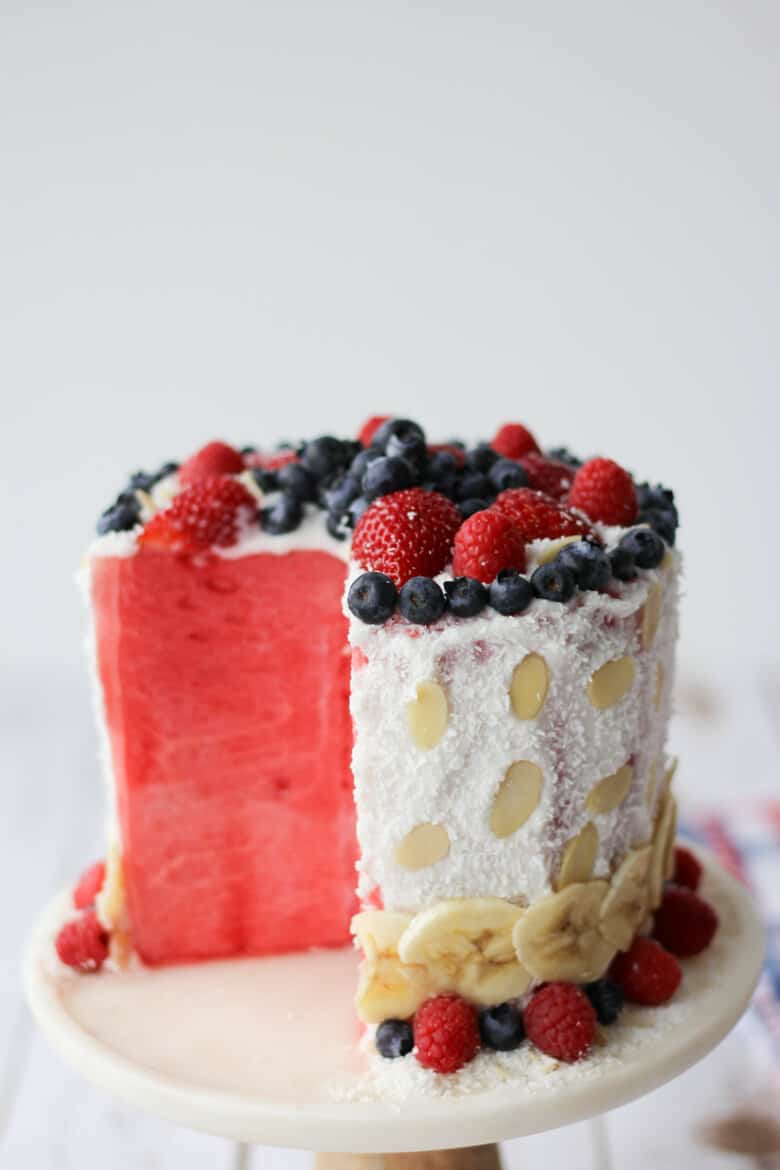 Next, you "ice" your vegan watermelon cake. I experimented quite a bit with healthy "frostings" and because I wanted to make this vegan I went with a dairy-free coconut yogurt and thickened it into a paste using unsweetened shredded coconut.
Then came the fun part- how to make it red, white and blue! I used a combination of blueberries, raspberries, and strawberries for my red and blue, and the white was a combination of bananas, almonds and more coconut. Sprinkling the coconut onto the sides can be difficult, so I suggest you place a newspaper down and gently toss the coconut onto the sides. I also found that you can blow it on and it works A-MAZ-ING, but I maybe wouldn't tell anyone you did that LOL Again, you're cake.
Keep your eyes peeled because I will be joining Davida from The Healthy Maven to show you how I made this vegan watermelon cake in action, along with her healthy 4th of July treat!
Have you tried making a vegan watermelon cake? What dessert are you planning to serve for your 4th of July BBQ?
Leave me a comment below with some of your favourite ideas!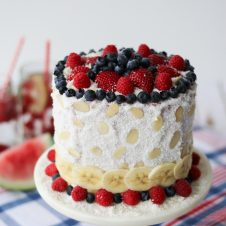 Red, White and Blue Vegan Watermelon Cake | Healthy 4th of July Dessert
For all my American friends, this red, white and blue Vegan Watermelon Cake will be the healthiest dessert at your 4th of July party.
Print
Pin
Rate
Ingredients
Decorations
1

small banana

very thinly sliced

6

strawberries

halved

1/3

cup

blueberries

1/2

cup

raspberries

1/4

cup

unsweetened finely shredded coconut

2

tbsp

thinly sliced almonds
Instructions
Cut off the ends of the watermelon and sit it up straight. Cut the watermelon edges off to yield a straight up and down side all around. Then go around the sides you just removed and round off the edges so it looks a bit more circular.

Pat the watermelon a bit dry with paper towel or a dish towel. Set onto serving platter on top of newspaper.

In a small bowl, mix together the equal parts yogurt and coconut. Add a very thin layer on the top and sides of the watermelon. It may seem like more is better, but it will actually make it harder to decorate.

Decorate the top of the cake with the berries. I added a ring of blueberries around the edge, strawberries on top, raspberries peeking between the strawberries and lots of blueberries in the middle.

Lightly toss coconut in between any empty places on the top and all along the sides of the "cake".

Add a row of alternating blueberries and raspberries along the bottom, then an overlapping ring of thin banana slices. Finish with thinly sliced almonds scattered throughout the sides of the cake.

Refrigerate until ready to serve and enjoy crisp and cold.
Nutrition
Calories:
273
kcal
|
Carbohydrates:
52
g
|
Protein:
5
g
|
Fat:
8
g
|
Saturated Fat:
5
g
|
Sodium:
11
mg
|
Potassium:
778
mg
|
Fiber:
5
g
|
Sugar:
40
g
|
Vitamin A:
3210
IU
|
Vitamin C:
56.6
mg
|
Calcium:
70
mg
|
Iron:
1.9
mg
Updated on July 1st, 2020