We're kind of going crazy over protein pancakes over here. These stacked & stuffed Black Forest Cake Chocolate Protein Pancakes are gluten free, low in fat and packed with high quality fermented dairy protein. Suddenly, I'm actually looking forward to my workout!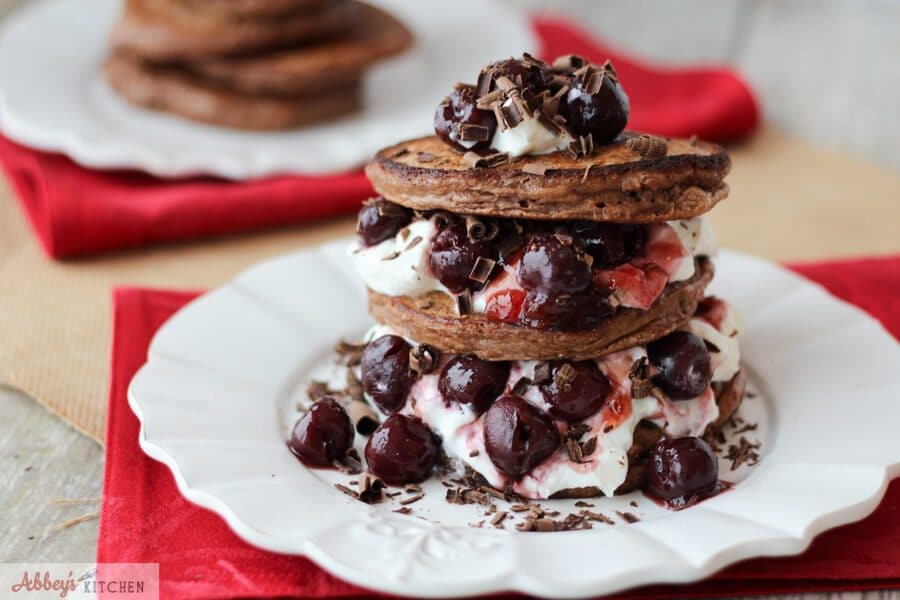 If you've been following along on Abbey's Kitchen, you've surely seen my love affair with all things protein pancakes. First, I wooed you with my Strawberry Cheesecake Protein Pancakes layered with a cheesecake yogurt cream and a delicious strawberry sauce. Then, came my crazy delicious Peanut Butter Banana Protein Pancakes (holy moly- they are good). Both of these would make gorgeous Mother's Day brunch ideas for your favourite lady.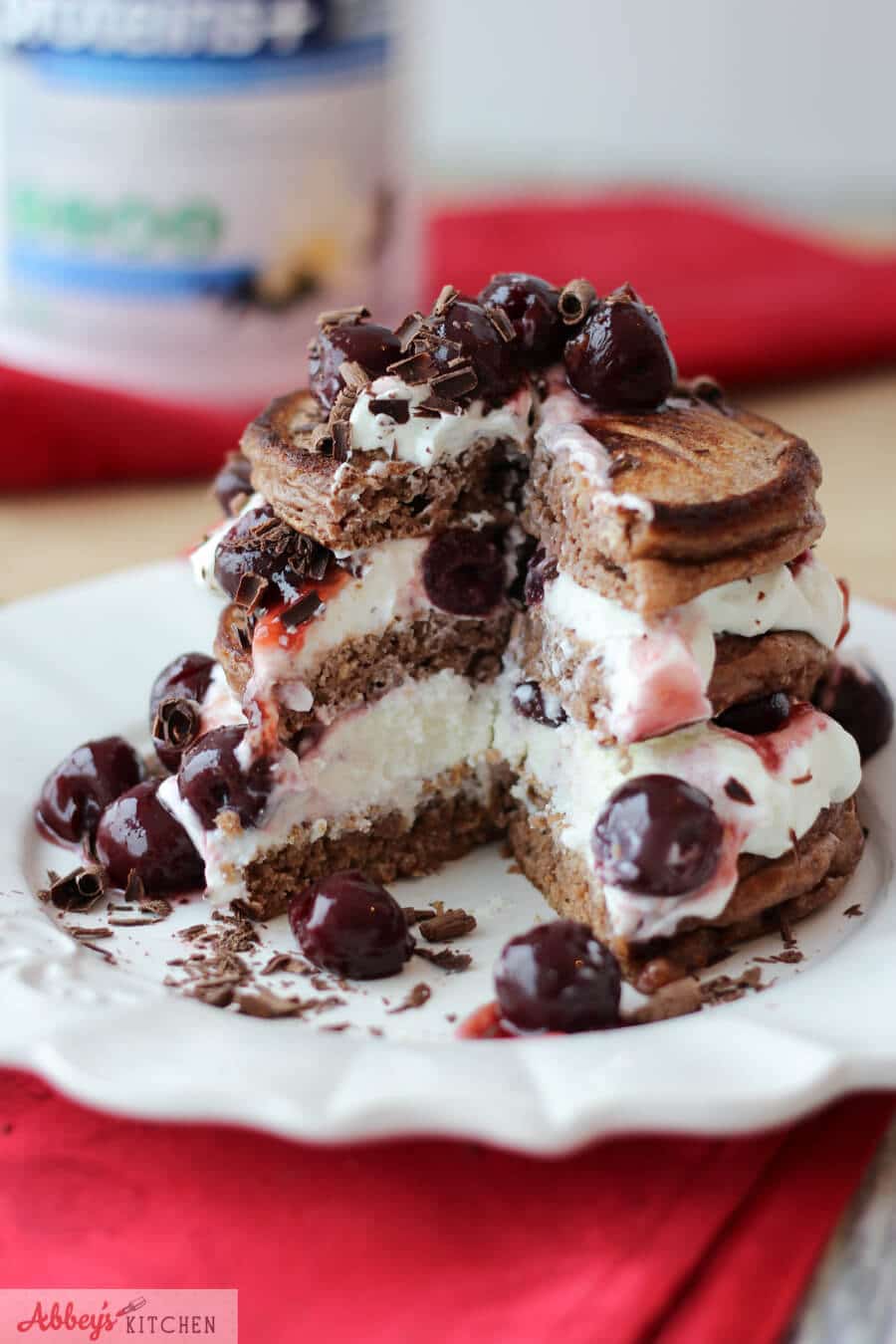 But then I thought I would hit you with one more. One that was ultimately inspired by my own mom- Black Forest Cake Chocolate Protein Pancakes. Growing up, my mom wasn't a bit chocolate fan, but for some reason Black Forest Cake was always a big favourite. I knew that if I put a plate of these amazing chocolate protein pancakes in front of her and then told her I was giving her a dietitian-approved Black Forest cake for breakfast, she would confess that I'm definitely her favourite daughter. I already know that I am, though.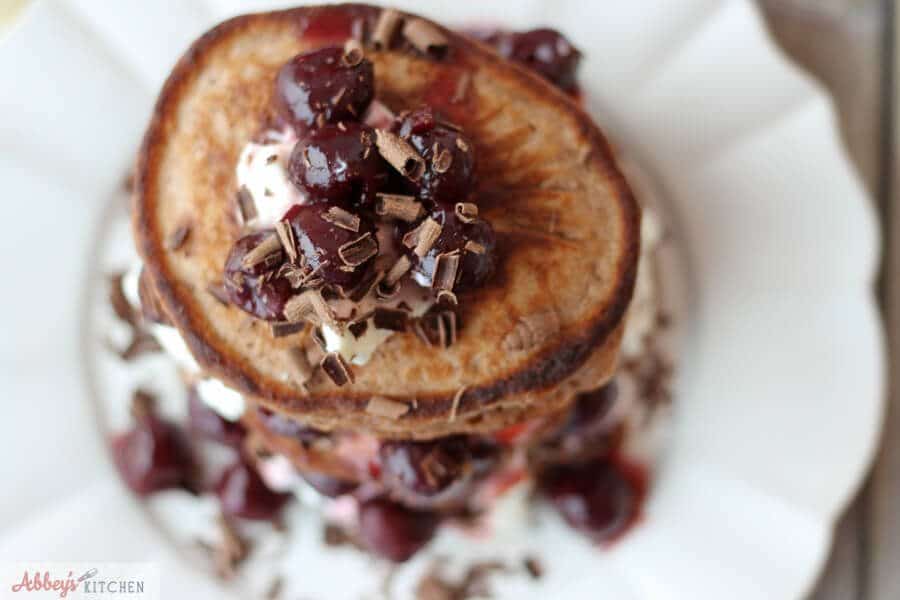 They say like mother, like daughter, so I'm also a huge black forest fan, and these chocolate protein pancakes were pretty darn exciting for me too.
Black Forest Cake meet Chocolate Protein Pancakes
Like with my other two protein pancake creations, I knew the key was to start with the best quality protein. I'm really crushing on Genuine Health products right now, and I am super pumped about the launch of their new fermented Greek Yogurt proteins+ protein powder. I'm a big time gym bunny, and spend a lot of time working out, so I need to refuel with protein powder at least once each day. But I know I'm not alone when I say that whey protein often makes me feel… well… not so hot. Bloated, crampy, and yes, super gassy. It's not a good time for anyone nearby. Thankfully, Genuine Health's new formula features fermented dairy protein which helps aid in good digestion and promotes gut health. And while there aren't any live active bacteria in Genuine Health's fermented Greek Yogurt proteins+ like you might find in your Greek yogurt (that is also in this recipe!), the bacterial cultures they use in the fermentation process helps cut back on bloating, gas and unpleasant cramps. Finally, you can have your protein without the bloat!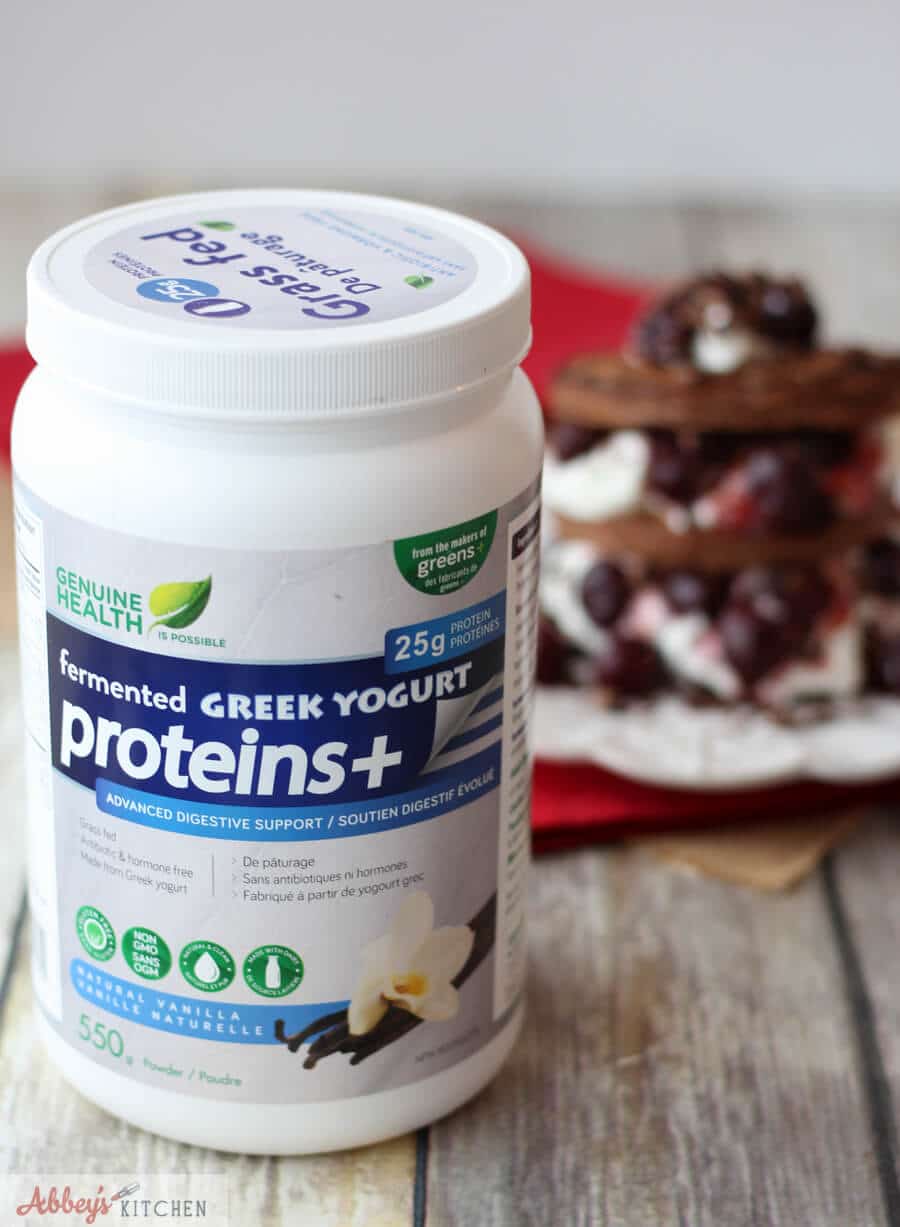 And for those of you who are concerned about what's actually in your protein powder, Genuine Health's formula is totally free of gluten, wheat, artificial colours, or sweeteners, is non-GMO, made from grass-fed dairy, and packs a whopping 25 grams of protein per 130 calories. YAY! That's the PERFECT amount of protein for optimal muscle growth post-workout, and the fermentation process only makes it easier to absorb. I also love that it has 3 x as much calcium and 10 x as much vitamin D whey protein to help promote strong healthy bones.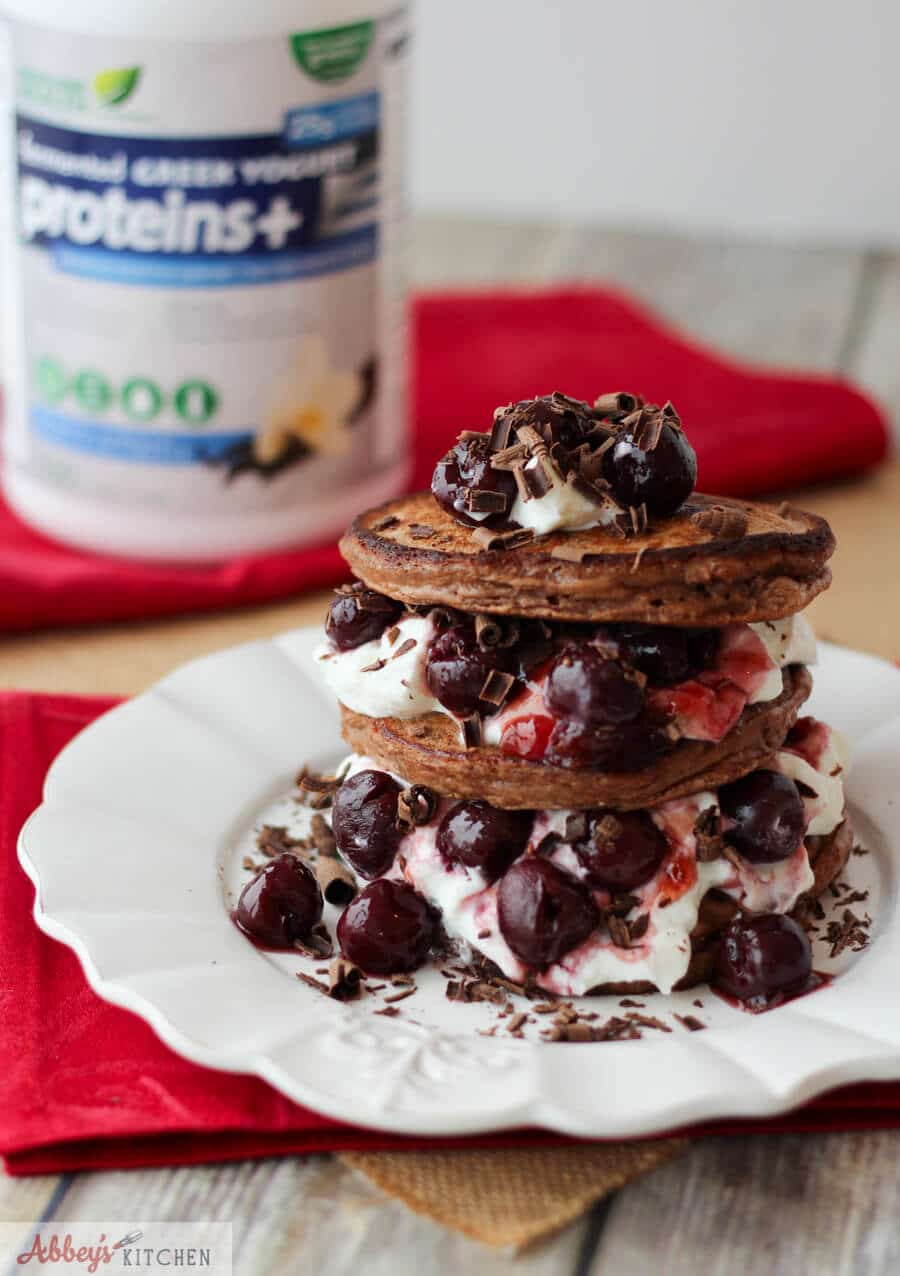 These gluten free Black Forest Cake Chocolate Protein Pancakes start with my classic protein pancake base but then I add in a tablespoon of cocoa powder to yield a decadent dark chocolate cake. Then, I whip up an easy dark cherry sauce with frozen (or fresh) cherries, and sweeten a little more Greek Yogurt as my cream filling. Of course, that's never enough chocolate so I finish these chocolate protein pancakes off with some antioxidant-rich shaved dark chocolate. Ah-maz-ing.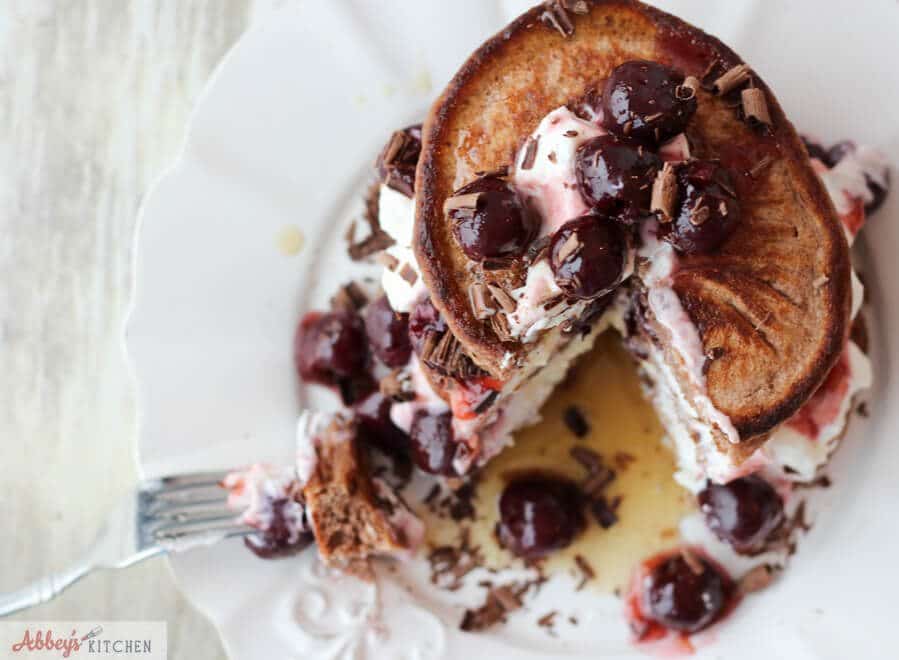 I actually like to make a big batch of these, then store them in freezer bags to pull out throughout the week. I swear, I cannot wait to get out of bed when I knew these are waiting for me for breakfast.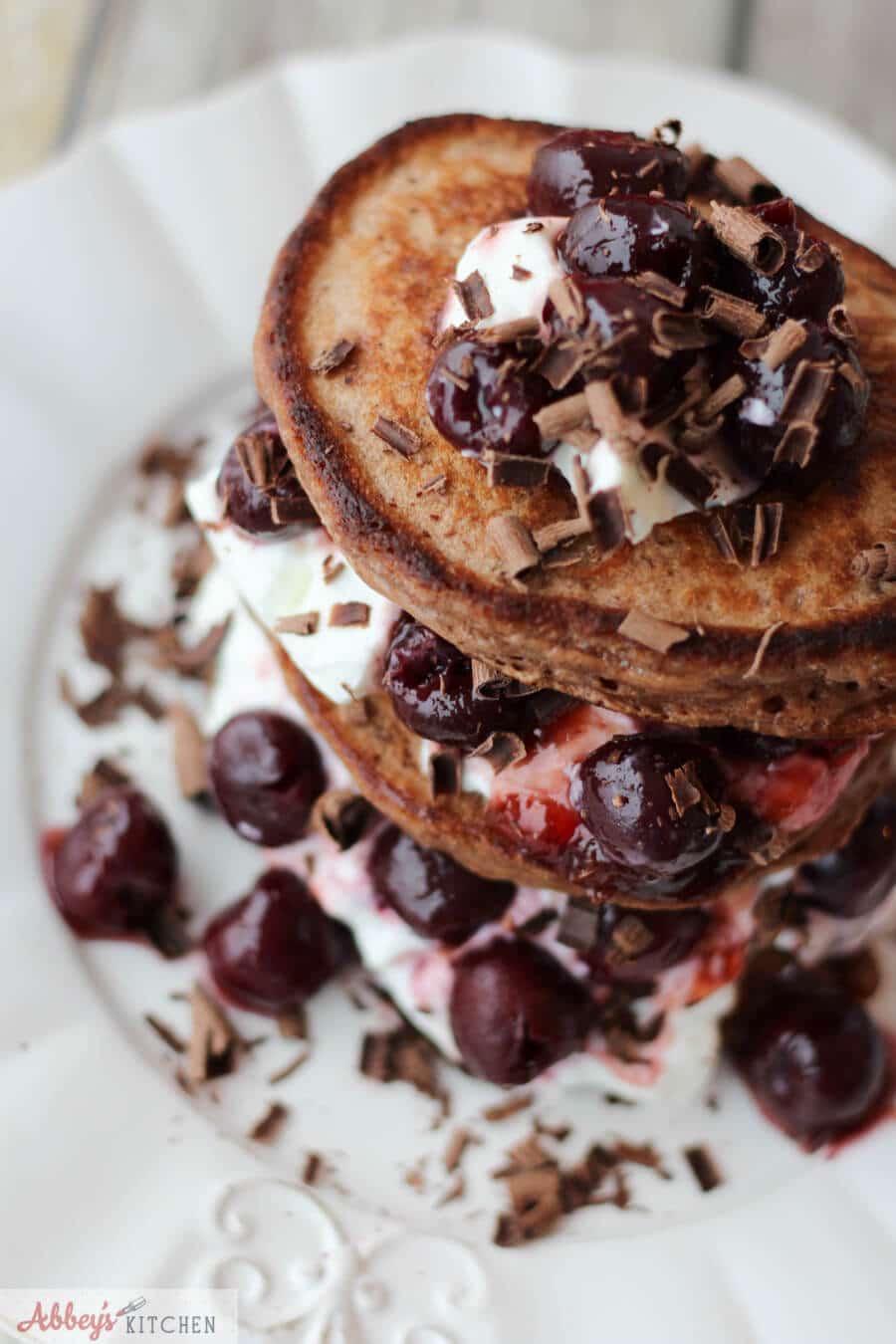 Mom is going to totally LOVE me when I present her with a platter of these Black Forest Cake Chocolate Protein Pancakes. Let's just say they are a super upgrade from the pancakes I likely made her when I was 4 years old. Also, now I can make the mess in my own kitchen and not leave her to clean it up. Love you mom.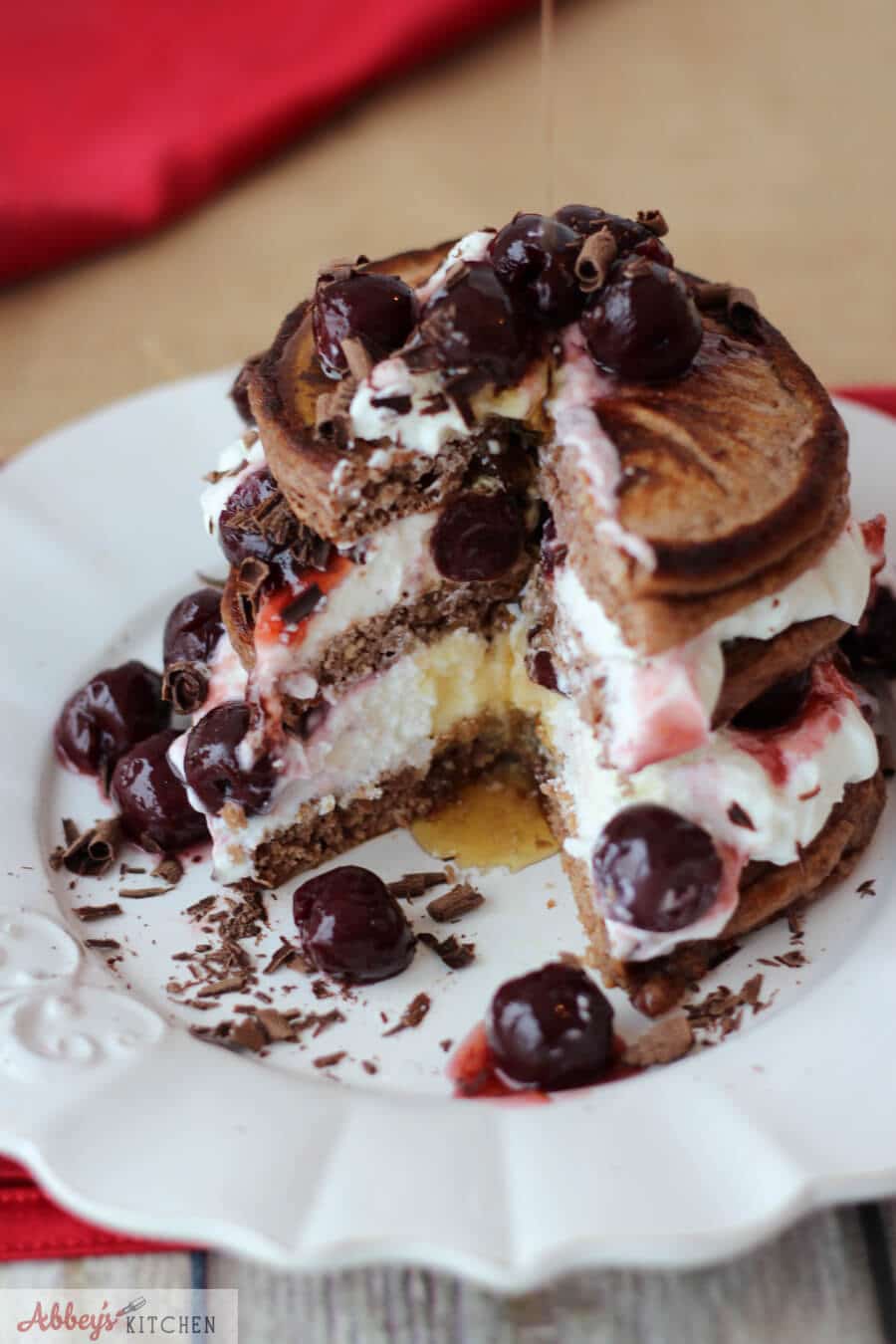 If you're more of a visual person, be sure to check out our YouTube video here for my Black Forest Chocolate Protein Pancakes PLUS my Strawberry Cheesecake Protein Pancakes, and my Peanut Butter Chocolate Banana Protein Pancakes- and don't forget to subscribe, like and comment on our video!
Have you tried these gluten free Black Forest Cake Chocolate Protein Pancakes? What are your favourite protein pancakes combinations? I'm always dreaming up new ideas so let me know what protein pancake combination YOU are dreaming of and I'll put those wheels into motion!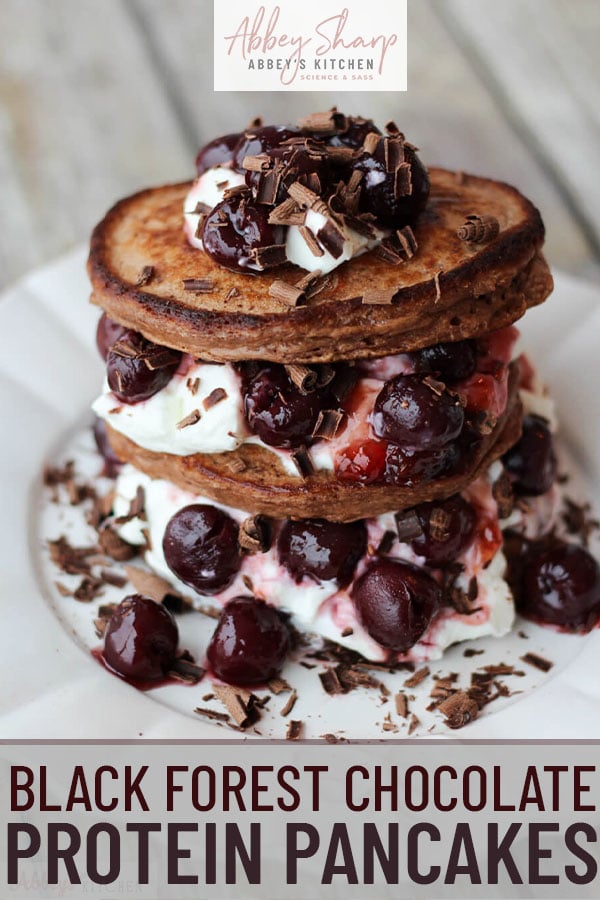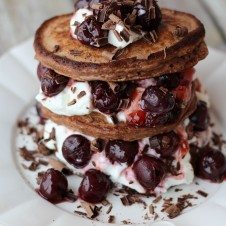 Black Forest Chocolate Protein Pancakes | Gluten Free & Low Fat
These crazy yummy stacked black forest chocolate protein pancakes are totally gluten free, low in fat and packed with high quality fermented whey protein.
Print
Pin
Rate
Ingredients
Filling:
2

cups

plain 0% Greek Yogurt

1

tbsp

honey

or to taste
Sauce:
2

cups

frozen dark cherries

1/4

cup

water

Honey

if desired, to taste

Dark chocolate

shaved
Instructions
Add the oats to a food processor or blender and pulse until they turn into a powder. Mix the cinnamon and protein powder together in the food processor.

In another bowl, mix together the remaining pancake ingredients. Gently mix the dry ingredients into the wet and allow the batter to rest for 10 minutes.

Heat a large nonstick skillet over medium heat and grease with nonstick cooking spray, oil or butter. Pour the 1/4 cup circles of batter into the pan. Once you see bubbles form around the edges, flip and continue to cook until golden brown on both sides. Keep pancakes warm on a plate tented with foil.

Meanwhile, mix together the yogurt and honey. Set aside.

In a small saucepan, heat the frozen cherries with the water and any additional honey, if desired. Cook until bubbly, saucy and warmed through.

To assemble, dollop a few spoonfuls of cream filling between the protein pancakes and garnish with the cherry sauce and shaved chocolate.
Nutrition
Calories:
342
kcal
|
Carbohydrates:
57
g
|
Protein:
22
g
|
Fat:
4
g
|
Saturated Fat:
1
g
|
Cholesterol:
49
mg
|
Sodium:
83
mg
|
Potassium:
605
mg
|
Fiber:
5
g
|
Sugar:
33
g
|
Vitamin A:
145
IU
|
Vitamin C:
4.9
mg
|
Calcium:
254
mg
|
Iron:
2.2
mg
Updated on June 29th, 2020