Opening Remarks:
-In contrast with the state's famous Tex-Mex staples, Hugo's Restaurant aims to represent authentic Mexican cuisine while offering a nice selection of the best dishes of Mexico's 31 States.
-Executive Chef Hugo Ortega is a James Beard award winner originally from Puebla. His namesake restaurant, Hugos, is considered the best representation of Mexican cuisine in Houston and actually, one of the best restaurants in the city in general.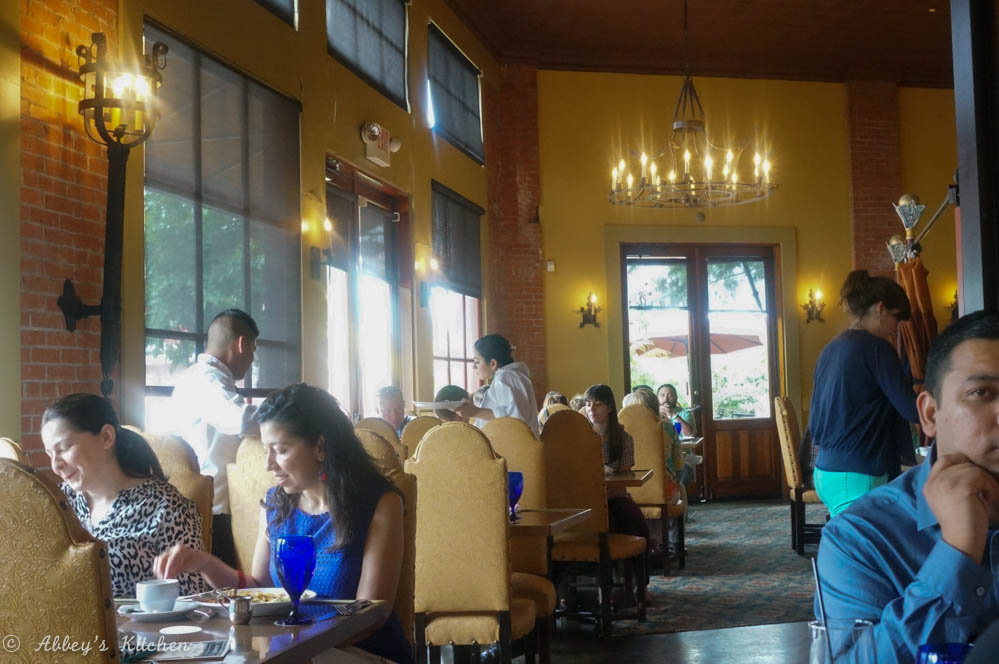 – Hugo's is also quite famous for their Sunday Brunch buffet. When I was doing my research for where to eat in Houston, the first decision I made was to have brunch at Hugos. The cost is $29 per adult ($10 for kids) and runs from 10-2:30 and is apparently always packed.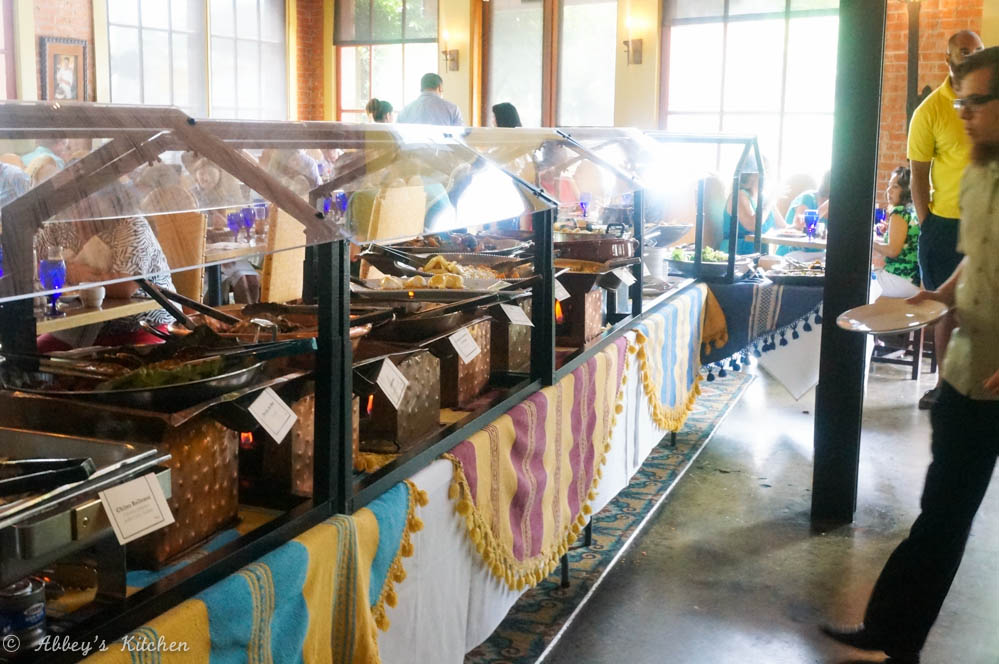 Ambiance:
-Located in Houston's TOP dining destination, Montrose, the early 20th C Spanish style home is a beautiful setting for a leisurely lunch, brunch or dinner. The gated doors, the voluptuous vines, the lofty terracotta toned ceilings and the Medieval chandeliers have an old world charm that is hard to ignore.
-The walls are riddled with accolades and awards, which is complimented by the packed dining room for Sunday brunch.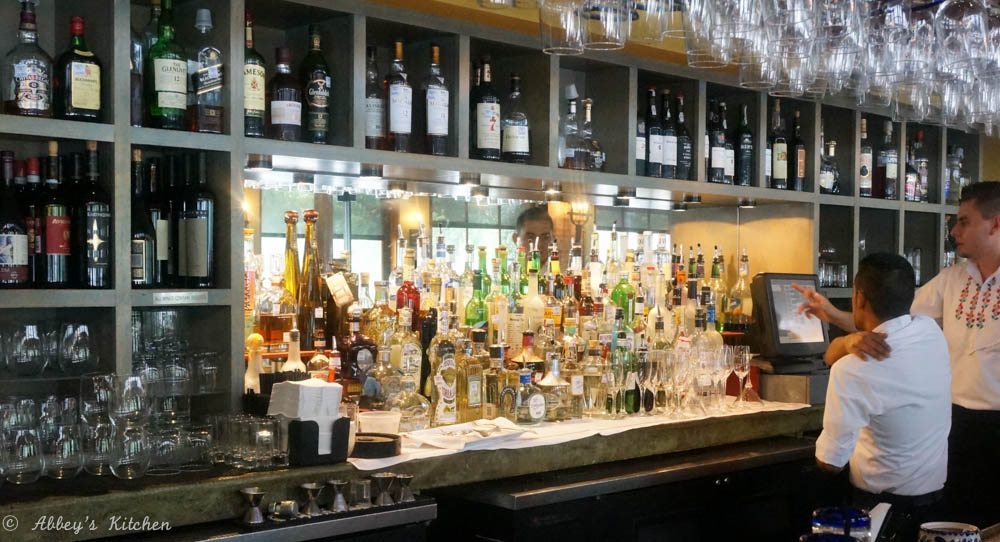 -Seating is predominantly brass-covered table-tops set with retro padded orange chairs and a generous amounts of space between each table. They also have a stunning wood bar for guests without a reservation or who are up to dine alone.
-On Sundays for their famous Brunch buffet, diners are treated to live Mexican-style music by house band Viento.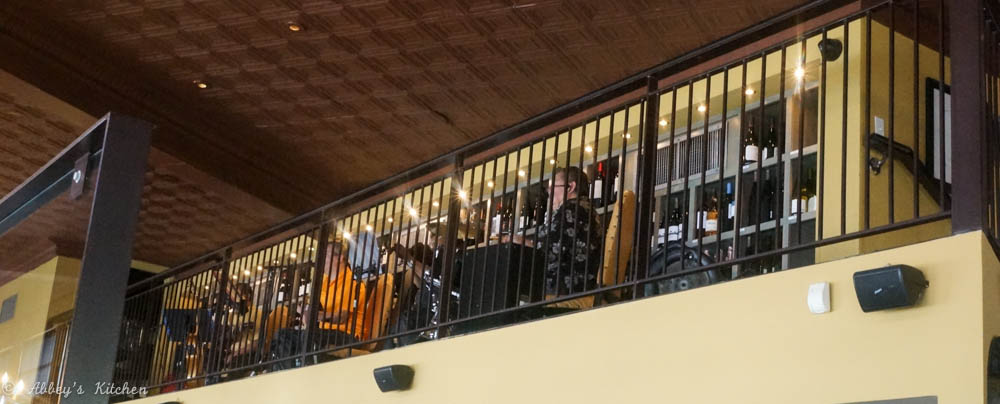 Service:
-In classic Southern style, service was very friendly, efficient and energetic. Our bubbly beautiful server greeted us immediately upon being sat, and ensured our water glasses were filled with ice water.
-Considering we were at the buffet, there wasn't much else for her to do but to clear plates between trips (which she did very promptly without having to be asked), refill our water, deliver our cocktails, and stop for small talk. As far as buffet service goes, she rocked it.
Drink:
-As expected in any authentic Mexican establishment, Hugos offers a fairly good sized list of Tequila and Mezcal.
-Wine drinkers can check out their 8 International bottles ($62, by 3 oz taste ($6.5or glass ($13) that pair nicely with Mexican cuisine.
-At brunch, they offer a solid selection of fruity cocktails, from margaritas, to sangrias, to mimosas with Mexican flare.
Paloma de Pina ($9)
Tequila, Grilled Pineapple, Housemade Pineapple Soda, Lime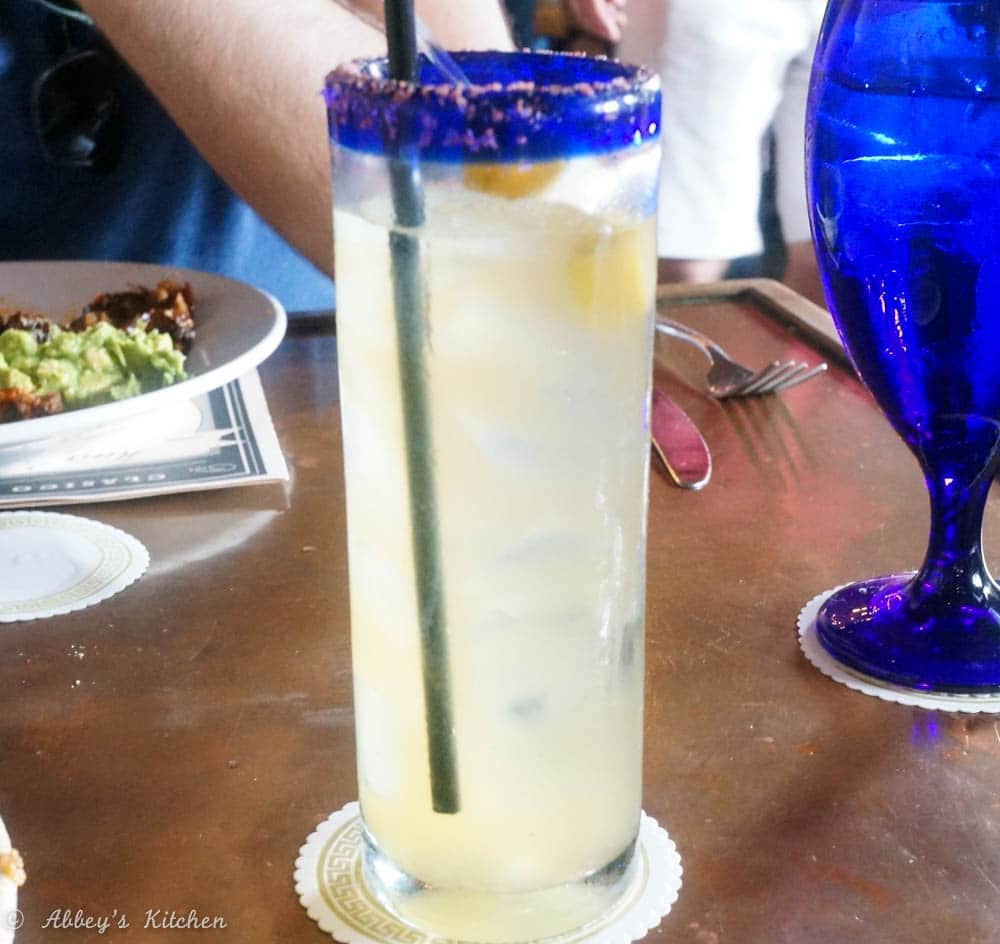 Mimosa Fuego Azui ($5.50)
Blackberry, Raspberry, Blueberry, Lime, Agave Nectar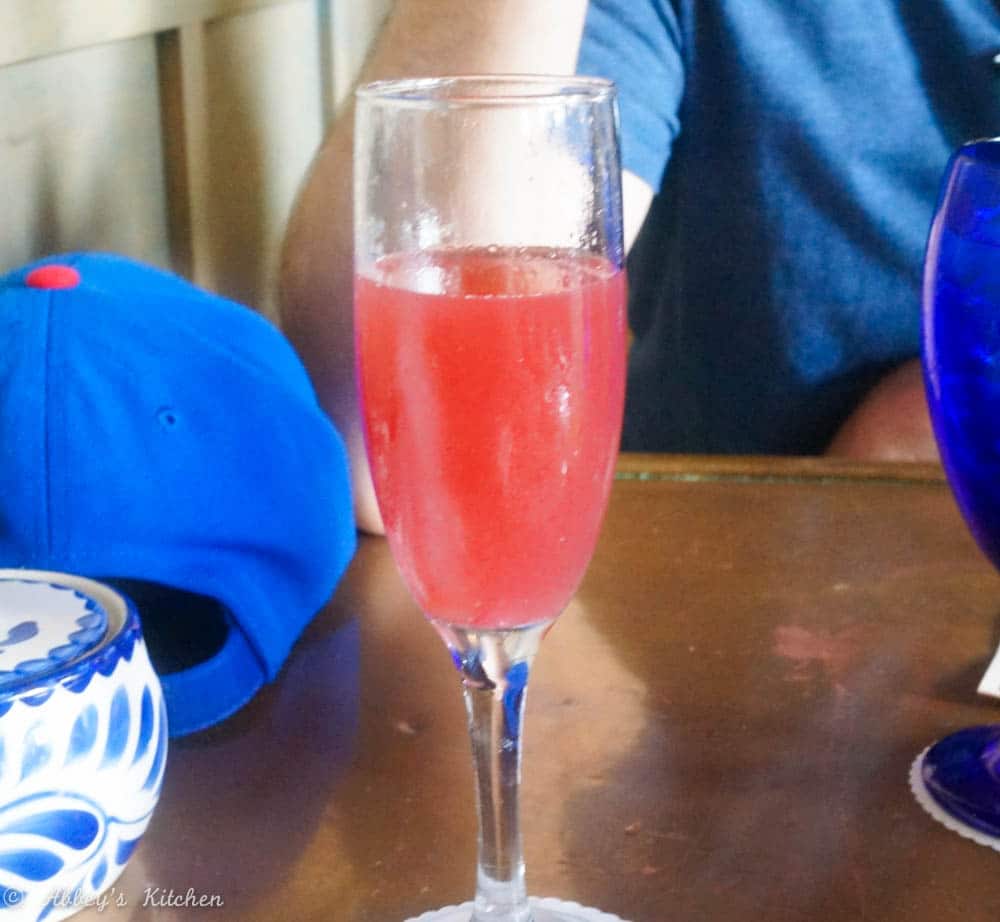 Admittedly, neither cocktail really hit the spot for us. While I loved the smoky grilled pineapple garnish on the Paloma, the cocktail tasted more like soda water than sweet smoky fruit. Likewise, I also found the mimosa a little flat.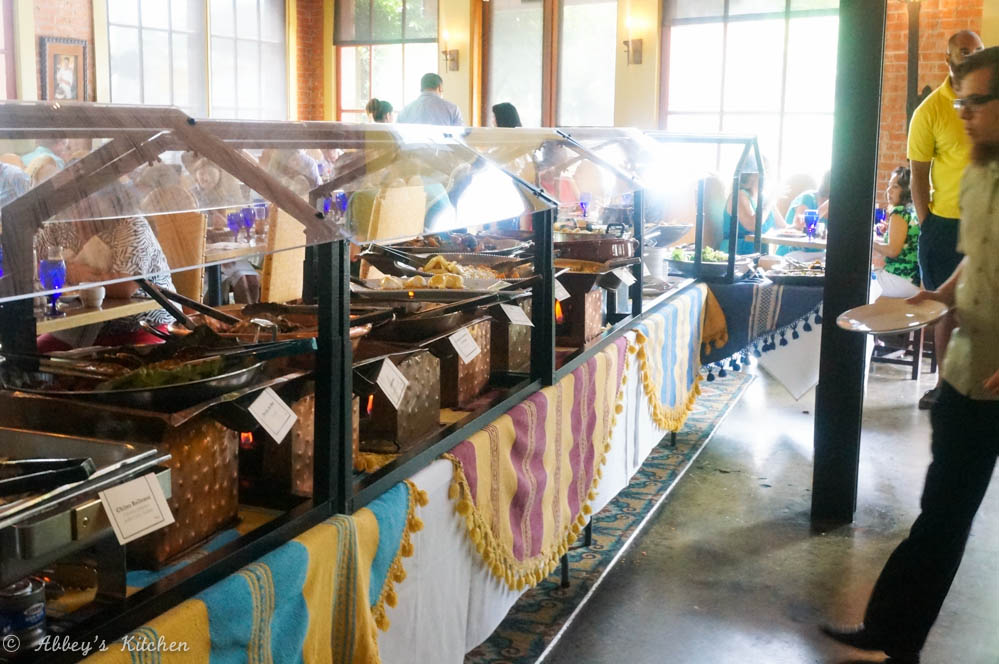 Food:
-Don't expect to see massive burritos, cheese-drenched nachos, or fajitas on anyone's plates. Rather, Hugo's focuses on a range of authentic Mexican dishes that are celebrated across Mexico. From ceviches, to tamales, to unique street food that put Toronto's hipster bars to shame (think crispy potato tacos, lentil cakes or plantain turnovers), it's not surprising that Hugo's has made a name for itself across the State.
-Perhaps the most unique item on the menu is Chapulines- pan sautéed grasshoppers served with guac, tortillas and salsa. Eek, it was early and I had been drinking a fair bit the night before, so I definitely wasn't feeling up to that.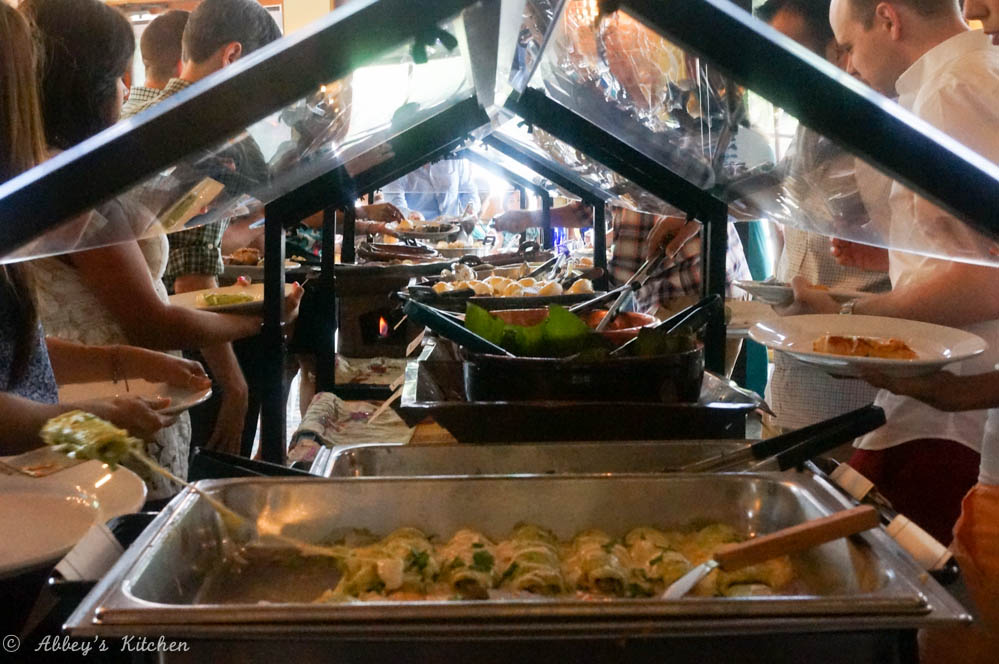 – The buffet was plentiful but not overwhelming, meaning you could (if you were hungry) try a tiny bit of everything and not be sick. I also appreciated that the staff frequently replenished the items before a tray ran completely out, meaning everything stayed hot and tasted fresh.
-There were essentially two main stations with the buffet- a savoury station on one side of the restaurant with around 25 items, and a smaller sweets table with around 10 options on the other.
-While I didn't try everything from the spread (I still had a long walk ahead of me in the 30+ degree heat), here's a little list of some of the items on offer:
Guacamole with Housemade Chips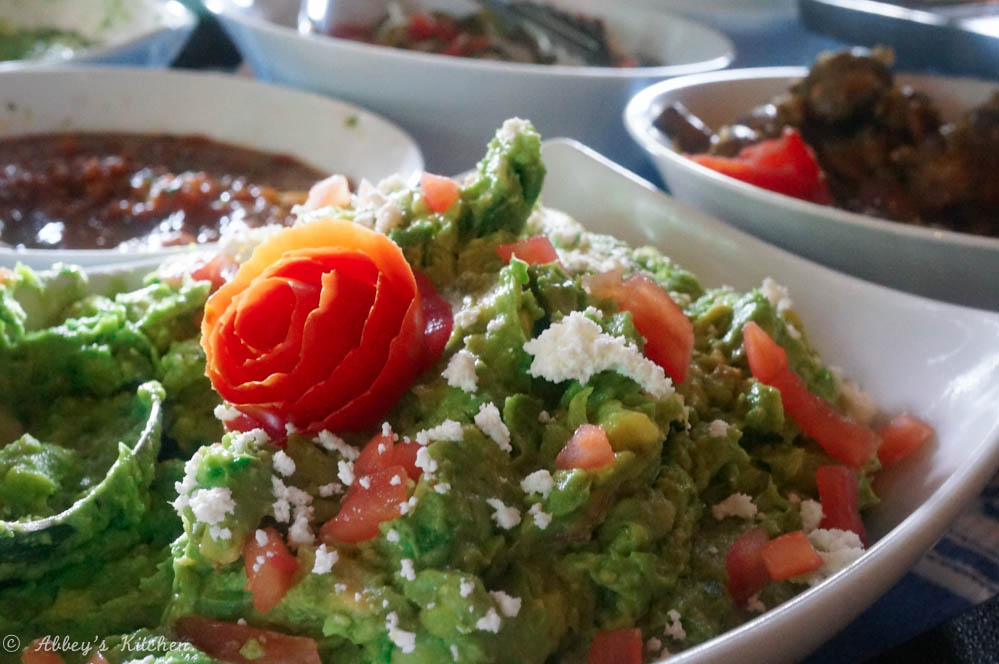 Fish Taquitos
Tamales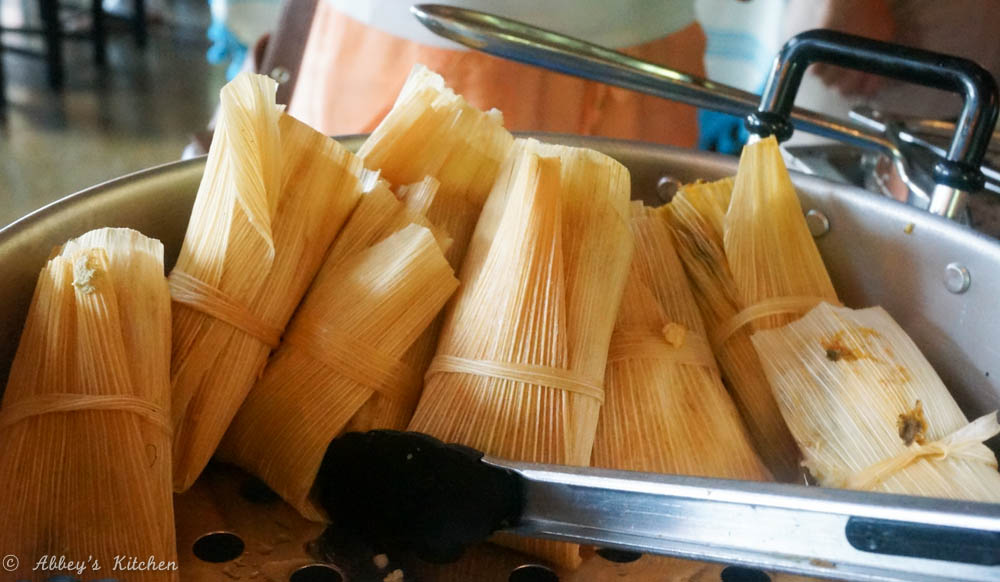 Chorizo and Mushroom Quesadillas
Corn Soup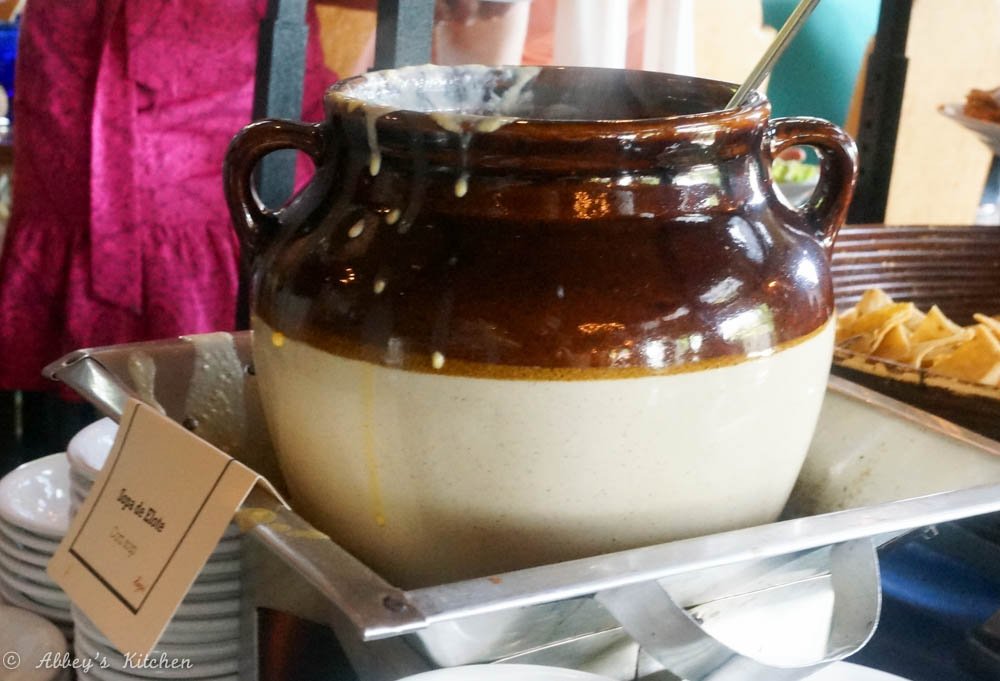 Fish Enchiladas
Chiles Rellenos
Mexican Brisket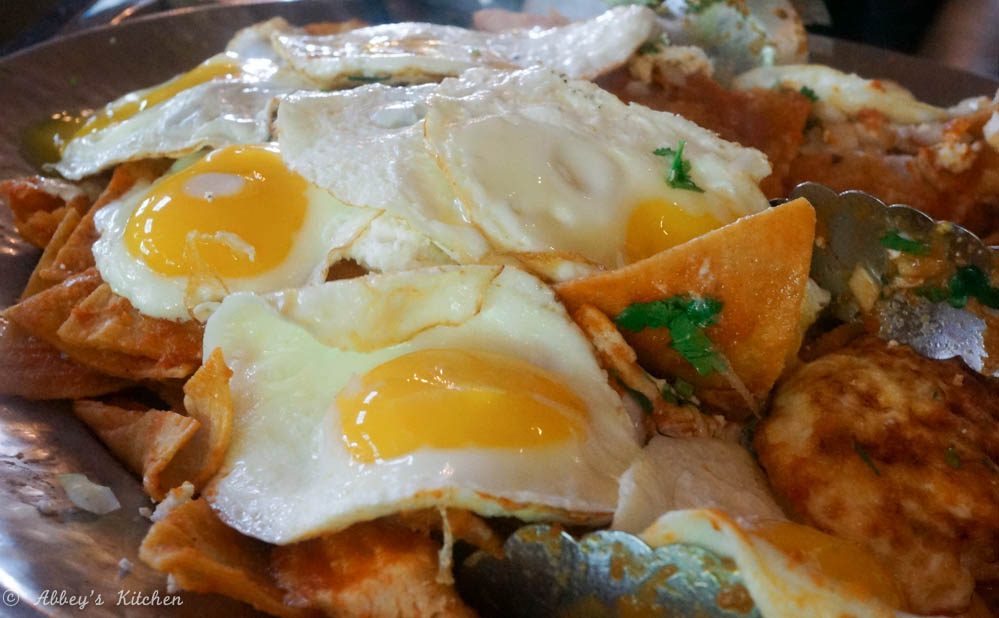 Green Chilaquiles
Squash Stuffed with Corn Fungas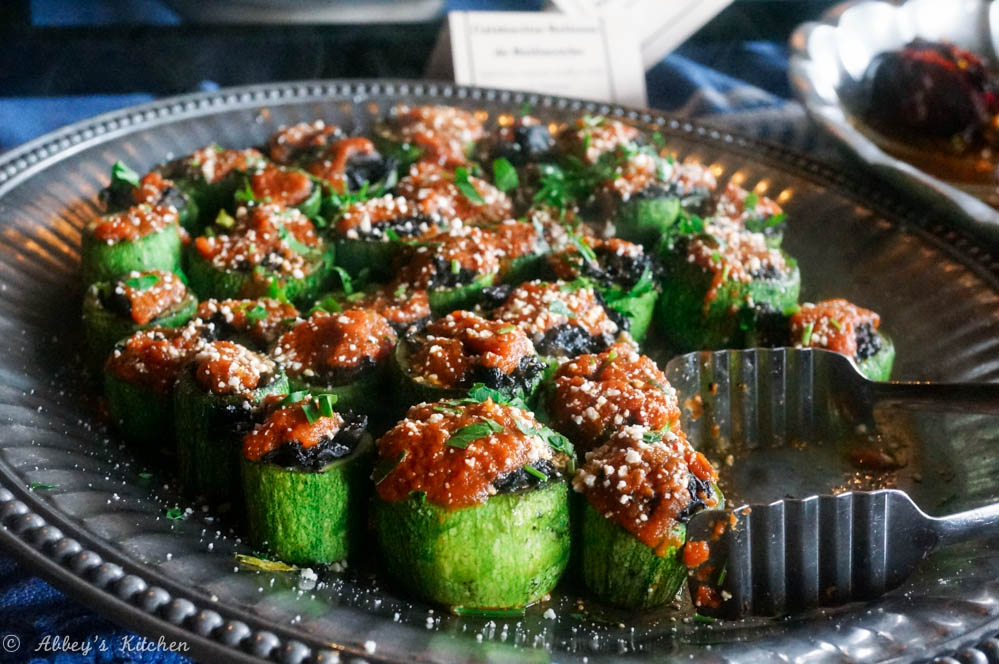 Pork Carnitas
Lamb Ribs
Rice Stuffed Chipotle Peppers
Cornbread with Poached Eggs
Roasted Potatoes
Corn Pudding
Coconut Tart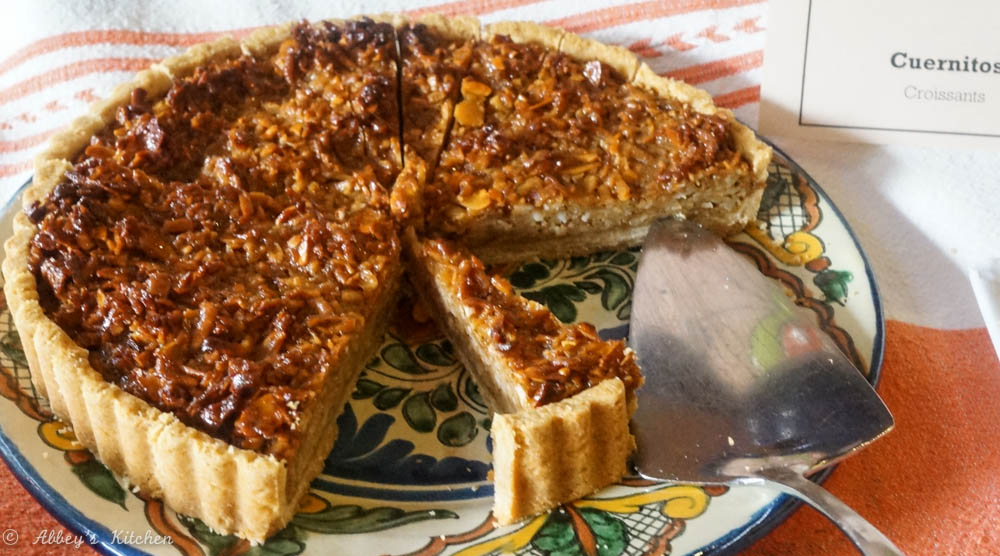 Mexican Rice
Tres Leches Cake
Churros
Mexican Hot Chocolate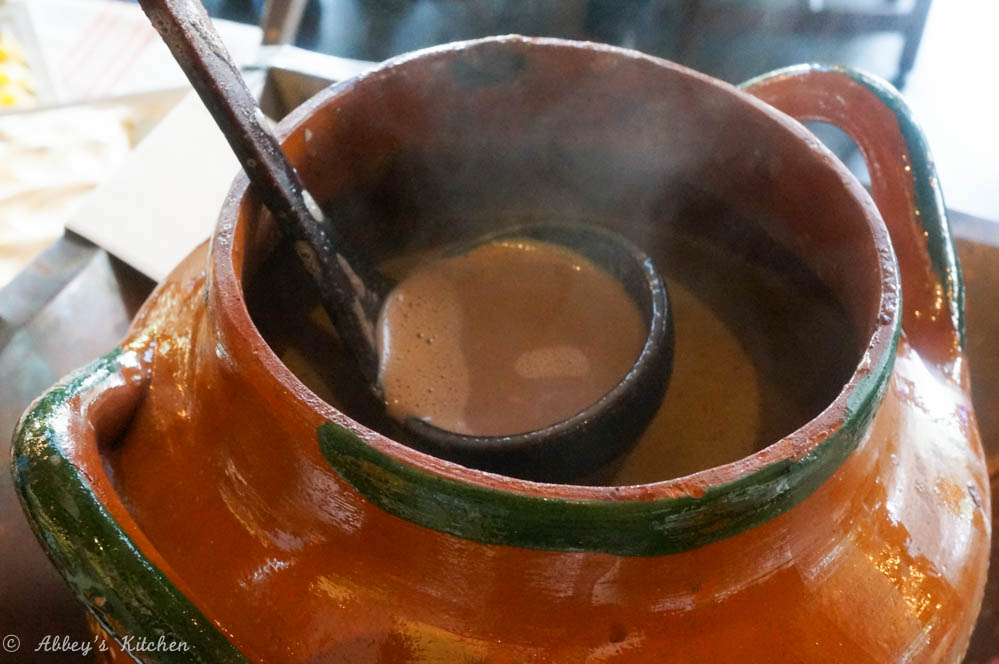 Lime Cheesecake
Rice Pudding
-In short, I think I was pretty impressed with it all. It's not often you go to a buffet and feel like you really ate a great meal, but that was the sentiment after Brunch at Hugos. Well, that, and that I was really, really full.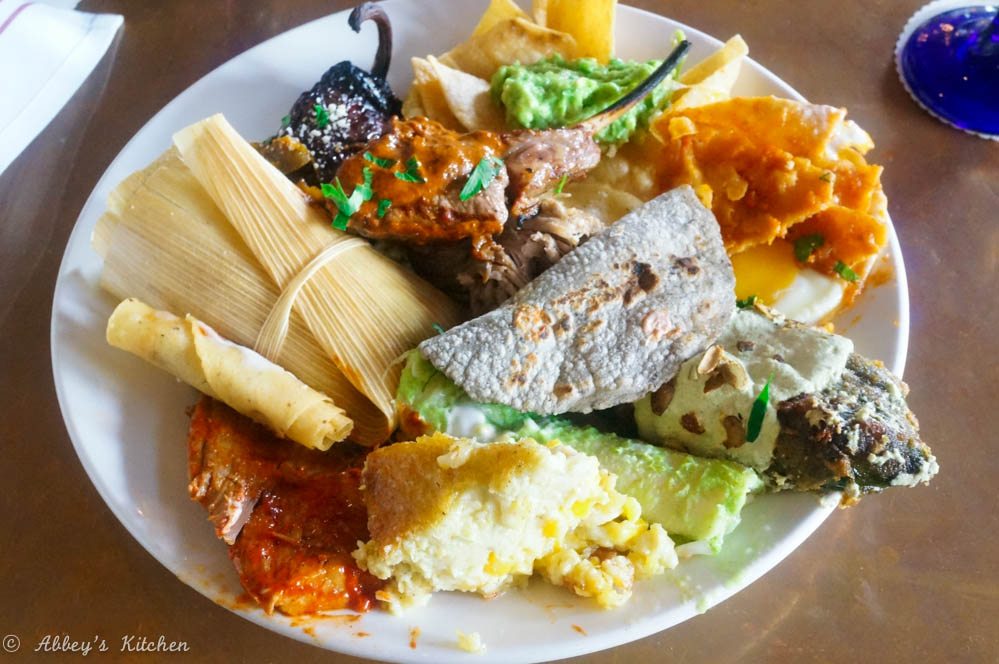 -My favourite savoury dishes of the spread were the corn soup and corn pudding. Both had a really satisfying sweet flavour and luscious texture while feeling refreshingly light.
-I also adored the tamales, which had a fabulously pleasant grainy texture to juxtapose the sweetness of the savoury meat.
-Hugo's meat was spot on good- the lamb was blessedly tender and well seasoned, the brisket was surprisingly moist and the carnitas were so flavourful all on their own.
-Finally, their Chilles Rellenos was another big winner with me. Those peppers were stuffed to the brim with tender chicken and asadero cheese, so flavourful and surprisingly not stodgy or greasy.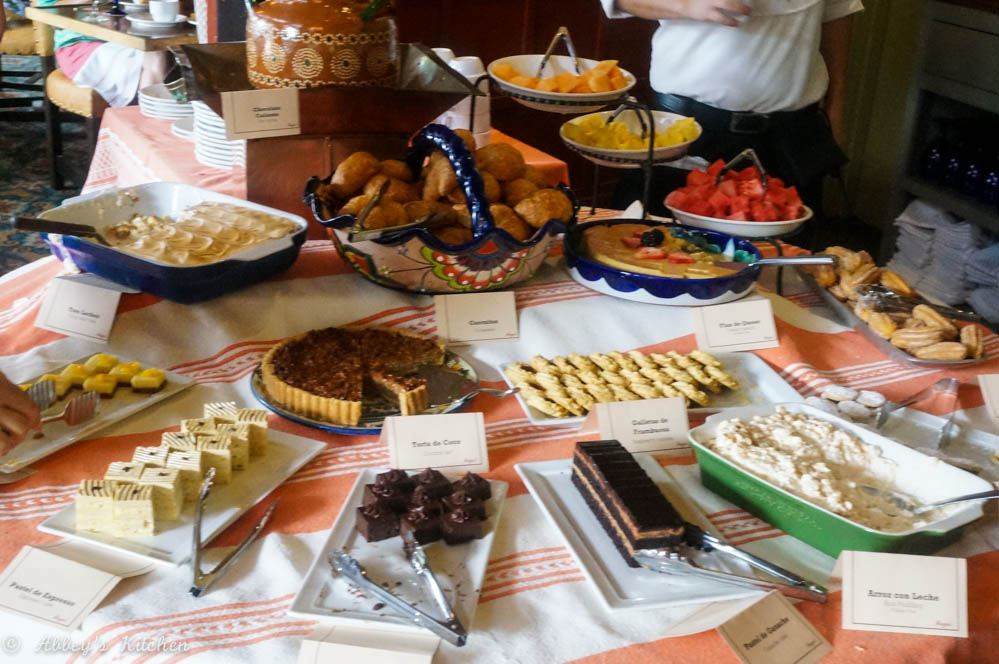 -With dessert, the clear winner was the Tres Leches Cake. Actually, this is a favourite sweet of mine, and I thought this to be one of the better versions I've had. It was incredibly moist, addictively sweet and surprisingly light as air. Likewise, I also really enjoyed the tangy lime cheesecake bites and the more neutral rice pudding.
-Some of my least favourite dishes of the day, albeit, nothing to complain about, would include the fish taquitos, cornbread, and churros, all of which I found a touch too stale. It takes a lot for me not to want to eat every churro I see, nevermind just finish one, but these ones seemed overcooked and dry. I also wasn't crazy about the coconut tart or Mexican hot chocolate, both of which I thought needed more sweetness, the former to amp up the sticky factor, and the latter to balance the bitterness of the chocolate.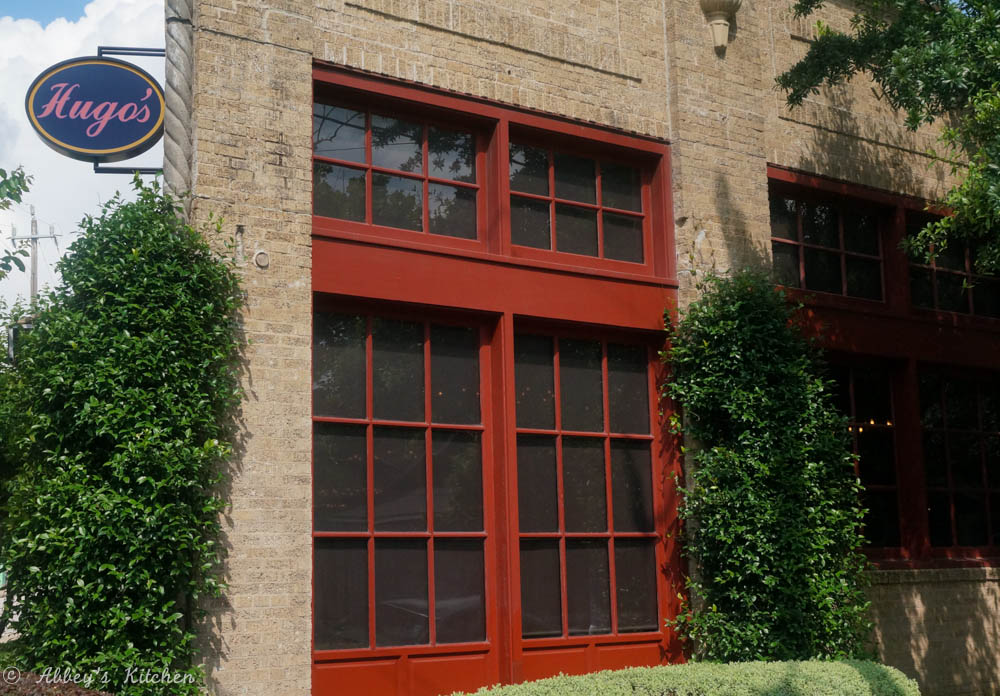 Closing Remarks:
-For two brunch buffets, and two cocktails, the bill came to $90 including tax and tip. Yup, it's not a cheap and cheerful brunch, but heck, I can imagine how many trips some folks can put back so the $30 price tag totally seems like a steal.
-I'm definitely not usually one for a buffet of any kind, especially when it's brunch and it pretty much puts me out of eating commission for the rest of the day. Having said that, if you're looking to set yourself up for the day on really good quality Mexican food, then I would highly recommend Hugos Sunday brunch buffet.