These Toddler and BLW friendly Vegan Homemade Popsicles are packed with veggies and have no sugar added, perfect for babies, and kids to beat the summer heat!
It is getting really hot, and we've been spending a lot of time outdoors just trying to make the most of this strange Covid life. Big boy E has this CRAZY ear for the freezer drawer and even if he is on the other side of the house, he will hear me open the drawer and come running for "ice meam" (that is ice cream in toddler speak- the double consonant is hard for him).
Well now I have something to give him (other than frozen peas and ice LOL) – these healthy toddler homemade popsicles are BLW friendly and packed with veggies with no added sugar. My son asks for one literally every day, and I don't even feel weird about giving it for breakfast.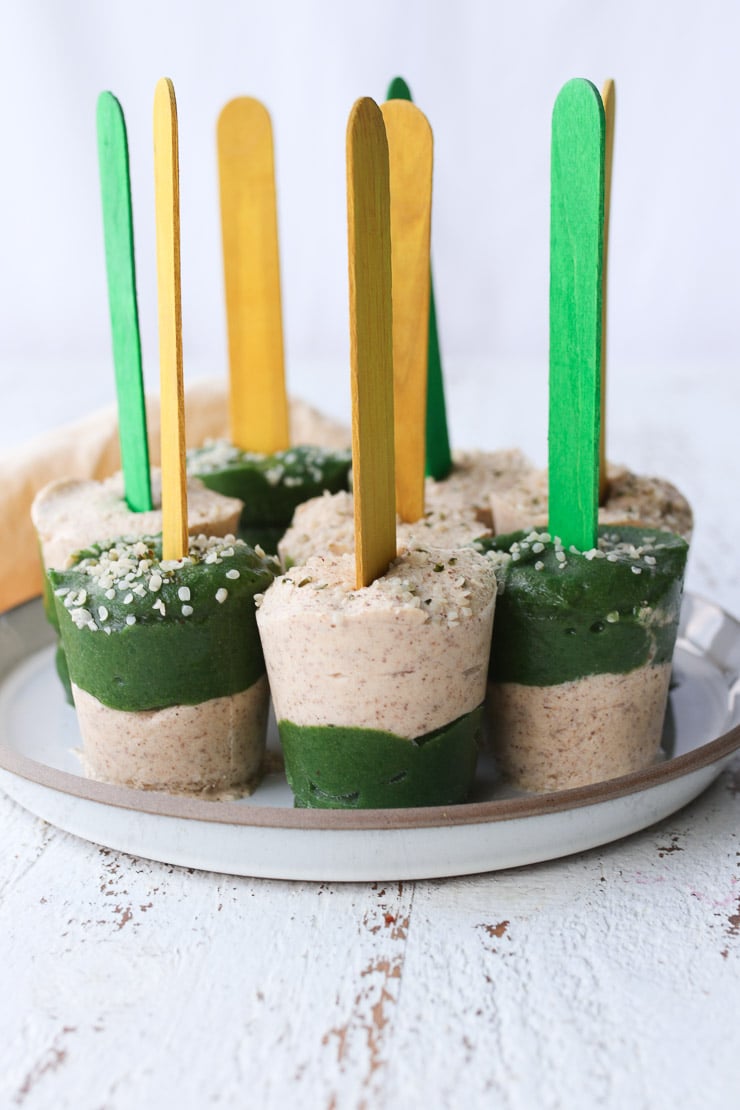 KEY INGREDIENTS FOR THESE HEALTHY vegan HOMEMADE POPSICLES for toddlers and kids
Spinach –
I find frozen is so easy to work with here and yields a gorgeous green colour.
Avocado- If you have a ripe one, this is a great place to use it, but if not, you can buy them frozen in chunks now perfect for smoothies!
Ripe banana – I always have ripe banana in the freezer for baking or smoothies, and this is a great way to sweeten these popsicles naturally with no added sugar.
Mango- Mango is another fruit that is super creamy and ice cream like when frozen, plus it adds a ton of natural sweetness.
Chia seeds – Chia seeds are a nutritional powerhouse and they don't taste like much so they're easy to add into smoothies, or in popsicles like this. For toddlers, babies and kids, they're rich in fibre, protein and healthy omega 3 fats, so I try to pop them into a lot of things I make.
Coconut milk – I used a can of full fat coconut milk because it makes these extra creamy for the kiddos, but see below for ideas on other milks (non dairy or dairy based) you can use.
Hemp hearts – My son calls these "sprinkles" so they're great for adding a little texture on top along with healthy fats, protein and fibre.
Dixie Cups- Yep, the little paper cups you use to swish mouthwash at the dentist. These make perfectly sized popsicles for little mouths.
Popsicle sticks- You can get these online or at any craft or dollar store! I used colourful ones just for fun.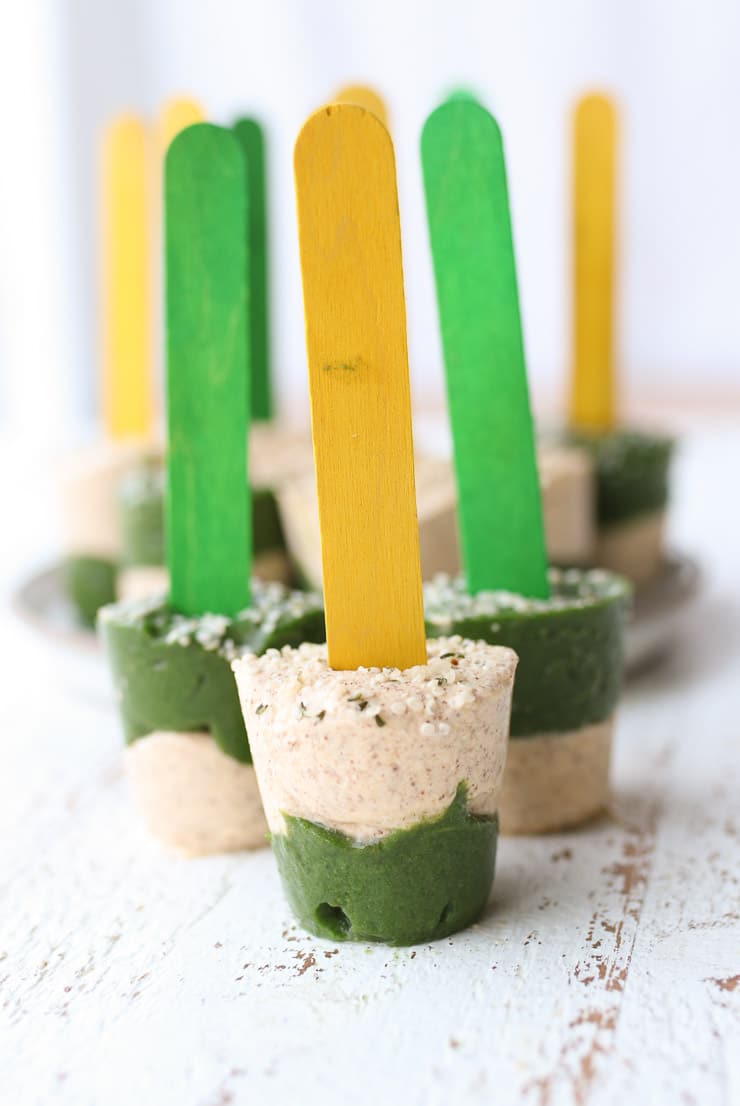 ICE POP FLAVOUR VARIATIONS
Honestly, think of these toddler popsicles as a smoothie, so the sky is totally the limit when it comes to flavours. I like to make sure there is at least one dominant sweet fruit (mango and banana do work best but feel free to use cherries which are also usually pretty sweet when frozen). Then you can add in any vegetables you want (if you even want to add in vegetables), and accent fruits. You can also add cocoa for chocolate flavour, nut butter for added healthy fats. Here are some favourite combinations:
Banana + Peanut Butter + Cocoa
Raspberry + Mango + Lime + Avocado + Greek yogurt
Frozen Butternut Squash + Mango + Peach + Mint
Frozen Corn + Blueberries + Banana
Frozen Carrot + Ginger + Orange + Milk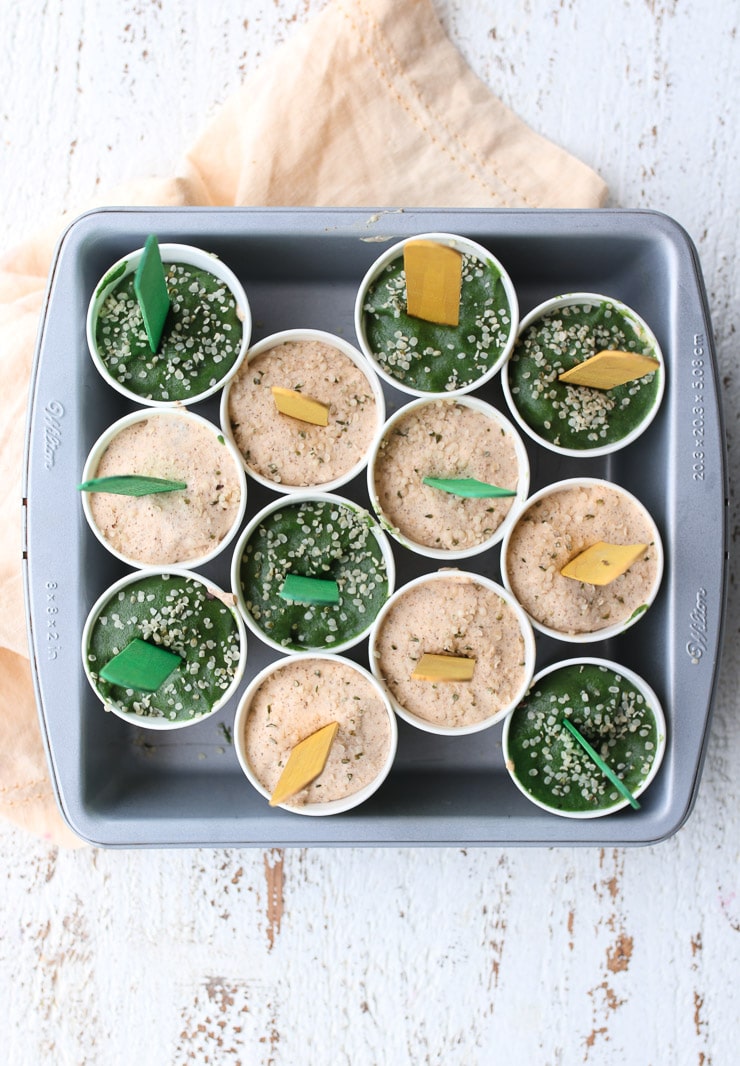 FAQ ABOUT THIS RECIPE
Here are some of the most commonly asked questions about this recipe on my blog.
are these vegan homemade popsicles safe for a new eater doing baby led weaning?
Absolutely. This recipe would be really easy for new eaters to eat and since there are no major allergens in this recipe, it can even be a first food! If you're looking for a baby led weaning meal plan for starting solids and reducing allergens, check out my guide here.
Can i give these to a teething baby?
Yes! Because its nice and smooth and very cold, these ice pops would be perfect for soothing teething gums.
can I make these popsicles non-vegan for extra protein?
Absolutely, you can use any kind of milk in place of coconut milk. I like coconut for the flavour and creaminess, but greek yogurt, regular milk or soy milk would have more protein. You can also use almond milk, oat milk or anything else you have on hand.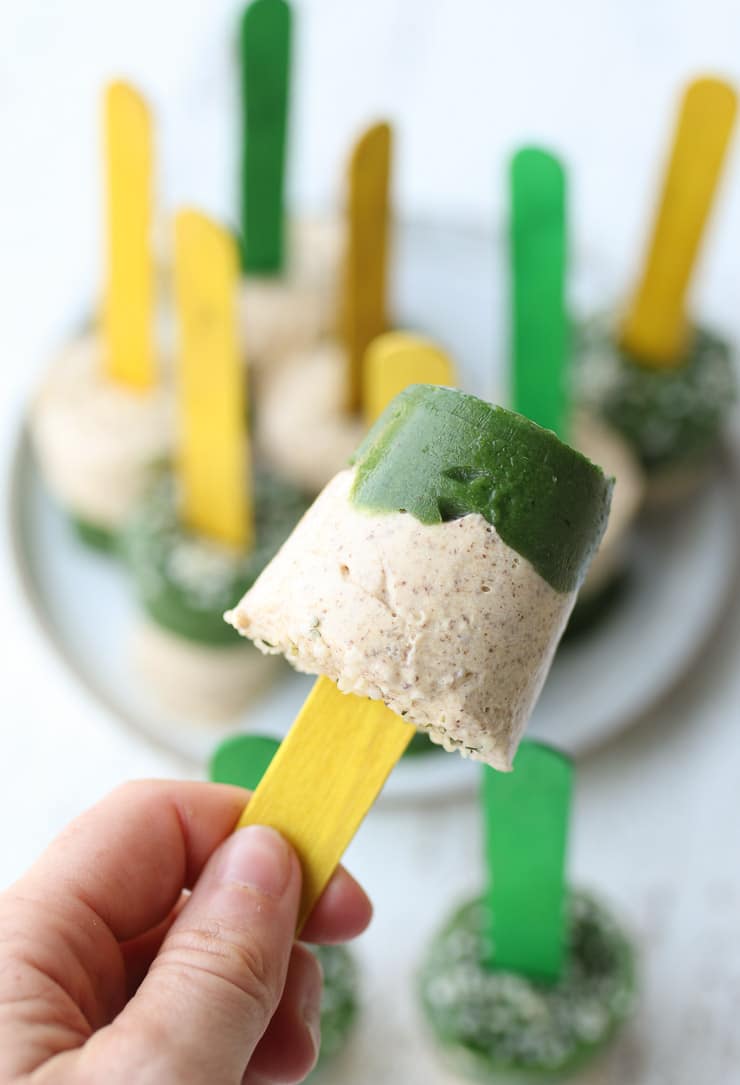 what if your kid hates green vegetables?
Honestly, these do NOT taste like spinach. The banana really covers it up as the dominant flavour so my son gobbled them up. In fact, he liked the green layer better than the creamy mango coconut layer! Who knew! Having said that, if you are sure your kids will hate these, try one of the other vegetable combinations above.
should i lie to my kids about there being spinach in these popsicles?
I don't believe in lying to children about what is in their food. It can create distrust and set you up for a lifetime of battles around food. My son is too young to explicitly ask if there is spinach in these popsicles, but if he did (or when he does), I will honestly tell him! If anything this proves how delicious these naturally nourishing foods truly are.
do you have any other homemade popsicles on your website that are healthy?
You bet! We love homemade healthy popsicles around here! Here are some fan favourites!
Chocolate Dipped Banana Cream and Fruit Popsicles
What are some of your favourite toddler approved snacks and desserts for beating the Summer heat? Leave me a comment below with your thoughts!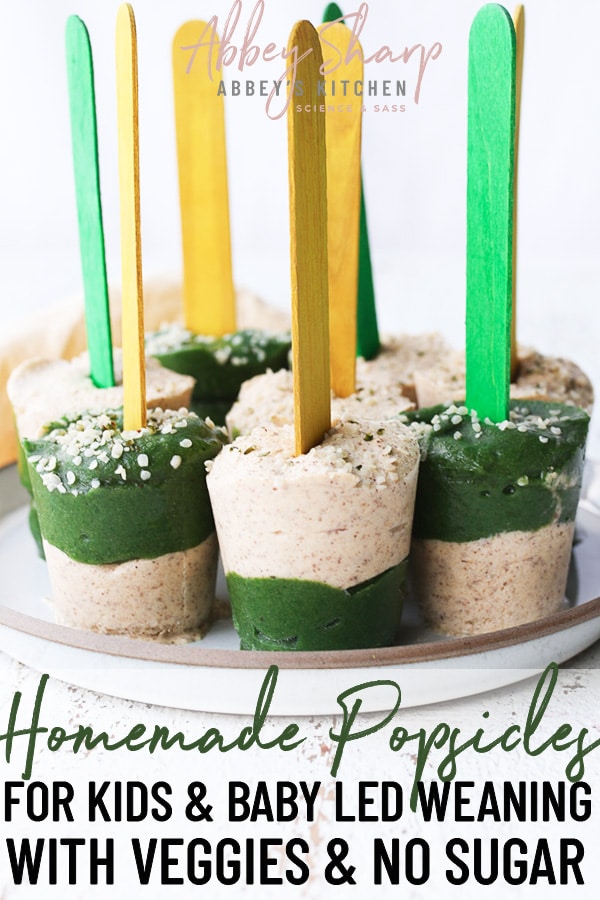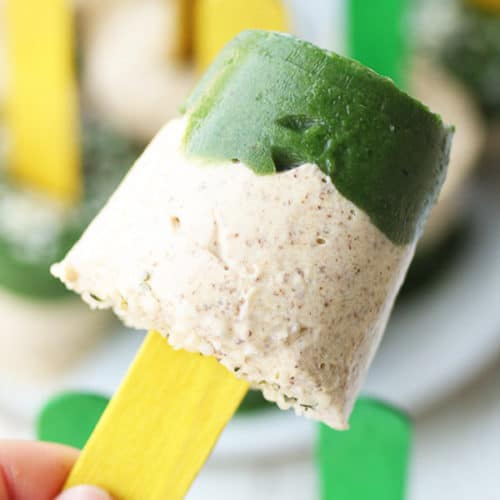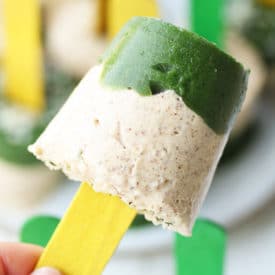 Vegan Homemade Popsicles
These Toddler and BLW friendly Vegan Homemade Popsicles are packed with veggies and have no sugar added, perfect for babies, and kids to beat the summer heat!Â
Print
Pin
Rate
Ingredients
GREEN LAYER:
2

cups

mashed very ripe banana

about 6 medium

1 1/4

cup

frozen spinach

thawed

1 ¼

cup

diced avocado

2

tbsp

hemp hearts
Instructions
In a blender, puree the coconut milk, mango and chia seeds. Set aside in a bowl.

Wash out the blender, then puree the banana, spinach and avocado until smooth.

Place 18 dixie cups in a 15×9″ baking dish. Fill half way with one of the mixtures, and top with the other. Sprinkle with hemp hearts.

Insert a popsicle stick and freeze for 6 hours or overnight.

Unwrap the dixie cup and enjoy!
Nutrition
Calories:
166
kcal
|
Carbohydrates:
14
g
|
Protein:
4
g
|
Fat:
12
g
|
Saturated Fat:
7
g
|
Sodium:
19
mg
|
Potassium:
356
mg
|
Fiber:
4
g
|
Sugar:
7
g
|
Vitamin A:
2255
IU
|
Vitamin C:
15
mg
|
Calcium:
59
mg
|
Iron:
2
mg
Updated on July 6th, 2020