These Vegan Snickers Bars are the ultimate gluten free healthier Halloween candy for filling your kid's candy bag and enjoying all year long.
I don't know about you, but as soon as school gets back in session, and the Halloween stuff starts populating the grocery store shelves, I officially get excited. Mainly because I am a total sweet freak. I have no shame admitting that I have a real good sweet tooth and I often buy boxes of Halloween "fun sized" chocolate bars just for myself. But if you find those a little too cloying for your taste, you're not a fan of the processed ingredients, or you're looking for a vegan, gluten free Halloween candy alternative, these Vegan Snickers Bars are for you.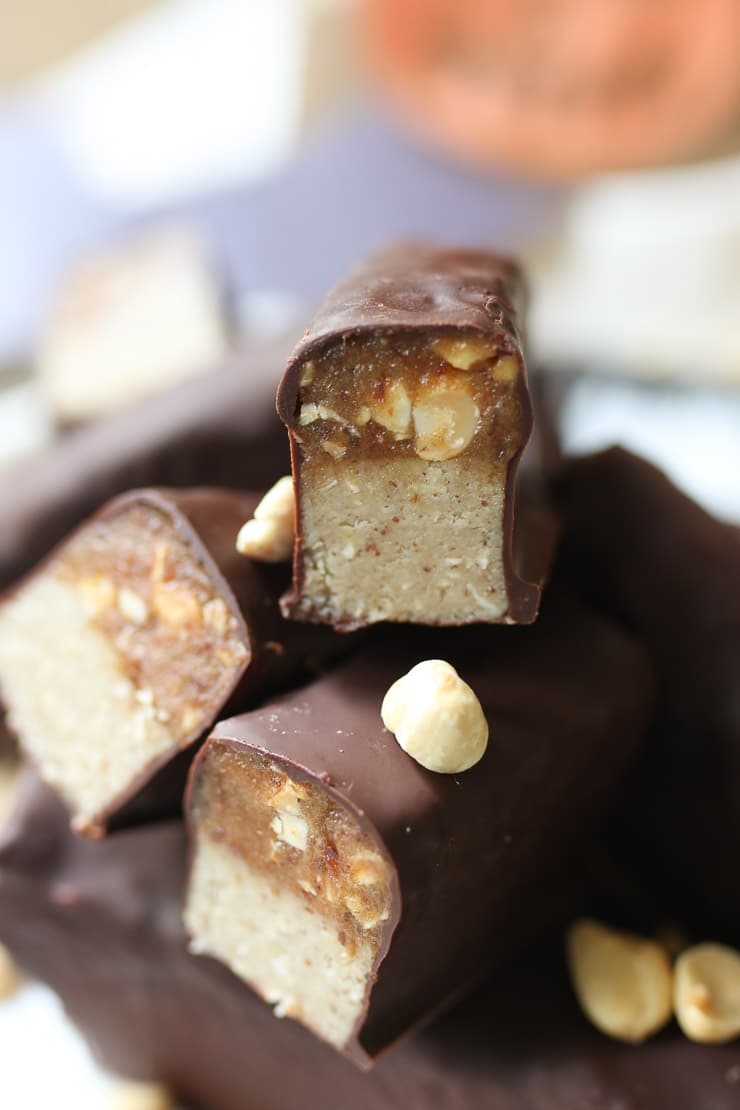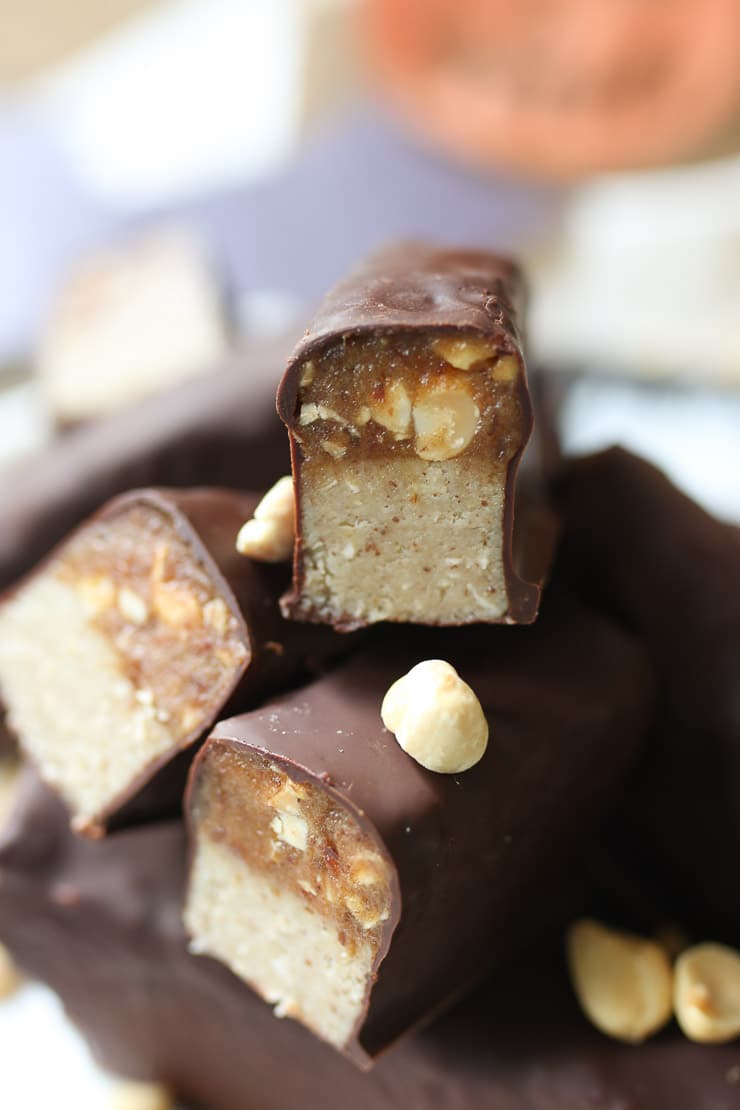 CLICK HERE to PIN.
How to Make Gluten Free Vegan Snickers Bars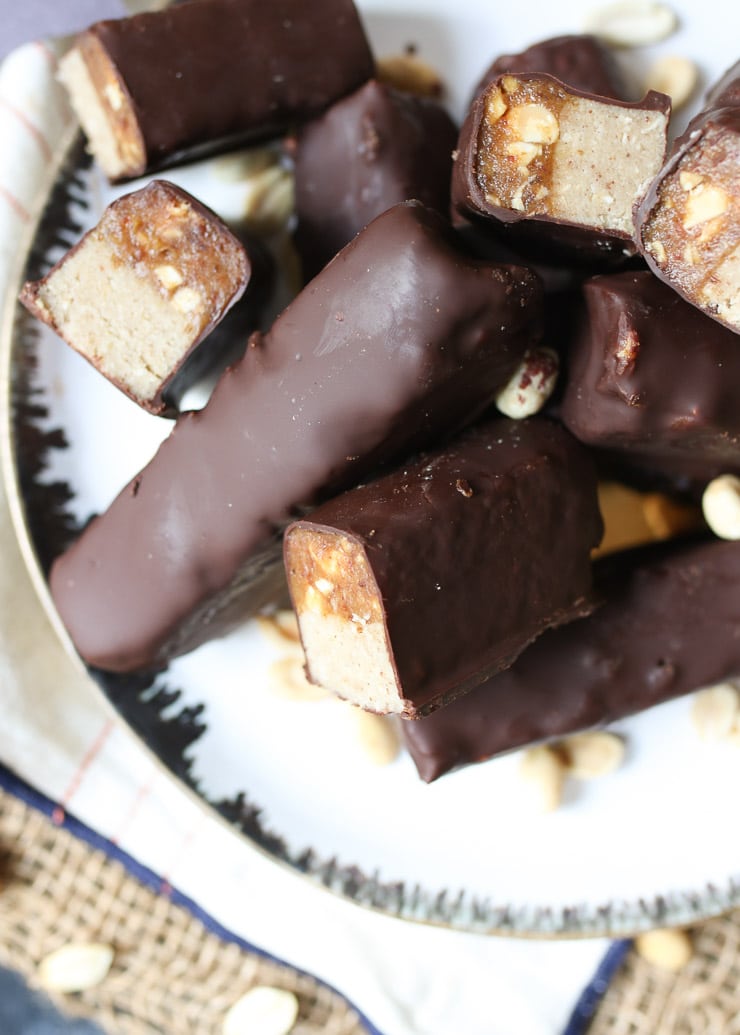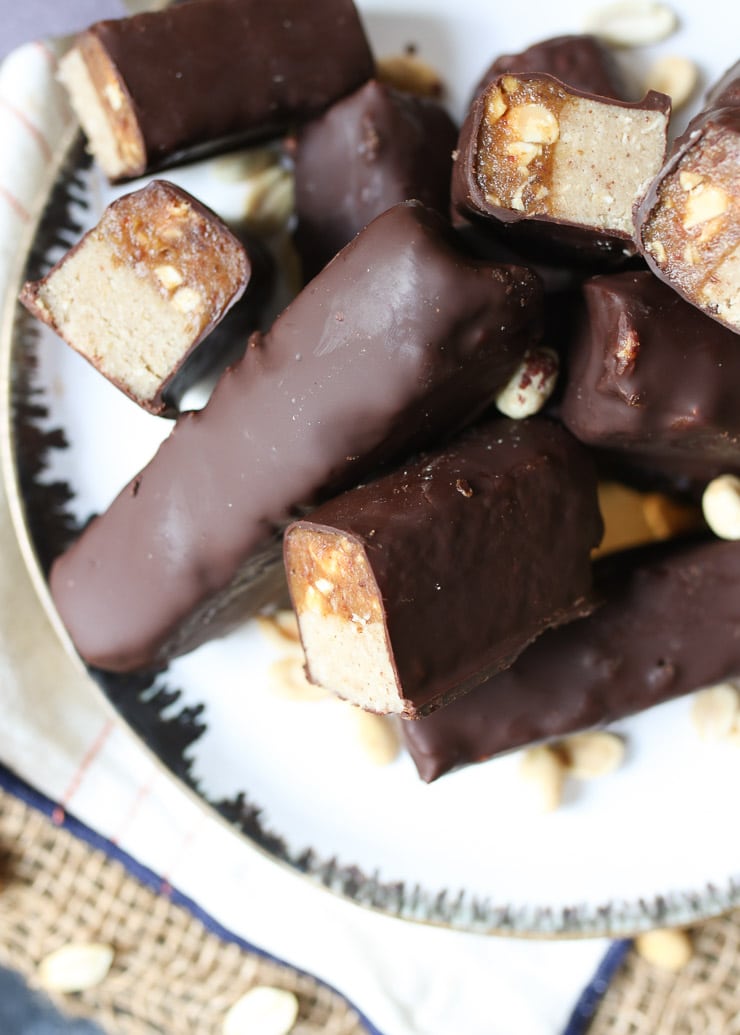 CLICK HERE to PIN.
Okay so raise your hands if Snickers bars are in your top 3 favourite chocolate bars? Because if there are Snickers in the box of mini chocolate bars, they WILL be the first to go around here. Naturally, it only made sense I worked on this recipe first.
It starts with a vegan gluten free "nougat" layer made from oat flour, almond flour, peanut butter, maple and coconut oil. So simple and honestly, delicious enough that you'll want to just eat it out of the food process all on its own.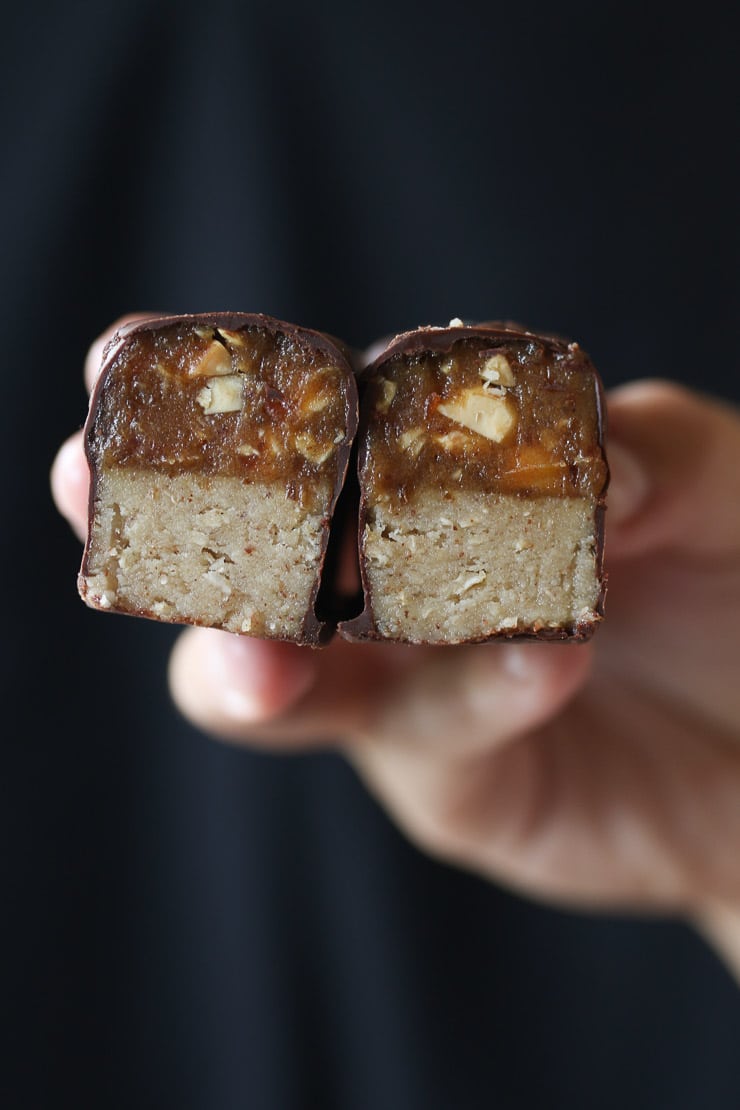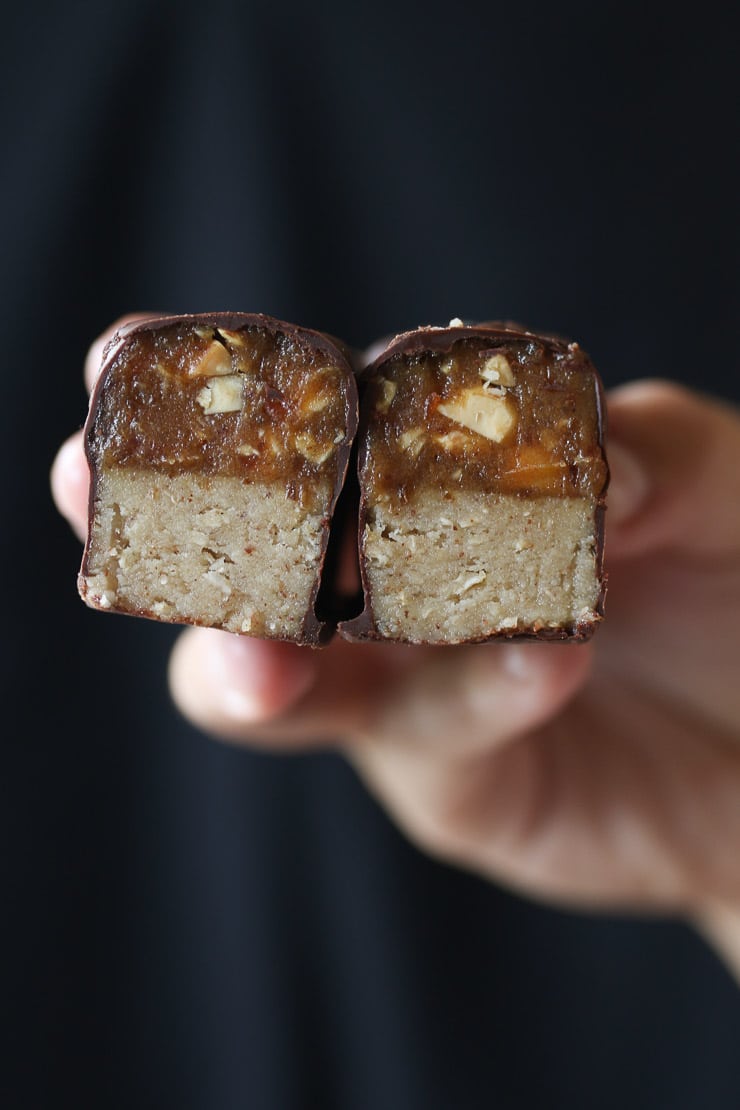 CLICK HERE to PIN.
I then make a vegan caramel with naturally sweet dates and lots of crunchy peanuts. I'm a big fan of making caramel out of dates, and this version is impossibly sticky and chewy.
Finally, these vegan Snickers bars are finished with a luscious layer of dark chocolate. I make these full size, and then cut them into pieces, but feel free to use a Twinkie mold or a smaller pan to make more dainty bars. You can also simply cut them into smaller pieces before coating them in chocolate.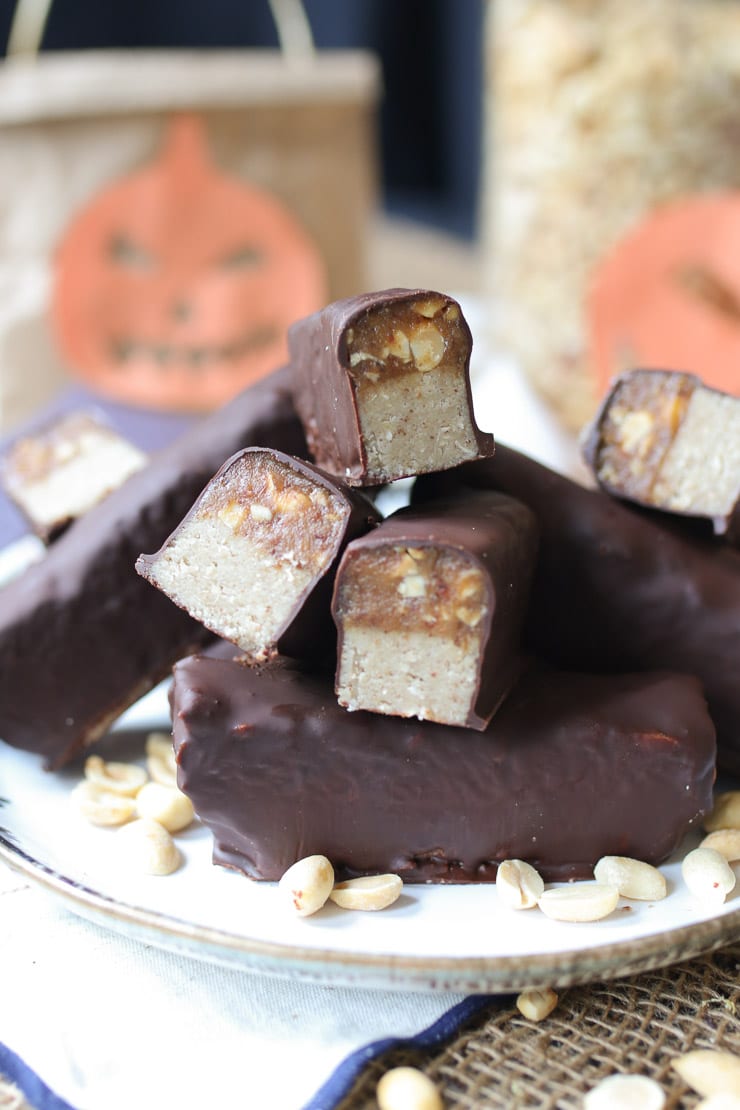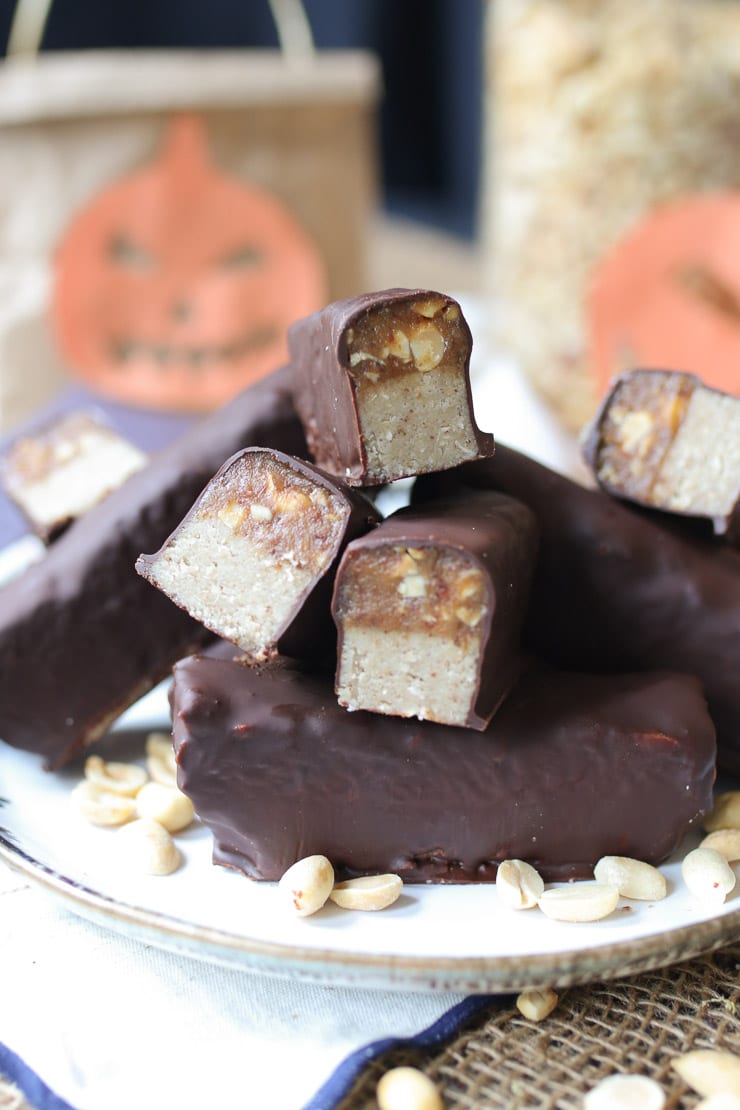 CLICK HERE to PIN.
Either way, you're going to want to make a triple batch. I even like to keep any leftovers of these vegan Snickers bars in my freezer and let them thaw out for about 10 minutes before digging it. The freezer is a GREAT spot to keep treats like this so that you have to plan ahead (even just by 10 minutes), rather than just pounce on a hangry impulse when you need a little sweet somethin' somethin'.
I would love to know what your favourite Halloween candy is!
Have you tried making these gluten free vegan Snickers bars?
Leave me a comment below with your thoughts!
If you liked this recipe, you may like: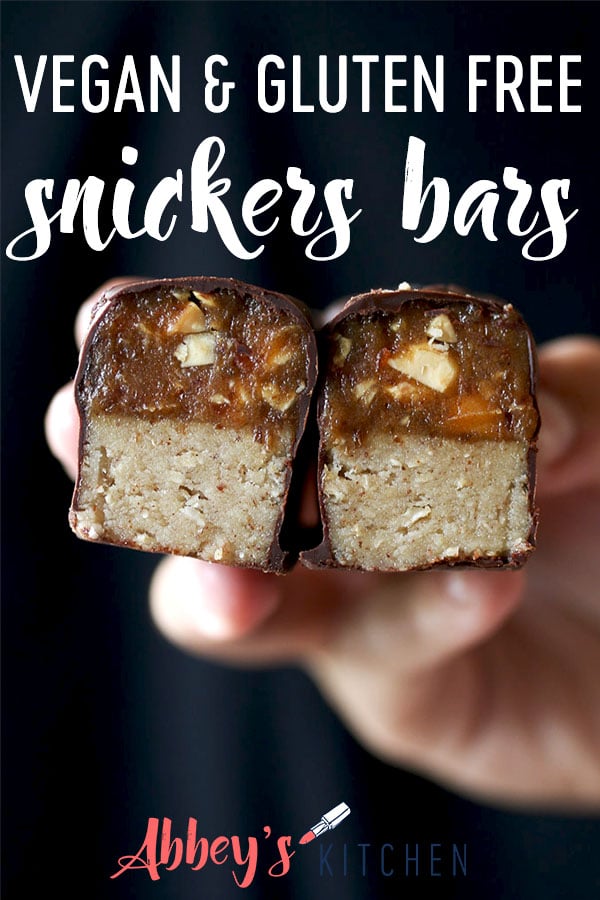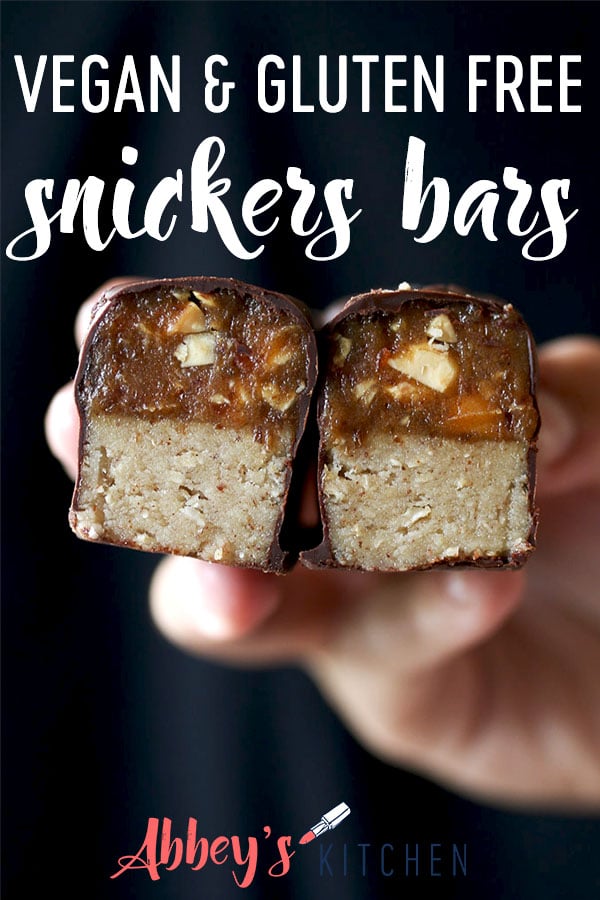 CLICK HERE to PIN.
Gluten Free Vegan Snickers Bars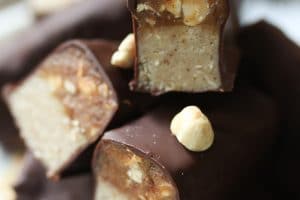 These Vegan Snickers Bars are the ultimate gluten free healthier Halloween candy for filling your kid's candy bag and enjoying all year long.
Nougat
1/3 cup gluten free oats (pureed in the food processor to a flour)
1 cup almond flour
1/3 cup natural peanut butter
3 tbsp maple syrup
1/4 cup melted coconut oil
Date Caramel
2 cups medjool dates (diced)
1/4 cup maple syrup
3 tbsp coconut cream
1/2 cup chopped peanuts
Coating:
150 g dark chocolate (chopped)
1 tbsp coconut oil
Line a loaf pan with parchment paper extending up both sides like wings.
To a food processor, puree the oats, almond flour, peanut butter, coconut oil, maple and salt until smooth. Pack into the bottom of the loaf pan and freeze.
Place the dates, maple and coconut cream in a sauce pot and simmer until bubbling. Transfer to the food processor and puree until very smooth. Mix with the peanuts and layer on top of the nougat layer. Transfer back to the freezer for 2 hours.
Meanwhile, melt the chocolate and coconut oil in the microwave on 50% in 30 second intervals until smooth, stirring between each 30 seconds.
Using a greased knife, carefully remove the parchment from the sides of the bars and cut into 12 bars.
Prepare a baking sheet lined with a silpat.
Dip the bars into the chocolate until fully coated and place on the silpat. Refrigerate or freeze for 10 minutes. Enjoy!
Updated on June 29th, 2020