When special occasions creep up- like birthdays or holidays or even Saturdays (because sometimes we need to celebrate those too)- I try to bust out a slow and low recipe and cook at home. Something decadent and delicious like braised short ribs. Mmmm.. OMG. Braised short ribs are definitely a little more indulgent then what I would have time to whip up on a crazy weeknight between dance class and improv and everything else. Cooking at home is often a lot more exciting for me then eating out because it means I can literally have anything, have as much of it as I want, and do it all for a lot less cash.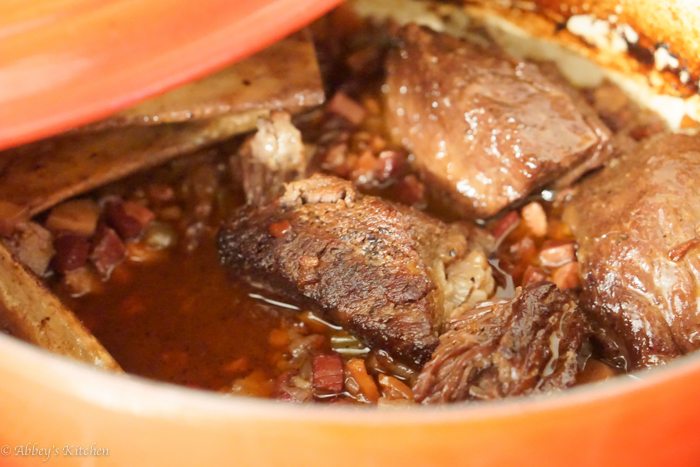 So when Valentines Day came around, I decided I wanted to stay in and make braised short ribs in my new Le Creuset Dutch Oven (thanks Mom!!). Do you have a Le Creuset? No? You really should. These babies are built to last literally a lifetime and probably more! Seriously, my mom got hers as a wedding gift about 30 years ago, and its still in perfect condition today. Have you made braised short ribs with luscious port wine? OMG. You really should do that too.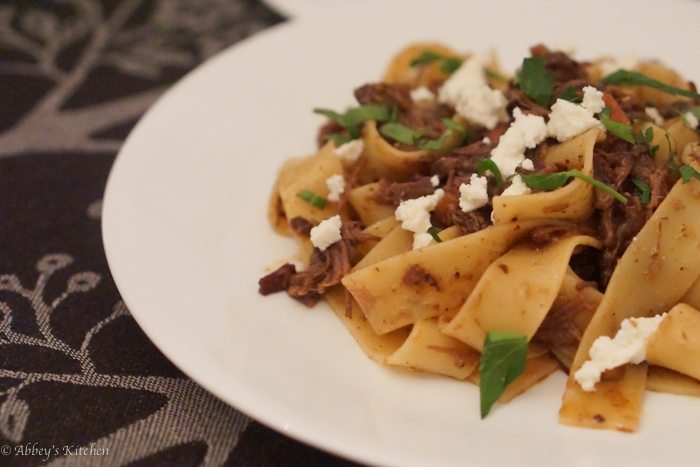 Well these braised short ribs are ideal for the Dutch oven because it allows you to get that beautiful sear, lots of tasty fonds (those browned stuck on bits), and then pop a lid on and cook it in the oven for 3 hours or so. It's weekend eating at its absolute best, and honestly better than any overpriced V-Day prix-fixe can ever be.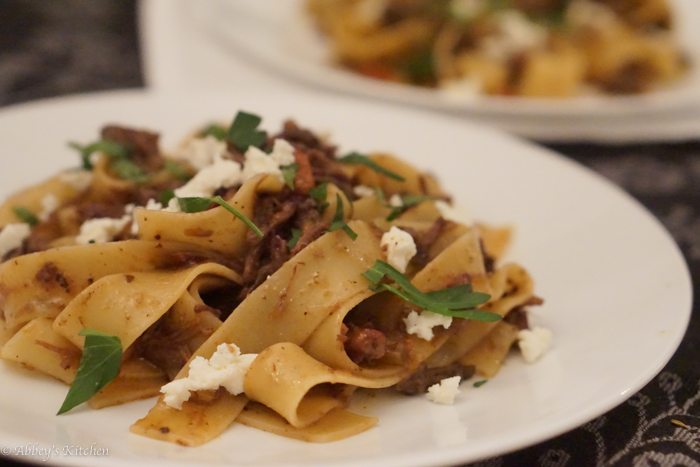 Braised Short Ribs Meet Port & Pasta = Heaven
This recipe for braised short ribs on pappardelle pasta was adapted from Bobby Flay's version and despite being pretty easy to pull off, it will blow your socks off anyone you want to impress. Seriously, my fiancé is hyper-critical and he was raving about it for days after. The secret? Patience. You can't rush short ribs, they need the time in a tasty boozy liquid to get tender and sweet. My goodness, my mouth is watering just reliving this meal. So I'm going to go have a snack before I have a foodgasm, and will just leave this here for your next weekend cooking project. Enjoy!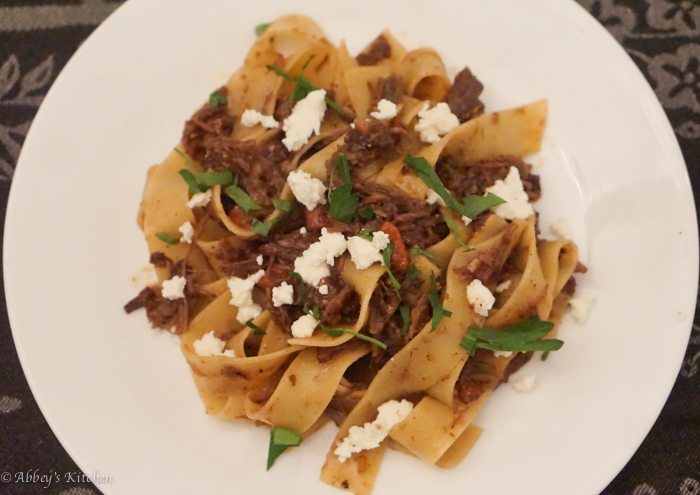 Port Braised Short Rib Pappardelle
This recipe for braised short ribs on pappardelle pasta was adapted from Bobby Flay's version and despite being pretty easy to pull off, it will blow your socks off anyone you want to impress.

Print
Pin
Rate
Ingredients
1

sprig rosemary

3

sprigs

thyme

1

bay leaf

1

small handful of parsley

150

g

pancetta

diced

1

tbsp

olive oil

2 1/2

lb

short ribs

1

large carrot

peeled and diced

1

large parsnip

peeled and diced

1

large stalk of celery

diced

2

shallots

finely diced

3

whole cloves of garlic

peeled and left whole

1/2

tbsp

all purpose flour

1

tbsp

tomato paste

1/2

cup

port

1

cup

red wine

1 3/4

cups

good quality beef stock

Salt and pepper

to taste

1

lb

pappardelle pasta

3

tbsp

finely grated parmigiano reggiano cheese

1/3

cup

fresh ricotta

torn into small pieces

1/4

cup

Italian parsley leaves

chopped
Instructions
Preheat oven to 325 F. Place the rosemary, thyme, bay and parsley in a piece of cheesecloth to make a bouquet garni. Tie the pouch closed with kitchen string and set aside.

Heat a large dutch oven over medium heat and add in the pancetta. Cook until crispy and rendered, then transfer to a bowl.

Return the casserole medium heat and add the oil if needed. Season the short ribs with salt and pepper and then add them to the oil to brown on all sides. Once browned, add them to the bowl with the pancetta.

Return the pot to medium heat and add the carrot, parsnip, celery, shallots and garlic. Saute until fragrant and golden, about 7-8 minutes.

Add the flour and tomato paste and stir until well incorporated. Deglaze with the port while scraping up the little bits on the bottom of the pan. Once the port has evaporated, add in the red wine, beef stock and the bouquet garni.

Return the ribs and pancetta to the casserole and bring the liquid to a full simmer over medium high heat, then cover the dish and put it in the oven. Cook until the ribs are very tender and fall off the bone, about 2 hours 45 minutes – 3 hours.

Remove the pot from the oven, transfer the short ribs to a cutting board and shred the meat from the bone. Discard the fat from the top of the sauce in the pan and add back the meat to the sauce. If it's thick and syrupy, then leave as is, but if you feel it's still fairly loose then reduce the sauce over medium heat. Keep warm.

Meanwhile, bring a large pot of salted water to a boil. Add in the pasta and cook according to the package directions for al dente. Drain, and add the noodles to the pot with the meat along with the parmigiano cheese.

Divide between four bowls and top with parsley and little dollops of the ricotta cheese.
Nutrition