I discuss the best baby led weaning recipes and finger food ideas for pincer grasp practice for children 9-12 months or older.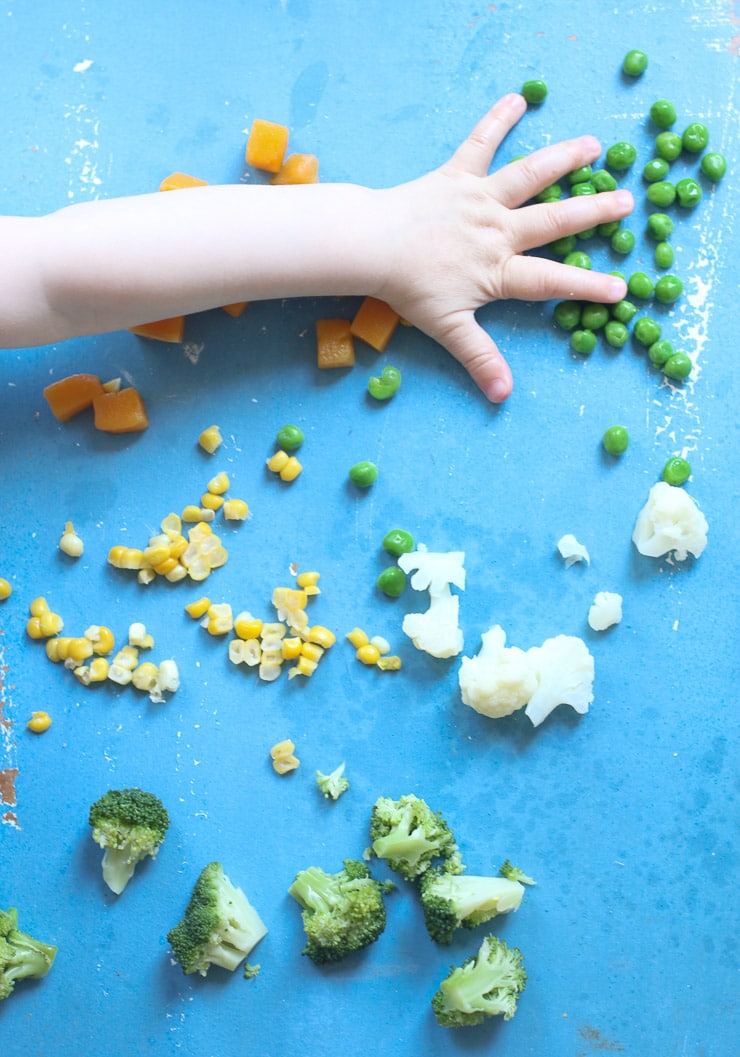 Starting solids can be nerve wracking, exciting, fun, and totally scary. There is so much information, misinformation and straight up opinions out there about how, when, and what to feed baby, that I get that you might feel like holding onto the simplicity of exclusively bottle or breastfeeding for life. Ha. Cute thought, but alas, babies grow into toddlers and toddlers need to EAT real, wholesome finger foods just like you and I!
If you've been following along on the Abbey's Kitchen blog and my Facebook group, the Millennial Mom's Guide to Mindful Meal Planning, you'll know that I am a big fan of Baby Led Weaning (BLW) because it means skipping purees and going straight to finger foods. To make it easy for you to get started, I even developed an awesome meal plan full of ideas for introducing solids and allergens the BLW way in the first 30 days.
But while we want to maintain the safety rules for choking prevention until 4 years old, the appropriate shape for baby finger foods change a baby hits a new developmental milestone – the development of pincer grasp.
What is the Pincer Grasp?
Pincer grasp involves the coordination of the index finger and the thumb to hold onto an item. When you or I button up our pants, pick up a lipstick, or grab a sheet of paper, we are exercising our pincer grasp.
In babies, pincer grasp develops around 9 to 10 months old as they improve their strength, hand-eye coordination and other fine motor skills. Before pincer grasp is developed, babies typically will pick things up with their whole hand (palmer grasp).
How Does Pincer Grasp Determine the Best Baby Finger Foods?
How babies interact with their hands plays a really important role in their nutrition and eating skills. When choosing foods for baby before 9 months (before pincer grasp is matured), it's best to cut and prepare them into shapes that are easy for baby to pick up with their whole hand. In other words, even though your baby is small and it may seem intuitive to cut food into super small pieces, bigger is actually better (and safer).
After 9 months, you can start to serve baby finger foods in smaller pieces to develop their pincer grasp so they can practice picking up foods between two fingers. You still want to avoid any of the common choking shapes (that is, whole tomatoes, whole grapes, round hot dog pieces, hard vegetables etc.) but we don't have to cut everything into strips.
The Safe Size to Avoid Choking Risk and Improve Pincer Grasp
While the recommendations for this vary, and honestly, you kind of have to use your judgement, the analogy I see from authorities most often is to half or squish any round foods that are larger than a small English pea.
The Best Baby Led Weaning Recipes & Finger Foods to Develop Pincer Grasp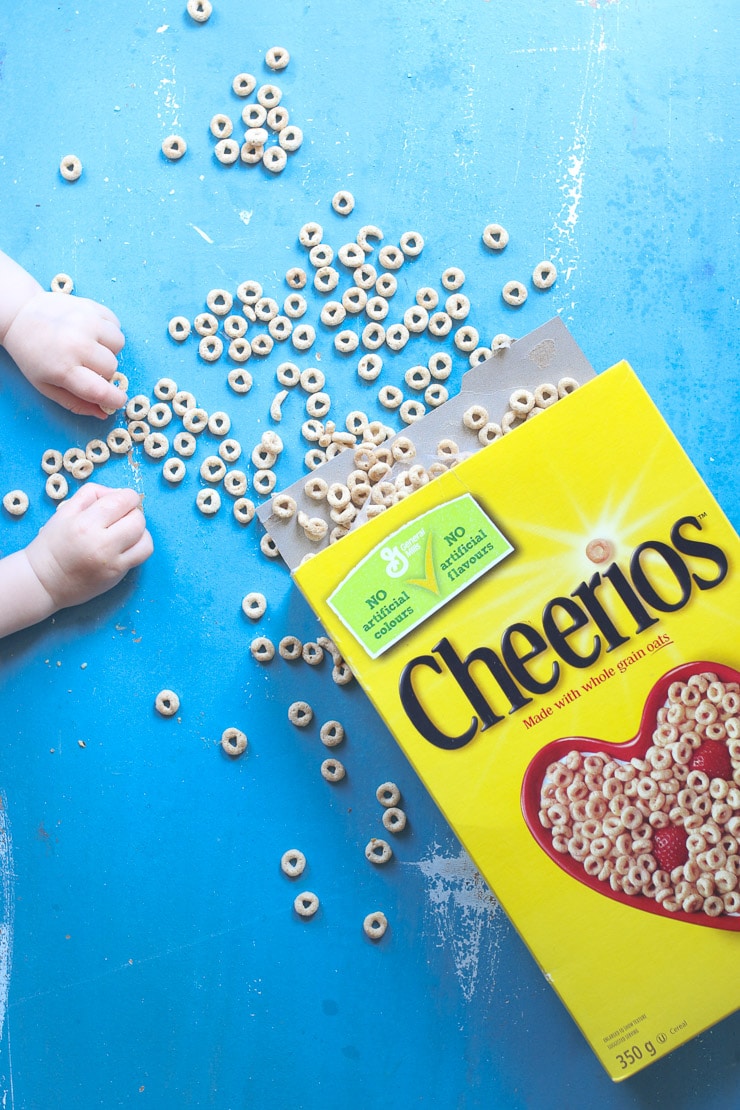 Aside from our staple Cheerios, there are a number of awesome baby finger foods that I recommend putting in regular rotation by the time your baby reaches that 9 to 10 month mark. Here are some of our go-tos!
Grains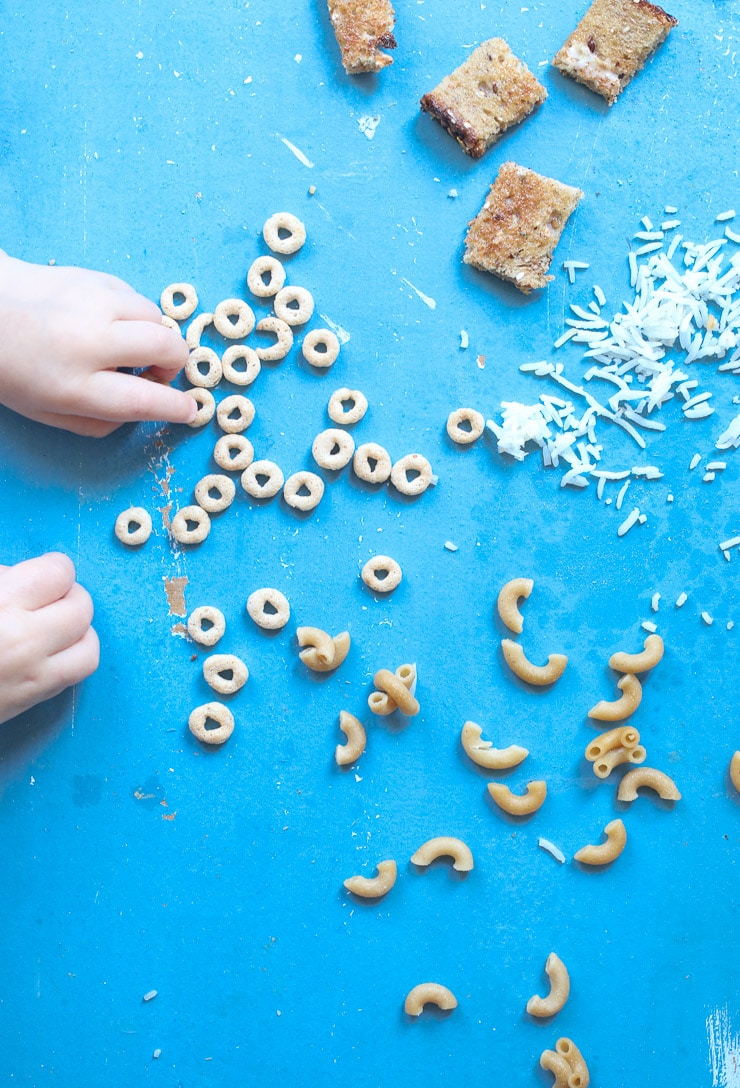 Original Cheerios – Cheerios are a simple and easy snack my kid loves any time of day. I love that Cheerios has just 1 gram of sugar per serving, is made with whole grain oats, and has no artificial colours or flavours. They also an awesome O shape so they are the perfect safe shape for developing baby's pincer grasp. There are also tons of delicious baby led weaning recipes with cheerios, such as these no bake cheerio bars.
Cooked short cut pasta – elbow macaroni or shells work great.
Toast spread – one of my favourite ideas is to cut into squares with crust removed and spread with peanut butter (thinly), butter or another spread so it's not dry.
Protein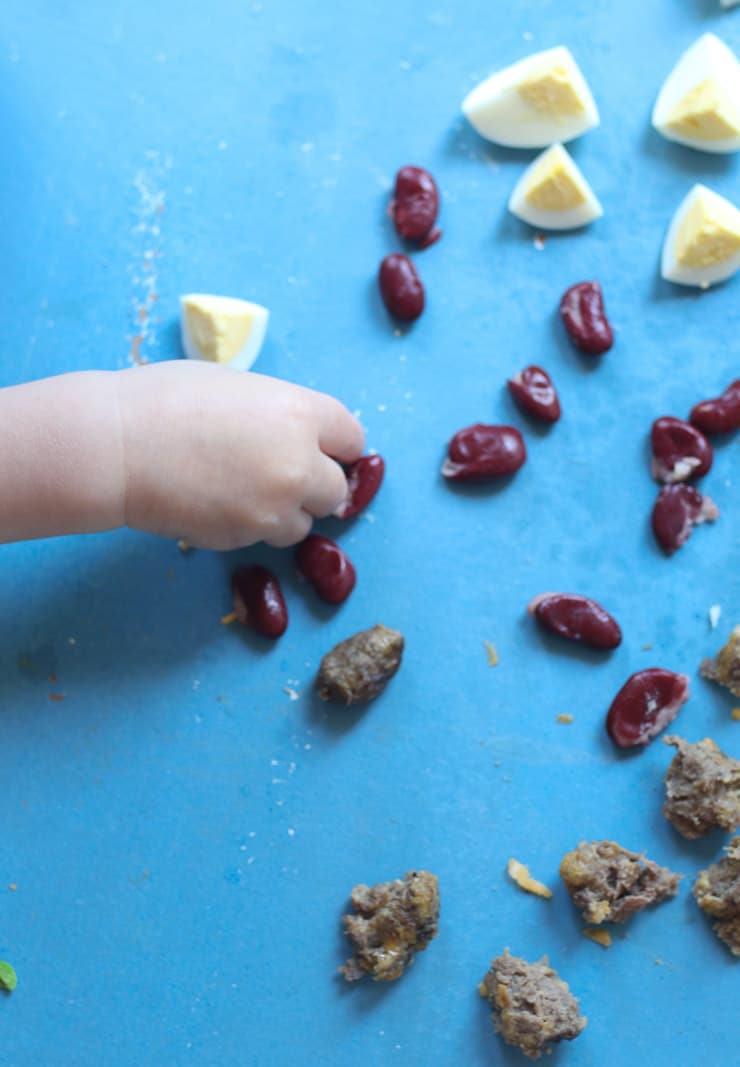 Cooked kidney beans – depending on the size, you may want to lightly smash them
Cubes of cooked tofu
Hard-boiled egg – you can chop these into pieces
Cooked ground beef – you can give them little bits or clumps the size of a pea and I recommend a higher fat meat to keep it moist
Shred of pulled pork or brisket – be sure to give short shreds for all baby leaning recipes, because if it's too long, it could get stuck in baby's throat
Fruit and Veggies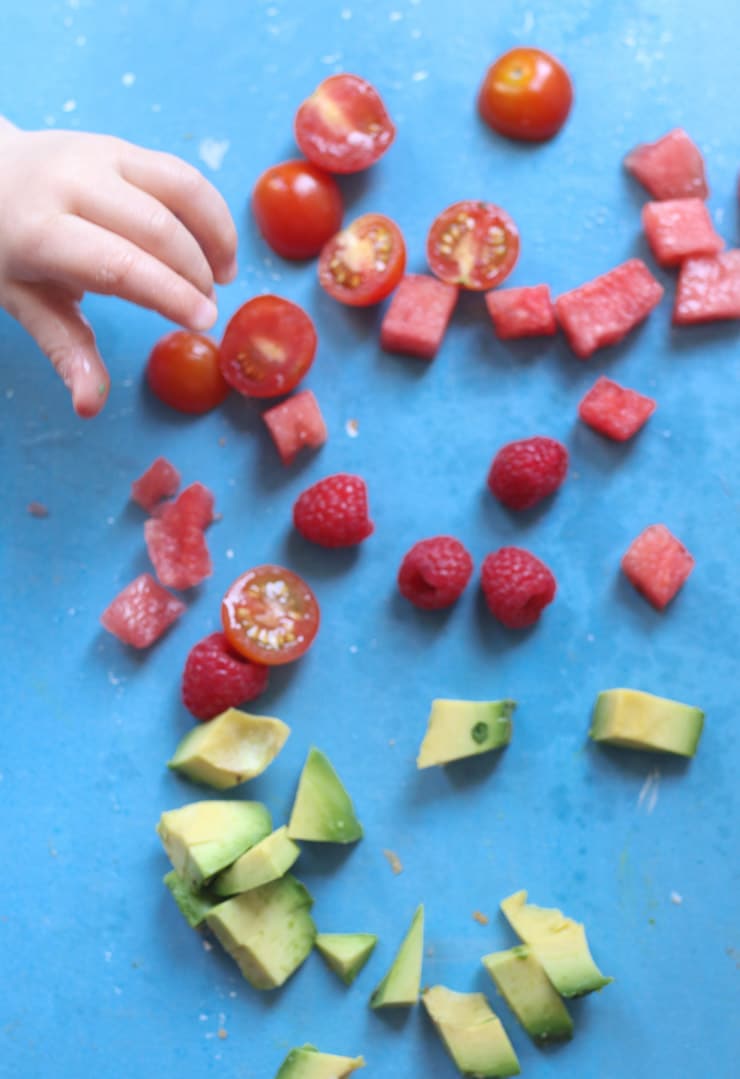 Zucchini – roasted and chopped
Sweet potato – baked and diced
Cauliflower florets – while we like the stalk as a handle in earlier BLW before 9 months, once baby has pincer grasp, you can just serve the florets
Broccoli florets – ditto for the broccoli
Blueberries – smashed or halved if large, wild blueberries may be fine whole if soft, and frozen thawed blueberries are very safe (but messy)
Cooked baby peas – again, use small, you can serve as is, but if they're a bigger pea, you may want to lightly smash it
Raspberries – these are generally soft enough to collapse without concern
Bananas – cut into chunks
Kiwi – peeled and diced into pea like shape
Strawberries – diced into pea like shape
Corn kernel – well steamed
Grapes – quartered or diced
Grape or cherry tomatoes – quartered or diced
Avocado – diced
Watermelon – peeled and diced
Dairy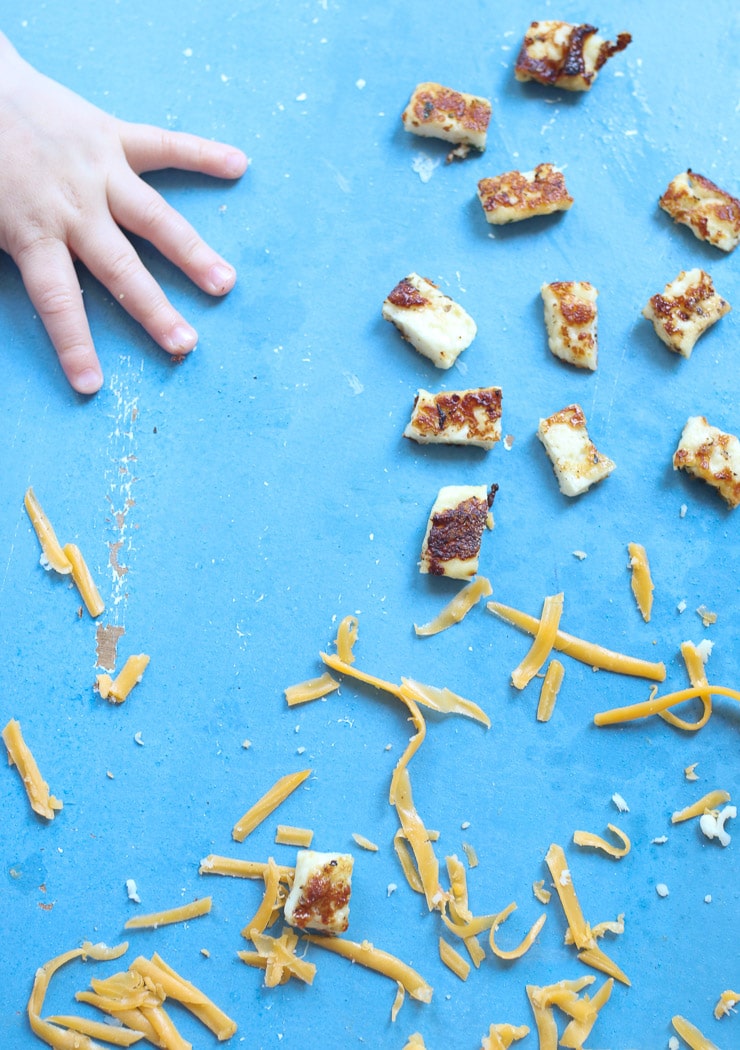 Cheddar or mozzarella cheese, grated on the largest shred size
Cubes of pan-fried haloumi
I hope this article was helpful, and gave parents some insight into the best BLW foods for introducing your little one to the pincer grasp!
Now parents, let me know – what are your kids favourite baby led weaning recipes and baby finger foods for improving their pincer grasp? Leave me a comment below with your family's go-tos!
Disclaimer: This was developed in paid partnership with Cheerios, however, all opinions are genuine.
MORE BLOG POSTS YOU MIGHT LIKE
If you liked this blog post baby led weaning recipes, then you might also enjoy more blog posts on feeding infants: