These no bake Cheerios bars are the perfect fun kid-friendly whole grain easy school snack idea for busy active kids on the go.
We're slowly getting back into the swing of things after the holidays, and I can just feel fellow parents' back to school jitters in the air. This time, however, there's the added pressure of new years resolutions and everyone worrying that they need to think up more healthy treats and school snack ideas for their kids.
I get it. Both myself and Baby E ate more gingerbread cookies in a two-week span then we usually would all year, so even I am excited to have some more balanced whole grain, higher nutrient options in the house. That was the inspiration for these super easy no bake Cheerios bars, made perfectly handheld in little silicon muffin cups.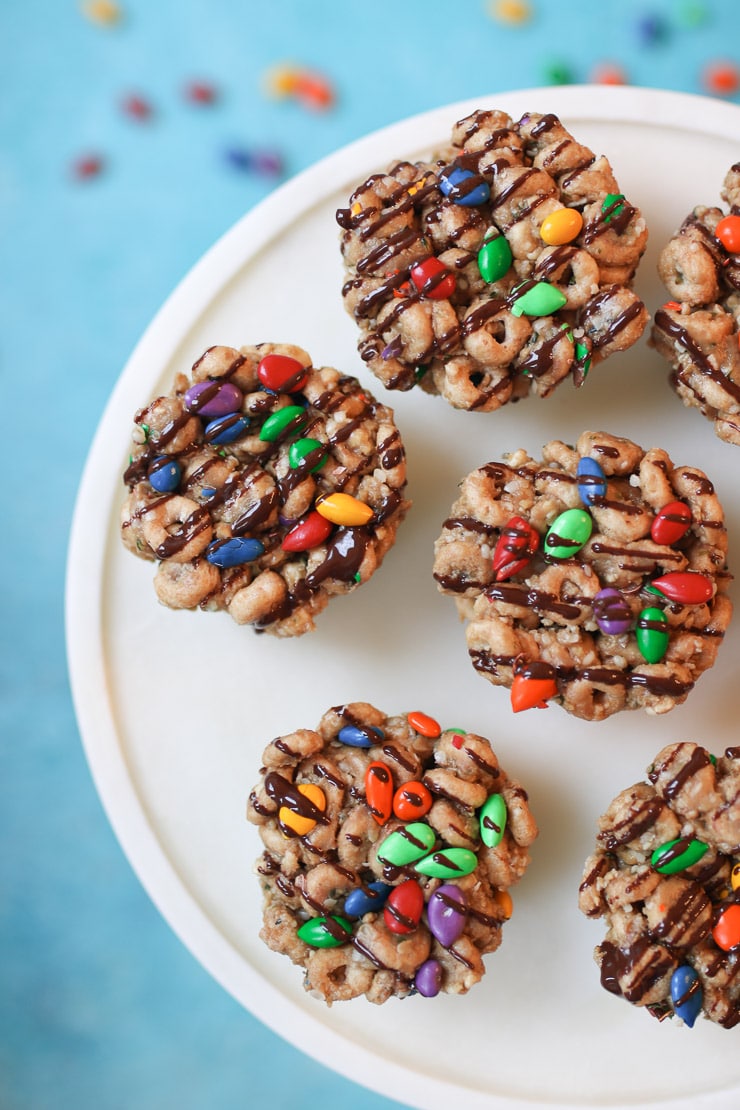 What are whole grains?
Grains are made up of three distinct parts – the bran, the endosperm and the germ. The germ and bran are where the fibre, B vitamins and minerals (like iron) are often living. Refined grains, in contrast, generally have the germ and bran removed so they're lower in these beneficial nutrients. Whenever possible, I try to choose foods made with whole grains for myself and my son to ensure we're getting the full health benefits of the food.
Why are whole grains important for kids and adults?
I'm a big fan of getting whole grains for everyone in the family since consuming more whole grains helps promote heart health, regularity, satiety and blood sugar management. Canada's Food Guide also recognizes whole grains as one of the four essential parts of a balanced diet, and recommends choosing whole grains first before other types of grains and starches.
I think there's a lot of misconceptions about cereal and that its inherently high in sugar, but there are a lot of low sugar options (like our go-to Cheerios) that make it easier to get in more whole grains. In fact, cereal contributes more than 60% of Canadians whole grain intake, and among cereal eaters it contributes 20% of their fibre intake and 25% of their calcium when paired with a fortified milk product.
How can I determine if my cereal is made with whole grains?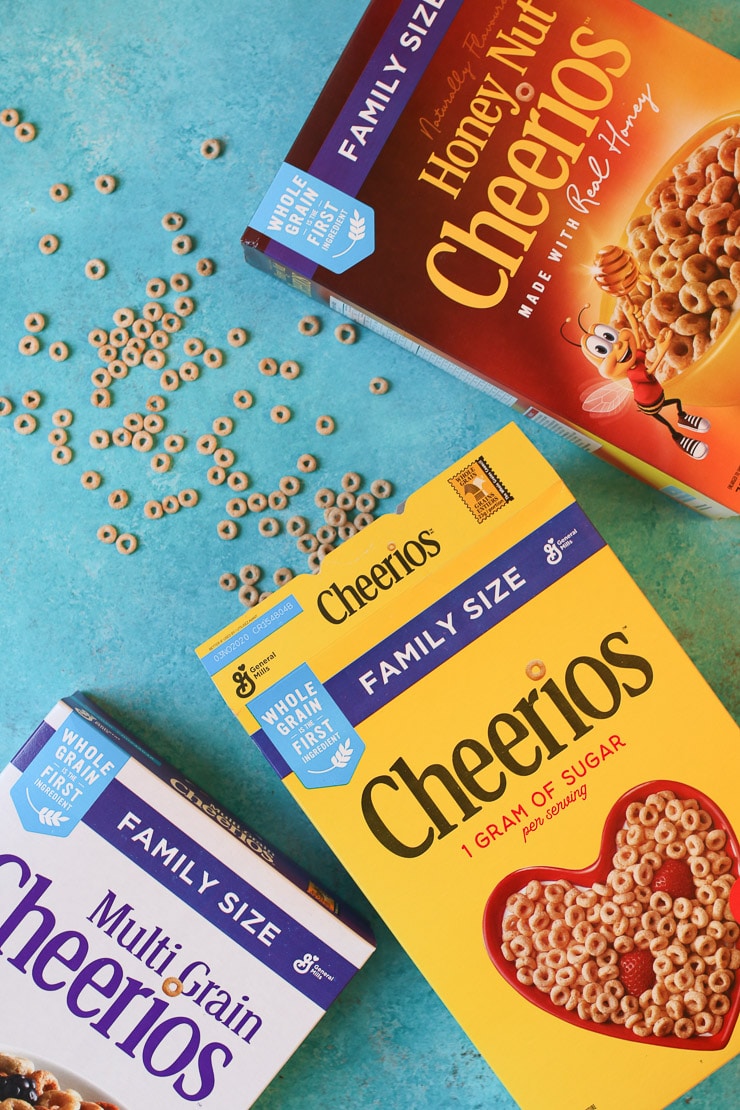 When you're looking at an ingredient list, always look for the words "whole grain" at the top of the list. Cheerios, for example, is made with "whole grain oats", making it one of my family's go-to breakfasts and snacks. In fact, most of General Mills cereal products are made with whole grains, a fact you can now easily identify by looking for the blue badge that says "Whole Grain" is the First Ingredient on the front of the box. Choosing a whole grain cereal for breakfast, or for making these no bake Cheerios bars, is a great way to make sure you're meeting your fibre and nutrient needs for the day.
What do I need to make these no bake Cheerios bars?
These cute little no bake snack cups are perfect for school and on the go, and are so easy to put together with just a handful of ingredients:
Cheerios (original yellow box)
Freeze dried banana chips
Agave or Honey
Sunflower seed butter
Hemp hearts
Optional colourful sunflower seeds and/or dark chocolate
How to make these no bake cheerios Bars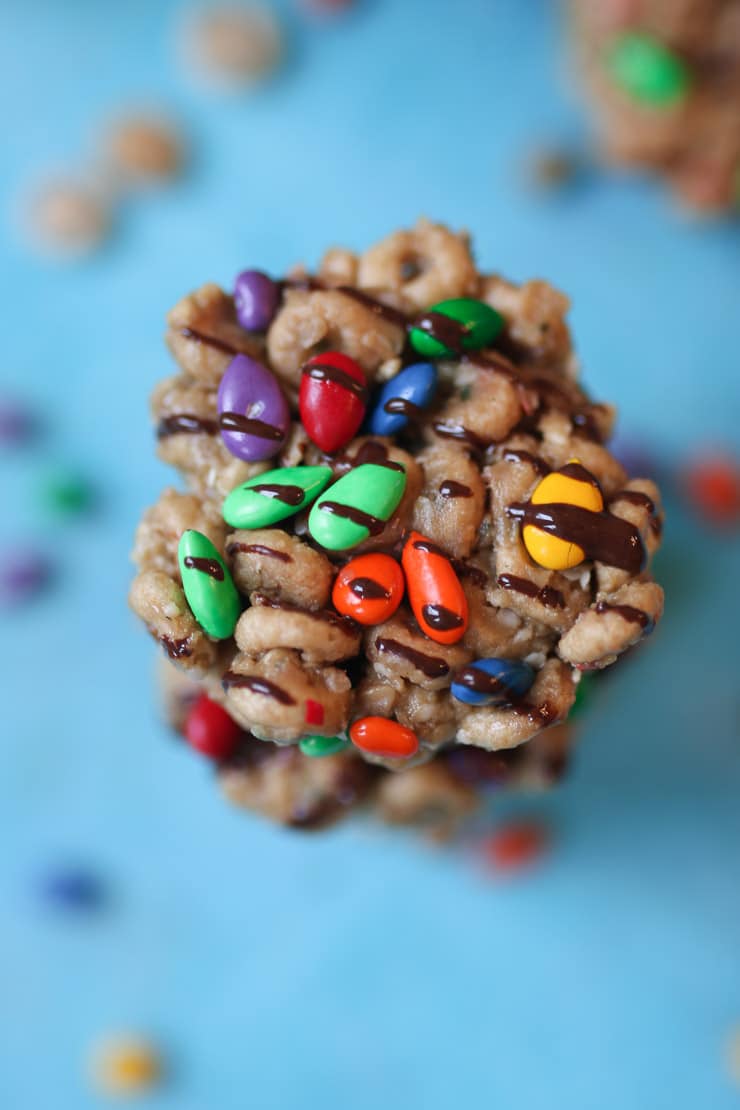 These cereal bars are surprisingly easy to make! You start by making banana "flour" by pulverizing the freeze-dried bananas until they turn into a powder.
Then you simply heat up the sunflower butter with the honey (or agave), then mix it into the Cheerios, hemp hearts, banana powder and the colourful sunflower seeds if using.
I like using silicon muffin holders for this so I make the cereal snacks into easy to transport cups, so I pack them in tight and let cool. If you want to make them extra fun, you can finish them off with a little drizzle of dark chocolate on top.
How far ahead can I prepare these easy hand-held school snacks
These No Bake Cheerios Bars will last on the counter in an air-tight container for about 5 days so you can easily prepare them on a weekend for the week ahead. Trust me, though, they won't last that long.
What if I don't have silicon muffin molds to make these no bake Cheerios bars?
No problem! You can easily make cereal snacks these either in regular muffin liners in a muffin tin (until set) OR, you can press the mixture into an 8×8 square tin lined both ways with parchment paper and then cut into squares.
Are these cereal cups safe for toddlers?
My toddler (21 months) loved them! I would suggest for new eaters that you avoid adding the chocolate or sunflower seeds, and just remember that babies under 1 year should not have honey or a lot of added sugar.
Would these no bake cheerios bars be good for a pot luck or school bake sale?
I think these easy no bake Cheerios bars would be a fun, colourful and balanced treat for bringing to a kid-friendly bake sale or potluck!
Do you have any other great kid-friendly snack and treat ideas?
Yes! Check out some of the following links for some other great ideas!
VEGAN BANANA PEANUT BUTTER CHOCOLATE BARS
Now tell me, what are some of your family's go-to kid-friendly no bake snack and dessert recipes? What are some of your favourite ways to make sure you're getting enough whole grains?
Leave me a comment below!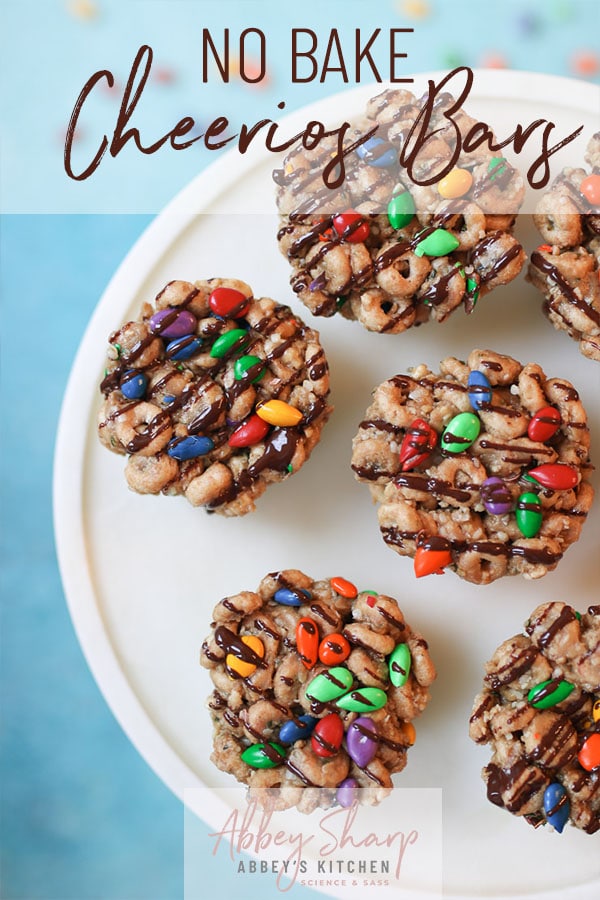 Disclaimer: This post was developed in paid partnership with Cheerios, however, all opinions are genuine.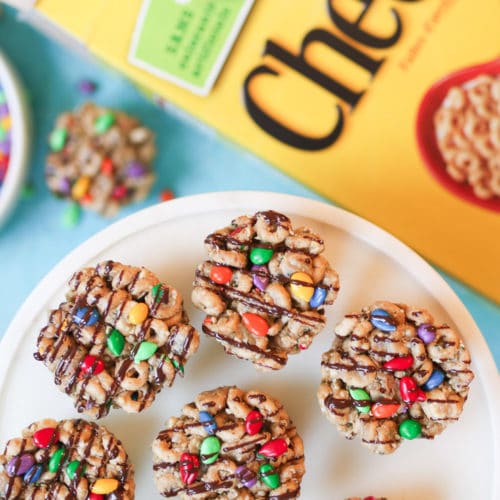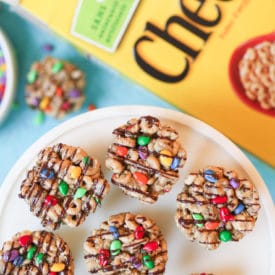 No Bake Cheerio Bars
These no bake Cheerios bars are the perfect fun kid-friendly whole grain easy school snack idea for busy active kids on the go.
Print
Pin
Rate
Ingredients
1/2

cup

freeze dried banana chips

3

cups

Original Cheerios

¼

cup

hemp hearts

1/3

cup

honey or agave

2/3

cup

Sunflower seed butter

¼

cup

Colourful candied sunflower seeds

optional

1

oz

dark chocolate

melted
Instructions
In a small food processor, pulverize the banana chips until they reach a powder like consistency. Transfer to a bowl and add in the Cheerios, and hemp hearts.

In a small sauce pot, heat the honey and sunflower seed butter until its gently simmering and bubbling, stirring constantly. Remove from the heat and transfer to the bowl with the Cheerios. Stir until all of the cereal is well coated and mixed.

At this point you can add in the sunflower seeds if using. Take a small handful and stuff it into a muffin mold. Repeat with the remaining cereal. Allow to cool completely.

Once cool, carefully remove from the muffin mold and drizzle with chocolate, if using.
Nutrition
Calories:
205
kcal
|
Carbohydrates:
20
g
|
Protein:
6
g
|
Fat:
13
g
|
Saturated Fat:
3
g
|
Cholesterol:
1
mg
|
Sodium:
32
mg
|
Potassium:
103
mg
|
Fiber:
1
g
|
Sugar:
10
g
|
Vitamin A:
202
IU
|
Vitamin C:
2
mg
|
Calcium:
48
mg
|
Iron:
4
mg
Updated on July 22nd, 2020