I share my personal experience about how I'm feeling about my post baby body when the weight-obsessed world seems obsessed with the idea of bouncing back.
The world puts a lot of pressure on us women when it comes to our reproduction.
Whether it's real or perceived, we often feel judged for every baby-making decision that we make – even before we are parents.
We feel judged for not having kids and focusing on our career.
We feel judged for having kids and choosing not to work.
And let's say we go with the latter, and the baby is out in the world, the judgement doesn't stop.
Breast or bottle?
Baby led weaning or spoon-feeding?
Cry it out or feed-to-sleep?
Vaccinate or abstain?
There never is a shortage of things to feel insecure about.
And while all these little digs make motherhood much more anxiety provoking and uncomfortable, whenever I speak with fellow new moms, these aren't their number one insecurities. They're worried about their post-partum body.
As moms, we can't scroll through #fitmom and #postpartumfitness Instagram feeds during our midnight pump-sesh without feeling like we're inevitably not doing enough. We can't buy a damn microwave meal at the grocery store without seeing the "post baby body transformations" starring at us at the check-out. And if you think things are easier in real life, you can think again. It's really sad that most people's idea of a pleasant conversation starter with a new mom is not "how are you feeling", "how's your sleep going?", or "what's motherhood like?". It's "wow, you look great", "you've lost the weight so fast", or "ou don't even look like you had a baby!" This is how we measure a mom's postpartum success and it puts a hell of a lot of pressure on us when we feel like the world is watching for our hips to shrink back into our pre-baby jeans.
As a dietitian and friend to a lot of fellow moms, I spend a lot of time trying to take the focus off of our society-wide obsession with weight and size. Rather than making constant comments about baby weight lost or body's regained, I try to celebrate my mom-friends on everything their body has accomplished.
It grew a baby.
It birthed a baby.
And in some cases now, it's the sole source of nourishment for that (now larger!) baby.
I try my best to wax poetic about positive body image, and how awe-inspiring us mothers are for everything we do.
But while I've been encouraging body positivity through this challenging (and hormonal) fourth trimester, I've been hiding an ugly truth. Most days, I struggle with these things, myself.
My Thoughts on My Post Baby Body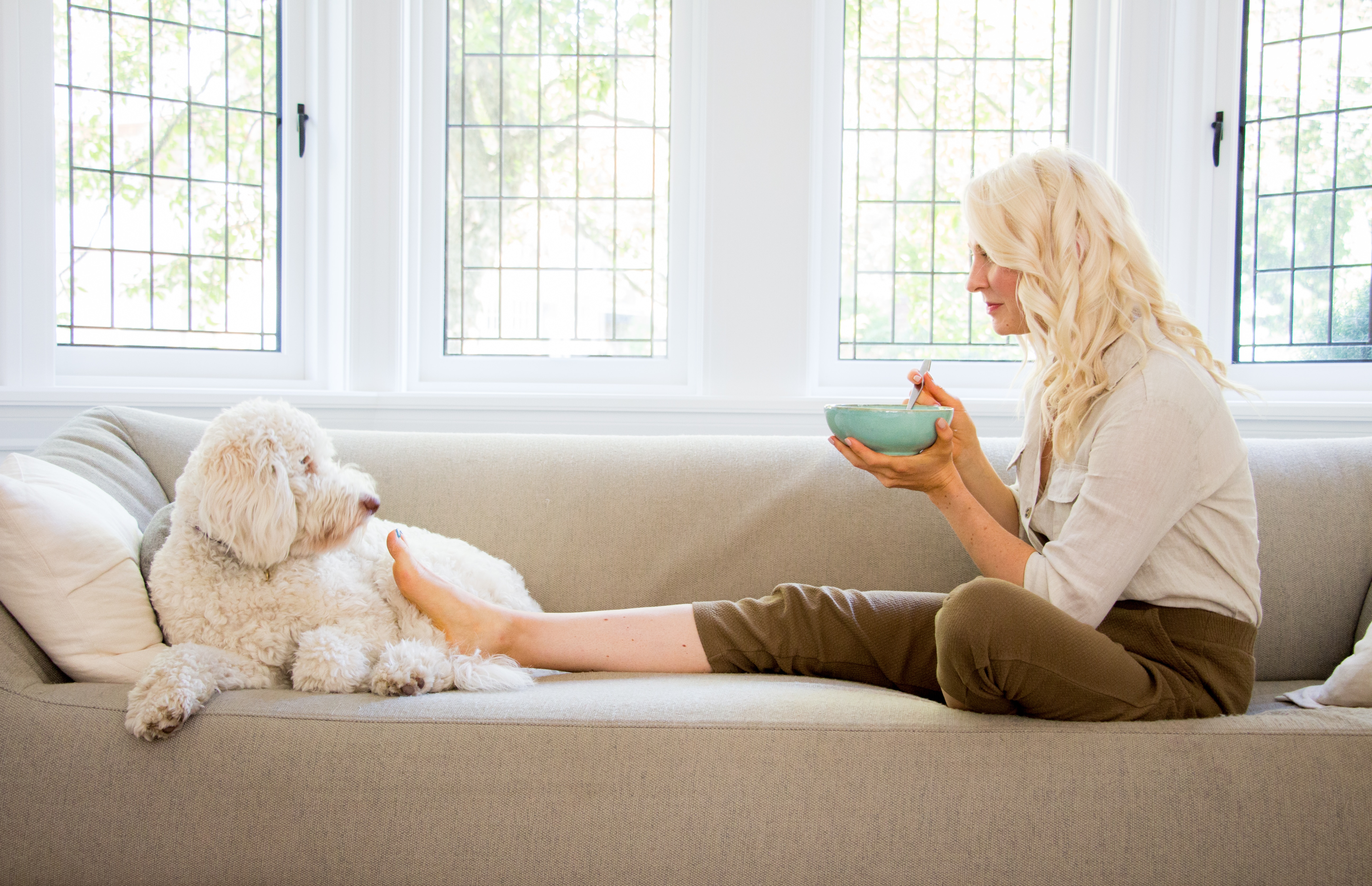 I wish I could confidently say that I don't give a F what my body was and now is. I wish I could say I just get out of the shower, see my swollen breasts, massive tugged-at and blistered nipples, widened hips and squishy belly and say, "Hey mama, you're looking FINE today." But most days, I can't help but turn to the side, poke at a roll and try to (inaccurately) evaluate whether or not I look more bloated and tired than I did the day before.
I know that this is simply the result of my expectations not being fulfilled. I have come to learn that what we see on social media or the tabloids, and what happens in real life after you grow and birth a human are apparently two very different things.
See, a changing body, including weight gain, is expected and encouraged throughout pregnancy – though even this is arguably over-scrutinized and controlled and can be challenging to experience, as well. We're told we should gain about a pound each week as a result of an extra 500 calories per day (that's a muffin, by the way).
Once the baby comes out, most (reasonable) people would not expect a woman to walk out of the hospital in their high school jeans- I mean your uterus alone can take a long time to contract down to size. But after a week or two, the grace period is up. And whether it's spoken about, or not, the baby weight is expected to come off. With each week (hallmarked by the obnoxious photo-sesh we create of our little one with a time-marked sticker on their belly), we're expected to drop a few more baby LBs. Our belly will shrink, our hips will tighten, and our ass will fit back into our pre-baby jeans. Oh, but those boobs! Enjoy those honkers while you can!
Well guess what it doesn't always happen that easily. Not even the Playboy-boob-enjoyment part.
Here's been my post baby body experience.
See, a lot of women boast about how breastfeeding meant they could eat whatever they wanted and "get super skinny" fast. But for me, breastfeeding actually seemed to encourage some fat retention, an experience that inspired me to research and write an article about this oh-so-common phenomenon here. I guess I felt that breastfeeding let me down in all sorts of ways. I couldn't do it "right" (read about that here), I was forced to pump full time (read about that here), annnnnnd it totally changed my body (and not really in a way I liked).
I felt totally misled by the motherhood folklore. Even the more "real" stories I read online tended to throw salt in the wound. For example, I recently read an article on Today's Parent.com written by a fellow new mom (of twins) I really REALLY admire, Jessi Cruickshank. I usually can totally relate to what she says, but this time, I felt my experience was pretty different. Unlike Jessi, who boasts about wolfing down an entire frozen pizza postpartum, I feel like I have never eaten healthier in my life. I'm also pumping, for like, 3 hours of every freaking day, and still, my body seems to be edging backwards. That is, I dropped all the weight within a week of giving birth (and I looked frail and skinny by my own standards), and then slowly saw my whole body shape change as I picked up on the breastfeeding/ pumping.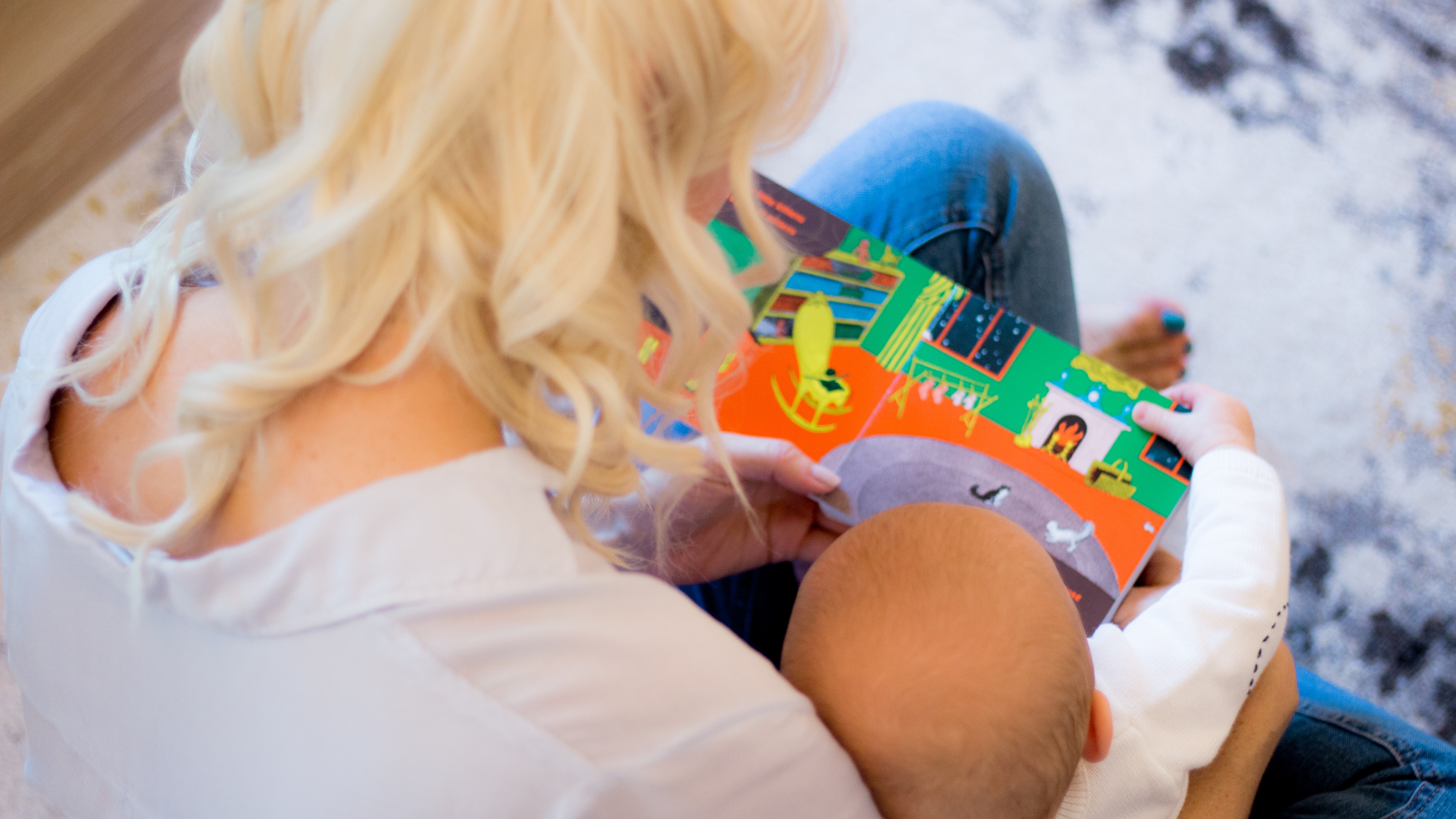 And it's not just the Today's Parent post, I've spent a lot of time searching for some validation in the mom space, and have found that most of the "real" stories about post baby body changes have let me down. Sure, they're better than the "I dropped the baby weight in 1 week and here's how" tabloids. But every time I scroll through a mom blog, I am left feeling ashamed for feeling anything but gratitude for my body and what it afforded me. I am, after all, just so so so lucky to have the precious son that I have, and would break this body in a million pieces for him.
So I don't think the world needs another blog post with this message. Trust me, like most of the moms reading this right now, I definitely know how fucking amazing my body is for what it has accomplished. I know that motherhood is such a monumental life change that a changing body seems like a blip in the process. It really IS such a blip. And as a body-positive ally, I also know that my body is probably settling into a legitimate good place for itself and I'm in no way in bad health because of it. But with so much body-shaming noise around me, it still feels really fucking hard to look in the mirror and not see the body I was used to seeing.
Being Slim and Uncomfortable with my Changing Body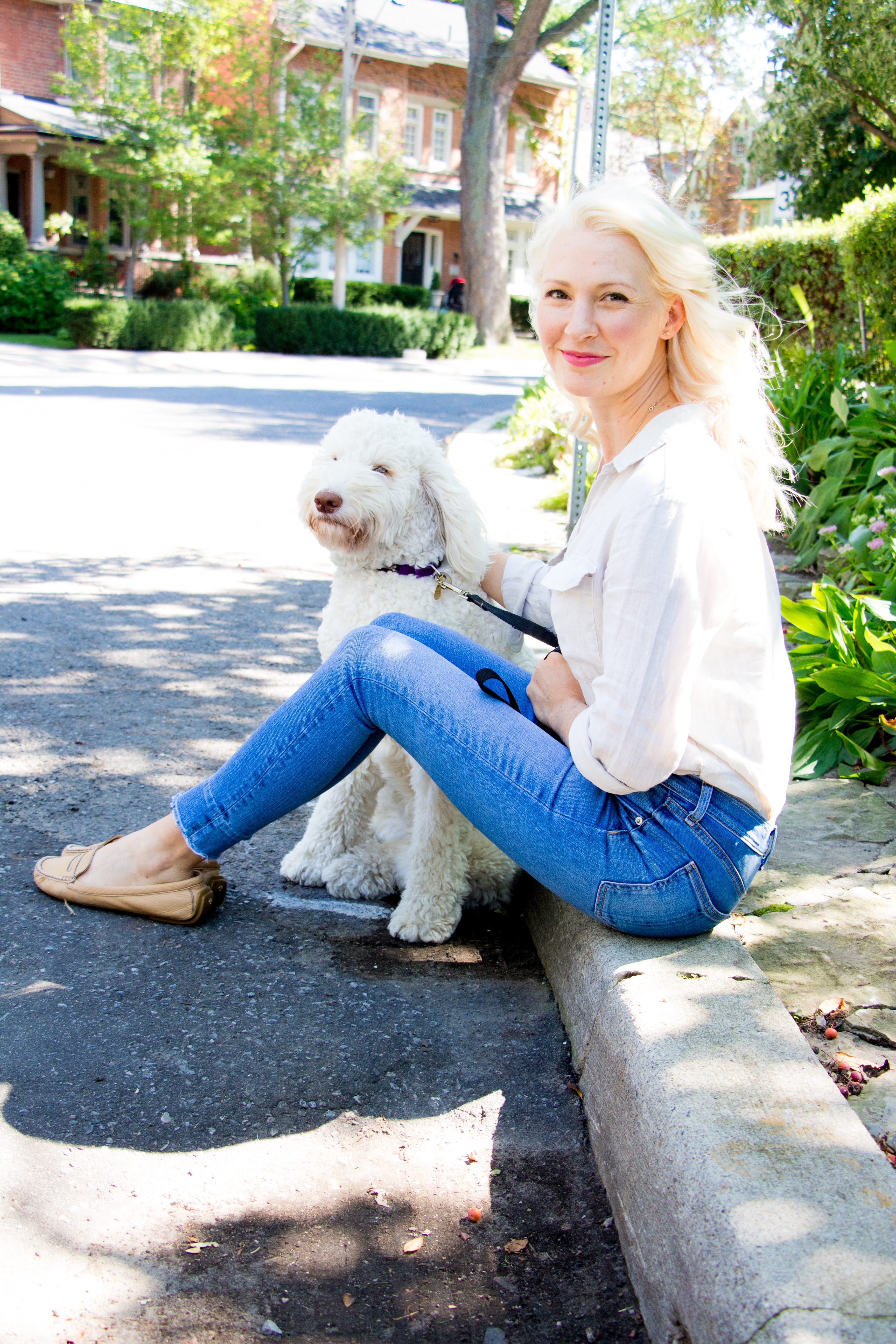 Now let me deal with the elephant in the room. I'm still a size 2. I have massive thin privilege here and there's no denying that. I wrote about my experience gaining weight and what it taught me about the worlds' inherent fat phobia during pregnancy, and I find myself humbled as I'm reminded of it yet again.
I have never known what it's like to live in a bigger body. Not before pregnancy. Not during pregnancy. And not after pregnancy. In fact, people often compliment me daily for "bouncing back" and "getting my figure back" so fast post baby. But I wanted to share this story because in conversations I've had with DOZENS of young moms just like me, the sentiment seems exactly the same. Even if your weight returns to your usual "set point" (and mine pretty much has), your body is definitely not the same. Some parts are floppy. Some parts are stretched. Some parts are lumpy. And everything feels and looks very tired. Your hips get wider, your belly gets softer, your abs bulge and "separate", your nipples get darker, larger, bruised and cracked, stretch marks appear, hair falls out. Oh and you can't even pick up a brisk jog without risking an "accident". So, for me at least, it's not about the number I see if I were to (ever) step on the scale (and I don't). It's not about body weight. It's just that the body I'm now living in feels foreign to me and like so many of you, I'm just trying to be okay with this new norm.
Let's be honest. All change in general is unsettling, and there's already a shit ton of changes to deal with as you enter motherhood. A changing body, for a lot of women, especially one that has so effortlessly always been the same, just seems like the straw that breaks the camels back.
What am I Doing About my Post Baby Body?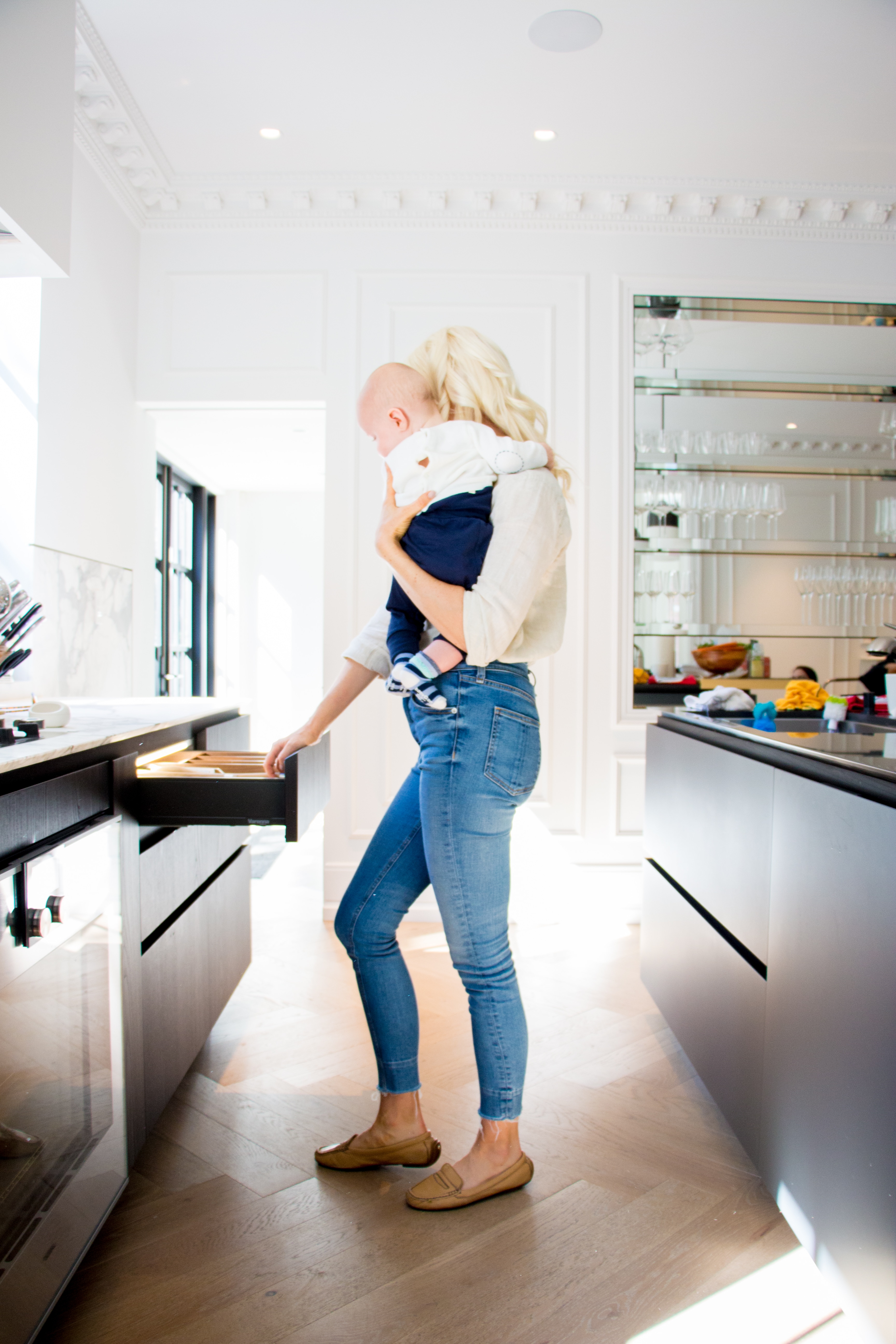 Honestly, nothing more than just trying to crowd out the occasional judgemental thoughts with validating ones. And I'll be honest, it's hard AF sometimes. But so is everything else I've encountered as a mom, so nothing new here.
I am continuing to move and eat in ways that feel intuitive and satisfying, all while reminding myself that my value is so much more than my squiggy tummy or my sore battered nipples. I'm a mom now, I'm a superhero, I'm different to my core, so it makes sense that my armour has changed shape and appearance, too.
And even on rough days where my lactating hormones get the best of my self-esteem, I absolutely refuse to diet. I refuse for baby E knowing that I need those damn calories for his milk. Hey, I didn't come this far in a horribly difficult infertility journey and breastfeeding / supply journey to short change this kid because I wish my belly didn't jiggle so much.
I also refuse to diet for myself. I am tired. My days are long. I'm genuinely hungry. I deserve to nourish my body any way it desires knowing full well that diets back fire. If I want to prevent my set point from creeping up unnaturally, then the key here is NOT to diet.
What I Want You to Know about Post Baby Body Image
Now, most of these sorts of post baby body mom blog posts end with the bottom line: "Your body is amazing, look what it's done, stop feeling bad for yourself!" We've already covered that, we know that, so I wanted to offer a different more nuanced perspective.
If you are feeling out of place with your post baby body right now as you navigate this new mom thing, no matter what your size then, or what your size now, please know that you're not alone. You're not a failure for not getting "your body back", and you're not a failure for feeling bad about it. Body positivity is about being kind to yourself, even when you're not feeling particularly positive. It's about acknowledging those feelings, and letting them marinate, but not shaming yourself further for a particular state of mind. Some days. it will come easily. Some days, it won't. Ultimately, it's a process. It's a really challenging process. But motherhood is anything but easy, so I say Bring. It. On.
Now moms, I would love to hear about your post baby body experiences?
What has helped give you confidence?
What makes you feel beautiful?
Leave me a comment below with your thoughts!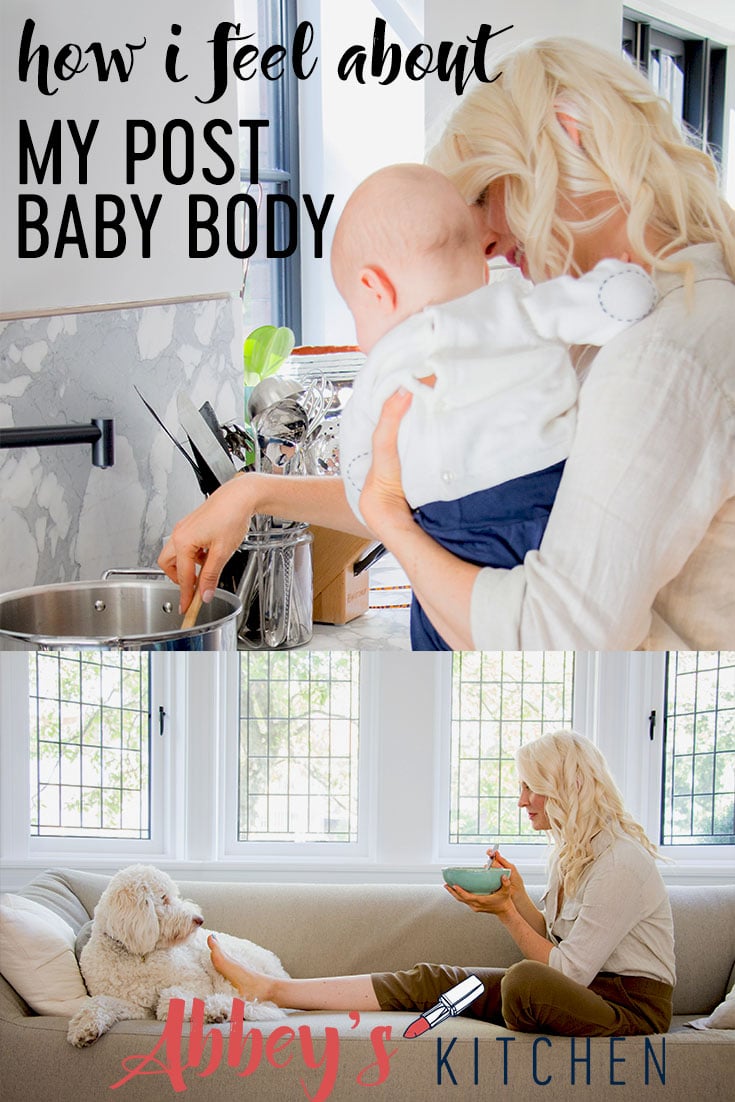 Updated on October 14th, 2020