This Gluten Free Beet Gnocchi with Brown Butter Rainbow Chard is an elegant vegetarian holiday Christmas main dish.
As someone who works in food full time, I'm often asked what my favourite food is. Yes, yes, it's like choosing a favourite child (which I'm sure is not as hard as people make it out to be), but really, the answer is always much more complicated. It could depend on if I feel like something fancy or simple, light or hearty, and what else I've eaten that day. But one of the dishes that is consistently at the top of my list is gnocchi I might be biased, but my go to gnocchi dish is my Gluten Free Beet Gnocchi with Brown Butter Rainbow Chard. There is something really satisfying about little bites of pillowy pasta draped in a delicate sauce, and while I am all for a simple traditional potato dumpling, I like to switch things up.
Why try this gluten free beet gnocchi?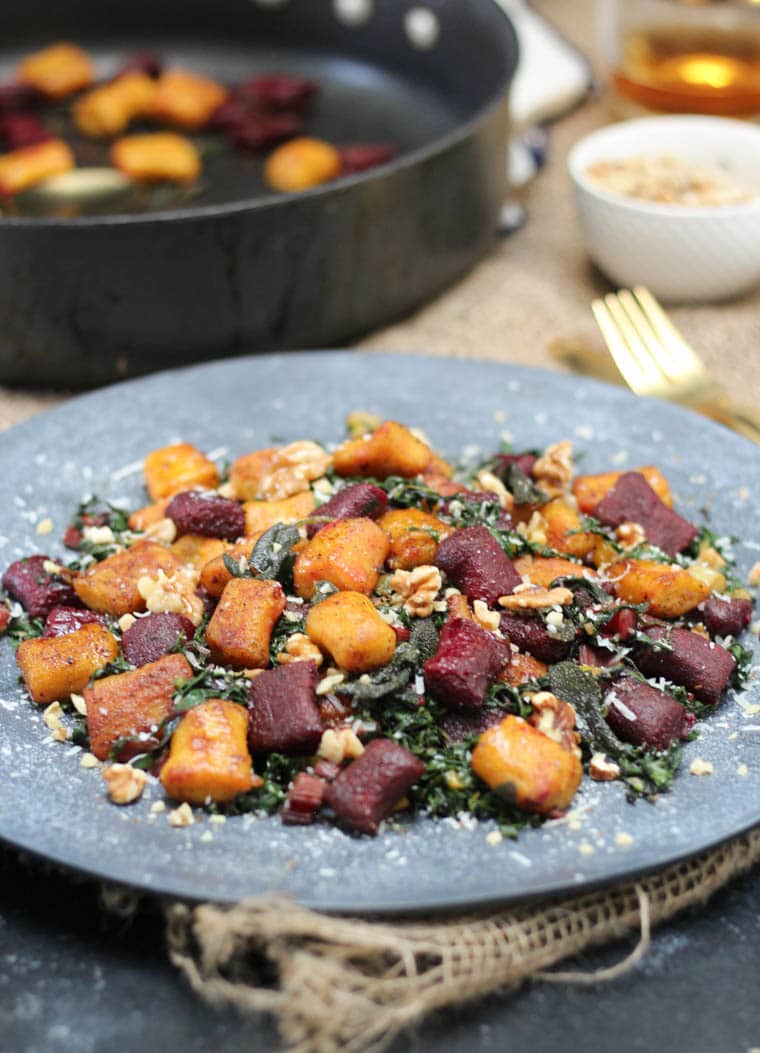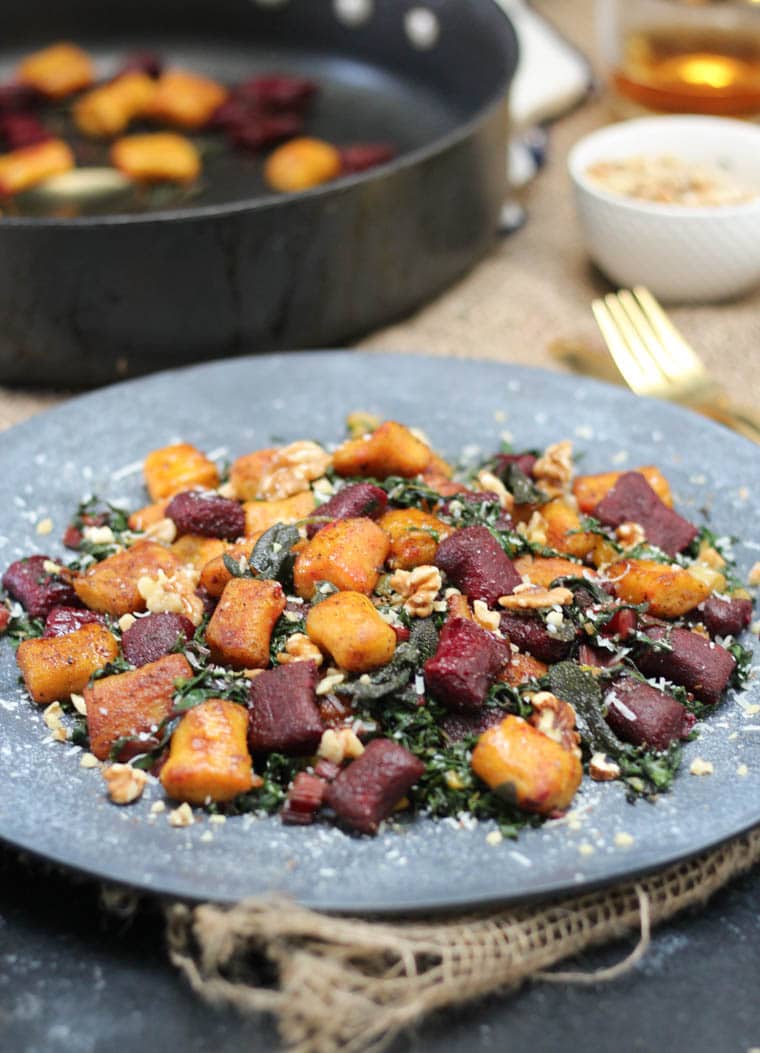 These Gluten Free Beet Gnocchi with Brown Butter Rainbow Chard are by far the prettiest gnocchi you'll ever eat, but they're also tasty, light and perfect for fall or winter entertaining. Plus, they're a fab way to get in a healthy dose of antioxidants, so I say YAY to that.
How to Make Gluten Free Beet Gnocchi with Brown Butter Rainbow Chard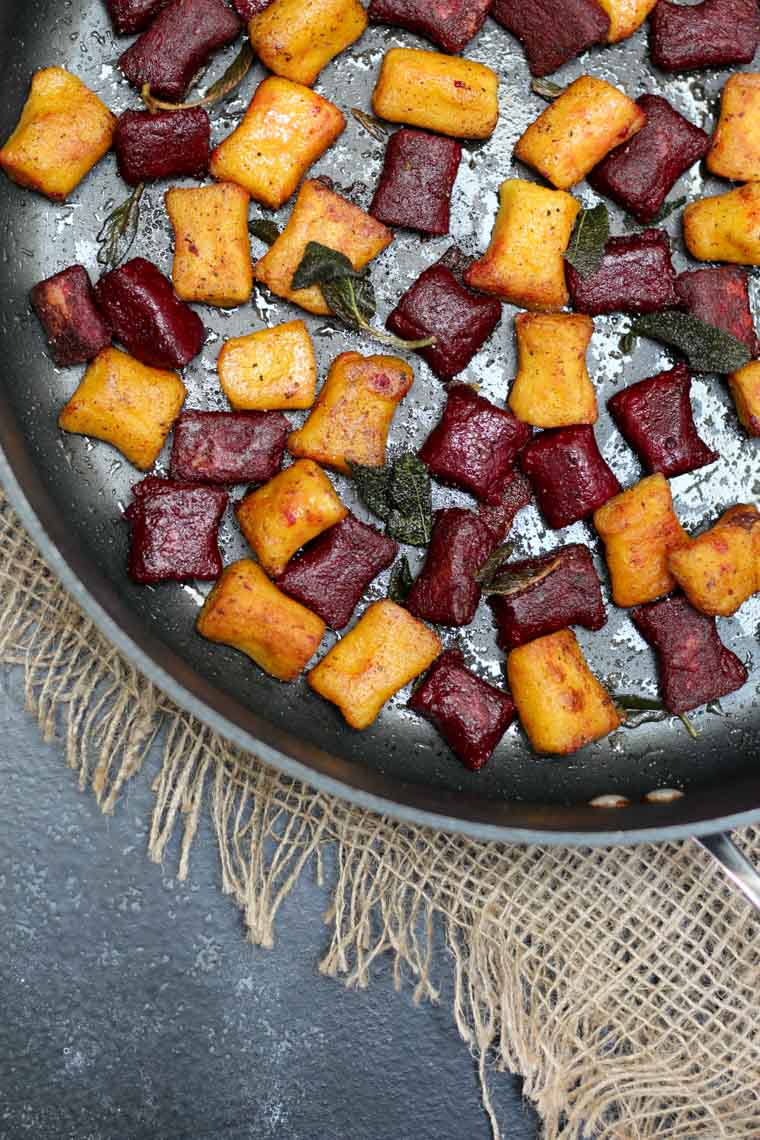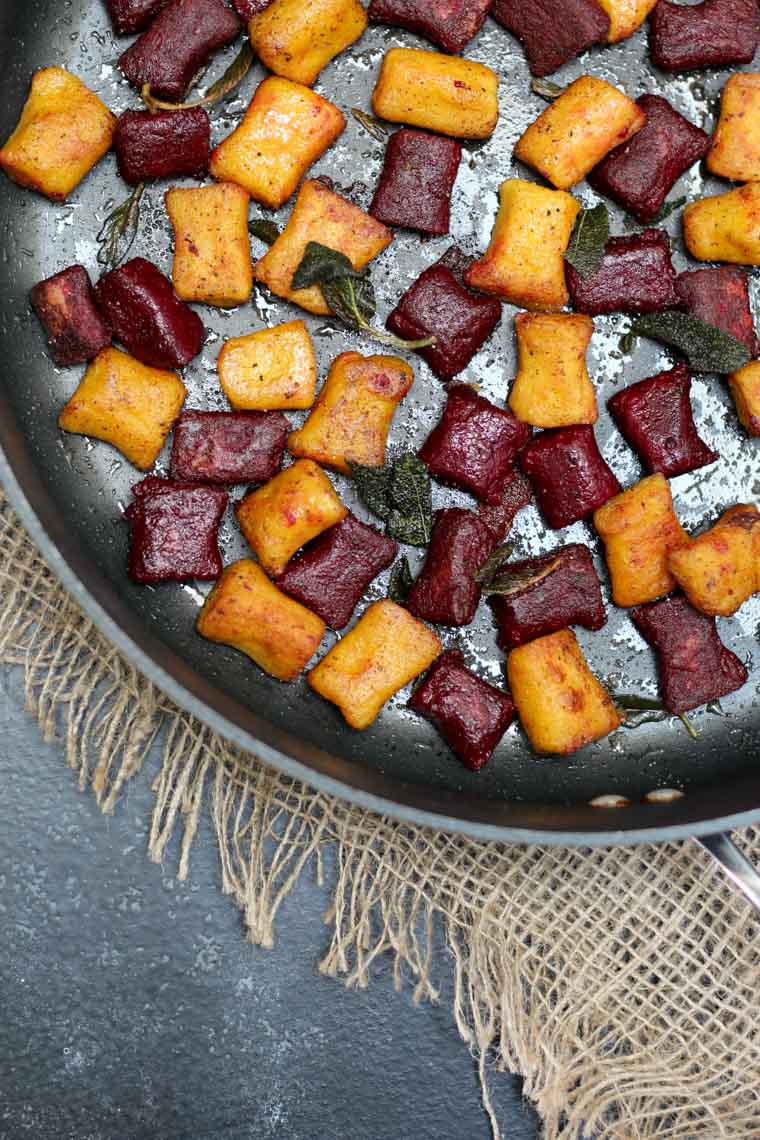 Gnocchi may seem overwhelmingly complicated, but it's actually surprisingly simple. Gluten free beet gnocchi is no exception. The first step is to roast or boil your beets until they're SUPER soft. They have to be cooked well enough that you can puree them to a soft luscious texture. I then mix them with ricotta, egg, parmesan and gluten free flour until they're well combined. You don't want to overwork them, and it's also a bit of a feel thing in terms of how much flour you add. You might need a little bit more, but I do suggest trying to hold back as much as you can. The goal with gnocchi is to add as little flour as you can get away with while still being able to roll the dough. I suggest accepting that it's going to be pretty wet (don't forget there are veggies in there!), then adding a lot of flour to your rolling surface and letting it absorb only what it needs. The less flour, the lighter the gluten free beet gnocchi will be!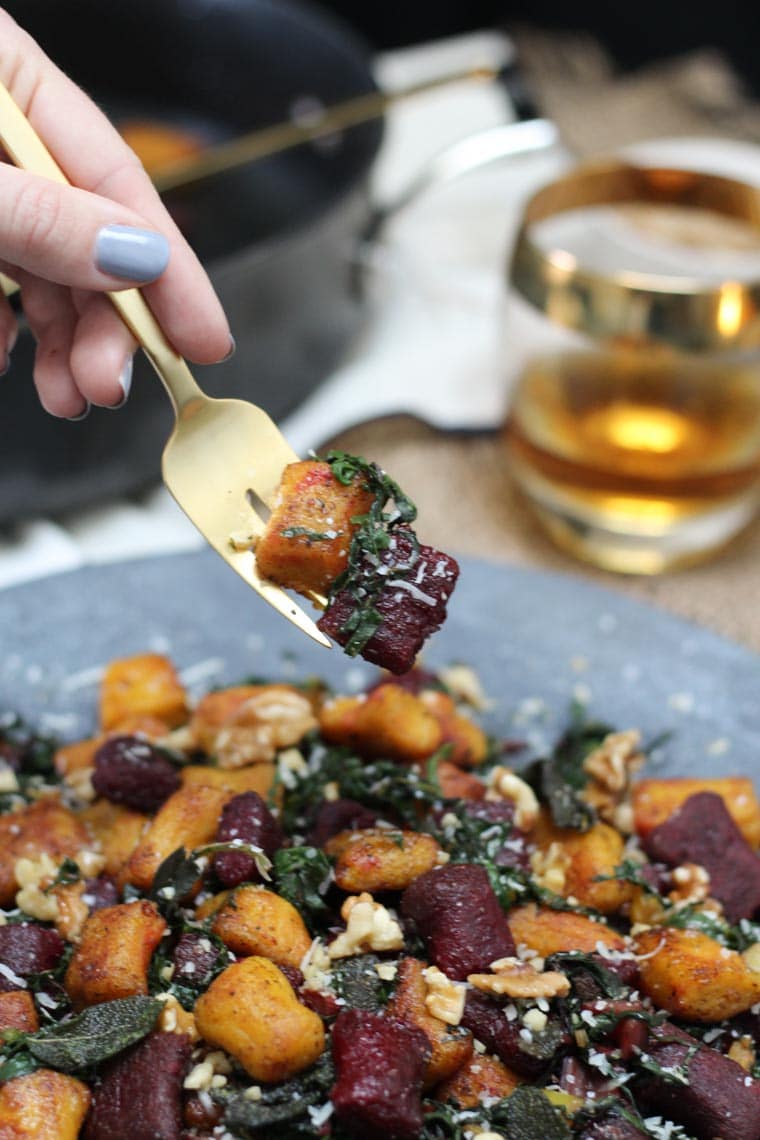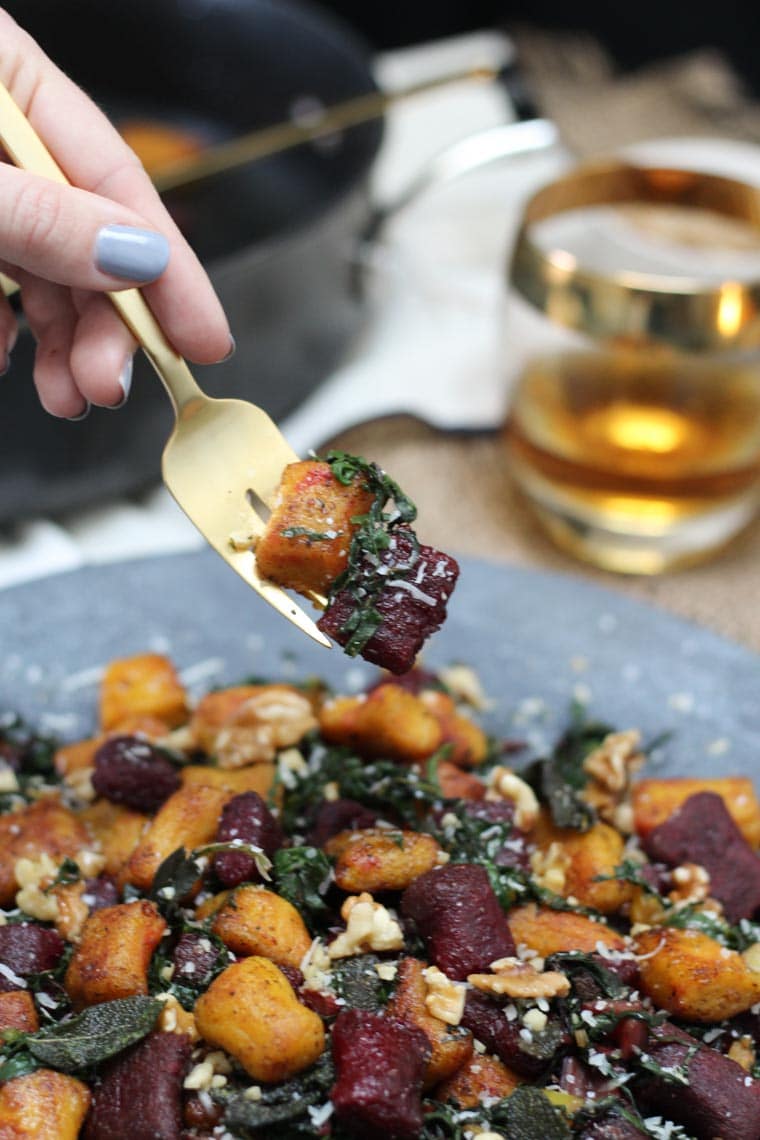 How to Make Brown Butter Sauce
Since beets are naturally sweet, I wanted to balance that out with some nutty rich brown butter. If you're not familiar with brown butter, consider it the ultimate liquid gold. When butter is cooked low and slow, the natural milk sugars caramelize and get a nutty sweet flavour that is absolutely to die for. I serve my gluten free beet gnocchi with some balsamic sauteed rainbow chard and some crushed walnuts and OMG get it in my mouth.
do i have other delicious beet recipes for entertaining?
Now I want to know, have you ever been too intimidated to make gnocchi?
Will you try this beet gnocchi?
Leave me a comment below with your go-tos!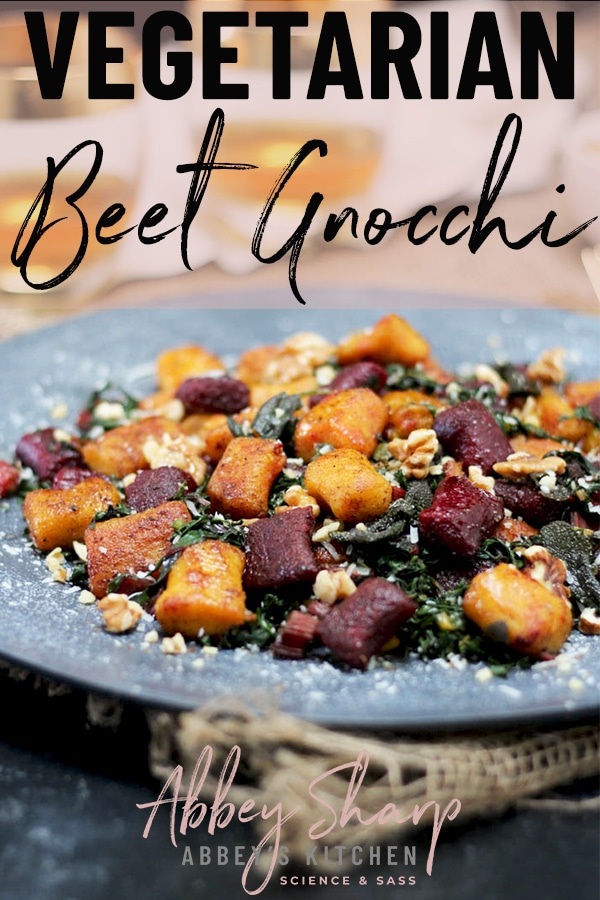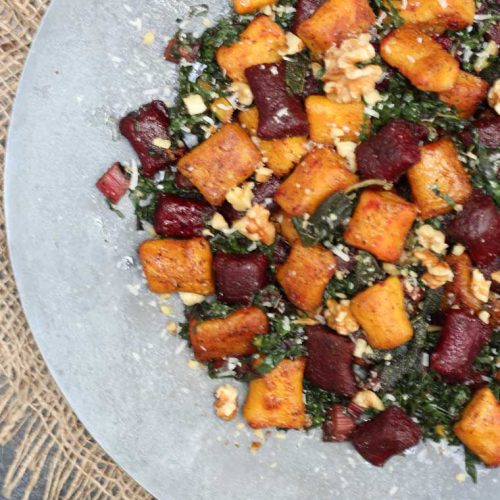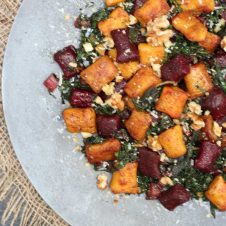 Gluten Free Beet Gnocchi with Brown Butter Rainbow Chard
This Gluten Free Beet Gnocchi with Brown Butter Rainbow Chard is an elegant dish for entertaining this holiday season.
Print
Pin
Rate
Ingredients
Gnocchi:
Sauce and Garnish:
¼

cup

butter

12

small sage leaves

Parmesan cheese

grated

Walnuts

crushed
Instructions
Preheat oven to 450 F and wrap the red beets in foil and the golden beets in another sheet of foil. Roast until very tender, about 1 hour - 1 1/2 hours. Peel and dice.

Starting with the golden beets, transfer to a food processor and puree until fairly smooth. Add in 1/4 cup ricotta and puree until very smooth. Then add 1 tbsp egg, 1/4 cup parmesan cheese, 1/2 cup plus 2 tbsp flour, pinch nutmeg, 1/8 tsp cinnamon, 1/4 tsp salt and 1/8 tsp pepper. Pulse just until combined. If the dough is way too wet to work with you can add more flour, one tablespoon at a time.

Put flour on your surface and grab about 1/4 cup worth of dough. Roll it into a log shape then cut into 1 cm little pieces. Don't worry about them all being the same, I prefer them to be a bit assymetrical and unique. Set the golden gnocchi aside on a baking sheet lined with a silpat.

Rinse out the food processor and do the same with the red beets. Place them on a separate baking sheet.

Bring a pot of salted water to a boil and add in the golden beet gnocchi. They will only take a few minutes, and when they float, they're done. Transfer the cooked gnocchi to the baking sheet again.

Drain and refill the pot with fresh salted water, then cook the red beet gnocchi the same.

Meanwhile, to a large nonstick skillet heat one tablespoon of oil over medium heat. Add the stems of the chard and saute for 2 minutes until slightly softened. Add in the leaves and toss just until wilted. Add the balsamic and season with salt and pepper. Transfer to a plate or bowl.

Add the additional tablespoon of oil to the pan and add in the gnocchi. Cook until browned and caramelized, then add back the chard. Turn off the heat and let it sit in the pan to stay warm.

Finally, using a stainless steel pan (so you can see the colour change better), melt the butter over medium heat. Once it foams, add sage and cook until crisp and fragrant. Remove sage to a plate and return frying pan to stove. Allow the milk solids to begin to brown and the butter to become fragrant and nutty. Scrape along the bottom to prevent the solids from sticking and burning. Once fragrant and nutty, add a pinch each of salt and pepper and immediately remove from the heat.

Transfer the gnocchi and chard to a serving plate and drizzle with the browned butter. Top with extra parmesan, crushed walnuts and the crispy sage. Enjoy!
Nutrition
Calories:
539
kcal
|
Carbohydrates:
70
g
|
Protein:
19
g
|
Fat:
23
g
|
Saturated Fat:
12
g
|
Cholesterol:
85
mg
|
Sodium:
743
mg
|
Potassium:
380
mg
|
Fiber:
11
g
|
Sugar:
9
g
|
Vitamin A:
1401
IU
|
Vitamin C:
8
mg
|
Calcium:
285
mg
|
Iron:
4
mg
Updated on October 23rd, 2020