I started watching The Biggest Loser (TBL) when it aired for the first time in 2004. This was long before I was a Registered Dietitian and before it became the most successful reality show of all time with over 7 million viewers each week. As a lay person (that is, not yet a health professional), I guess I could see the appeal. Overweight and obese people getting "healthy" by exercising and eating "right" in a "fat camp" style ranch. That's the pitch. On the surface it seems okay- I guess we need more programs about getting "healthy"! But the fact that we need to make a whole sensationalized television show about fatness and the extreme strides these lucky participants must take to change that identity is our first clue that this is going to be a fat-shaming circus. Ah, but if only my problems with The Biggest Loser stopped there.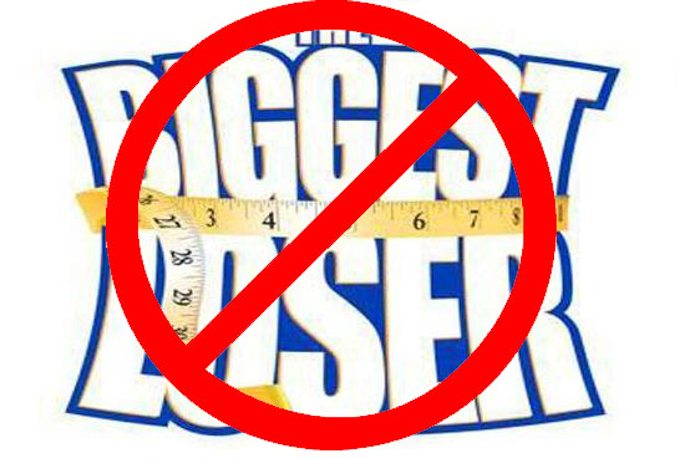 Photo credit: Palmerinutrition.com
Once you watch The Biggest Loser , anyone with a soul can see just how wrong the whole process is. First, it supposes that fat people aren't actually people. They're just animals that need to be pushed around and "punished" because they're "weak", "lazy" and "stupid" for eating their way into their situation in the first place. As Season 3 winner Kai Hibbard reported one of the trainers saying, "Pain is just weakness leaving the body." Hm… well, okay then. If you don't subscribe to that idea before you tune in, research shows that watching the show may change your mind! A study published in the Journal of Obesity suggested that watching even one episode of the Biggest Loser increased hateful weight bias among viewers! This is particularly concerning to me when there are children watching, as it's easy to sense and duplicate the disgust for fatness when they see it in their peers or even themselves.
Second, I've heard some fans of the show say that it's "motivating" for them to watch. Really? Do you feel motivated to seek out a personal trainer when you've watched them degrade these people to the point of having an emotional anxiety attack, or a physical expulsion of the meager portion of diet food they're allowed to eat? Do you feel motivated to hire a nutritionist to help you with some meal planning when they're going to tell you to eat less than 1000 calories- barely enough to keep a sedentary adult going- nevermind one working out 8 hours a day! Do you have the financial, emotional and physical capability to quit your job and make losing weight the only thing on your agenda until the weight is gone? Here's the thing- if losing weight is a goal of yours, that's great, but wouldn't you be more motivated by seeing someone do it in a way that you could realistically duplicate? As Hibbard told ABC news, she has had fans of The Biggest Loser tell her they've been trying to lose the weight as fast as they've seen her do it on TV, and in the process, have now developed eating disorders. Is this the kind of behaviour we want to inspire in the general public? Apparently, the show is not only unhelpful for viewers, but it's also incredibly dangerous.
Finally, even if it were easy to fit extreme weight loss into your normal daily life (news flash guys, it's not), wouldn't you want to do it in a healthful manageable way? The recommended speed for weight loss that can realistically be maintained is 1-2 pounds per week. Guess what happens when you drop 25lb in seven days? Well, you can read on for the "real world" examples, but as a nutrition expert I have an unsavoury spoiler alert for you. A lot of that weight lost is a combination of water and muscle, which in turn slows your metabolism down and makes it almost impossible to maintain your new weight eating anything more than bird food. Actually, this has been studied where researchers found that by week 30 of an extreme diet and exercise regime like the one on The Biggest Loser, study participants metabolisms' had slowed by more then 500 calories on top of what would be expected for the decline weight. What's the result? You gain the weight right back, and often more due to that sluggish metabolism. But read on, it gets more demotivating.
Over the past year or so, I've seen a number of articles emerge where past The Biggest Loser contestants have "come out" to tell their stories. As a Registered Dietitian and a human being, these forthcomings have been heartbreaking to read. While I always found the show repulsive and dangerous for its outrageously forward fat-shaming, the brave tell-alls revealed a whole other layer of danger. This is not a show about people getting healthy. This is a show that takes pleasure in watching people reduced to animals and broken down until they're even more sick. But, hey, they lose like 20 pounds a week, so, yay – "healthy" stuff. Please tell me you can sense my sarcasm.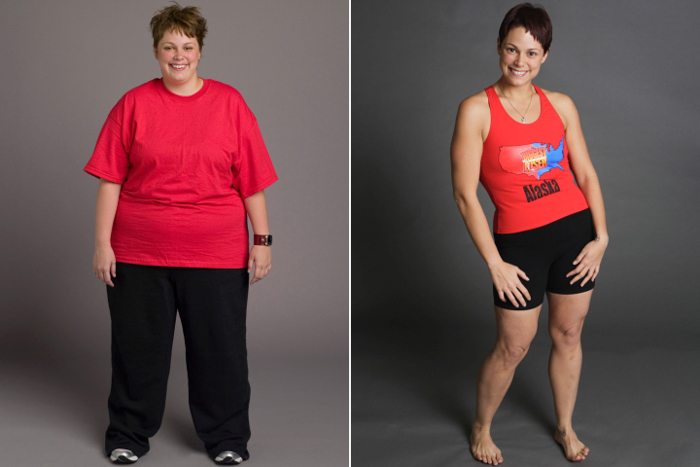 Photo Credit: Getty Images
If you haven't had a chance to read through some of these articles by the New York Post (here and here), and ABC News, let me summarize some of the revealing truths about this show. I also can add in my own tid-bits I collected from my interview of Season 3 contestant, Kai Hibbard. Since she started speaking out in 2007, Kai has received a lot of back lash from the network and from her former fellow contestants who claim she is being "ungrateful" for the Biggest Loser gift. I'm no psychologist but I would have to agree with the on-air Biggest Loser doctor who called this a mass case of Stockholm Syndrome. That is, the victims (contestants) are empathizing with their captures (the show). But why don't you read on and make your own conclusions about this supposed Biggest Loser gift.
-The Biggest Loser contestants are made to sign contracts that forbid them from speaking poorly about the show. Some contestants, like Kai Hibbard (Season 3), immediately broke that contract.
-Before going to The Biggest Loser ranch, all of the contestants were sequestered in a hotel without being allowed to leave or speak to anyone. One anonymous contestant claimed that she thought her computer was bugged so they could watch her through the camera when she hadn't checked in.
-In The Biggest Loser Season 3, there were 14 contestants who moved onto the ranch and 36 who went home to lose the weight on their own. In my conversation with Kai, she told me that the contestants at home were losing weight with the support of doctor and dietitian supervision. They also were on more "moderate" exercise regimes like working out "only" 2 1/2 hours a day. We're using quotations here, folks, because even that is a lot of time in the gym. In contrast, Kai reported that the few times they were given an opportunity to speak with a dietitian or see the doctor, their advice would be thwarted by the production team telling them to listen to their trainers instruction, instead. In other words, they were forced to choose weight reduction over health. Interestingly, Kai noted that when the home contestants joined the ranch contestants at the end of the show, the home "losers" were in far better shape and had actually lost more weight than the ranchers. They also had developed more life skills on how to actually maintain their weight. Kai told me that despite the home losers' best efforts, the show producers would never let one of them win because the show wasn't really about the home contestants.
-Once inside The Biggest Loser ranch, the 14 contestants weren't allowed interaction with the outside world. They couldn't call home for weeks at a time in fear they would reveal the show's secrets. When they could call home, it would be a short 5 minute stint that would be supervised by the production team. They were also not allowed to go home for the holidays- during the 10 day Christmas break, they would have to sit in a secured house with a supervisor and speak to their families on the phone for 5 minutes.
-The trainers and producers would make disgusting fat-shaming remarks that dug at each contestant's deepest insecurities and motivators. Kai Hibbard (Season 3) shared a few phrases she remembered in the New York Post article including: "You're going die before your children grow up"; "You're going to die, just like your mother" : "We've picked out your fat-person coffin".
-On The Biggest Loser Season 3, the contestants were housed in horse stalls and were told to race like livestock with sacks filled with their lost weight. I actually remember this episode, where Kai Hibbard walked in protect of the mortifying message behind the exercise, so the producers edited the take to make her look like lazy and weak.
-The contestants were forced to wear revealing sports bras instead of a full shirt until they lost a certain amount of weight.
-Typical work-outs on The Biggest Loser ranch would last for 5-8 hours straight each day without break.
-In the hours prior to a weigh in (especially the finale), the contestants would layer themselves up in multiple pieces of clothing and work out for hours without drinking water. The more dehydrated they could be, the less they would weigh on that scale.
-One contestant was encouraged to take up smoking to reduce their appetite- obviously helping them get on the road to "good health". Kai told me that it didn't matter what you did to lose that weight short of cutting off a limb, they just wanted you to come back to finale shockingly thinner.
-The Biggest Loser contestants were eating less then 1000 calories a day, most of which was provided by sponsors like Subway sandwiches (ew) and other junk foods like fat free processed cheese, deli meats, fake butter spray, sugar free Jello and energy drinks. Kai told me she maybe saw the occasional banana, as long as it was completely green (aka. gross).
-When Kai told a producer she wasn't able to lose weight one week, they suggested a meal of celery dipped in water (I guess they didn't watch my video!)
-Following her time on The Biggest Loser , Kai Hibbard (Season 3) experienced hair loss, irregular period, knee injury, severe thyroid problems, insomnia, short term memory loss and had such terrible shin splints from over-exercising, her doctor was surprised she was still even able to walk. She also broke her pelvis shortly after, which she attributes to the undernourishment of the Biggest Loser diet.
-Ryan Benson (Season 1) was urinating blood after his season ended- a terrifying sign of potential kidney damage or failure.
-Suzanne Medonca (Season 2) was diagnosed with multiple stress fractures in her feet and the producers and trainers made her continue to workout.
-Rulon Gardner (Season 11) suffered neck and shoulder injuries but the producers threatened him to get up and work out.
-After the finale, Rachel Frederickson (Season 15) was working out 4 times a day in an effort to maintain her losses and even at that excessive level of exercise, still gained back 20 lbs within the first month.
-While Kai admits there's no proof, she did recall her trainer, Kim Lyons, telling her that they would somewhat rig the weights- sometimes making you lose less one week and then tacking it onto the next week based on their story-line.
-Kai also told NBC that obsessing over food and exercise on the ranch fostered a full out eating disorder that will very likely be a long-term struggle. She told me how even through her high risk bed-rest pregnancy, she felt compelled to run as she bled.
-There is a private Biggest Loser alumni group on Facebook where the past-contestants can share their experiences during and after the show. Spoiler alert- just about everyone has gained a lot of the weight right back.
What Can You Do about The Biggest Loser BS?
Well first of all, don't watch that crap. Do not be one of the 7 million people allowing fat-shaming dogma to brainwash them into becoming hateful people. Do not give the network the satisfaction of your viewership and associated financial gains from their crap-food sponsorship. Next, help me get this crap off the air so people who haven't read this article can no longer be indoctrinated with this unhealthy rhetoric. Yes, the contestants on the show choose to be there, but from what I have been told, they are threatened if they speak out or want to leave and are bluntly victimized by the show for its financial gains. Please sign and share the petition here to help support a social shift away from hate for our bodies, food and self.
Updated on October 4th, 2021