Whether you have a culinarily challenged spouse or ravenous teens to feed, I think having some healthy freezer meals and ready to be rewarmed is key for crazy nights when you're not home or are rushed to get a meal on the table. This is what I chatted with Marilyn Denis about for my November appearance here when I shared my recipe for yummy gluten free meatloaf muffins.
But there are a few things you need to know about freezer meals like these meatloaf muffins. Here are my top five tips for successful freezing:
Cool foods for a few minutes on the counter, then put in the fridge for 1-2 hours before you put them in the freezer. Hot foods will raise the temperature of your freezer and put all your other food in the "danger zone" for bacterial growth.
Don't refreeze foods you already froze and thawed. This is a food safety hazard as bacteria can grow with each cycle of freezing and thawing.
Think in small portions. Since you shouldn't refreeze thawed food, I always make single size portions so that I only have to thaw out the portion I need and not waste food I can't use.
Always use proper freezer bags. Also, if you know it's going to be more than a few weeks before you get to it, wrap in plastic or tin foil as well before putting the food in the bag.
Label that food! In general, you have about 3 months for most frozen cooked food so it's important for you to have a date of when you put it in there.
You know my meatloaf muffins are a breeze to freeze, but what else does and doesn't freeze well?
Doesn't Freeze Well:
-Raw or cooked eggs
-Veggies that are high in water like lettuces or herbs
-Any gravies or sauces that are thickened with flour or cornstarch (they separate)
-Cooked potatoes (we all know this one)
-Cooked pasta (turns to mush so if freezing lasagna, freeze it raw)
-Mayonnaise and any salads made with them (potato or egg salad)
-Most low fat dairy doesn't work well- yogurt, cream cheese, cottage cheese
-Anything with gelatin
-Unwhipped cream
Works Well:
-Butter
-Cheese
-Pastries
-Breads
-Soups, stews or baby food
-Buttercream icing on cakes
-Pies
-Berries
-Grated cheese
-Blanched vegetables
-Raw dough
-Shelled nuts
I was recently on Marilyn Denis where I whipped up two of my favourite freezer meals and wanted to share them with you all.
Meatloaf Muffins with Southwestern Flare
These meatloaf muffins are really based on my regular loaf-pan sized Meatloaf recipe but I made them into cute little muffins so that they can be frozen individually and you can simply rewarm the portion you need. This is important because if I were to freeze a whole meatloaf and just want a little slice for supper or snack, I would have to thaw out the whole damn thing. Not only does that take more time, but please refer to tip 2 above.
You can transform your favourite meatloaf recipe into meatloaf muffins muffin, simply just adjust down the cooking time. I like this Mexican version because I use high fibre oats, and I reduce down the ketchup because I've got lots of flavour from the salsa, chipotle in adobo, corn and pepper. Oh yes, and we can't forget that heavenly sprinkling of cheese- that really makes these babies exciting.
What are your go to freezer meals? Have you tried making these meatloaf muffins?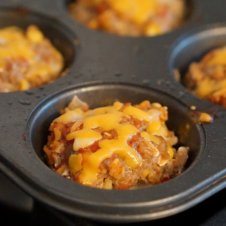 Freezer Friendly Healthy Gluten Free Southwestern Meatloaf Muffins
I like this Mexican version because I use high fibre oats, and I reduce down the ketchup because I've got lots of flavour from the salsa, chipotle in adobo, corn and pepper.
Print
Pin
Rate
Ingredients
1

tsp

cooking oil

1/2

cup

frozen corn

1/4

cup

red bell pepper

finely diced

1/4

cup

onion

finely diced

1

whole egg

beaten

1/2

cup

Old Fashioned Gluten Free Oats

1/2

cup

plus 2 tbsp mild salsa

1

chipotle in adobo sauce

finely minced, with sauce

1/4

cup

ketchup

divided

1

lb

extra lean ground beef

1

pinch

salt and pepper

pinch of each

1/4

cup

old cheddar

finely grated
Instructions
Preheat oven to 350 F.

Heat the oil in small nonstick skillet over medium high heat. Add the corn, bell pepper and onion and sauté until translucent, about 5 minutes. Set aside to cool.

In a large bowl, combine the egg whites, oats, salsa, chipotle, 2 tbsp of ketchup, the beef, the cooked vegetables and a large pinch each of salt and pepper. Mix until well combined.

Using an ice cream scoop, divide the mixture into 12 lightly greased muffin tins. Top with the remaining 2 tbsp of ketchup using a brush and sprinkle with the cheese.

Bake for 25 minutes or until an instant read thermometer reads 160 F.

To freeze, remove them from the muffin tin by running a knife around the tin. Transfer to a tray lined with wax paper and cover with plastic wrap- refrigerate until cool. Place in the freezer for 1-2 hours or until frozen. Then you can transfer to a freezer bag that you label with the date.

When ready to eat, you can re-bake the muffins from frozen for 10-11 min at 425 F or pop in the microwave for a 1-2 min.
Nutrition